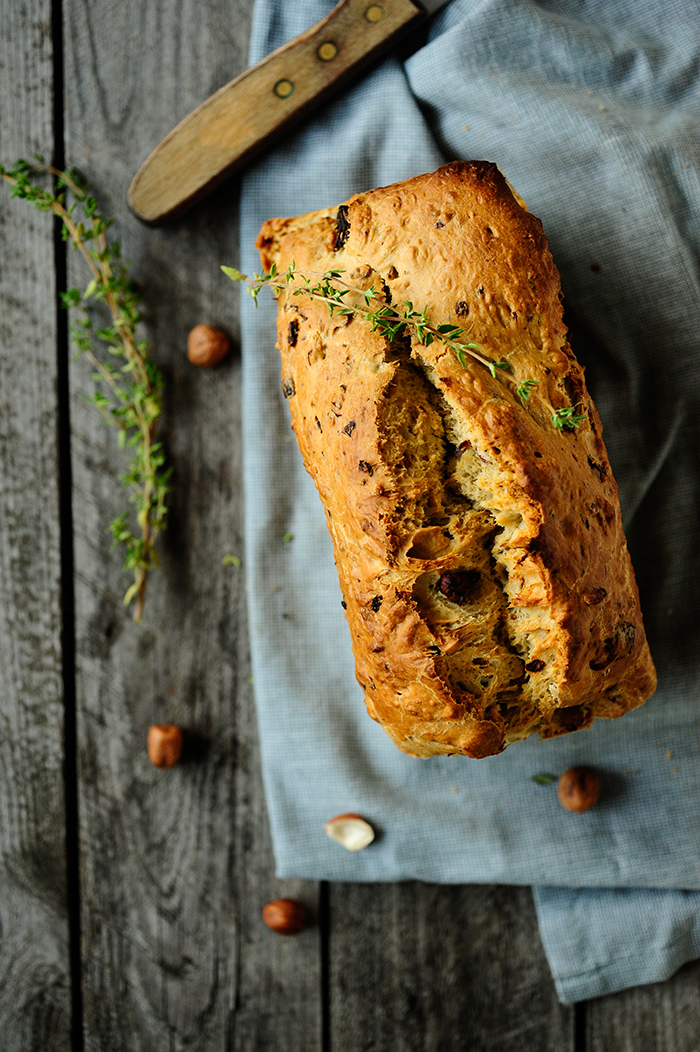 This mushroom bread is made with hazelnuts and spiced with fresh thyme, it's full of lovely autumn flavors. The brown mushrooms add a rich, intense taste and they make a delicious combo with the hazelnuts. The bread tastes great with a little butter and is the perfect addition for lunch, soup or salad.
Ingredients
450 g bread flour
120 ml warm water
120 ml warm milk
11 g instant yeast
1 teaspoon salt
75 g soft butter
50 g hazelnuts, chopped
100 g brown button mushrooms, chopped
3 sprigs thyme
Instructions
Mix the yeast with water and milk in a large bowl, let stand for 5 minutes. Add flour, salt, butter cubes, mushrooms, nuts and thyme leaves. Knead to a smooth and elastic dough. Place in a large glass bowl greased with olive oil, cover and let stand for 45 minutes in a warm place.
Scrape the dough from the bowl and place in a greased form, again let stand for 45 minutes.
Cut the loaf along with a sharp knife and brush with water. Bake for 30 minutes at 220°C. The bread should sound hollow when done. Transfer to a cooling rack. Enjoy!