Creamy Mushroom Alfredo Pasta. Imagine sautéed mushrooms in a velvety Alfredo sauce, for a dinner that's ready in just 20 minutes and is as easy to make as it is delicious. This classic comfort food dish is sure to please everyone at the table, and it's perfect for a quick weeknight meal.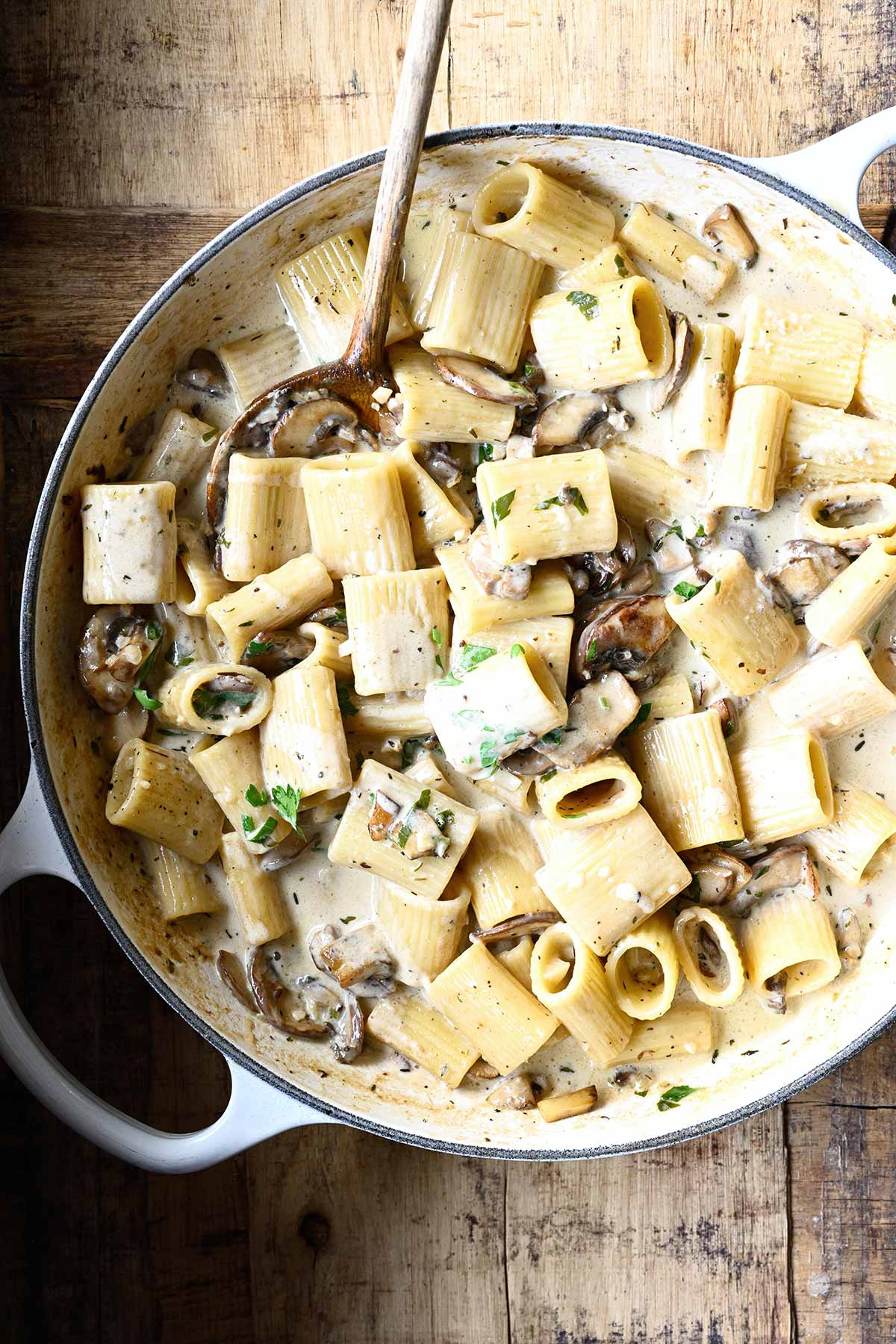 Why You'll Love this Mushroom Alfredo
This Mushroom Alfredo Pasta is your answer when you're craving comfort food on a busy weeknight. An effortless yet utterly satisfying dish that comes together with just a handful of ingredients.
Picture this: a dreamy Alfredo sauce made from butter, heavy cream, and Parmesan cheese, all cozied up with sautéed mushrooms. A perfect match!
The best part? Alfredo sauce is super easy to make. But here's where it gets exciting, we're elevating it to the next level with the earthy charm of browned mushrooms, a hint of garlic, and a splash of balsamic vinegar. The result? An unforgettable dinner that's bursting with flavor and a delightful contrast in textures.
Imagine each bite: rich, creamy, velvety, and oh-so-tasty. And the best news? It's so easy, you might just want to make it your go-to weeknight treat. It's a guaranteed crowd-pleaser!
Let me guide you through the recipe with this step-by-step VIDEO or follow along on YouTube.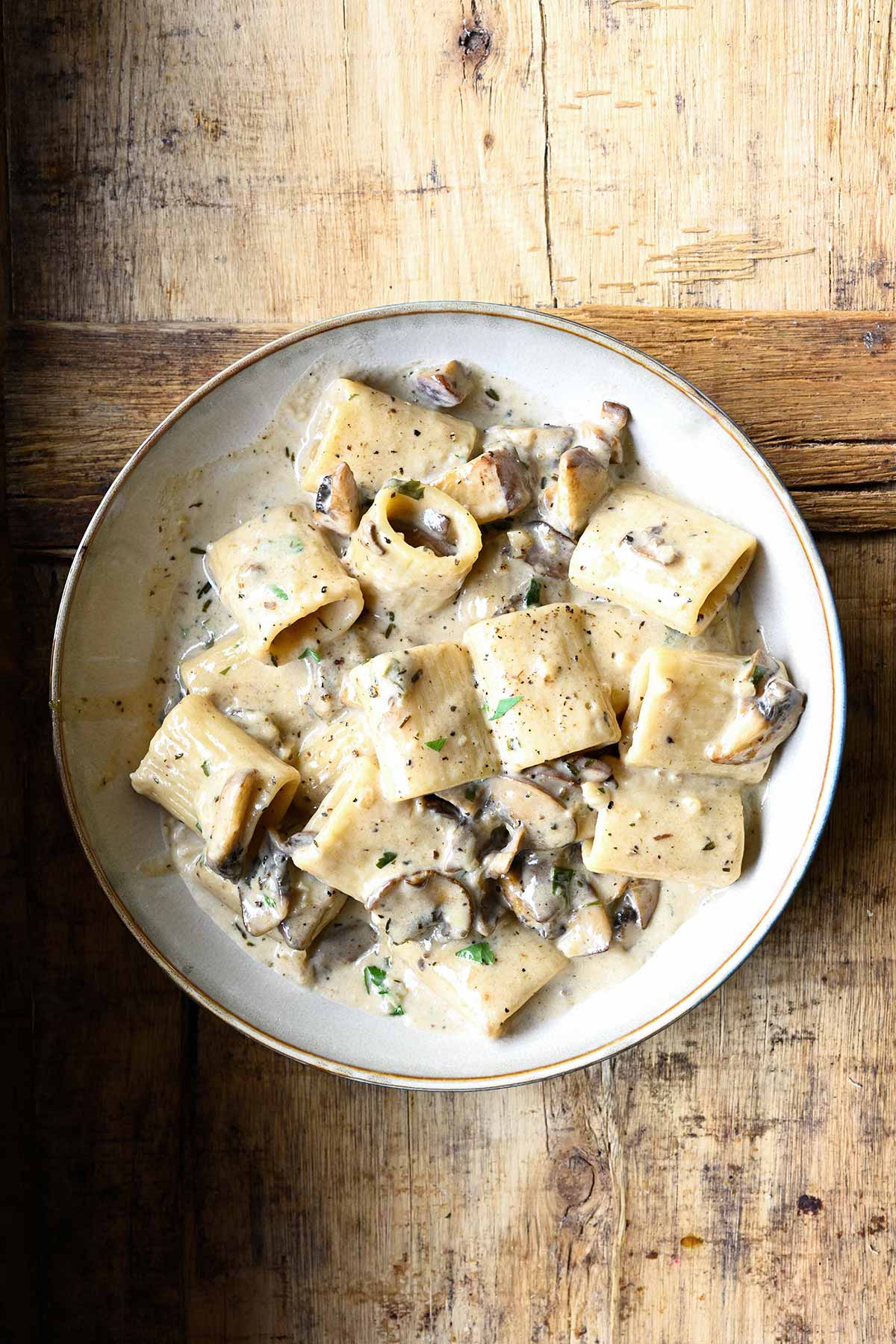 The Foolproof Way to Make the Best Mushroom Alfredo Sauce
Our journey to flavor-packed Mushroom Alfredo starts with sautéing the mushrooms to golden perfection. As we sprinkle in aromatic spices and garlic, the kitchen fills with irresistible fragrances. Next, we pour in the cream. Opt for a dairy with enough richness, like heavy cream, substitutes like milk just won't cut it.
Now, here's the magic touch: a blend of freshly grated Parmesan cheese, velvety butter, and vibrant parsley, for a super flavorful combo. To achieve that perfect consistency, a gentle simmer on low heat is our secret weapon, with the Parmesan cheese lending its thickening skills.
When it's time to serve, the sauce should be piping hot from the stove when tossed with pasta, as it has a tendency to thicken as it cools. But don't fret if it becomes too thick, our trusty reserve of pasta cooking water comes to the rescue. A quick whisk with a splash of warm pasta water, and your sauce regains its luxurious, pourable allure.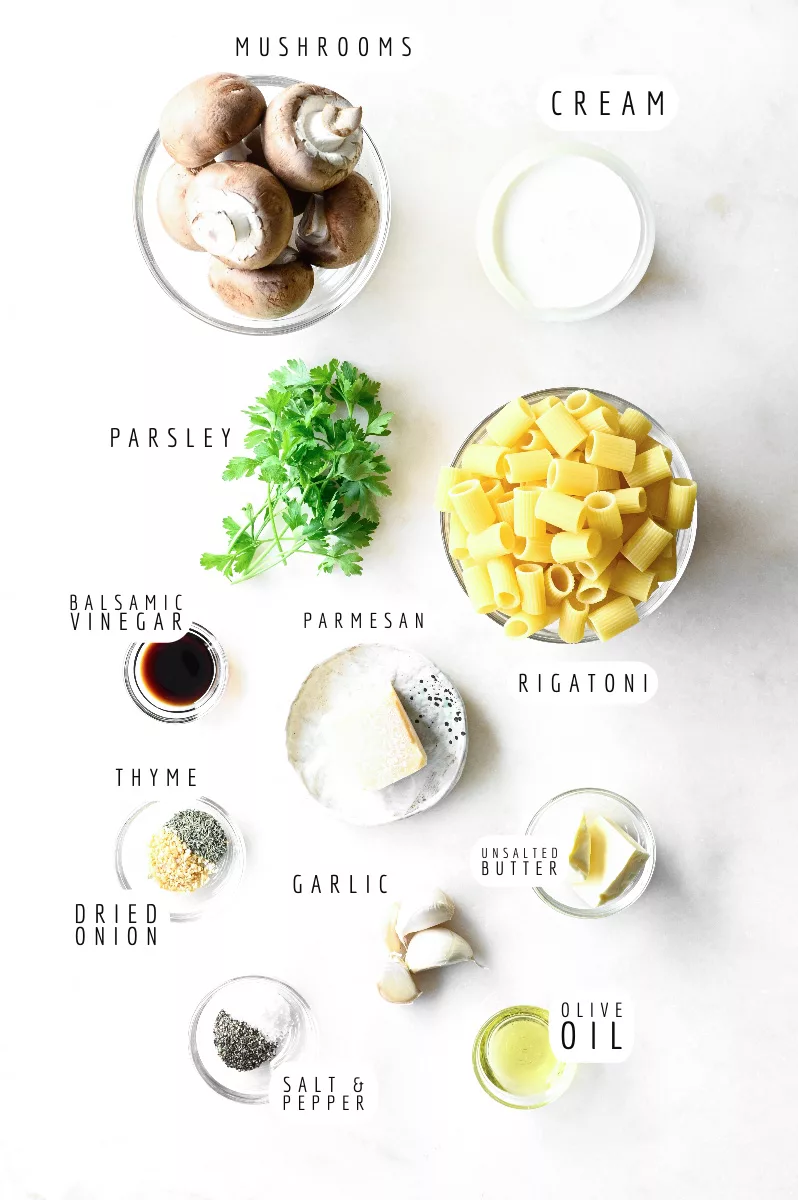 Ingredients and Substitutions
Pasta: Feel free to use your favorite pasta variety. Options like rigatoni, penne, fusilli, rotini, farfalle, linguine, bucatini, fettuccine, spaghetti, or pappardelle will all work wonderfully.
Mushrooms: Brown mushrooms are the mainstay in this recipe, though you can mix in some cremini or shiitake mushrooms for added depth and flavor.
Garlic: Alfredo sauce is incomplete without freshly minced or grated garlic.
Olive Oil: Used for sautéing the mushrooms.
Unsalted Butter: Essential for its contribution to the sauce's creamy texture and flavor.
Balsamic Vinegar: Adds a touch of acidity to balance the richness of the dish and create a well-rounded flavor.
Cream: Opt for heavy cream for the best, luxurious texture. You can also use 20% fat cream as an alternative.
Parmesan Cheese: Freshly grated Parmesan cheese is ideal for a smooth and delectable consistency. For a unique twist, try Grana Padano or Asiago.
Herbs: Parsley provides a fresh element, but you can experiment with fresh thyme or oregano if you prefer.
Seasoning: A blend of salt, black pepper, dried thyme and dried onion. You could also add a pinch of grated nutmeg for depth of flavor.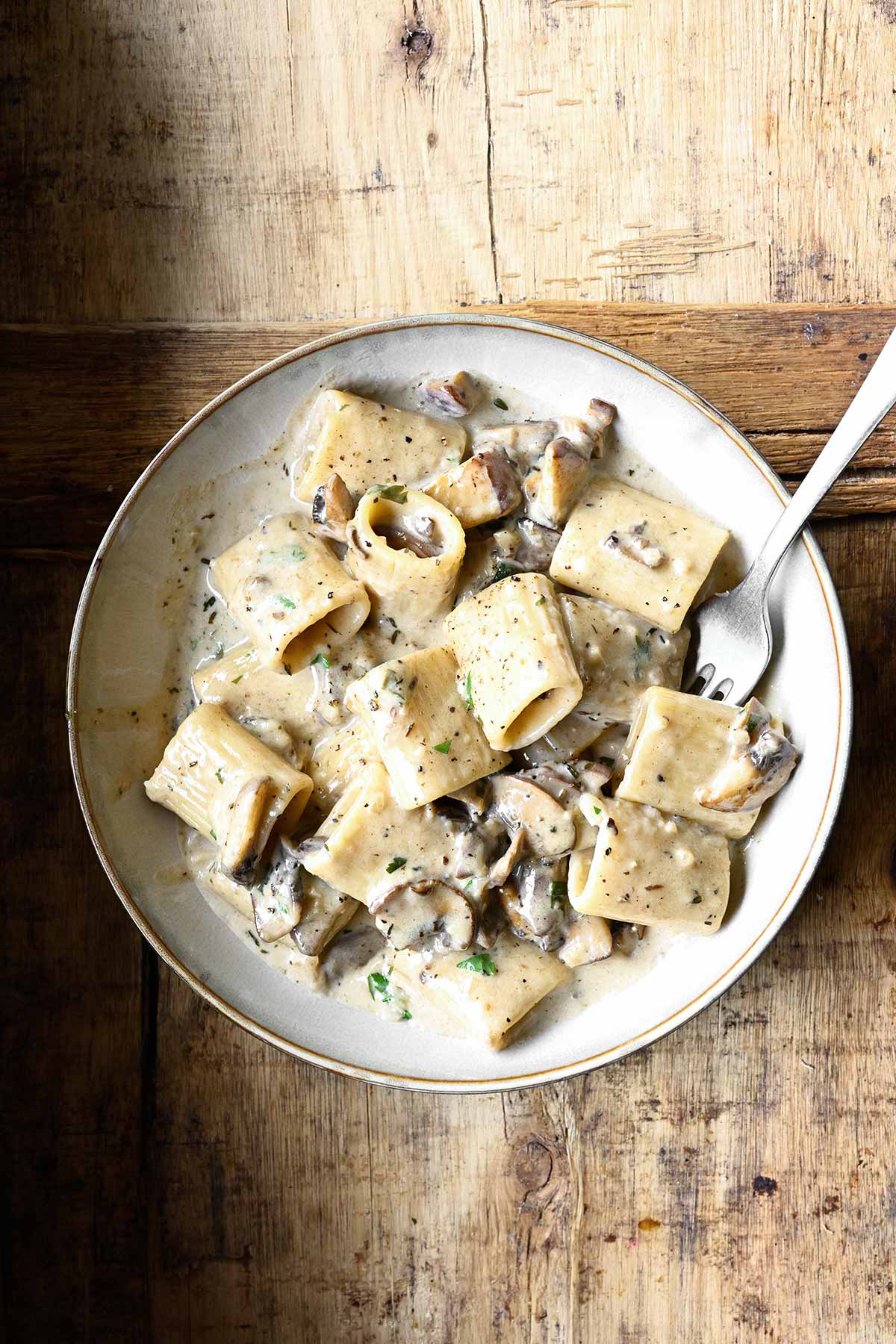 Helpful Tips
If you're dining with a picky eater or someone who isn't a fan of mushrooms, don't worry! You can easily omit them from the recipe. However, they do contribute a delightful earthy flavor, so consider sautéing some on the side to offer as an optional topping.
To incorporate more vegetables into your meal, consider adding a handful of spinach, broccoli or cauliflower to the pasta for extra nutrition and color.
For a protein-packed twist, elevate the dish by including some rotisserie chicken. It's a fantastic way to turn this creamy pasta into a heartier meal.
To complete your meal, serve the pasta alongside a big leafy side salad dressed with a drizzle of olive oil and balsamic vinegar. This refreshing salad pairs perfectly with the rich flavors of the Mushroom Alfredo Pasta. Enjoy!
Storage
Make Ahead: Mushroom Alfredo Pasta is best enjoyed fresh, and it doesn't store well when prepared in advance. Therefore, I recommend making it just before serving for the best taste and texture.
Refrigerator: If you happen to have leftovers, allow them to cool down completely at room temperature. Once cooled, transfer them to an airtight container and store them in the refrigerator. Consume the leftovers within 3 days for optimal quality.
Reheating: To reheat, gently warm the pasta in a nonstick pan with a dash of water or a splash of milk, over low heat on the stovetop. Alternatively turn the leftovers into a casserole. To do so transfer it to an oven-safe dish, add additional vegetables if desired, sprinkle with cheese and bake for approximately 10 minutes until it turns golden and reheats thoroughly.
Freezer: Unfortunately, this recipe is not suitable for freezing, so it's best enjoyed fresh or as leftovers within a few days.
Try These Next
Cooking Video
Yield: serves 4
Mushroom Alfredo Pasta
Picture sautéed mushrooms in a quick 20-minute Alfredo sauce dinner. A comforting classic, this easy, delicious dish is perfect for speedy weeknight dining and pleases everyone at the table.
Ingredients
14 ounces/400 g dry rigatoni
14 ounces/400 g mushrooms, chopped
1 tbsp olive oil
1 tsp each: salt, black pepper, dried thyme, dried onion
1 tbsp balsamic vinegar
4 garlic cloves, minced
1 ½ cup/360 ml heavy cream
½ cup/90 g grated Parmesan
2 tbsp unsalted butter
1 tbsp chopped parsley, more for serving
Instructions
Get your prep done before you start cooking. Set a large pot with salted water over high heat and bring to a boil.
Grate the Parmesan cheese, mince the garlic cloves, chop the mushrooms and chop the parsley.
Add pasta to the pot with boiling water and cook until al dente. Drain when ready, reserving 1 cup cooking water.
Heat a large nonstick skillet over medium high. Once hot, place the mushrooms in a single layer and cook for 1 minute. Next, stir and cook until they release their moisture. Add olive oil and cook until the mushrooms become golden brown.
Add salt, pepper, thyme, dried onion and balsamic vinegar. Stir in garlic and cook for 2 minutes. Pour in cream and bring to a simmer. Reduce heat to low and stir in Parmesan. Add parsley and butter, stir until the butter is fully melted. Simmer for 1 minute to thicken the sauce.
Toss with pasta and ¼ cup cooking water. Taste and adjust salt. Finish off with freshly ground black pepper and parsley. Add more cooking water, if needed. Serve immediately.
Nutrition Information:
Yield:
4
Serving Size:
1
Amount Per Serving:
Calories:

685
Total Fat:

50g
Saturated Fat:

29g
Trans Fat:

1g
Unsaturated Fat:

17g
Cholesterol:

137mg
Sodium:

1018mg
Carbohydrates:

45g
Fiber:

4g
Sugar:

7g
Protein:

17g
Nutritional information is only an estimate. The accuracy of the nutritional information for any recipe on this site is not guaranteed.