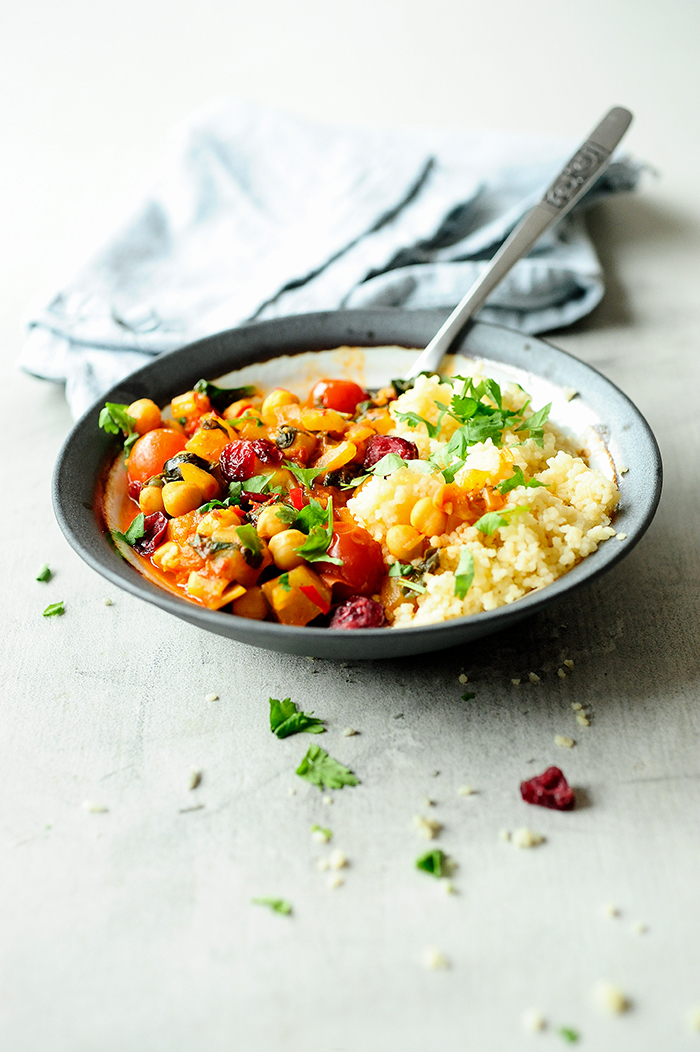 When cold weather strikes, there's nothing as comforting as a warm stew. This delicious Moroccan-inspired vegetable stew looks as good as it tastes. It's healthy and super aromatic.
serves 4 | 60 minutes
Ingredients
1 can chickpeas
200 g kale
1 large fennel, diced
1 large turnip, peeled and diced
2 cups vegetable broth
400 g can cherry tomatoes
4 tbl olive oil
2 shallots, chopped
1 chilli, chopped
4 cloves garlic, finely chopped
1 tbl grated fresh ginger
2 tsp salt
1 tbl turmeric
1 tbl sweet paprika
1 tsp cinnamon
1 tsp ground black pepper
1/2 tsp cayenne pepper
1/2 cup dried cranberries
2 tbl lime zest
bunch coriander, chopped
Instructions
Heat the oil in a deep frying pan, add the shallots and chili and simmer for 3 minutes. Add the garlic, ginger, salt, turmeric, paprika, cinnamon, black pepper and cayenne, simmer until the release of fragrance, about two minutes.
Rinse the kale under running water, cut the hardened part of the stem and cut the leaves into strips. Place in the frying pan with the fennel and turnips, continue to simmer until the vegetables begin to soften, about 10 minutes. Pour the broth and cook, covered, over medium heat for 30 minutes.
Then add the drained chickpeas and canned cherry tomatoes, simmer for 10 minutes. Finally add the cranberries and lime zest, simmer a few minutes. Season with salt and serve with couscous and coriander.
Bon Appetit!