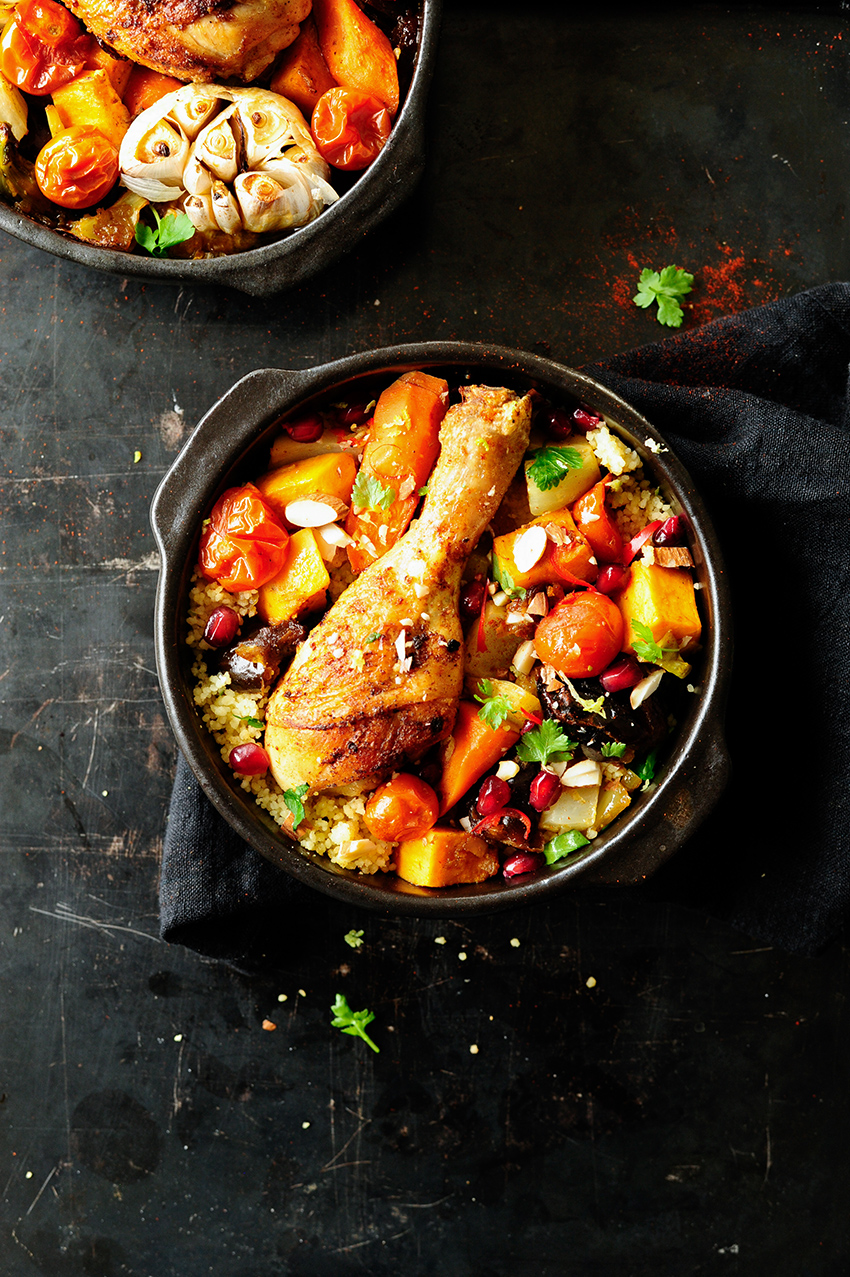 Nothing beats a one skillet chicken dinner, I just feel it's something everyone loves. It's healthy, cozy comfort food. This dish is simple, fast to make and tasty, without any crazy flavors. This Moroccan chicken is served with couscous, vegetables and dates, first seared, then roasted to perfection. And the dates just add the right amount of sweetness which pairs great with the roasted chicken. Enjoy!
Ingredients
chicken
8 pieces organic chicken drumsticks
1 onion, finely chopped
2 cloves garlic, finely chopped
2 sweet potatoes, peeled and cut into thick pieces
1 carrot, peeled and cut into large pieces
1 bulb fennel, cut into pieces
250 g cherry tomatoes
100 g dates, soaked for 20 minutes
100 ml chicken broth
1 red chilli, finely chopped
2 tablespoons grated ginger
1 teaspoon cumin
2 teaspoons paprika
2 teaspoons ras el hanout
1 teaspoon turmeric
juice and zest of 1/2 organic lemon
6 tablespoons olive oil
salt and black pepper
couscous
250 g couscous
seeds of 1/2 pomegranate
2 tablespoons chopped almonds
1 cup  chicken broth
1 tablespoon olive oil
2 tablespoons chopped parsley
salt and black pepper
Let's stay connected! Sign up for my NEWSLETTER to receive the latest recipes.
Instructions
Rub the chicken with 2 tablespoons olive oil, 1 teaspoon ras al hanout, 1 clove garlic and lemon zest. Season with salt and pepper.
Heat 2 tablespoons olive oil in an oven safe skillet, add the chicken and cook until golden brown, about 5 minutes. Flip and cook for 5 minutes more. Remove the chicken from the pan.
Add 2 tablespoons olive oil, onion, garlic and ginger, sauté until soft. Add the spices, sweet potatoes, carrot, fennel and season with salt and pepper. Simmer for 5 minutes, until the vegetables are slightly softened. Pour the broth, bring to a boil and remove the skillet from the heat.

Place the chicken on top, add tomatoes and dates, sprinkle with chili pepper and drizzle with lemon juice.
Bake for 35-40 minutes at 200°C.

Bring the chicken broth to a boil, remove from the heat and add the couscous. Sprinkle with olive oil and season with salt and pepper. Cover and let stand for about 5 minutes. Stir in almonds, pomegranate seeds and parsley. Enjoy!

If you give this recipe a try, leave a comment or mention me on Instagram @anna_s_table. I'd love to see what you come up with.

//= __('Print recipe (no photos)', 'servingdumplings' );?> //= __('Print recipe (with photos)', 'servingdumplings' );?>