Mini galettes with a flaky crust and a layer of sweet, juicy pears with cinnamon. Sprinkled with crunchy toasted almonds. A delicious, elegant, straightforward dessert. 
Galettes are easygoing, way less fussy than a pie, but equally delicious. What's not to love about these little desserts? Buttery, crispy crust, an even layer of cinnamon pears and crunchy almonds. And they're so easy to make. The dough is simple and comes together easily. When it comes to rolling it out, there are really no rules here. You can keep the galettes roundish in shape, but you can also make them square. These desserts are rustic, their imperfections are what make them so perfect. 
You can serve this galette warm, at room temperature, or chilled the next day. You can make it beforehand if you're cooking for a crowd. Or even make one galette, if you prefer. Just don't forget to serve with a dollop of ice cream or vanilla sauce.
No time to make flaky dough? Use store-bought puff pastry instead. So easy!
Make sure to check out MY WEB STORY for HOW TO MAKE these pear almond galettes. It's easy, just follow along and tap through the steps.
More delicious galette recipes:
Easy Blueberry Fig and Almond Tarts
Honey apricot tarts
Rhubarb-strawberry galette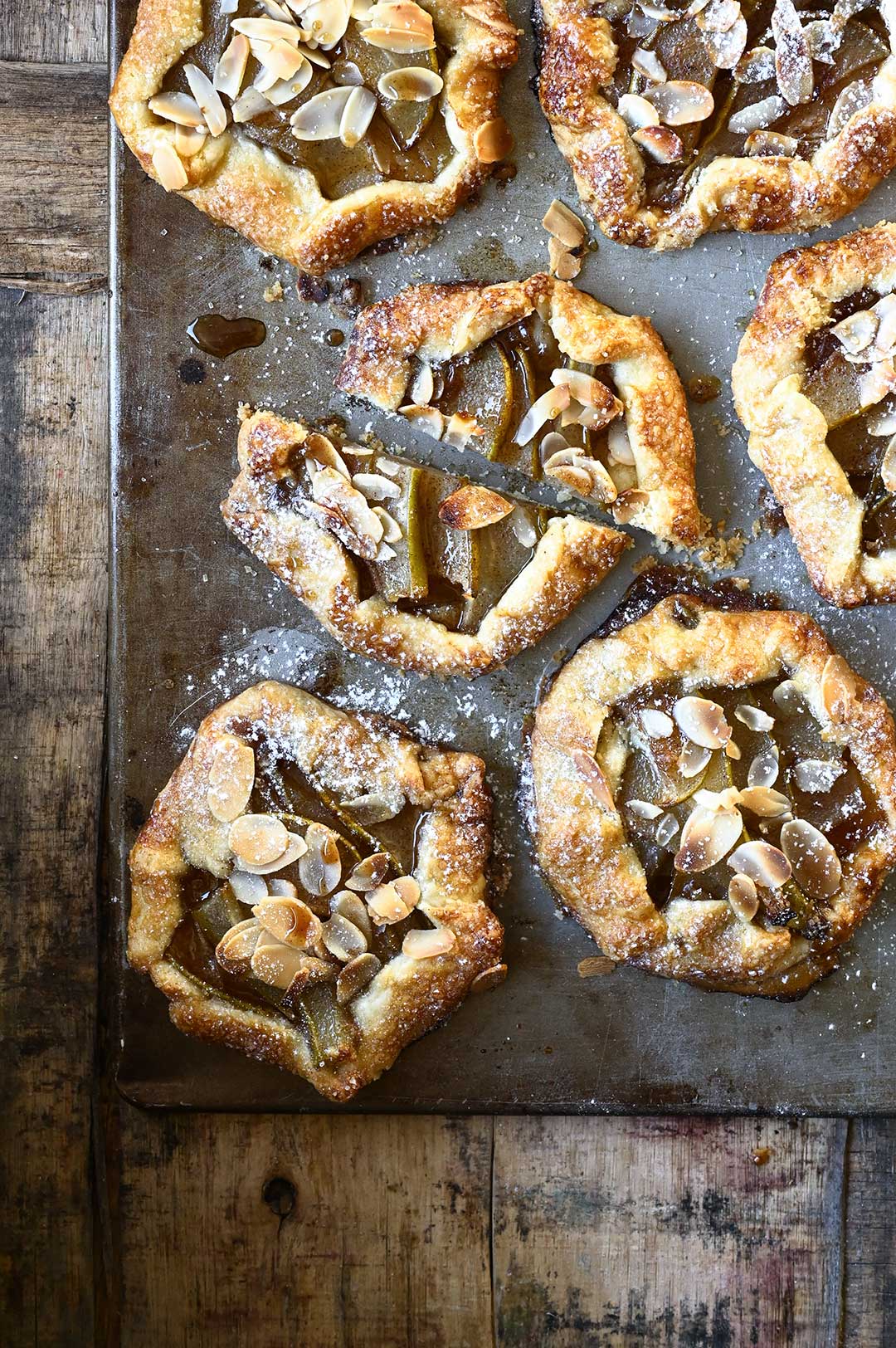 Let's stay connected! Sign up for my NEWSLETTER to receive the latest recipes.
You need
flaky crust
150 g all-purpose flour
140 g cold butter
2 tbsp sugar
1/4 tsp salt
3-4 tbsp ice water
filling
4 small ripe pears, cut into thin slices
1/2 cup light brown sugar
1 tbsp lemon juice
1 tsp cinnamon
1 tbsp corn starch
3 tbsp almond flakes
+
1 egg beaten with 1 tsp milk, for brushing
coarse sugar for sprinkling
vanilla ice cream, whipped cream or vanilla sauce for serving
…IF YOU LOVE THESE RECIPES … please consider supporting my work for just the cost of a cup of coffee.

How to
In a food processor, pulse flour, sugar and salt. Add butter and pulse for about 1 minute, until the mixture forms pea size pieces. Slowly add ice water, 1 tablespoon at a time, pulse until the mixture comes together.
Transfer the dough onto a lightly floured surface and gently pat into a disk. Wrap in plastic and chill at least 30 minutes.
Combine pears with sugar, lemon juice, corn starch and cinnamon.
Preheat the oven to 190C (375F).
Roll out the dough on a lightly floured surface. Cut out 6 circles. Carefully transfer to a baking sheet lined with parchment paper. Arrange the pears evenly over each circle. Fold the edges up and over the fruit. Sprinkle with almond flakes.
Brush the edges of the pastry with the beaten egg and sprinkle with coarse sugar. Transfer to the oven and bake for 20 minutes or until golden brown. The edges should get dark.
Let cool slightly and serve. Enjoy!
Make sure to check out MY WEB STORY for HOW TO MAKE these pear almond galettes. It's easy, just follow along and tap through the steps.
If you give this recipe a try, leave a comment or mention me on Instagram  #servingdumplings or tag me in your picture with @anna_s_table. I'd love to see what you're making. Happy cooking!