Middle Eastern chicken stew with white beans. It's super hearty, delicious and fuss-free. Imagine tender chicken and lots of creamy white beans simmered a tomatoey broth. Extra bonus? It's ready in 30 minutes, made in one pot and requires minimal prep. Serve with rice or a side of crusty bread for a satisfying crowd-pleasing dinner.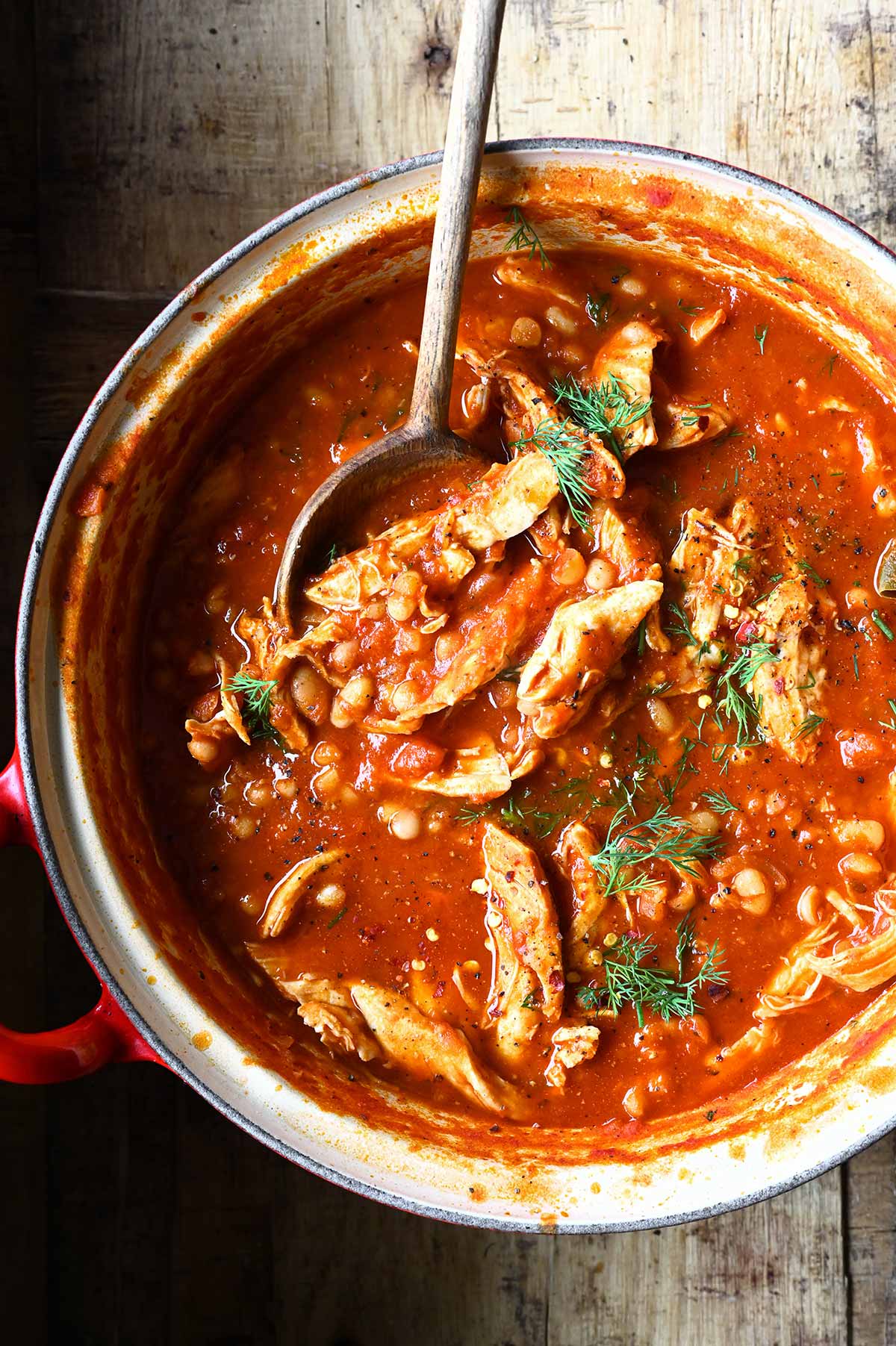 Hearty, delicious and rich. This chicken and white bean stew makes for a robust and comforting dinner that's budget friendly and loaded with flavor. It's a family-pleasing hit that you'll want to make again and again.
This Middle Eastern inspired chicken stew is designed to satisfy your taste buds in every way possible. It's filled with tender shredded chicken, bold flavors like garlic, and sumac for brightness and balance. This is one of those meals that tastes even better the next day… and yes, it freezes magnificent!
Serve over a bed of rice and a leafy salad on the side. If rice doesn't rock your boat, you could serve this stew with couscous or potatoes. But an addition of some good crusty bread to mop up all that goodness from the bottom of your bowl is always a good idea.
Let me guide you through the recipe with this step-by-step VIDEO.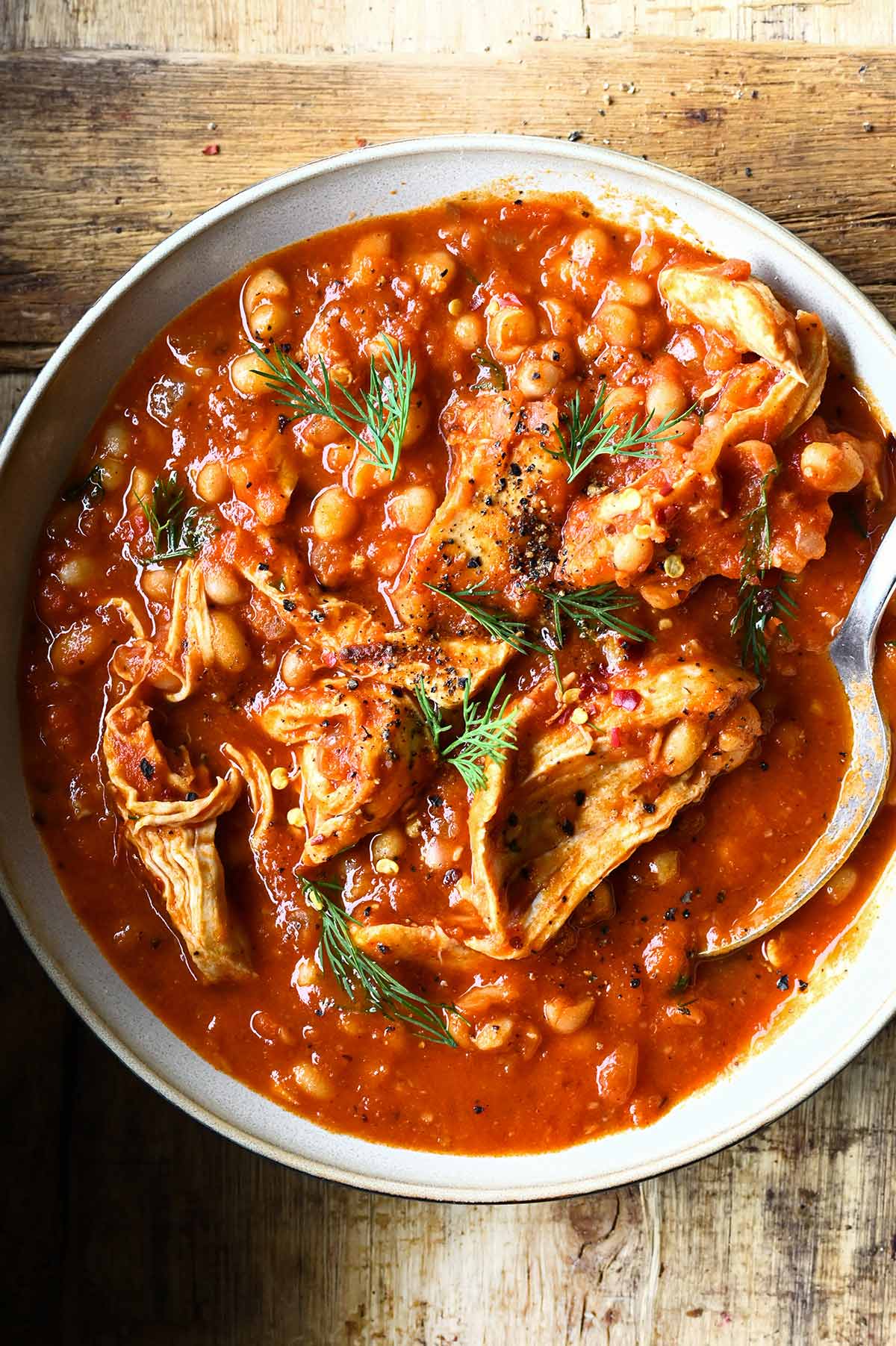 These Are The Simple Steps
Start by sweating garlic and onion in just a little bit of olive oil. Next stir in the seasoning and tomato paste. Pour in the chicken broth and crushed tomatoes. Bring everything to a boil, then add the white beans and chicken fillets. Finally throw in the bay leaves and add sumac. Simmer everything together for 15 minutes.
Almost done! The only thing that's left to do is to take out the chicken fillets, shred them and add back to the pot. Finish off with dill, serve!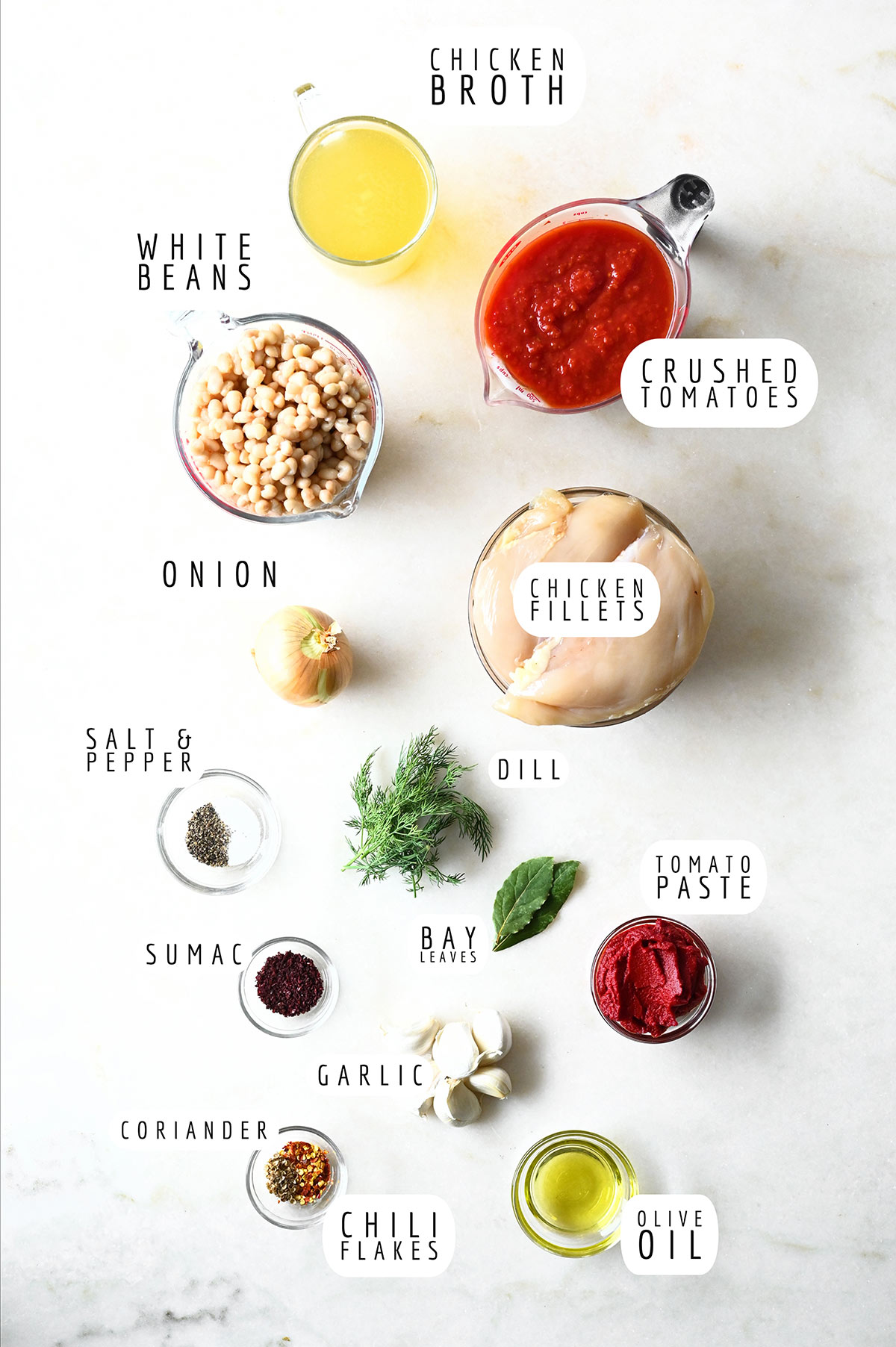 Let's Dig Into the Ingredients
Olive Oil: To sweat the garlic cloves and onion.
Garlic and Onion: A must for flavor.
Tomato Paste: Adds a little sweetness and helps to thicken the stew.
Crushed Tomatoes: Add texture and flavor. You can also use whole canned tomatoes or tomato purée.
White Beans: For a delicious creamy flavor with a nutty undertone. You can use Great Northern, Navy, Butter beans or Cannellini.
Chicken Fillets: They shred easily and cook faster compared to bone-in chicken. You could also use boneless/skinless chicken thighs.
Chicken Broth: If you're like me and prefer your stew on the thicker, chunkier side, than 1 cup of chicken broth will be enough. But you can always add a cup more.
Seasoning: Salt, black pepper, chili flakes, ground coriander, bay leaves and sumac. This is a delicious flavor blend! Sumac is a seasoning that adds brightness and tartness, similar to lemon juice. If you can't find it, use lemon zest.
Fresh Herbs: I used dill to add some freshness, but you can swap it for parsley or cilantro.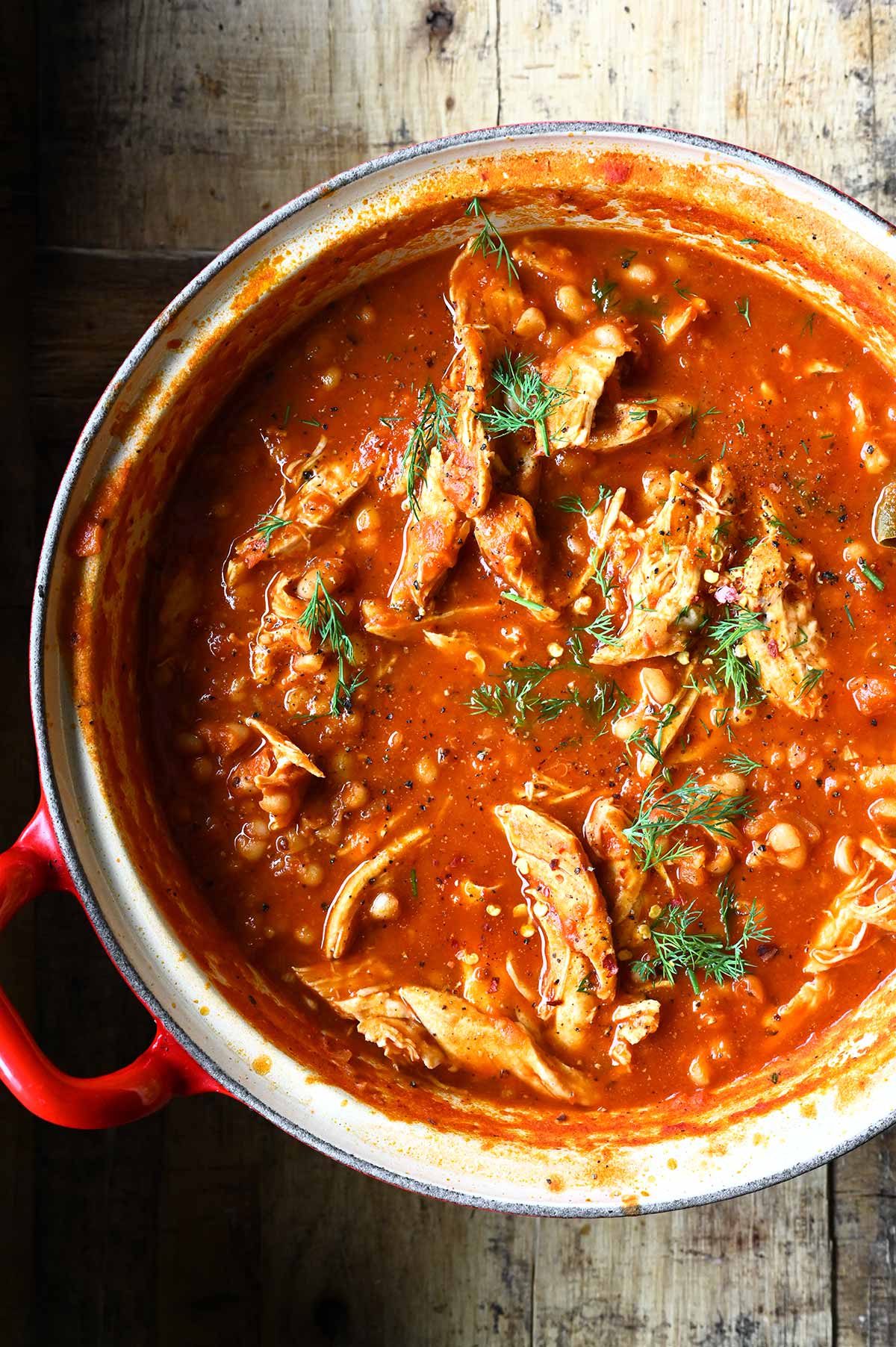 RECIPE NOTES
Want a richer stew? Add carrots or potatoes.
Serve with rice, crusty bread and a big leafy salad.
Make ahead: You can made this stew 1 day ahead. Considering the fact that its flavor deepens overnight.
Storage: You can refrigerate the stew in airtight containers for up to 3 days.
To freeze: Put the stew into an airtight container and store in the freezer for up to 3 months. To reheat, let it thaw overnight in the refrigerator then heat it on the stove. Thin out with a splash of water, if needed.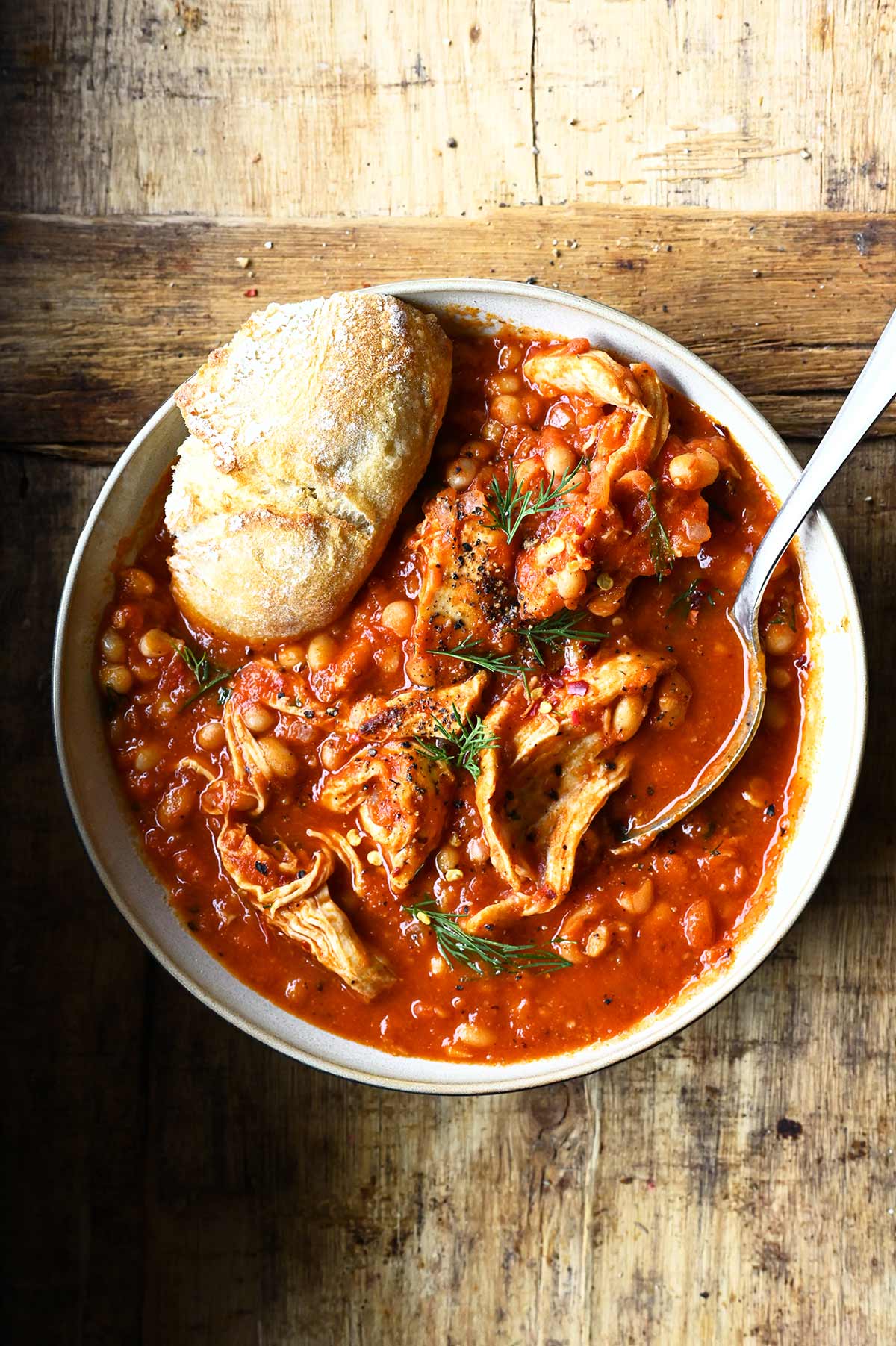 TRY THESE NEXT
COOKING VIDEO
Yield: serves 4
Middle Eastern Chicken Stew with White Beans
Ingredients
1 tbsp olive oil
1 small brown onion, finely chopped
6 garlic cloves, minced
1 tsp each: salt, black pepper, sweet paprika
½ tsp each: chili flakes, ground coriander
5 tbsp double concentrated tomato paste
1 cup/240 ml chicken broth
2 cups/500 ml crushed tomatoes
2 cans (14 oz/400 g) white beans, drained
1.1 pounds/500 g chicken fillets
1 tsp sumac
2 bay leaves
2 tbsp chopped dill
Instructions
Heat oil over medium low in a large heavy bottomed pot. Add garlic and onion, cook for 2 minutes. Stir in salt, pepper, coriander, paprika, chili flakes and tomato paste. Cook for 1 minute.
Pour in chicken broth and crushed tomatoes. Add white beans and chicken fillets. Next stir in sumac and bay leaves. Bring to a boil, cover the pot and simmer for 15 minutes.
When ready, transfer the chicken fillets onto a clean plate. Shred the chicken using two forks. Hold a fork in each hand, and use them to pull the meat apart. Return the chicken to the pot and add dill. Give it a good stir. Taste and adjust salt. Serve!
Notes
Calories Per Serving: 434 kcal
Nutritional information is only an estimate. The accuracy of the nutritional information for any recipe on this site is not guaranteed.

//= __('Print recipe (no photos)', 'servingdumplings' );?> //= __('Print recipe (with photos)', 'servingdumplings' );?>