Searching for a simple but flavor-packed dinner? That's easy. Meet this cheesy Mexican rice bake with chorizo and eggs.
This recipe combines chorizo, rice, green bell pepper and strips of corn tortillas. Add sharp cheddar cheese, some eggs, bright spices and finish it off in the oven to get that crispy and crunchiness on top. This mega-craveable Mexican-inspired bake transforms your dinner into a comforting baked casserole that really doesn't need anything else to call it a meal. Although a simple green salad on the side is always welcome.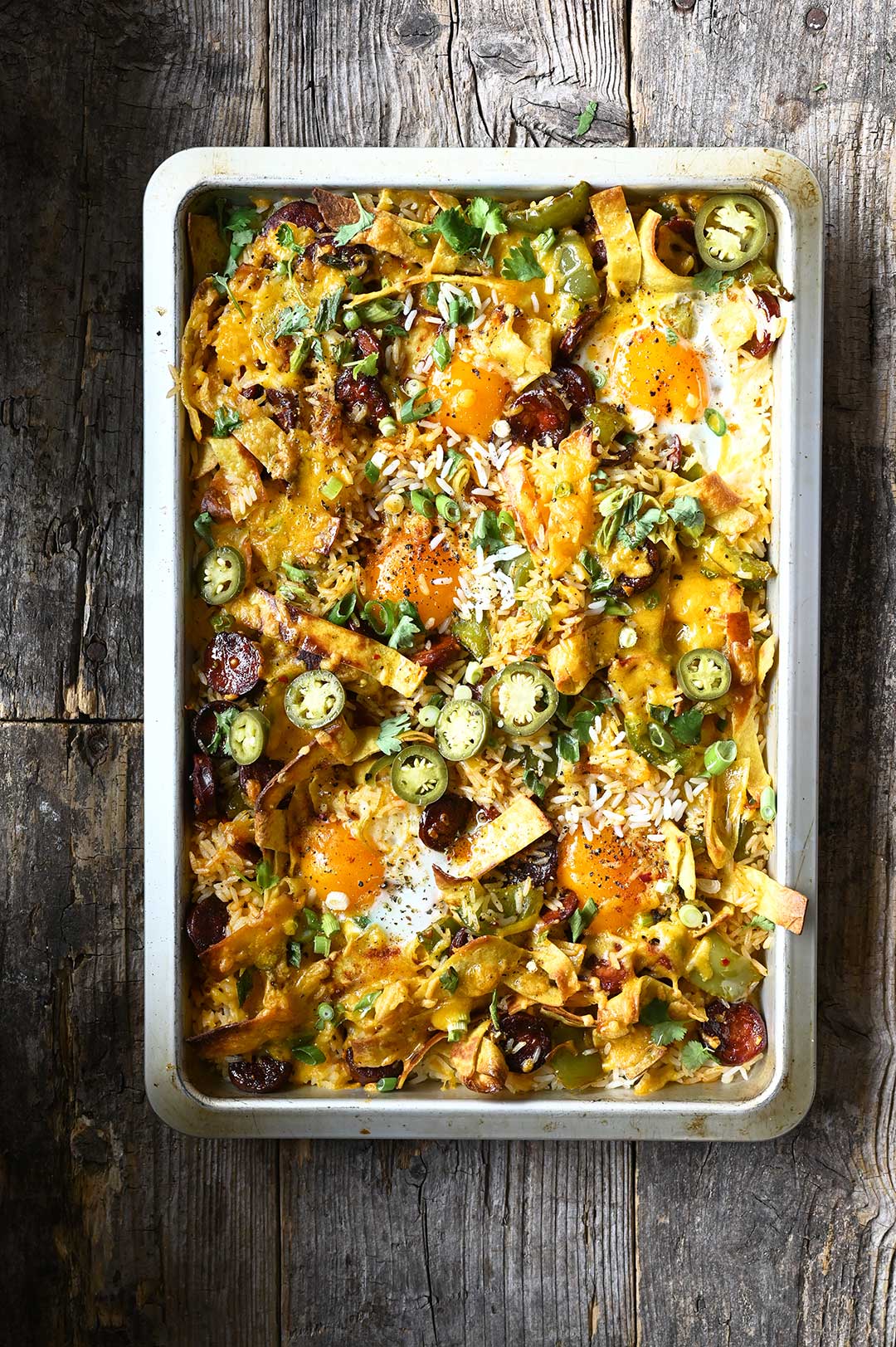 For this simple recipe, you can use your leftover rice. Whip it up with ease after a busy day knowing that you'll have a hearty dinner. It's well balanced, easy and super tasty. Add to that, the delicious flavors that this special dish brings to your table. Serve with chopped cilantro leaves and pico de gallo to make the whole meal come alive, and  jalapeños to really kick up the flavor. Add aioli, and you will have a dish that will impress the most distinguished guests. 
Seriously, this is so good! You can eat this rice on its own. But it's also amazing with chicken, ground beef or Mexican chorizo. You can also add sweet potatoes, black beans or corn. Then top with avocado, or crumbled feta cheese, the perfect finish to this simple recipe.
Hop on over to Instagram to see how to make this in my highlights!
3 more delicious recipes:
Tex-Mex Chorizo & Beef Stuffed Peppers
Roasted salmon with black bean salsa
Corn chips crusted chicken fingers with jalapeño aïoli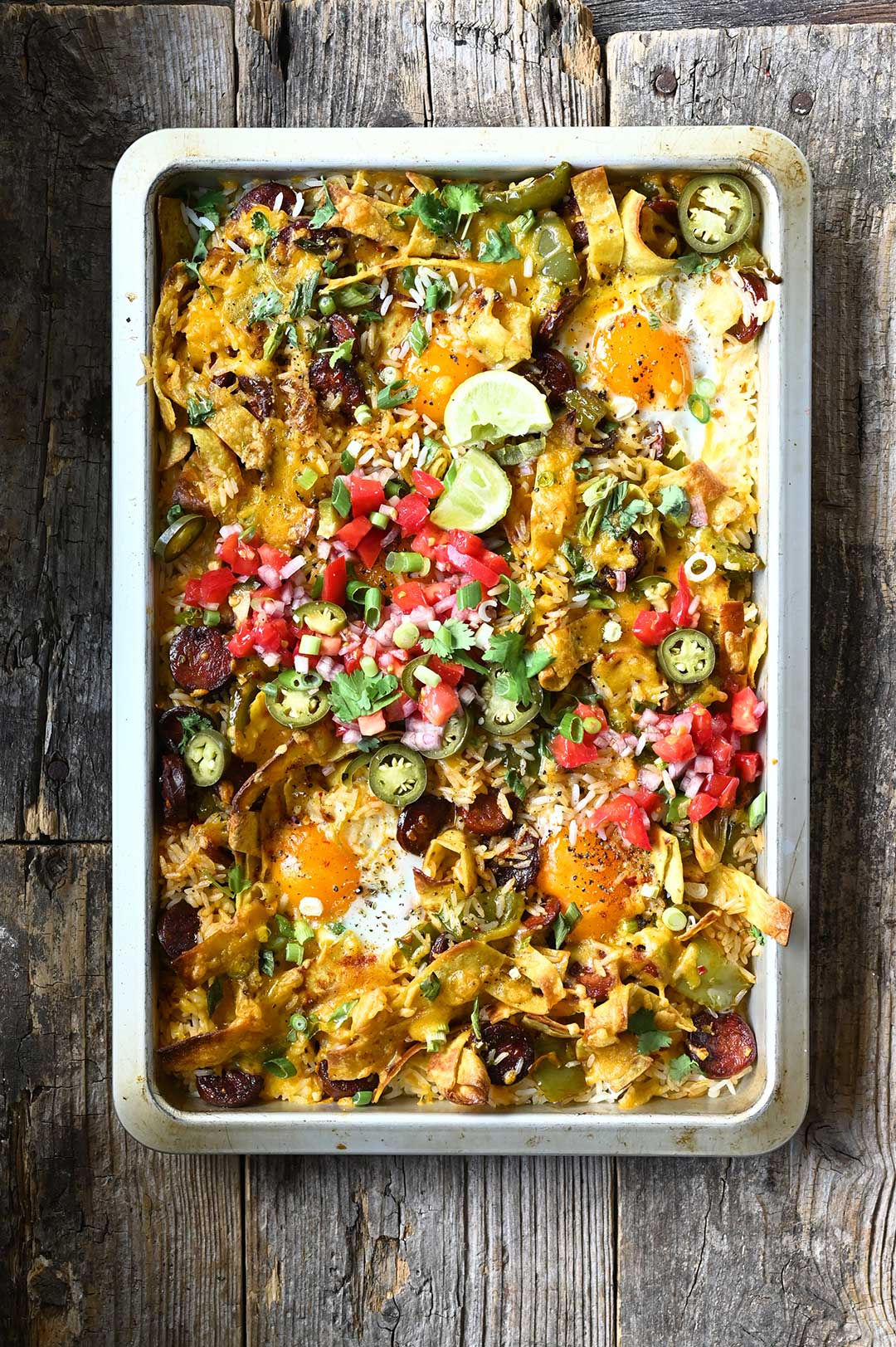 You need
250 g (1 cup) uncooked rice (or 2 cups cooked rice)
200 g (7 oz) chorizo, sliced
3 corn tortillas, cut into strips
1 green bell pepper, diced
150 g (1 cup) grated cheddar
4 eggs
olive oil or vegetable oil
1 tbsp butter
1 small onion, thinly sliced
2 garlic cloves, minced
4 scallions, chopped
2 tsp chili powder
1 tsp cumin
1 tsp oregano
1 tsp smoked paprika
sea salt + black pepper
for serving
chopped cilantro
jalapeños
pico de gallo (tomato + onion + jalapeño + lime juice + cilantro + s&p)
crumbled feta
aioli
How to
Hop on over to Instagram to see how to make this in my highlights!
Cook rice in salted water or use cooked leftover rice.
Preheat the oven to 220C or 425F.
In a skillet, heat 2 tbsp oil over medium heat. Add corn tortilla strips and fry until crispy, stirring regularly, about 5 minutes. Remove from the skillet. Place onto a paper towel lined plate.
Add 3 tbsp oil and butter to the same skillet. Add chorizo and fry for 3 minutes over high heat. Add bell pepper, garlic and onion. Sauté until softened, for 3 minutes. Season with oregano, chili powder, cumin, smoked paprika, pepper and salt. Remove the skillet from the heat.
Grease a baking dish with oil. Add cooked rice, chorizo mixture (with all of the oil), half of the cheddar cheese and tortilla strips. Stir to combine. Spread evenly and break the eggs over the rice. Sprinkle with the remaining cheddar. Top with scallions, season with salt and pepper, extra chili flakes if desired.
Transfer to the oven and bake for 8-10 minutes or until the egg whites are set and the egg yolks still soft.  Top with extra scallions and cilantro leaves. Serve immediately. So good with pico de gallo, jalapeños and aioli. And crumbled feta. Enjoy!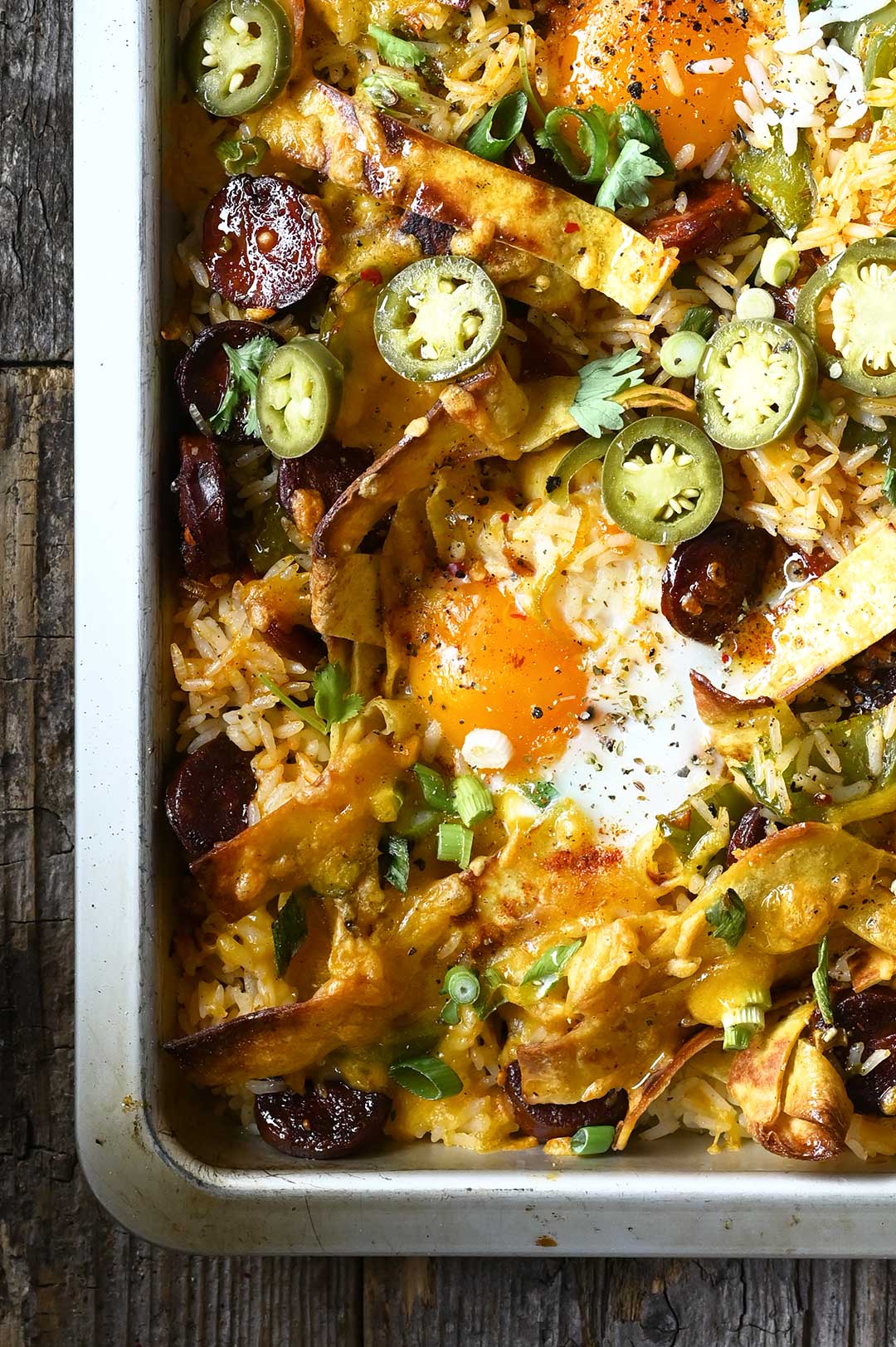 //= __('Print recipe (no photos)', 'servingdumplings' );?> //= __('Print recipe (with photos)', 'servingdumplings' );?>