30 minute skillet meatballs with peach-barbecue sauce. It's slightly sweet, savory and packed with flavor. Tender meatballs tossed in a smoky bbq-sauce jazzed up with peaches, honey and garlic. Chili flakes and sriracha are added for a spicy punch, but you can add as much heat as you like. Serve over white rice and crisp lettuce for a light, summery dinner. It's delicious and so darn easy. Perfect for any busy weeknights.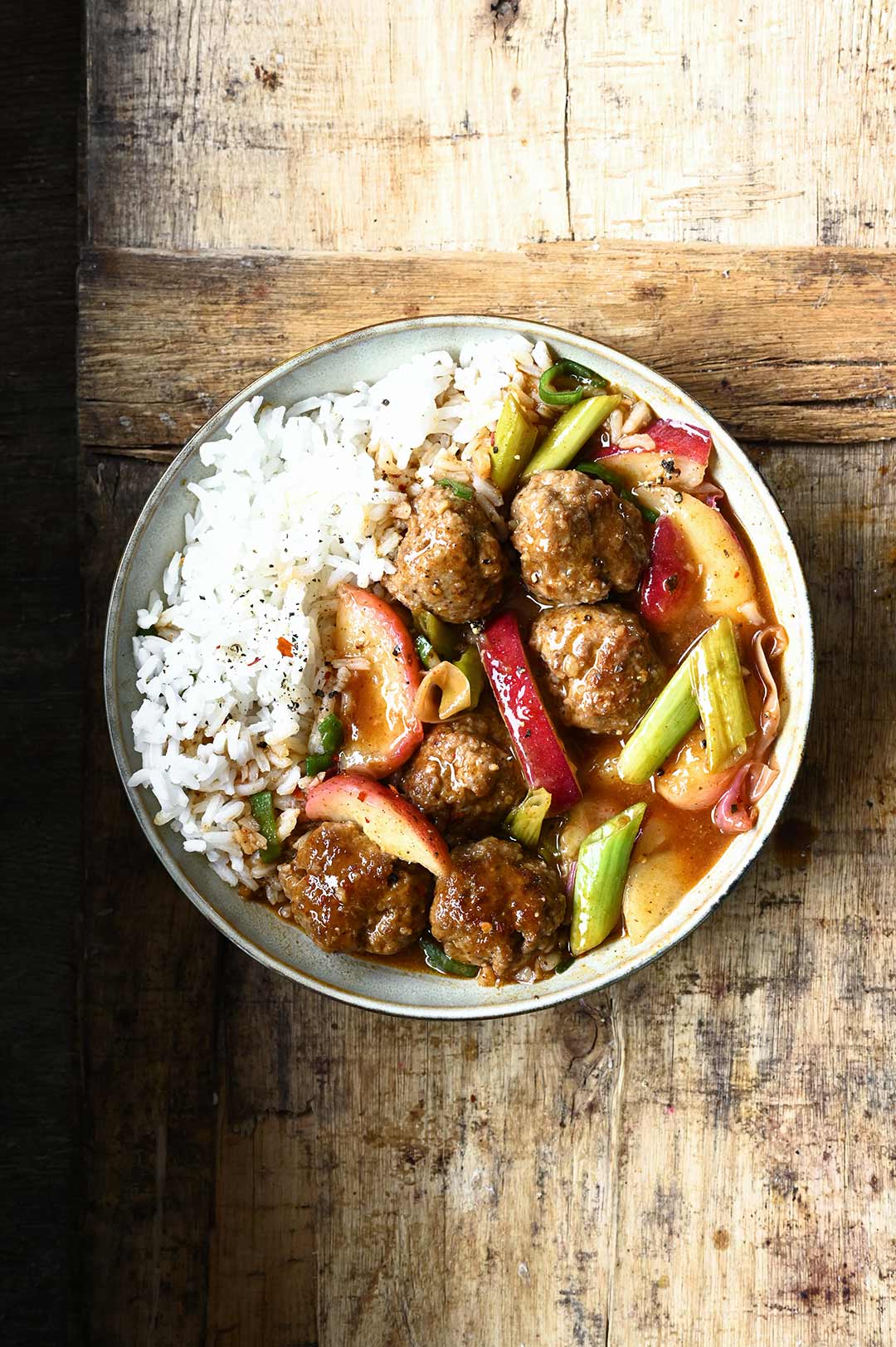 This could be a life changing combo, it's one of those recipes where you'll be surprised how easily it comes together and how fresh it tastes. It's unusual and unique, but also easy, made in just one skillet, and super-flavorful. Whether served as a snack, over rice or with bread, these meatballs are simply delicious.
Let me guide you through the recipe with this step-by-step VIDEO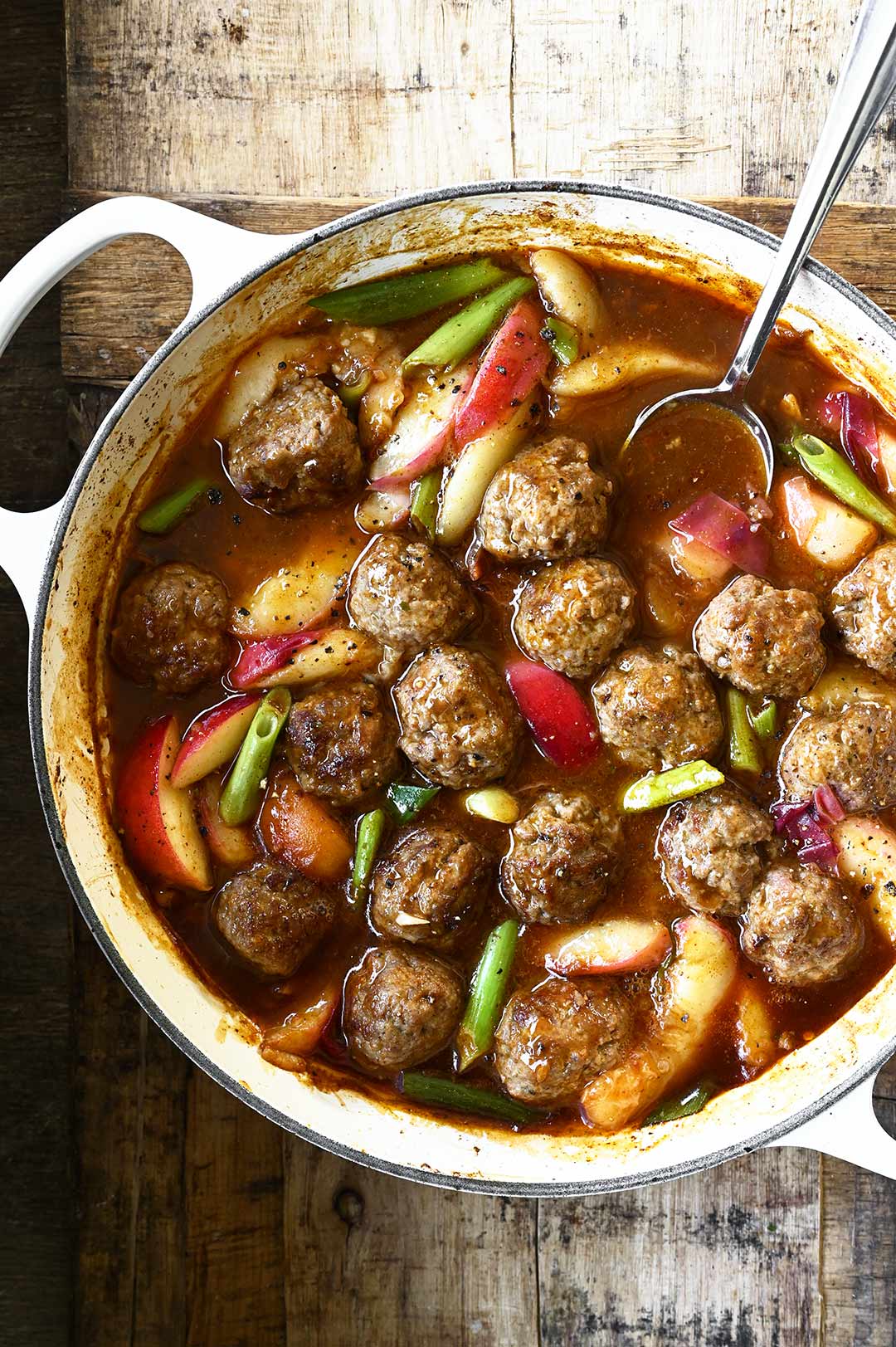 RECIPE NOTES
you can make these meatballs with any kind of ground meat, like chicken, turkey or beef, but rich pork goes especially well with juicy peaches and a hearty barbecue sauce
you can use peaches or nectarines
make sure to use ripe peaches, they should be very soft so they cook quickly, but also sweet so they contrast perfectly with the savory meatballs and spicy sauce
rice goes perfectly here, but you can serve it with a crisp lettuce salad and some bread for a lighter, more summery dinner
canned peaches work great, too
make it as spicy as you can handle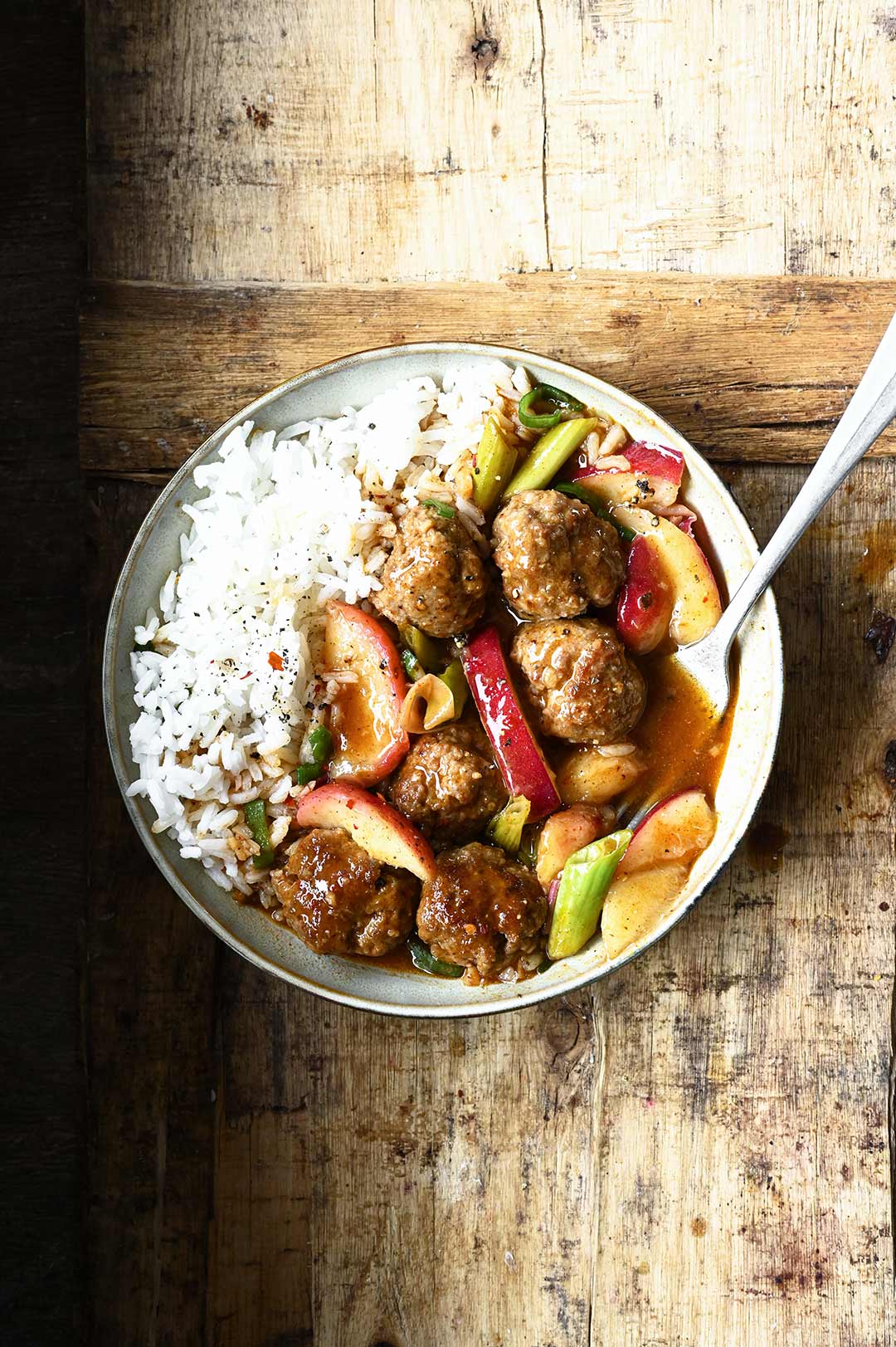 More meatball recipes, please!
Cooking Video
Yield: seves 4
Meatballs with Peach-Barbecue Sauce
Ingredients
3 ripe peaches, cut into wedges
4 garlic cloves, minced
4 scallions, sliced
3 tbsp olive oil
1 tbsp unsalted butter
rice, for serving
Meatballs
450 g/1 lbs ground pork
½ tsp each: dried ginger, dried garlic, dried onion, cumin powder, salt, black pepper
1 egg yolk
2 tbsp breadcrumbs
Barbecue Sauce
½ cup chicken broth
3 tbsp soy sauce
2 tbsp balsamic vinegar
3 tbsp honey
1 tsp sriracha, optional
3 tbsp ketchup
1 tsp cornstarch
1 tsp each: red pepper flakes, smoked paprika, black pepper
Instructions
Combine the ingredients for the bbq sauce in a small bowl.
Cook rice according to package directions.
Combine all the ingredients for the meatballs in a large bowl. Mix until just combined, using your hands. Coat your hands with water and roll the meat into 2 tablespoon-size balls. Will make about 20 meatballs.
In a large non-stick skillet, heat oil and butter over medium heat. Add meatballs and brown on all sides, about 10 minutes, turning them 2-3 times. Remove from skillet, leaving as much grease in the skillet as possible.
Lower the heat, add garlic and cook until soft and fragrant, about 2 minutes. Deglaze the skillet with a splash of the bbq sauce. Stir with a wooden spoon to dissolve the browned bits from the bottom of the skillet.
Add peaches, cook until they start to brown, about 3 minutes.
Pour in bbq-sauce and add scallions, bring to a boil.
Slide meatballs back to the skillet and simmer for 5 minutes or until the meatballs are heated through. Adjust salt, if needed.
Serve immediately with rice and a crisp lettuce salad, enjoy!
Notes
Calories Per Serving: 563 kcal
Nutritional information is only an estimate. The accuracy of the nutritional information for any recipe on this site is not guaranteed.