Meatballs primavera. Imagine tender meatballs simmered in a Parmesan butter sauce brightened up with lemon juice. It's fragrant, bright and delicious, especially when paired with spring vegetables! This dish delights all the senses.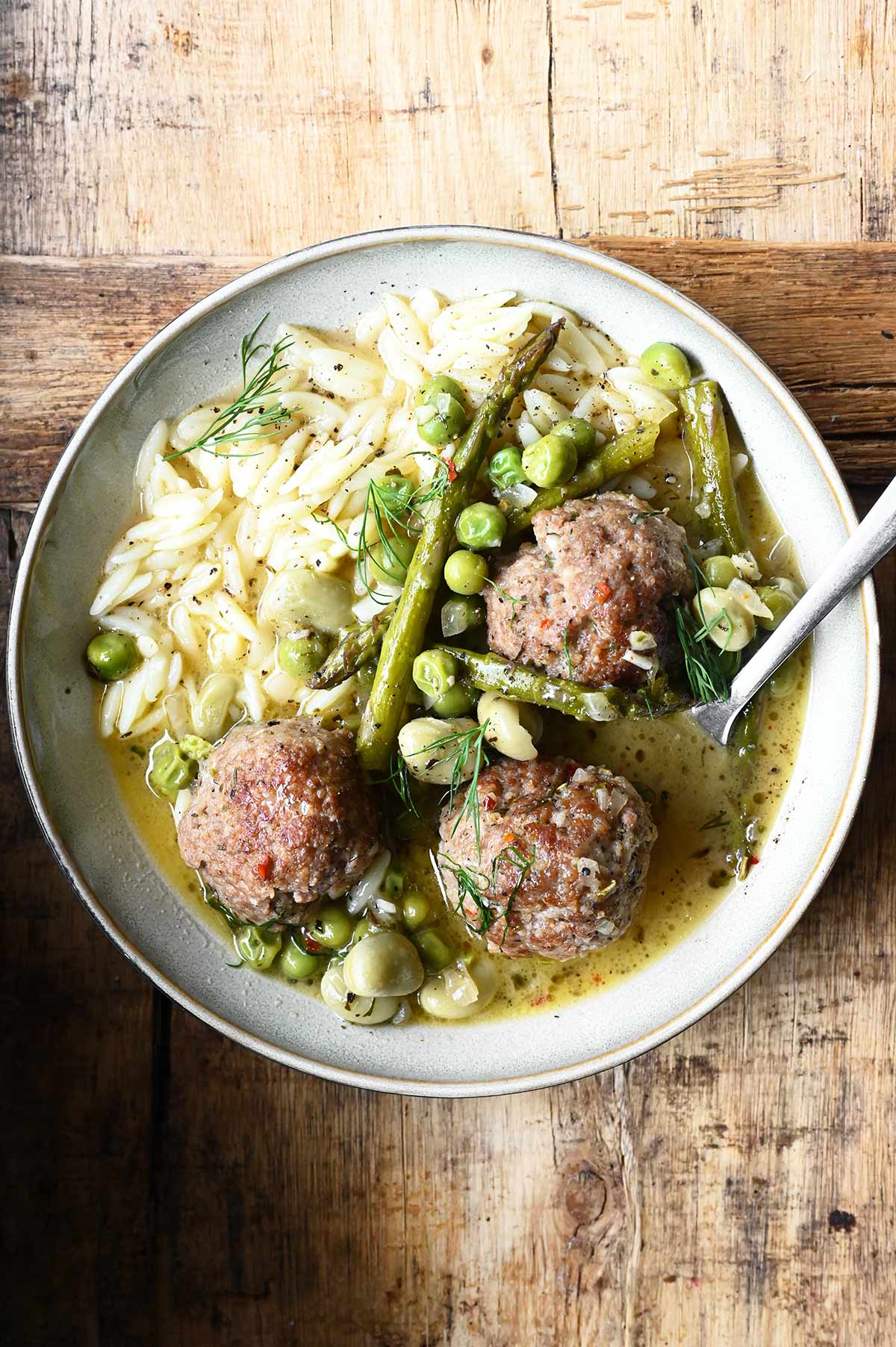 If you're looking for a knockout dish to brighten up dinnertime, these meatballs will have you swooning the best way possible. They're simmered in a lemony butter Parmesan sauce and packed with asparagus, green peas and broad beans. The combination with lemon juice gives this dish a nice citrusy touch and forms a bright contrast to the butter sauce. This is one of those easy recipes where everything comes together in a single skillet. It's super simple but satisfying. Serve with pasta or some crusty bread. Perfect for a dinner party or busy weeknights when you're looking for something fast and fancy.
Let me guide you through the recipe with this step-by-step VIDEO.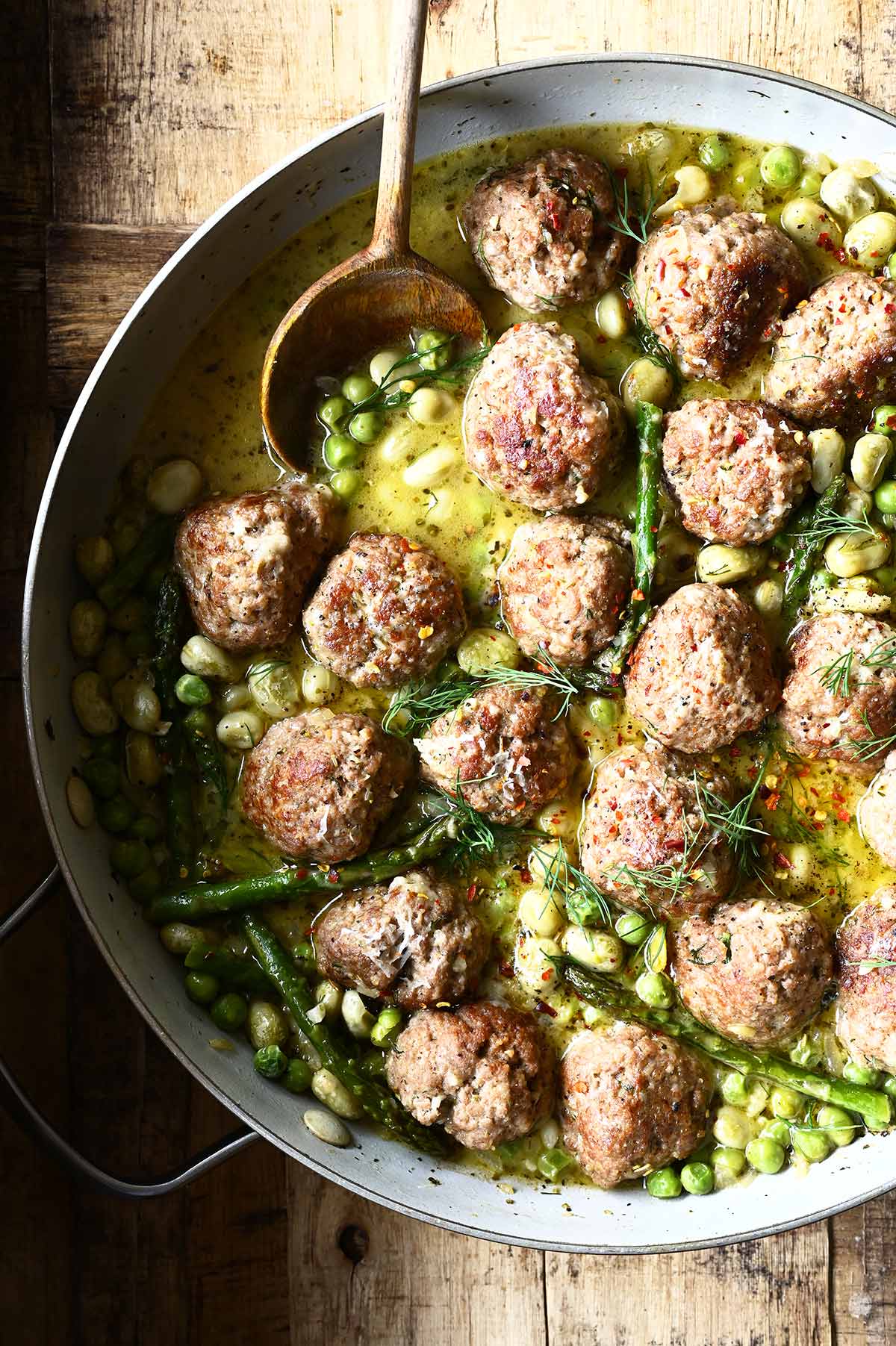 What's The Secret for Tender Meatballs?
A mixture of egg yolk and breadcrumbs keeps meatballs tender and juicy. We mix the meatballs with our hands, but make sure you don't over mix. The shorter you mix and form the balls, the lighter they will be. If you overwork the meatballs, they'll get tough. Work gently with your hands, not a spoon, to mix all the ingredients for an airy result. Last but not least. Simmer the meatballs just until cooked through.
We're using both, beef and pork mince for the best juicy and soft meatballs. Feel free to just use only beef, it will be super tasty, but not quite as soft.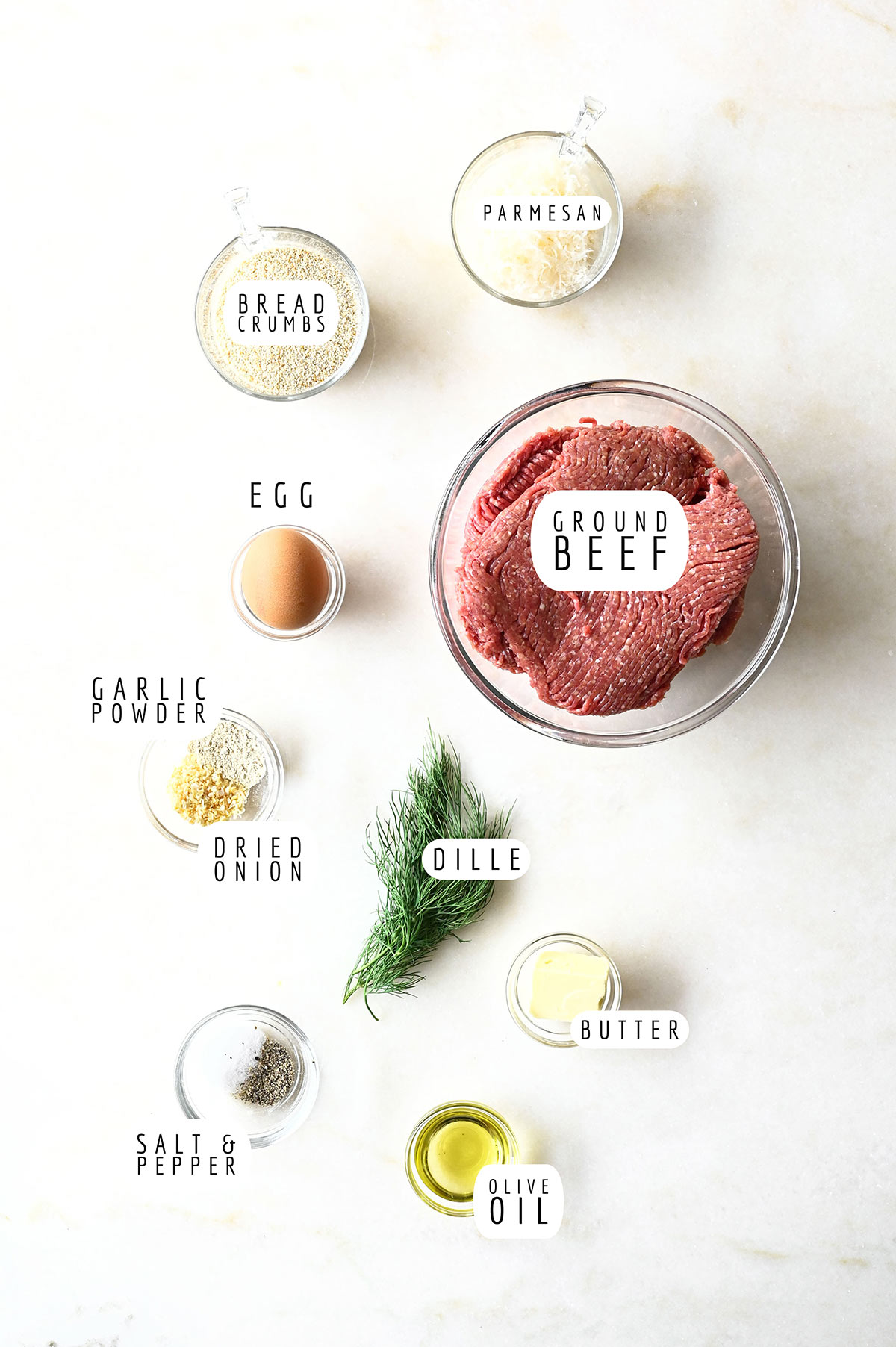 Ingredients, Tips & Substitutions
Meatballs
Ground Meat: I used a mix of ground pork and beef, but feel free to use only ground beef, pork, chicken or turkey for the meatballs.
Egg: To bind the meat with breadcrumbs and spices.
Breadcrumbs: They absorb the juices from the meat as it cooks, trapping them within the meatball and preventing it from becoming dry.
Seasoning: Garlic powder, dried onions, salt and black pepper.
Parmesan: This cheese will melt while cooking, adding a creamy touch and a salty taste to the meat.
Herbs: Fresh dill for depth of flavor and aroma. You could also go for a mix of mint, dill and parsley.
Butter and Olive Oil: For frying the meatballs.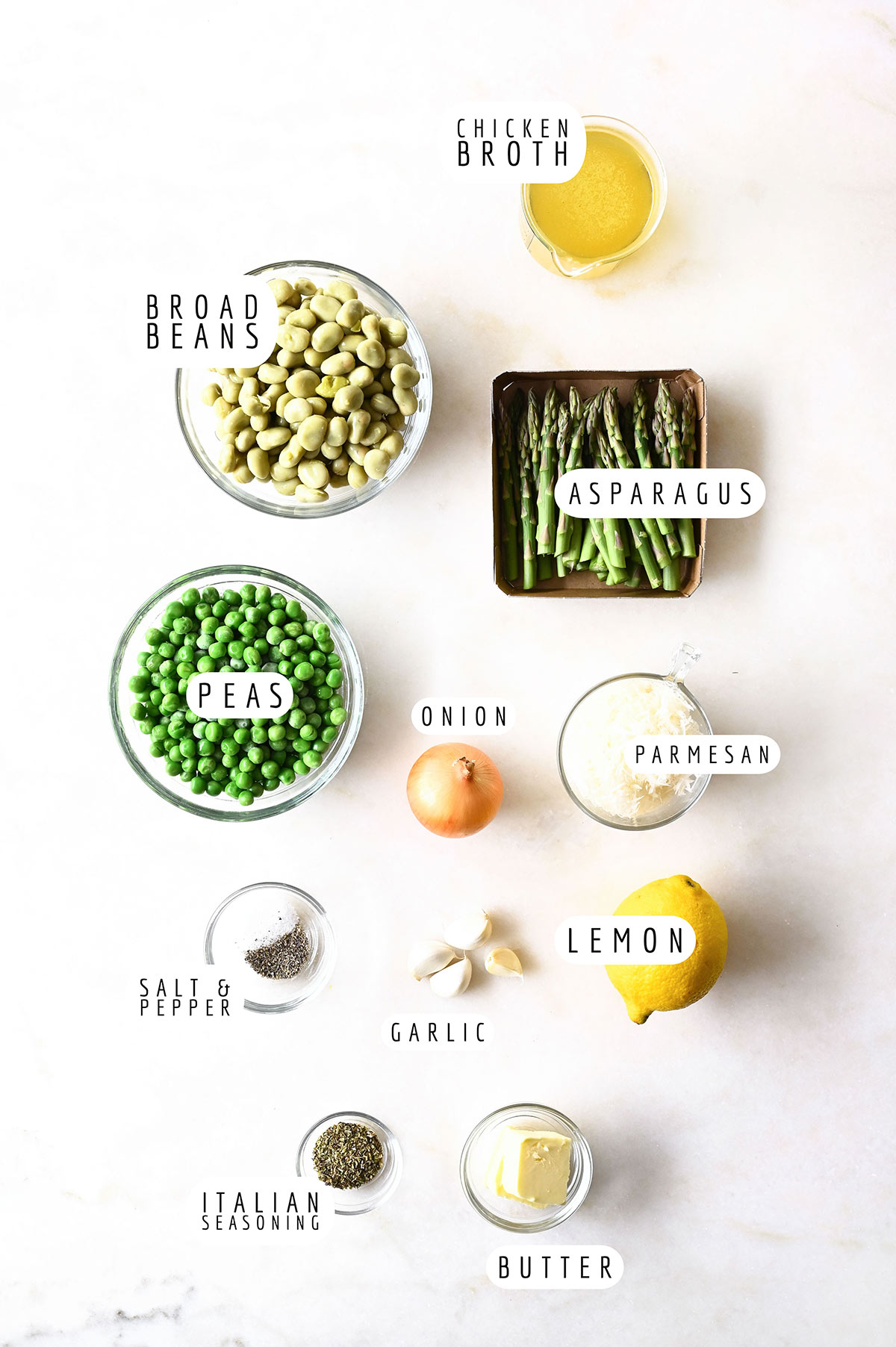 Lemon Butter Sauce with Vegetables
Garlic and Onion: The base for our sauce.
Vegetables: Green peas, broad beans and asparagus. Feel free to use your favorites green veggies like broccoli rabe, baby spinach, sugar snaps or snow peas.
Seasoning: A mix of salt, black pepper and Italian seasoning.
Parmesan: Adds a deep savory note to the sauce. Best when freshly grated.
Lemon Juice: Gives this dish an intense citrusy punch and forms a bright contrast to the butter sauce.
Butter: Clearly, we can't have a butter sauce without butter. I highly recommend to pick a good quality butter.
Chicken Broth: You can swap for vegetable broth.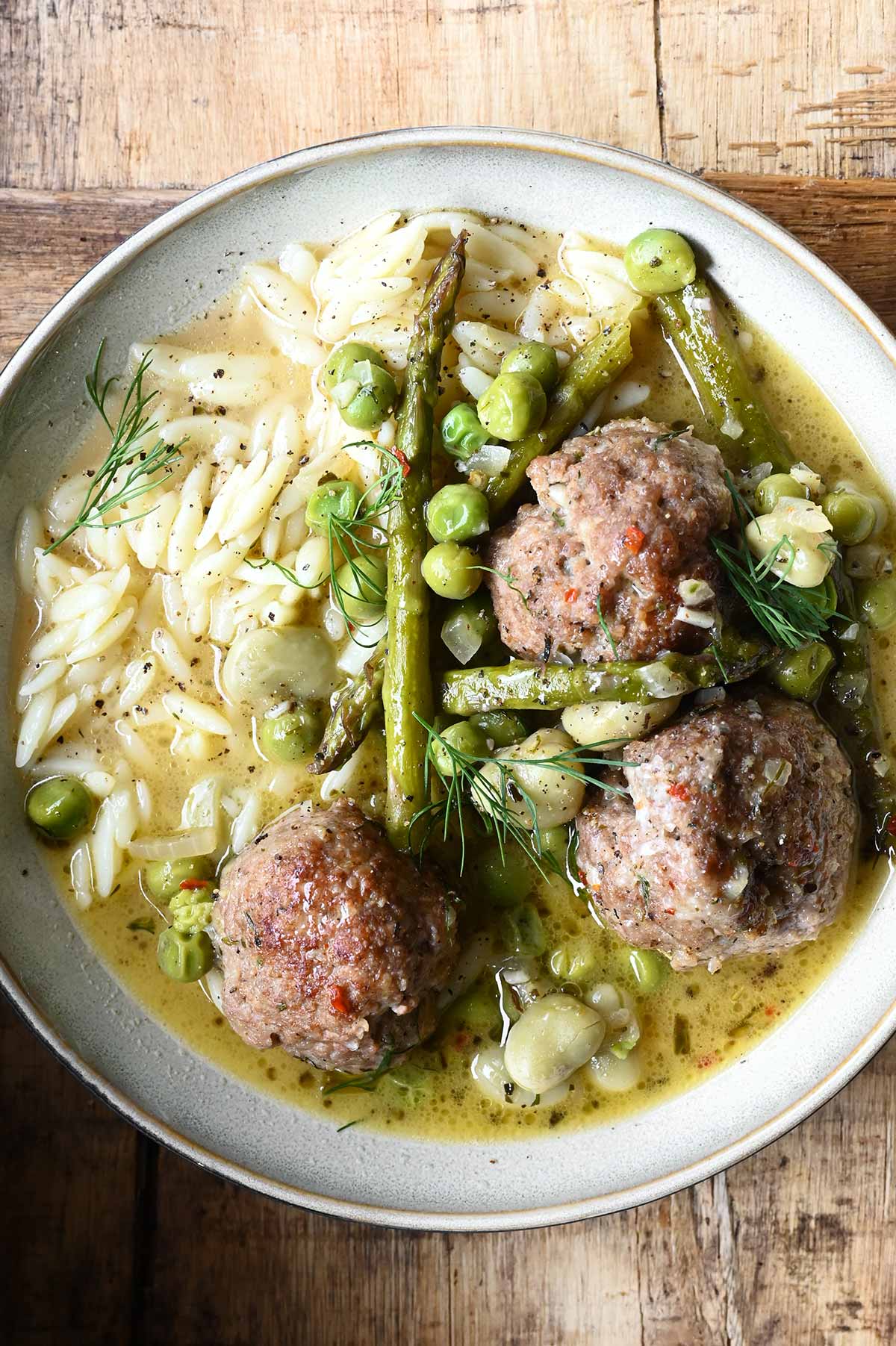 Recipe Notes
Serve with orzo or any kind of your favorite pasta, crusty bread, mashed potatoes, steamed potatoes or rice.
Add lemon zest for a citrusy touch.
Storage: Store leftovers refrigerated in an airtight container for up to 3 days.
Make Ahead: You can make these meatballs ahead of time. Just follow the recipe as written and simmer for just 5 minutes. When ready to serve, reheat until the meatballs are cooked through.
Try These Next
Cooking Video
Yield: serves 4
meatballs primavera
Ingredients
Meatballs
1.1 pounds/500 g ground meat, a mix of pork and beef
1 egg
½ cup/70 g breadcrumbs
1 tsp each: garlic powder, dried onions
½ tsp each: salt, black pepper
½ cup/20 g grated Parmesan
2 tbsp chopped dill, more for serving
1 tbsp olive oil, for frying
1 tbsp unsalted butter, for frying
Lemon Butter Sauce + Vegetables
4 garlic cloves, minced
1 small onion, finely chopped
1 tsp each: salt, black pepper, Italian seasoning
3.5 oz/100 g small green asparagus
7 oz/200 g frozen green peas
1 can ( about 9 oz/250 g) cooked broad beans
2 cups/500 ml chicken broth
2 tbsp unsalted butter
juice from ½ lemon
¾ cup/30 g grated Parmesan
Instructions
Get your prep done before you start cooking. Mince the garlic, finely chop the onion and chop the dill.
To a bowl, add ground meat, egg, garlic powder, dried onions, salt, pepper, breadcrumbs, Parmesan and dill. Mix with your hands, just until combined. Roll into 2-tablespoon sized meatballs.
Heat oil and 1 tablespoon butter over medium in a large skillet or pan. Add meatballs and brown all over for about 3 minutes. Remove from skillet.
Add garlic and onion, cook for 2 minutes until soft and fragrant. Add asparagus, salt, pepper and Italian seasoning. Cook for 1 minute. Add green peas, broad beans and chicken broth. Stir and bring to a boil.
Add meatballs back to the skillet and stir in butter. Simmer for 10 minutes or until the meatballs are cooked through.
When ready, sprinkle with lemon juice. Turn off the heat and slowly stir in Parmesan cheese. Finish off with freshly ground black pepper, chili flakes and dill. Enjoy!
Notes
Calories Per Serving: 511 kcal
Nutritional information is only an estimate. The accuracy of the nutritional information for any recipe on this site is not guaranteed.