Marry Me Chicken is juicy, garlicky and full of flavor! This recipe is a breeze to make and will totally charm your special someone. Imagine tender chicken in a creamy sun-dried tomato sauce for an impressive dinner. It ticks all the boxes for a cozy date night at home or even a family feast. With just a handful of basic ingredients and 30 minutes, you'll have this delightful dish ready to dig in.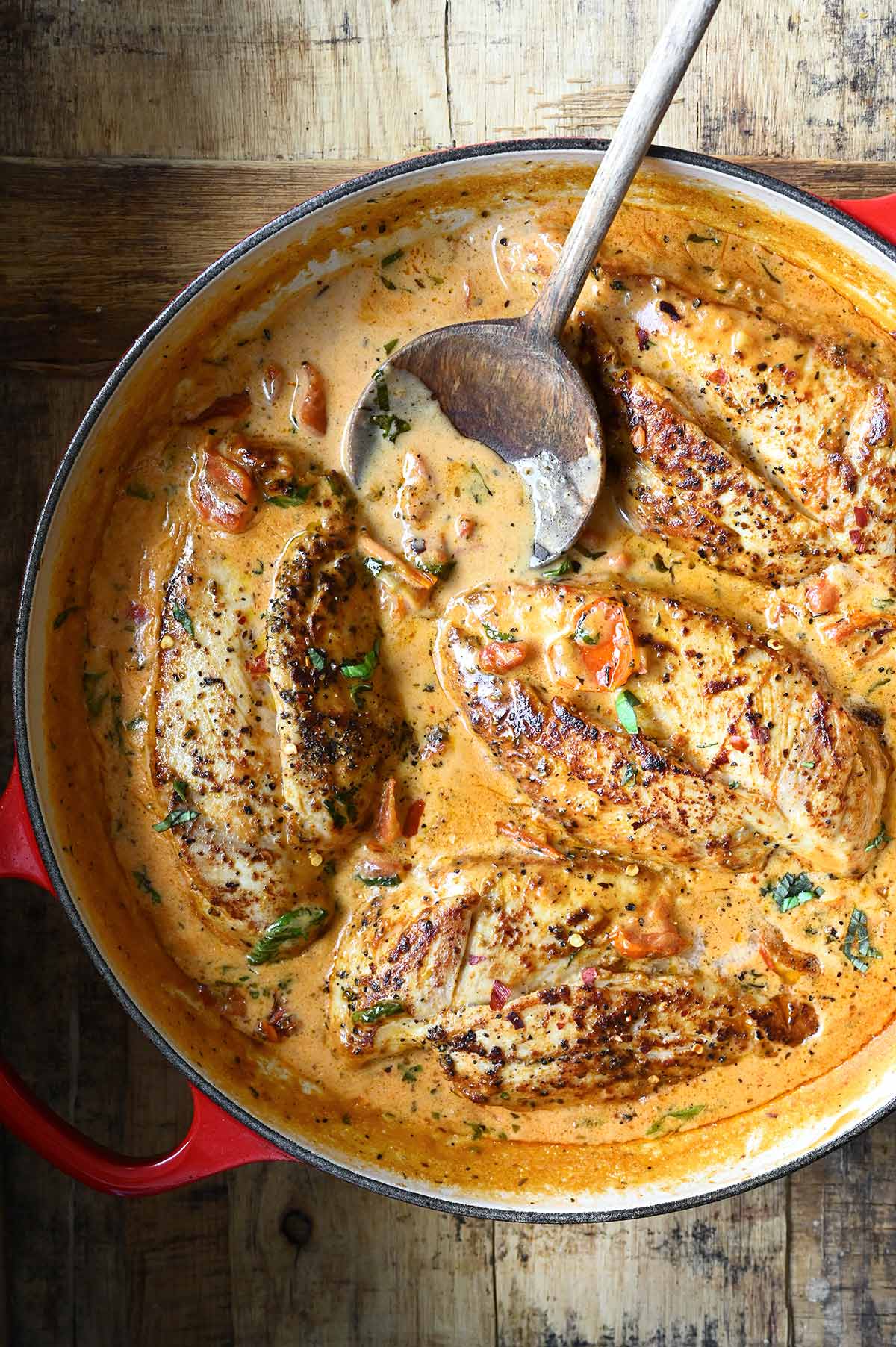 Looking for a delicious and easy chicken recipe that'll sweep everyone at your dinner table off their feet? Look no further than marry me chicken! This creamy, garlicky, sun-dried tomato chicken dish is sure to impress! It's a win for romantic evenings at home, family get-togethers, and definitely a crowd-pleaser.
Whipping up this recipe is a snap using basic ingredients you probably already have on hand. Start by sautéing chicken breasts, then simmer in a creamy sauce with sun-dried tomatoes, garlic, and basil leaves. Feeding a hungry bunch or want it extra hearty? Serve over pasta, mashed potatoes, or creamy polenta.
Who can resist chicken in a dreamy cream sauce? It's a match made in heaven!
Let me guide you through the recipe with this easy to follow easy step-by-step VIDEO.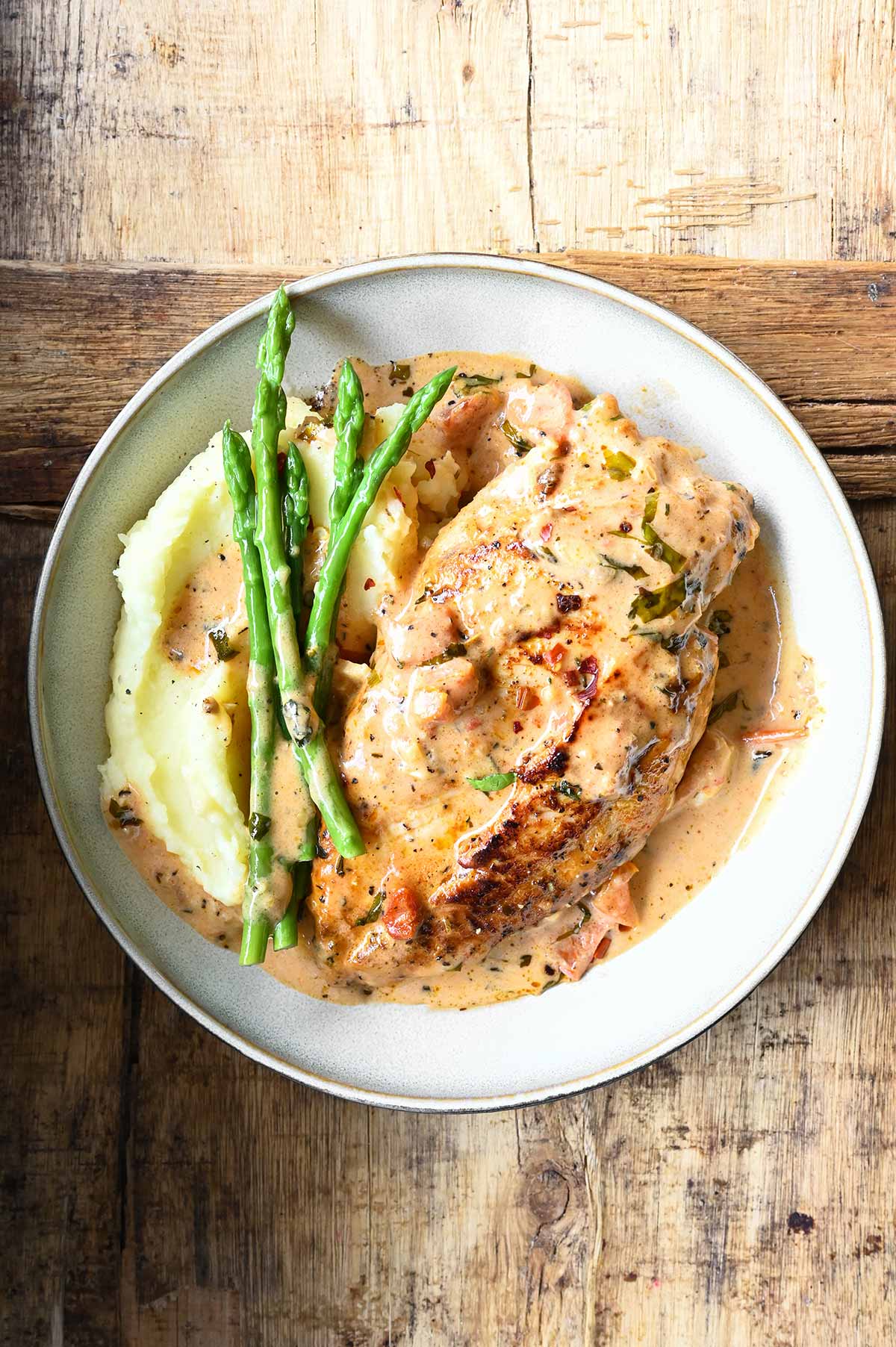 What Is Marry Me Chicken?
Now, let's get into the nitty-gritty of the name. I have to admit, it's a bit of a quirky title. But here's the scoop: rumor has it, if you make this dish for your partner, they'll fall head over heels for your cooking and might propose immediately because it's THAT delicious! And you know what they say, the way to a person's heart is through their stomach. Intrigued? Well, let's get cooking… and it might at least secure you a second date!
This recipe is so easy to make, starring chicken breasts, basil, garlic, sun-dried tomatoes, Parmesan, and heavy cream. Picture this: a glass of chilled chardonnay, some soft music setting the mood, and candles flickering in the background.
Sure, the recipe sounds mouthwatering, but why should you dive into marry me chicken tonight? Think about it! Simple ingredients, flavors that'll knock your socks off, and you'll have it plated in just 30 minutes. Plus, it won't break the bank thanks to its budget-friendly and easy-to-find ingredients.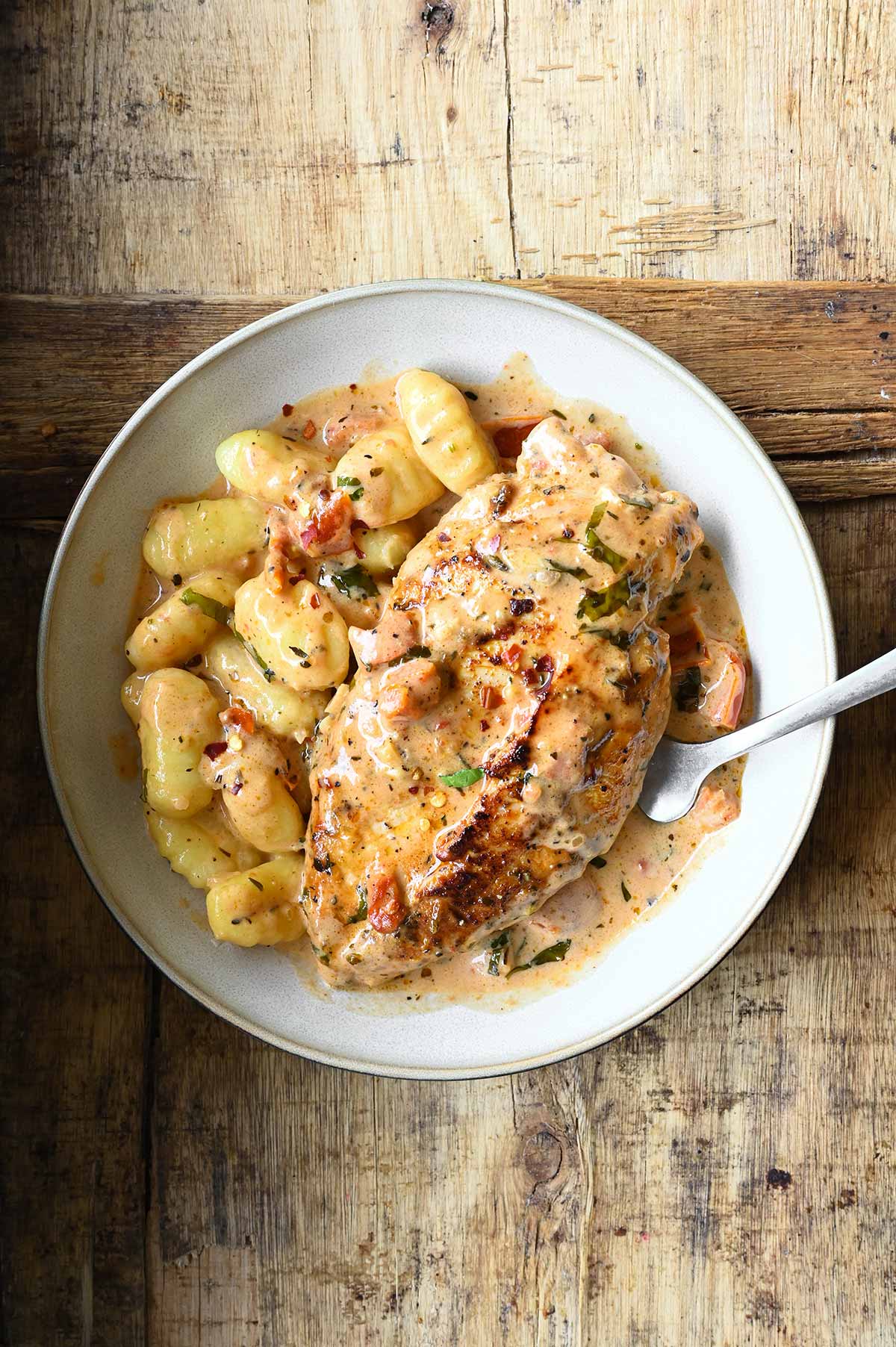 Ingredients, Tips and Substitutions
It's a super simple recipe that won't take more than half an hour of your time. You might even find some of these ingredients already hanging out in your fridge and kitchen stash. A surprise dinner party and you're on cooking duty? No worries, I've got your back! In a flash, you'll have guests at the table asking for seconds. Here's the lineup of what you'll need: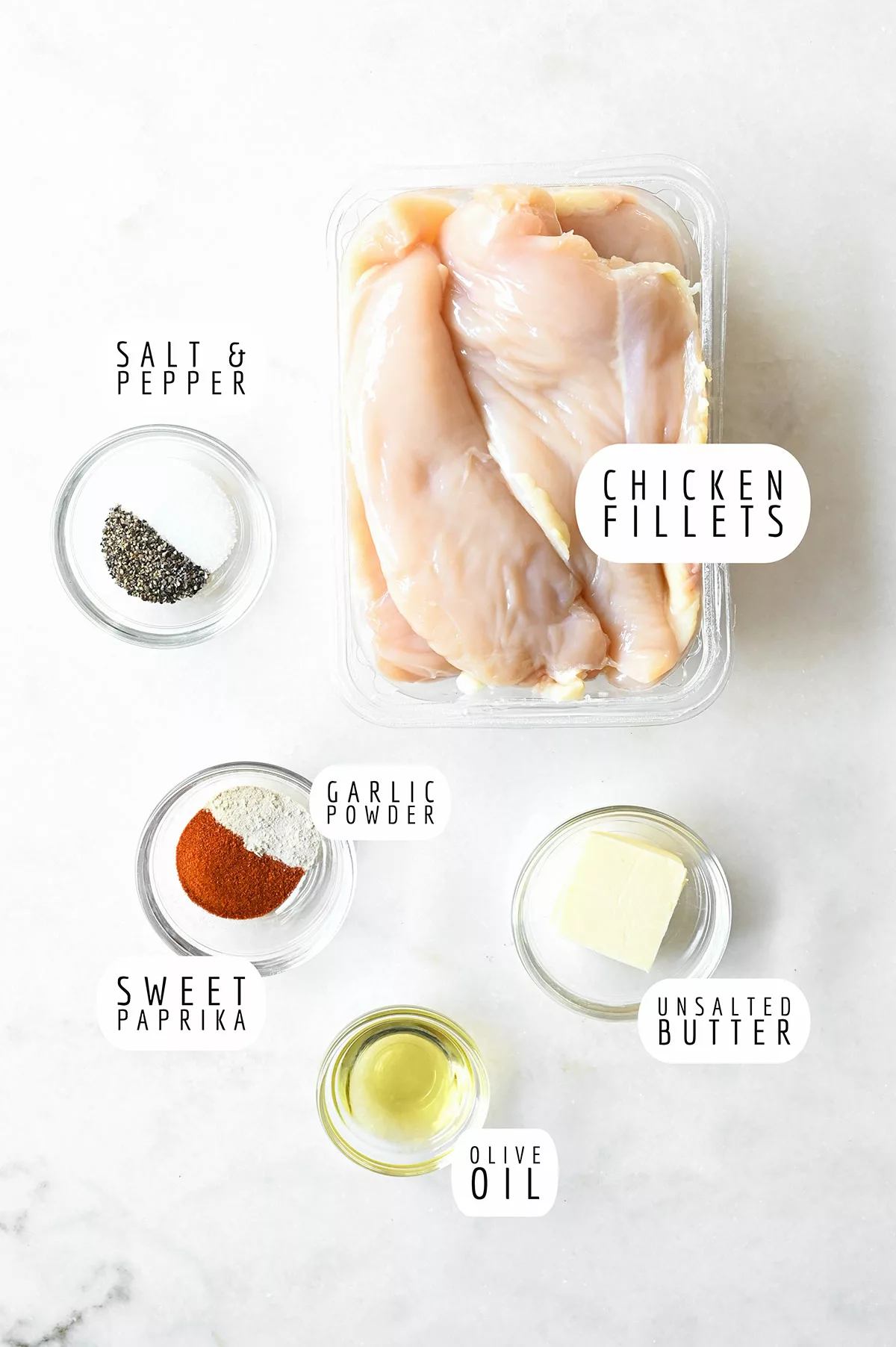 Chicken Breasts: If your fillets are oversized, consider slicing them horizontally to create thinner pieces or giving them a gentle pound to ensure even thickness. Alternatively, you can opt for cutlets or boneless/skinless chicken thighs instead of chicken breasts, but note that thighs require additional cooking time.
Olive Oil and Butter: To sear the chicken. You can even use the sun-dried tomato oil for extra flavor.
Seasoning: A mix of salt, black pepper, garlic powder and sweet paprika.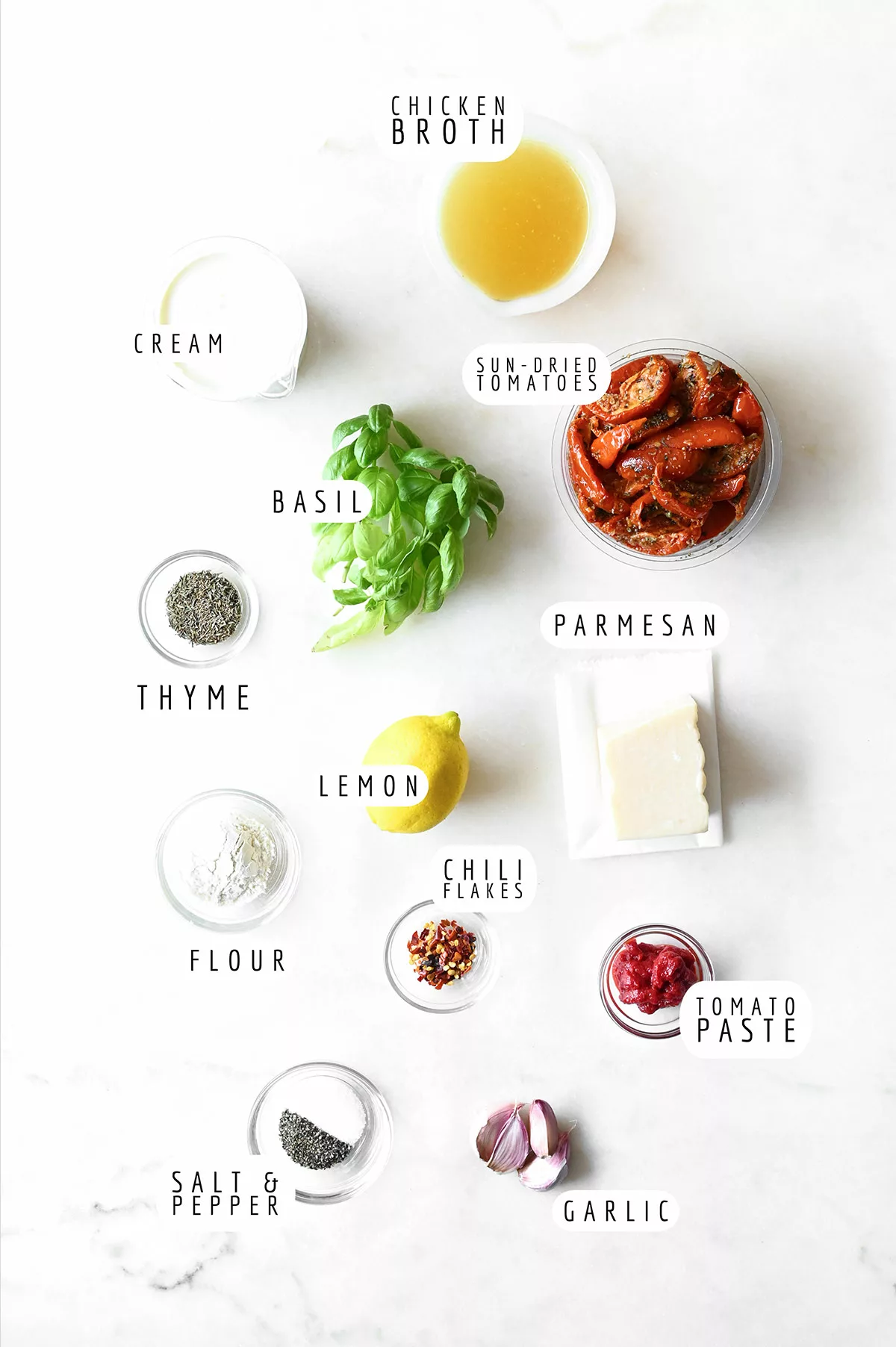 Sun-Dried Tomatoes: The star of the dish.
Garlic: An essential player in enhancing the taste.
Flour: To thicken the sauce, you can swap it for cornstarch.
Seasoning: A simple mix of salt, black pepper and dried thyme. You can also use dried oregano or Italian seasoning.
Chicken Brot: Swap for vegetable broth.
Heavy Cream: For a super creamy and flavorful sauce. Do not use half-and-half, light cream or just milk as it won't thicken the sauce very well.
Parmesan: Adds both a creamy texture and a rich, savory taste to the sauce. Best when freshly grated.
Tomato Paste: Enhances the depth of flavor and adds a subtle tangy sweetness to the sauce.
Basil Leaves: A burst of aromatic freshness. You can also use parsley.
Lemon Juice: Provides a zesty and bright contrast that balances the richness of the dish, enhancing its flavors.
Chili flakes: For a nice spicy punch.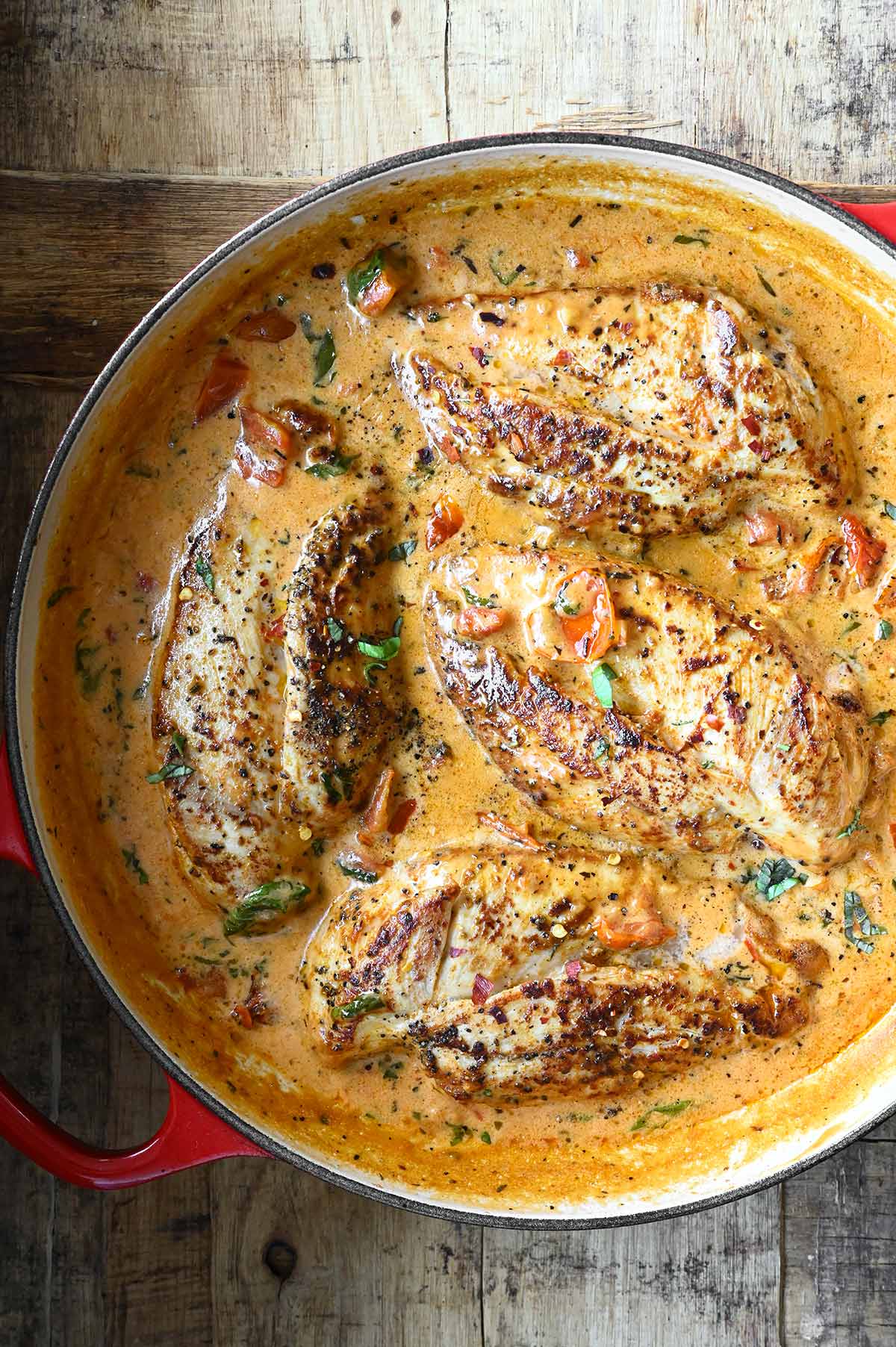 Recipe Notes
Serve the saucy chicken with pasta, rice, orzo, mashed potatoes, gnocchi, creamy polenta or crusty bread.
Pair with roasted vegetables, steamed asparagus, green beans or a leafy side salad.
If you'd like to add some extra greens, simply toss a few handfuls of baby spinach into the sauce before adding the chicken back to the skillet.
Storage: Any leftovers can be refrigerated in an airtight container for up to 3 days. Just be sure to reheat it gently to maintain the tenderness of the chicken.
I suggest avoiding freezing creamy sauces because they can develop a grainy texture when thawed.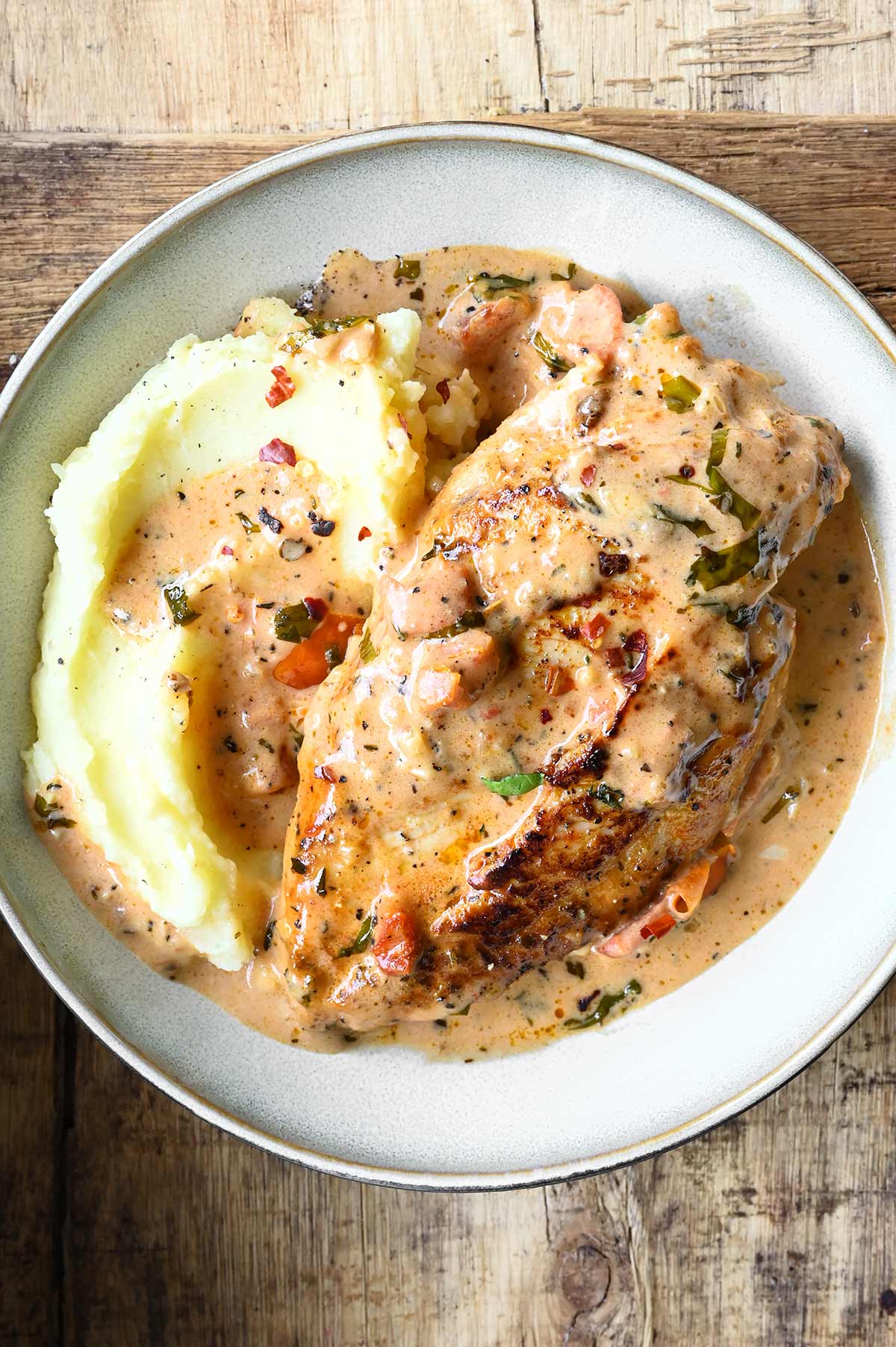 Try These Next
Cooking Video
Yield: serves 4
Marry Me Chicken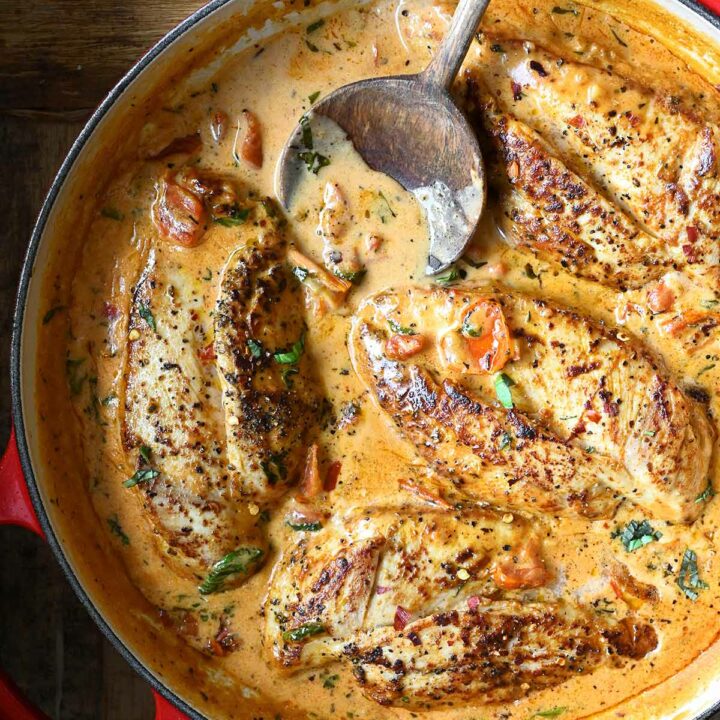 Ingredients
1 tbsp olive oil
1 tbsp unsalted butter
4 chicken breast fillets
1 ½ tsp salt, divided
2 tsp black pepper, divided
1 tsp each: garlic powder, sweet paprika
½ cup chopped sun-dried tomatoes
4 garlic cloves, minced
1 tsp dried thyme
1 tbsp flour
1 cup low sodium chicken broth
1 tbsp tomato paste
1 cup heavy cream
1 tbsp lemon juice
½ cup grated Parmesan
¼ cup finely chopped basil leaves
chili flakes, for serving
Instructions
Get your prep done before you start cooking. Season the chicken fillets with paprika, garlic powder, 1 teaspoon salt and 1 teaspoon pepper. Set aside.
Finely chop the basil leaves, mince the garlic cloves, grate the Parmesan and finely chop the sun-dried tomatoes.
Heat oil and butter over medium high. Add chicken and cook for about 5-7 minutes per side or until the chicken is cooked through and browned on both sides. The cooking time can vary with the size of your chicken. Remove from skillet and place on a clean plate.
To the same skillet, add garlic and sun-dried tomatoes. Cook for 1 minute until fragrant. Stir in thyme and the remaining salt and pepper. Add flour and stir until incorporated. Pour in broth, bring to a boil and simmer for 2 minutes, while stirring the brown bits from the bottom of your skillet with a wooden spoon.
Stir in tomato paste, next add cream and lemon juice. Bring to a simmer, then reduce the heat to medium low. Stir in basil and Parmesan. Taste and adjust salt. Return chicken to the skillet and simmer for 3 minutes.
Top off with chili flakes and freshly ground black pepper. Serve and enjoy!
Notes
Calories Per Serving: 541 kcal
Nutritional information is only an estimate. The accuracy of the nutritional information for any recipe on this site is not guaranteed.

//= __('Print recipe (no photos)', 'servingdumplings' );?> //= __('Print recipe (with photos)', 'servingdumplings' );?>