Maple garlic salmon with polenta. This easy salmon recipe is a real treat. We keep it simple by searing the salmon fillets with a savory-sweet sauce made with maple syrup, butter and lots of garlic. Serve over creamy polenta for a truly satisfying dinner.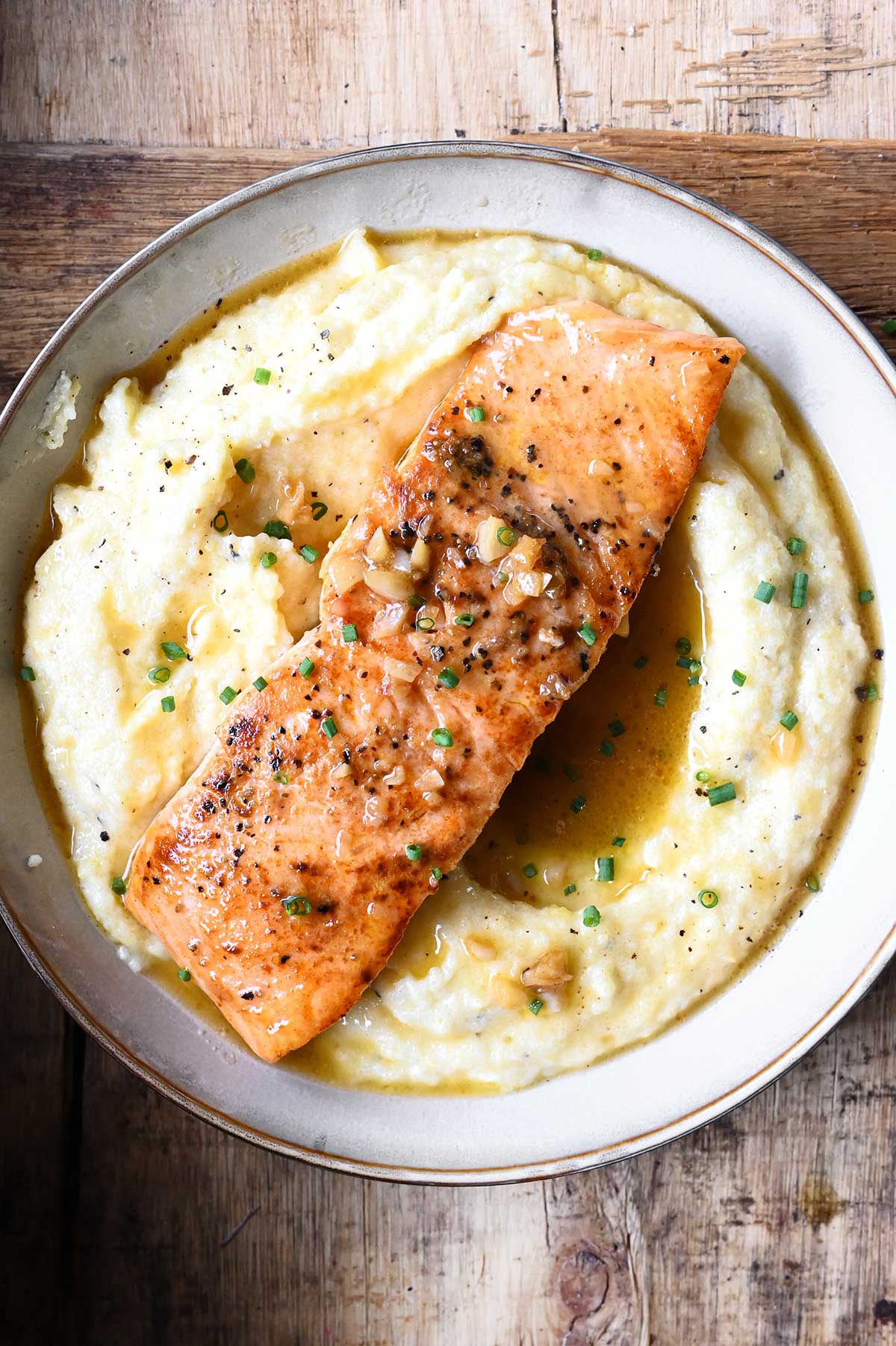 Why This Maple Glazed Salmon is So Good
This maple garlic salmon is not only incredibly delicious but also super easy to prepare. It's served alongside creamy polenta and garnished with chives.
The best part? It's a quick and comforting dish that can easily become a regular feature on your weeknight dinner menu. What's more, it's made with everyday ingredients and can be adapted to your taste. Not a fan of polenta? Try it with mashed potatoes or rice. If you're out of maple syrup, honey makes a great substitute. You can pair this seared salmon with a salad, roasted veggies or a refreshing cucumber salad for a dinner you'll want to repeat week after week.
It's a delightful treat, one of the simplest and most enjoyable meals you can make at home.
And if you love recipes with polenta, try my 'Lemon Garlic Scallops with Polenta', 'Chicken Meatballs all'Arrabbiata with Polenta' or 'Creamy Parmesan Polenta with Beer Sautéed Mushrooms'.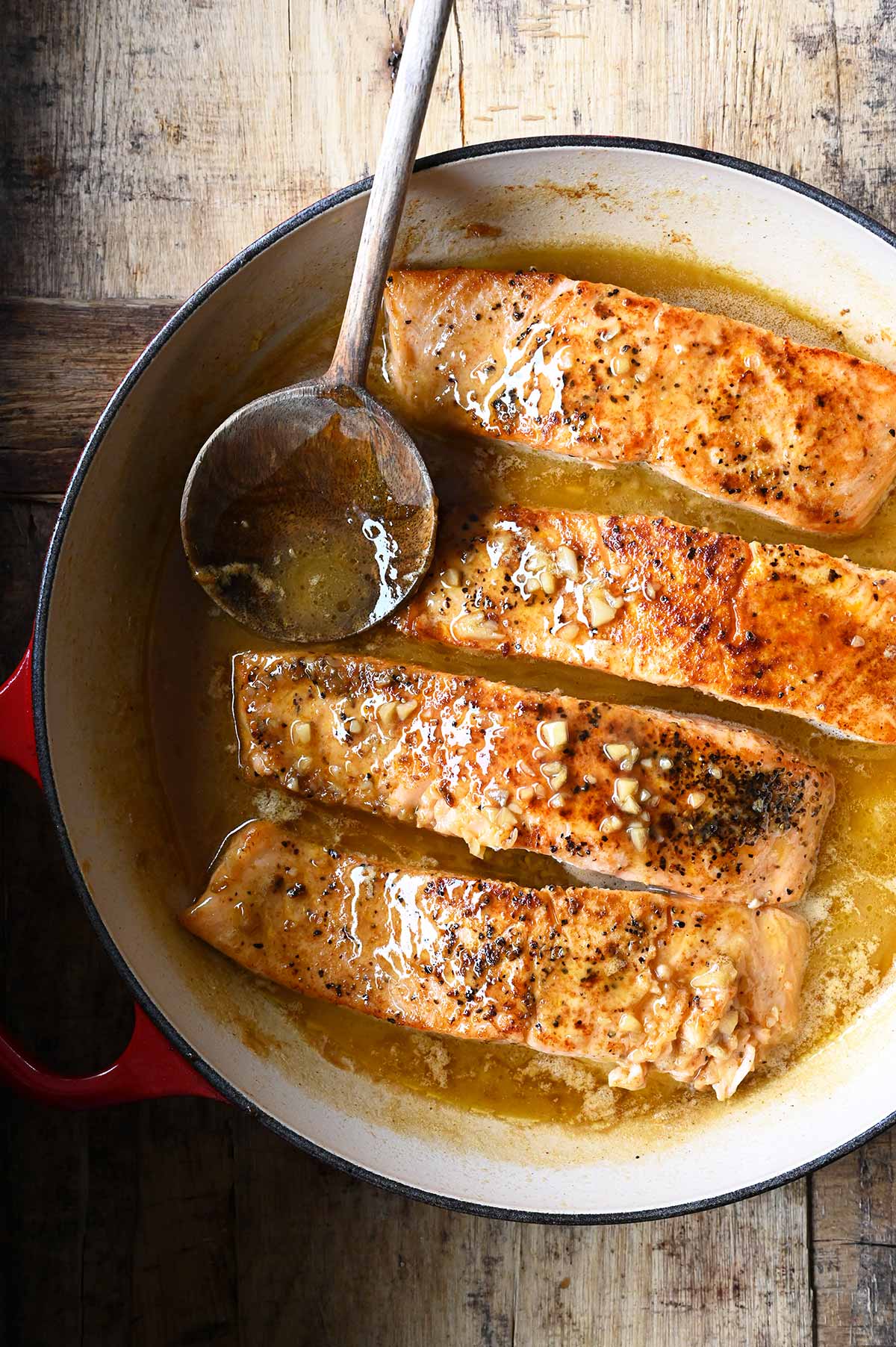 How to Make Maple Garlic Salmon with Polenta
To elevate the flavors of our salmon fillets, we start by seasoning them with a delectable blend of salt, black pepper, sweet paprika, and garlic powder. Following this, we sear them in a blend of olive oil and butter. Once the salmon has been removed from the skillet, we swiftly whip up a pan sauce by sautéing minced garlic with maple syrup, a touch of soy sauce, and a splash of lemon juice. To enhance the flavor, we deglaze the skillet with chicken broth and scrape up the brown bits on the bottom of the skillet.
Then, we return the salmon to the skillet, letting it gently simmer on low heat while we turn our attention to the polenta.
Instant polenta is a star in this recipe, as it comes together in just 2 to 3 minutes, making your evening a whole lot easier. After a quick boil, we simply stir in grated Parmesan cheese, and voilà, you're ready in just 20 minutes!
When serving, pair the seared salmon with a generous drizzle of that delicious buttery maple garlic sauce, and don't forget to crown it with an array of toppings like chives or your personal favorites such as parsley, scallions or chopped pistachios.
Let me guide you through the recipe with this step-by-step VIDEO or follow along on YouTube.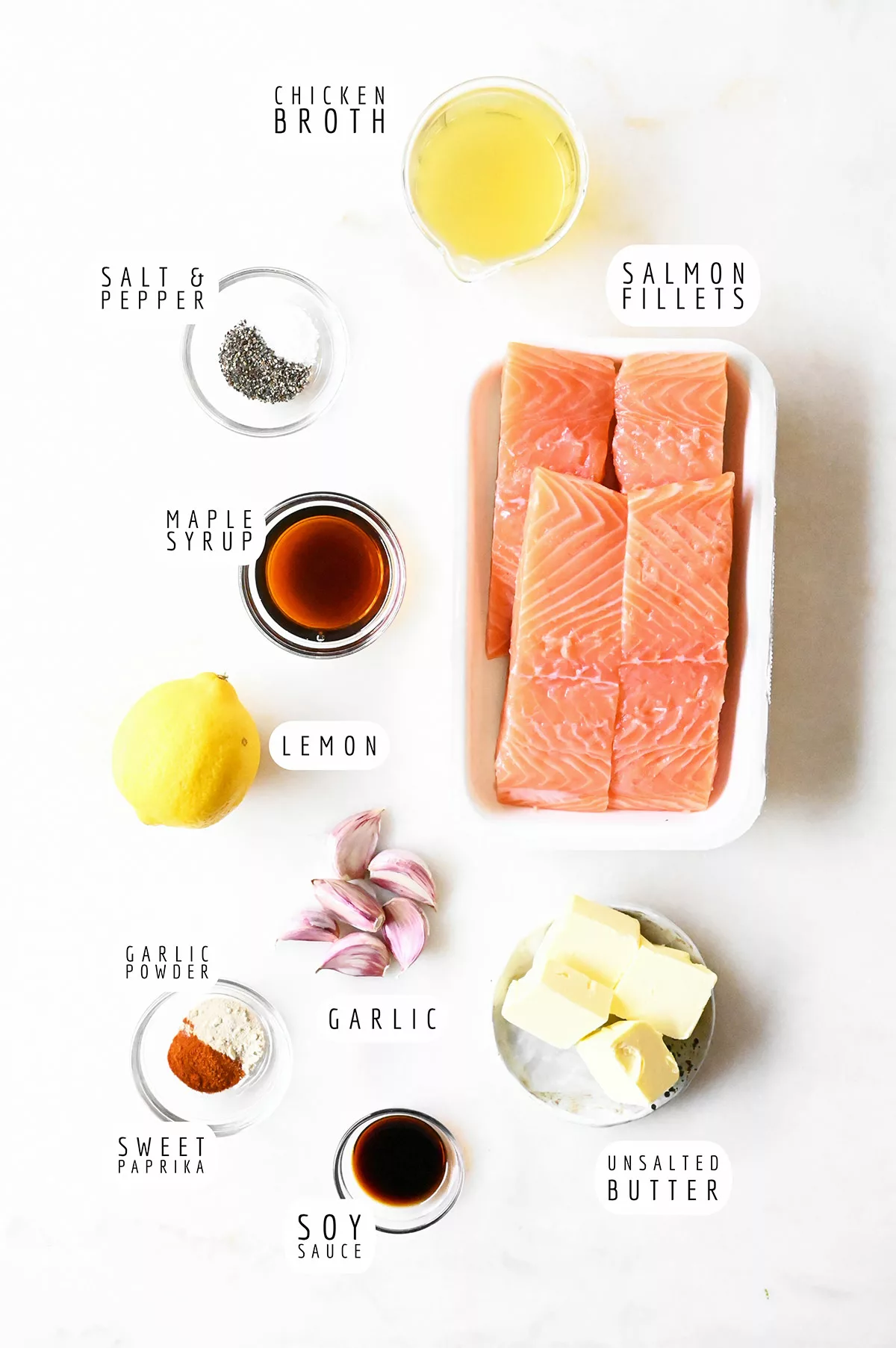 Ingredients to Make Maple Garlic Salmon Recipe
Salmon: It's best to opt for salmon fillets of the same size and thickness to ensure even cooking. While skinless salmon is the primary choice for this recipe, using skin-on salmon is perfectly fine if that's what you have.
Seasoning: A flavorful blend of salt, black pepper, sweet paprika, and garlic powder to enhance the taste of the salmon.
Unsalted Butter: To create that delightful, rich buttery sauce that coats the salmon.
Garlic: The foundation of our sauce. For the best results, use freshly minced garlic cloves rather than pre-chopped varieties from the store. You'll notice a world of difference in the flavors.
Maple Syrup: Opt for pure maple syrup to infuse your dish with bold, rich flavor. If you can't find it, honey is a suitable substitute, but reduce the amount to 2 tablespoons to avoid an overly sweet sauce.
Soy Sauce: This ingredient provides a significant salty flavor boost to the dish.
Chicken Broth: Alternatively, you can use vegetable broth if you prefer.
Lemon Juice: To harmonize the sweetness of the maple syrup and the richness of the butter, adding a refreshing citrus note to the sauce.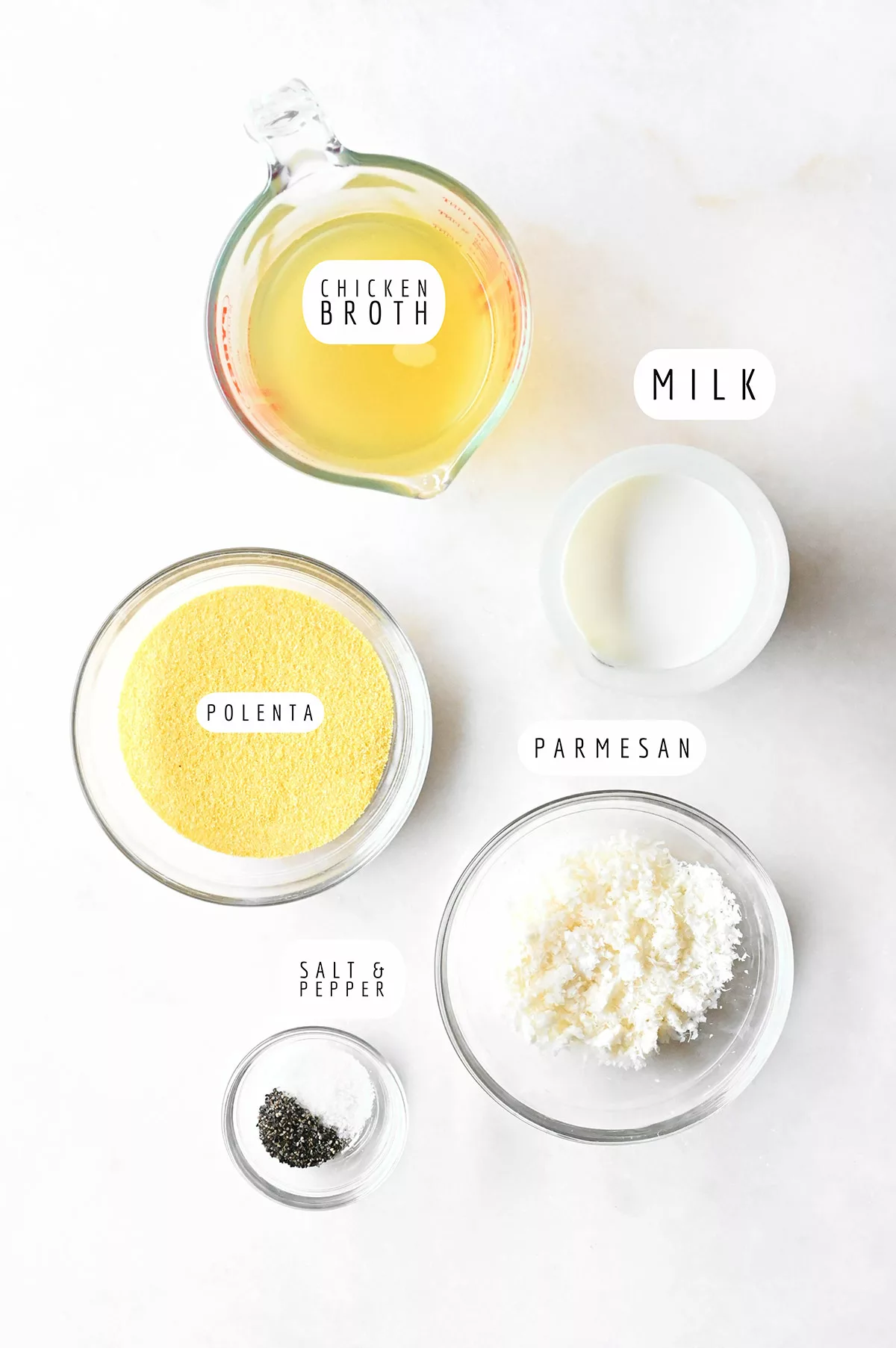 Ingredients to Make Polenta Recipe
Polenta: For a quick weeknight dinner, go for instant polenta. However, if you can't find it, regular polenta or grits can be used as substitutes. If using regular polenta, remember to start cooking it first, as it often requires a longer cooking time of around 30 minutes.
Milk and Chicken Broth: These are the liquids you'll need to cook the polenta. We're using both for added flavor and to give the polenta a creamy texture.
Parmesan: To give your dish a richer and more flavorful finishing touch.
Seasoning: Enhance the flavor with a dash of salt and black pepper.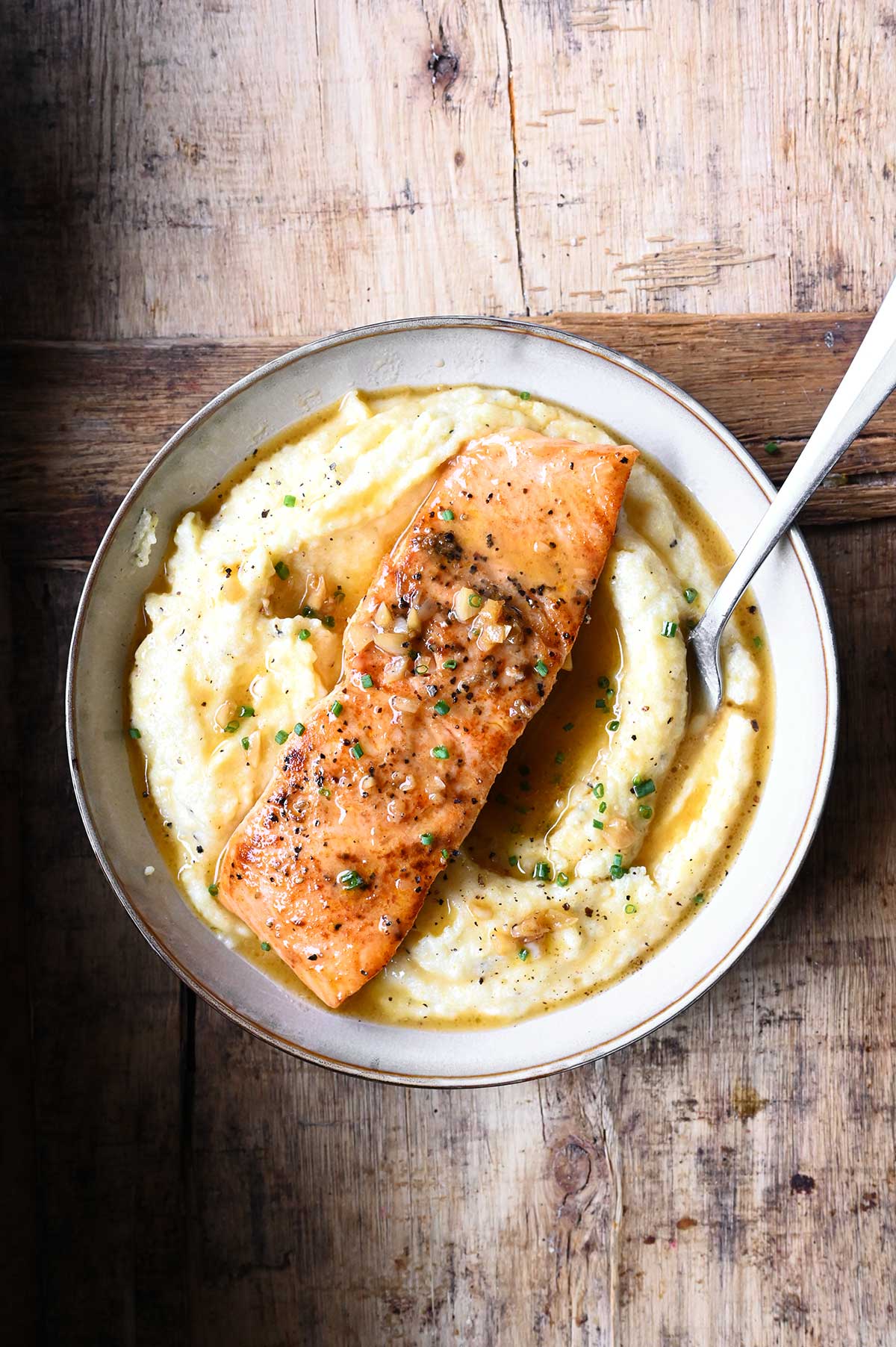 Helpful Tips
Versatile Options: This recipe is incredibly flexible, allowing you to customize it to your liking.
Protein Swap: Feel free to switch out the salmon fillets with chicken thighs, shrimp, or steak to suit your preferences.
Vegetable Pairings: You can pair this dish with a variety of vegetables such as broccoli rabe, spinach, kale, green beans, Brussels sprouts, green peas, or asparagus.
Refreshing Sides: To complement your meal, consider serving a fresh cucumber salad or a green leafy salad drizzled with olive oil and balsamic vinegar.
Toppings: Personalize your dish with toppings like chives, parsley, scallions, chopped almonds, or chopped pistachios.
Polenta Alternatives: If polenta isn't your thing, you can easily swap it out for steamed rice or mashed potatoes. This recipe is all about making it your own!
Storage
Storage: To keep leftovers fresh, store them in separate airtight containers in the refrigerator. They will stay good for up to 2 days.
Reheating: When you're ready to enjoy your leftovers, reheat them separately. For the salmon, gently simmer it on the stove over medium heat until it's heated through. As for the polenta, reheat it over medium-low heat, adding a splash of milk, and continue heating until it's steaming.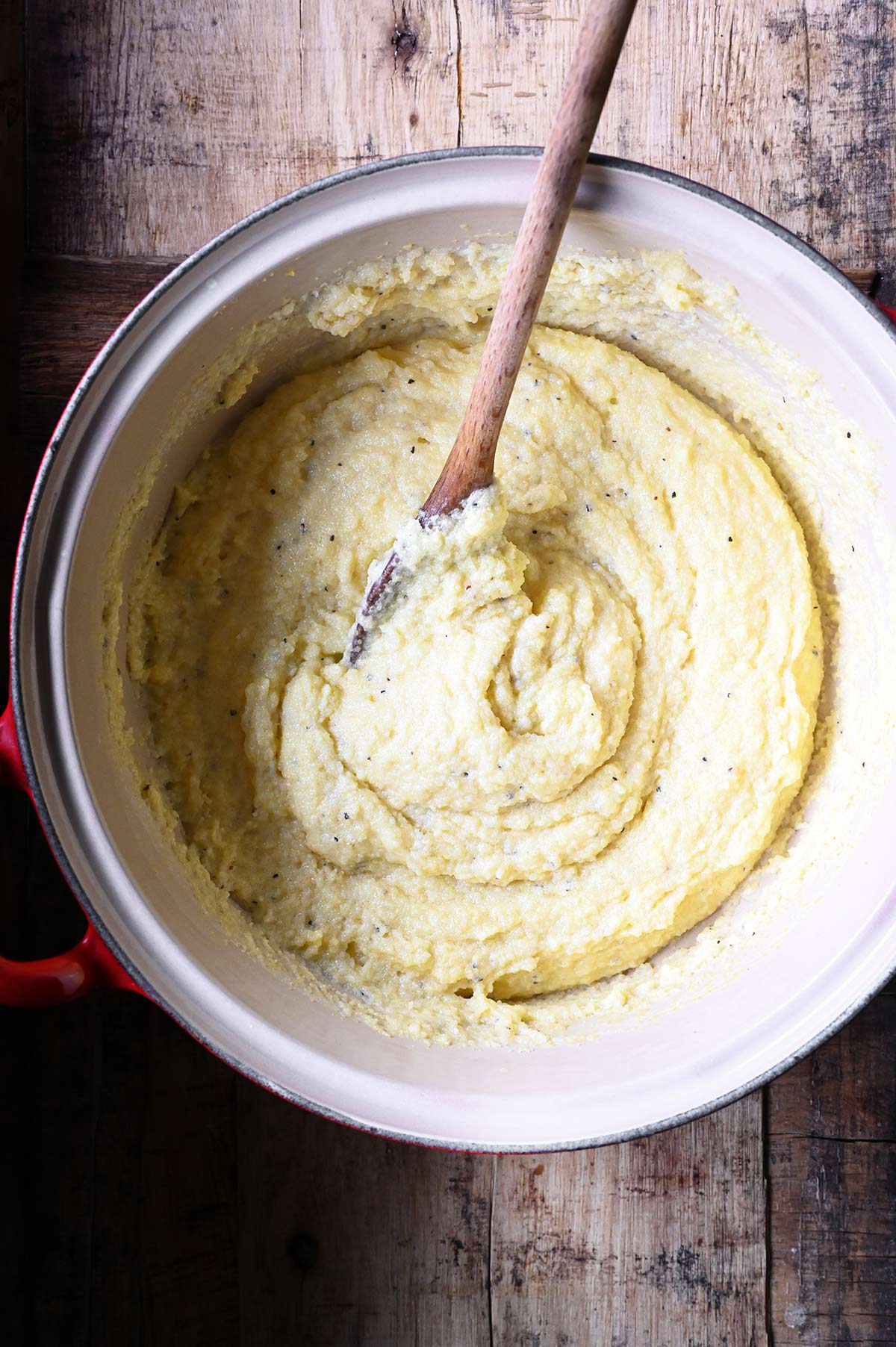 Try These Salmon Recipes Next
Cooking Video: How To Make Maple Garlic Salmon with Polenta
Yield: serves 4
Maple Garlic Salmon with Polenta
This easy salmon recipe is a real crowd-pleaser. The salmon is seared in a savory-sweet sauce of maple syrup, butter and lots of garlic. Served over creamy polenta for a satisfying and delicious meal that's perfect for a weeknight dinner.
Ingredients
Maple Garlic Salmon
4 salmon fillets
½ tsp each: salt, black pepper, sweet paprika, garlic powder
4 tbsp unsalted butter, divided
1 tbsp olive oil
6 garlic cloves, minced
½ cup chicken broth
3 tbsp maple syrup
1 tsp low sodium soy sauce
2 tbsp lemon juice, more to taste
chives and freshly grated black pepper, for serving
Polenta
1 ¼ cup chicken broth
1 cup whole milk
4 ounces instant polenta
1 tsp each: slat, black pepper
4 tbsp grated Parmesan
Instructions
Get your prep done before you start cooking. Pat the salmon fillets dry. Season both sides with salt, pepper, paprika and garlic powder. Mince the garlic cloves.
Heat oil and 1 tablespoon butter over medium high in a nonstick skillet. Add salmon fillets and sear for 2 minutes per side. Transfer onto a clean plate, set aside. We will continue cooking them in the sauce.
Reduce the heat to medium low, add garlic and cook for 2 minutes. Deglaze the skillet with chicken broth, simmer for 1 minute. Add the remaining butter and maple syrup. Stir until the butter is fully melted. Add soy sauce and lemon juice. Taste and add a few drips of lemon juice, if needed. Return salmon to the skillet and let simmer over low for 5 minutes.
In the meantime, make the polenta: In a saucepan, bring chicken broth and milk to a simmer. Whisk in the polenta, stir continuously, about 2-3 minutes, over low heat. Stir in salt, pepper and Parmesan. Turn off the heat, add a splash of milk if the polenta thickens too much.
Divide the polenta among bowls, add salmon and top with maple garlic sauce. Sprinkle with chives and freshly grated black pepper. Enjoy!
Nutrition Information:
Yield:
4
Serving Size:
1
Amount Per Serving:
Calories:

654
Total Fat:

43g
Saturated Fat:

13g
Trans Fat:

0g
Unsaturated Fat:

26g
Cholesterol:

174mg
Sodium:

592mg
Carbohydrates:

13g
Fiber:

1g
Sugar:

9g
Protein:

51g
Nutritional information is only an estimate. The accuracy of the nutritional information for any recipe on this site is not guaranteed.