Maple bacon Brussels sprouts. A show-stopping side dish that's made with just a few simple ingredients. Skillet-roasted garlicky Brussels sprouts tossed with crispy bacon and toasted pecans for a delightful crunch and nutty aroma! Add this Brussels sprouts recipe to your Thanksgiving menu or any weeknight meal.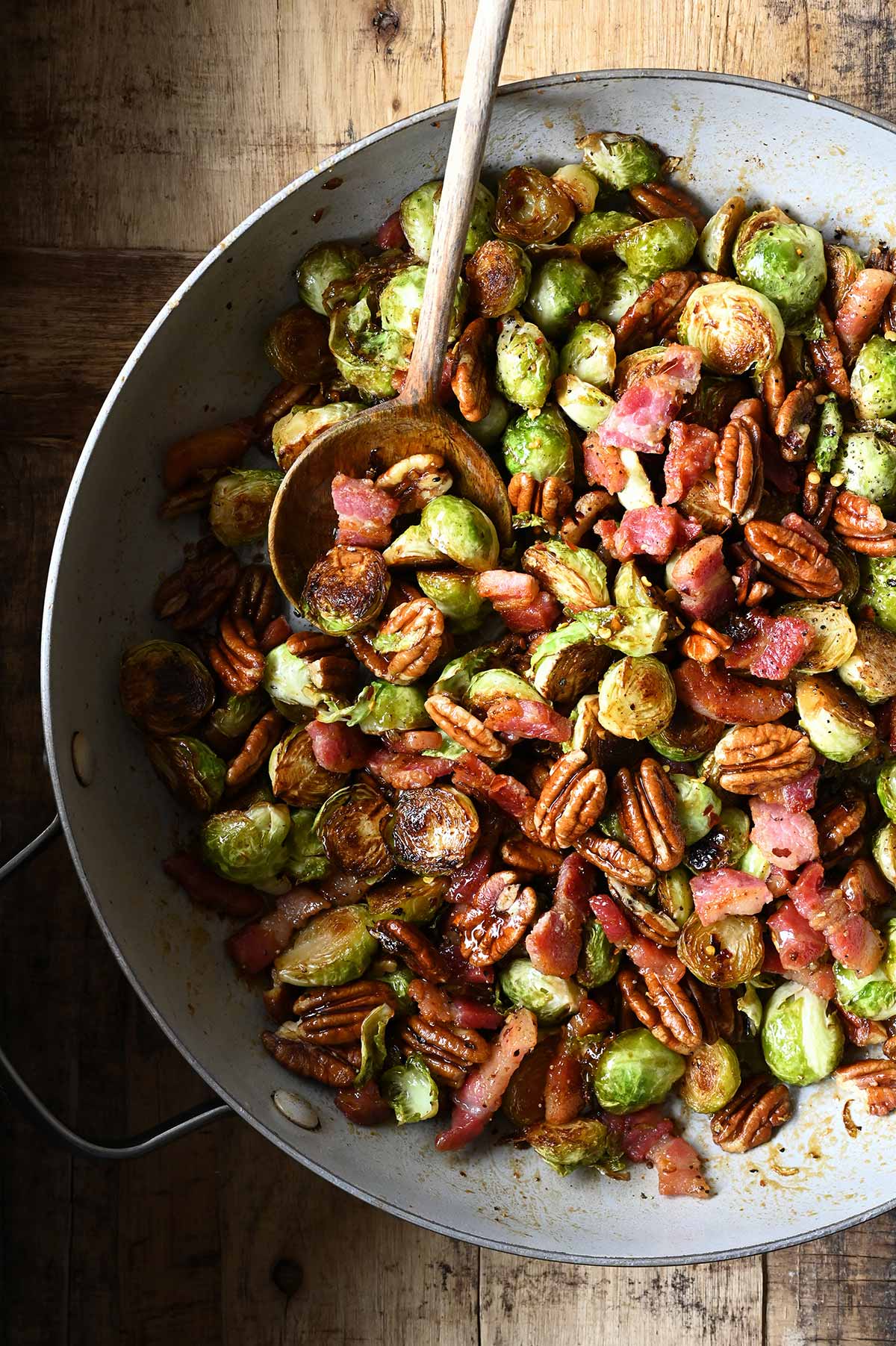 Why You'll Love this Maple Bacon Brussels Sprouts Recipe
This recipe makes Brussels sprouts the new rockstars of the veggie world. They go well with other main dishes like pork chops, roasted chicken, turkey or steak.
You won't want to save this recipe for just Thanksgiving – it's that good! The mix of salty and sweet flavors is incredibly tasty.
What's even better? It's a quick and easy recipe that you can cook in just 30 minutes using only one pan! So, while these Brussels sprouts are a perfect Thanksgiving side dish, they're also a fantastic addition to any meal during this time of year.
And the best part is that you can get creative with this recipe. You can switch pecans for almonds or add cranberries to change things up.
How to Make Maple Bacon Brussels Sprouts
Making these Brussels sprouts is quite simple. We cook the Brussels sprouts with the cut side down to absorb the bacon grease, giving them a deep brown color while staying crispy and tender. Here's how we do it:
Start by cooking the bacon, remove from skillet and place the Brussels sprouts cut-side down in a mix of bacon grease and butter. This helps them develop a caramelized crust. Cook for a few minutes.
Then, add salt, pepper and garlic, and continue to cook, stirring, until the sprouts are crispy on the outside and tender on the inside.
Next, mix in pecans and crispy bacon, followed by maple syrup. Add a touch of chili flakes for some extra flavor, and you're good to go!
The combination of salty bacon and the sweetness of maple syrup really makes these Brussels sprouts a must-try. It's a fantastic twist! Easy enough for a regular weeknight dinner but special enough for Thanksgiving too. Give it a shot and see for yourself!
Let me guide you through the recipe with this step-by-step VIDEO or follow along on YouTube.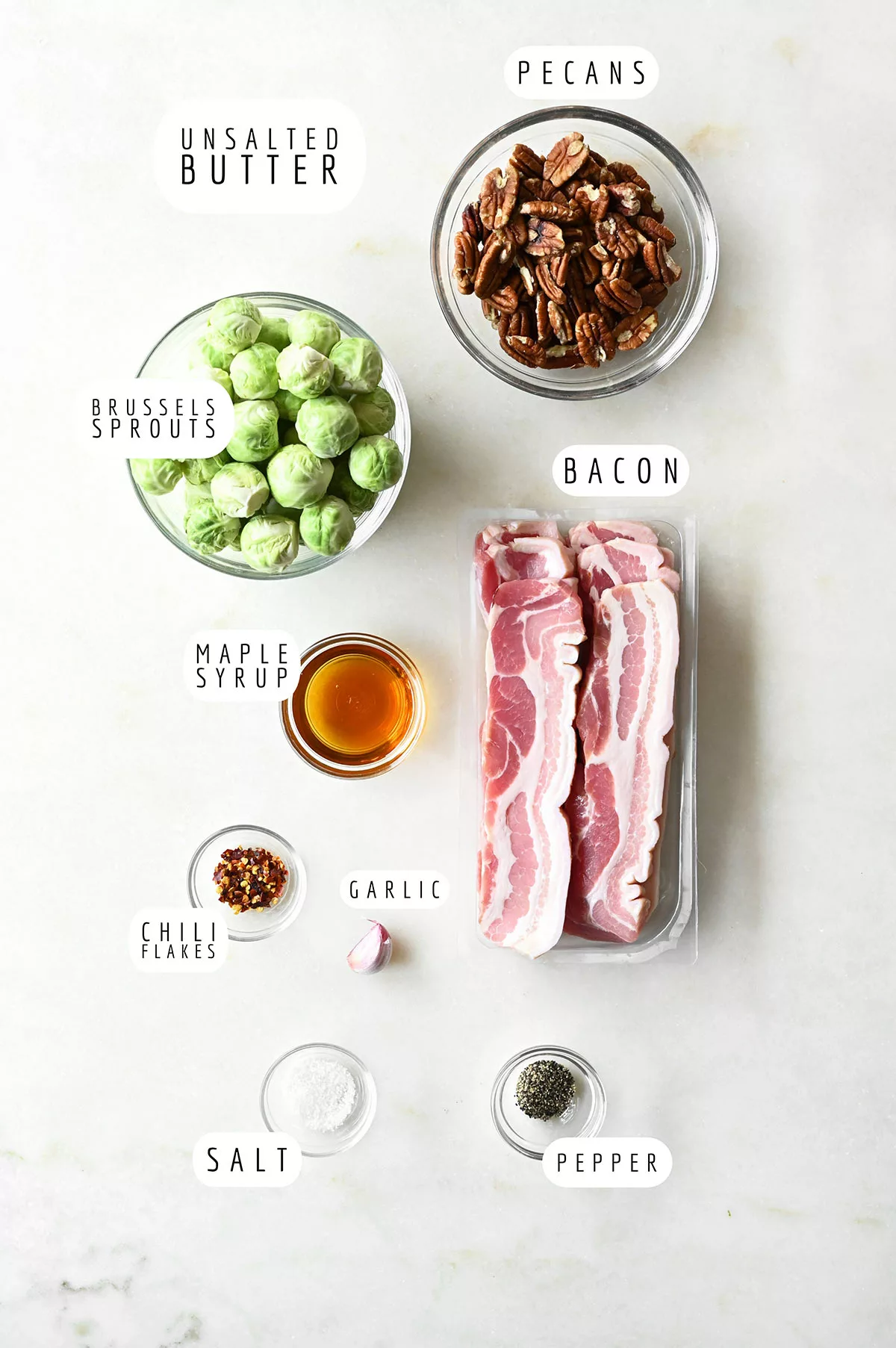 Ingredients You'll Need to Make Maple Bacon Brussels Sprouts
Bacon: Go for thick-cut, salty bacon for the best taste. If you prefer, you can use salty bacon bits, pancetta or turkey bacon as alternatives.
Brussels Sprouts: Get about 1 ½ to 2 pounds of Brussels sprouts. Make sure to trim and cut them in half.
Garlic: Use fresh garlic to add more flavor. You can either mince, press or grate it.
Pecans: Toasted pecans are great for a crunchy texture. If you like, you can substitute them for almonds, hazelnuts, pumpkin seeds, walnuts or pistachios.
Maple Syrup: This brings loads of flavor and helps to create a tasty, sticky sauce that clings to the sprouts.
Seasoning: You'll need salt, black pepper and chili flakes to add a little kick to the dish.
Butter: Use unsalted butter to roast the Brussels sprouts.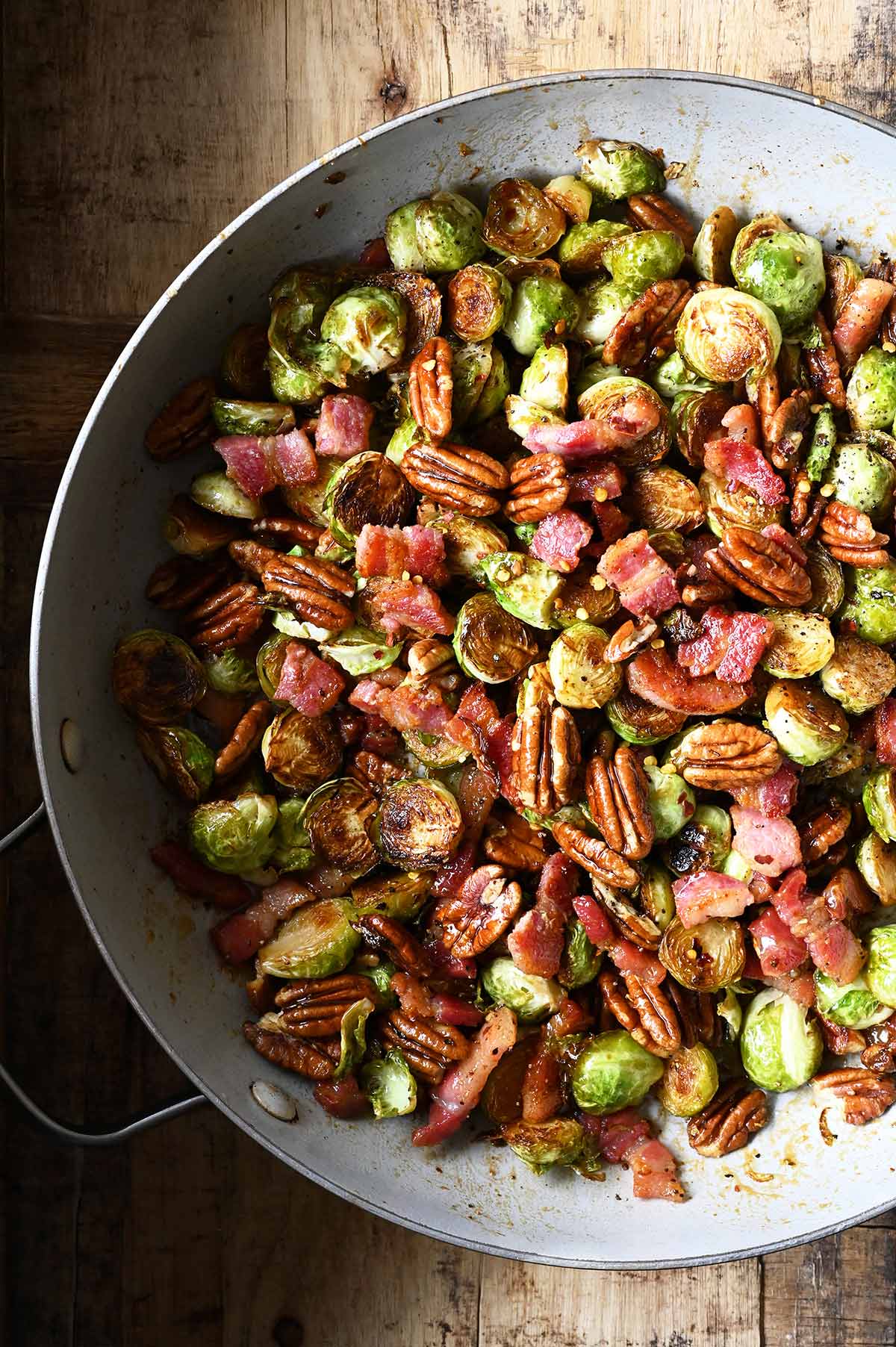 Helpful Tips
You can make your dish even more interesting by adding raisins or unsweetened dried cranberries.
These maple bacon Brussels sprouts are a great match for Thanksgiving turkey and Christmas ham, but don't limit yourself. They're delicious with chicken, steak, pork and mashed potatoes any time of the year.
If you prefer a vegetarian version, skip the bacon. Instead, use salted butter and a pinch of flaky salt to enhance the flavor of your dish.
Maple Syrup Brussels Sprouts And Bacon Recipe Prep Ahead Tips
There are several ways to prepare this dish the day before.
To save time, you can start the day before. Wash, trim and halve the Brussels sprouts, then store them in a container or a large zip-top bag. Next day, follow the recipe instructions.
If you're really crunched for time on the day of serving, cook the dish as instructed, but don't add the maple syrup at the end. Let it cool completely and store in an airtight container in the refrigerator. Before serving, heat a tablespoon of butter or oil in a skillet over medium-high heat. Add the Brussels sprouts, heat them through for about 5 minutes, then stir in the maple syrup, and you're good to go.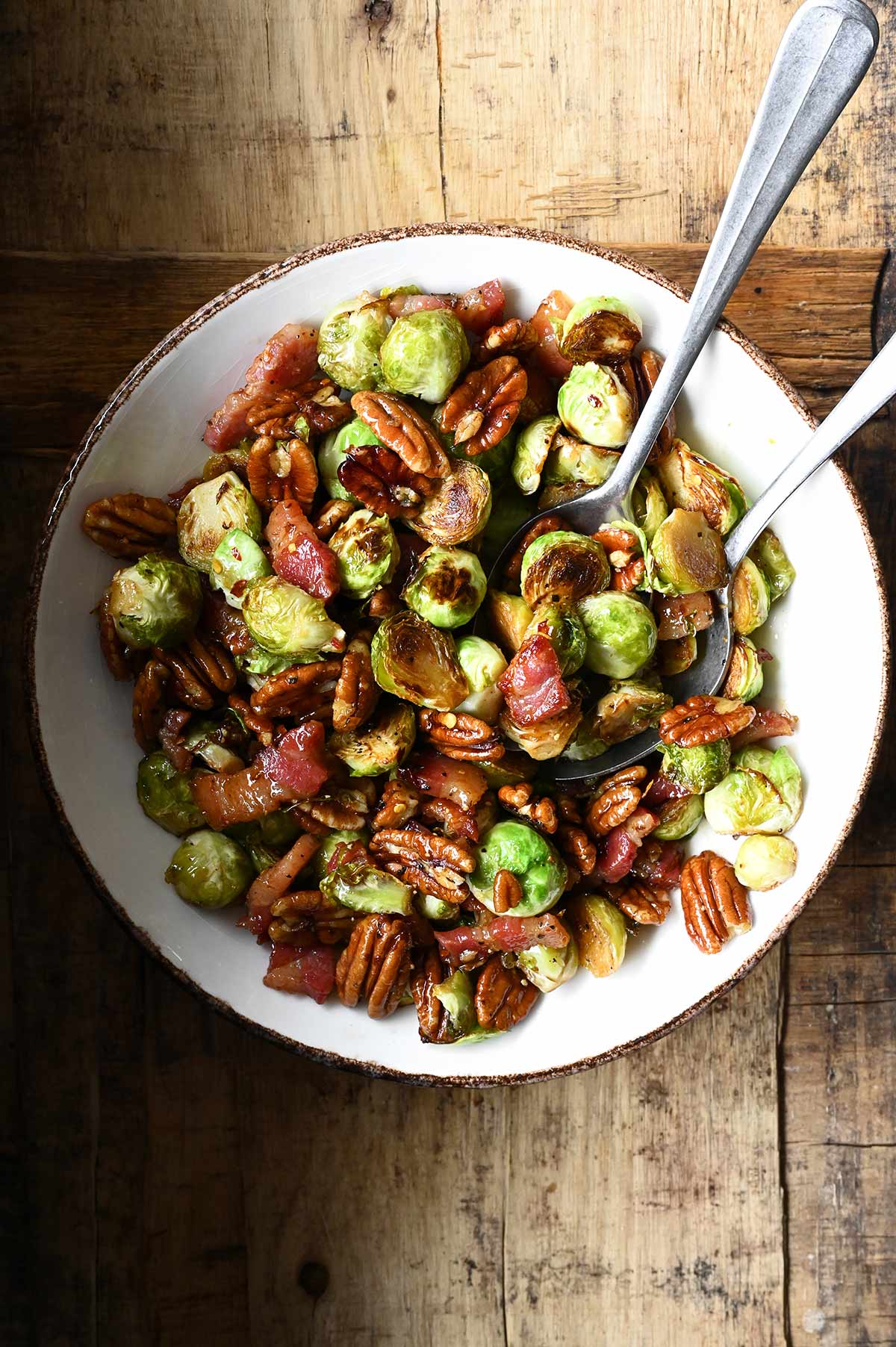 How To Store Leftovers
To store leftovers, place them in an airtight container and keep them in the refrigerator for up to 3 days.
When you're ready to enjoy your leftovers, you can reheat them in a microwave for about 2 minutes, on the stovetop over medium heat, or in the oven at 320°F/160°C until they're warmed through.
More delicious side dishes
Cooking Video: How To Make Maple Bacon Brussels Sprouts
Yield: serves 4-6
Maple Bacon Brussels Sprouts
A show-stopping side dish that's made with just a few simple ingredients. Skillet-roasted garlicky Brussels sprouts tossed with crispy bacon and toasted pecans, creating a delightful crunch and nutty aroma! Add this Brussels sprouts recipe to your Thanksgiving menu or any weeknight meal.
Ingredients
4 slices thick-cut salted bacon, chopped
1 tbsp unsalted butter, more if needed
1 ½ pounds/700 g Brussels sprouts, trimmed and halved
¼ tsp salt
½ tsp black pepper, more for serving
1 garlic clove, finely minced or pressed
1 cup/120 g toasted pecans
3 tbsp maple syrup
chili flakes, for serving
Instructions
Get your prep done before you start cooking: Chop the bacon and finely mince the garlic. Trim and cut the Brussels sprouts in half, quarter the large ones.
Heat a large nonstick skillet over medium high, then add bacon and cook until crispy. Remove from skillet onto a plate layered with paper towel.
Add butter and arrange Brussels sprouts in a single layer, cut-side down. Reduce heat to medium and cook until deeply brown, about 8 minutes. Adjust the heat and add more butter if necessary preventing the sprouts from burning.
Add salt and pepper, then cook for 8 minutes more while stirring occasionally, or until the Brussels sprouts are crisp-tender.
Add garlic and cook for 1 minute. Stir in pecans and bacon, cook for 1 minute more. Add maple syrup, simmer for 2 minutes over medium low.
Finish off with chili flakes and freshly grated black pepper. Enjoy!
Nutrition Information:
Yield:
6
Serving Size:
1
Amount Per Serving:
Calories:

233
Total Fat:

17g
Saturated Fat:

3g
Trans Fat:

0g
Unsaturated Fat:

13g
Cholesterol:

11mg
Sodium:

219mg
Carbohydrates:

18g
Fiber:

5g
Sugar:

9g
Protein:

7g
Nutritional information is only an estimate. The accuracy of the nutritional information for any recipe on this site is not guaranteed.