Loaded hummus bowl with merguez meatballs. Tender and super flavorful meatballs together with a crunchy salad, crispy chickpeas and even some pine nuts too. Served up bowl-style with some fresh naan. This next-level dinner is super easy to make and beyond delicious. Add this into your weekly dinner rotation, serve as an appetizer at your next dinner party, or prep ahead of time and enjoy for lunch.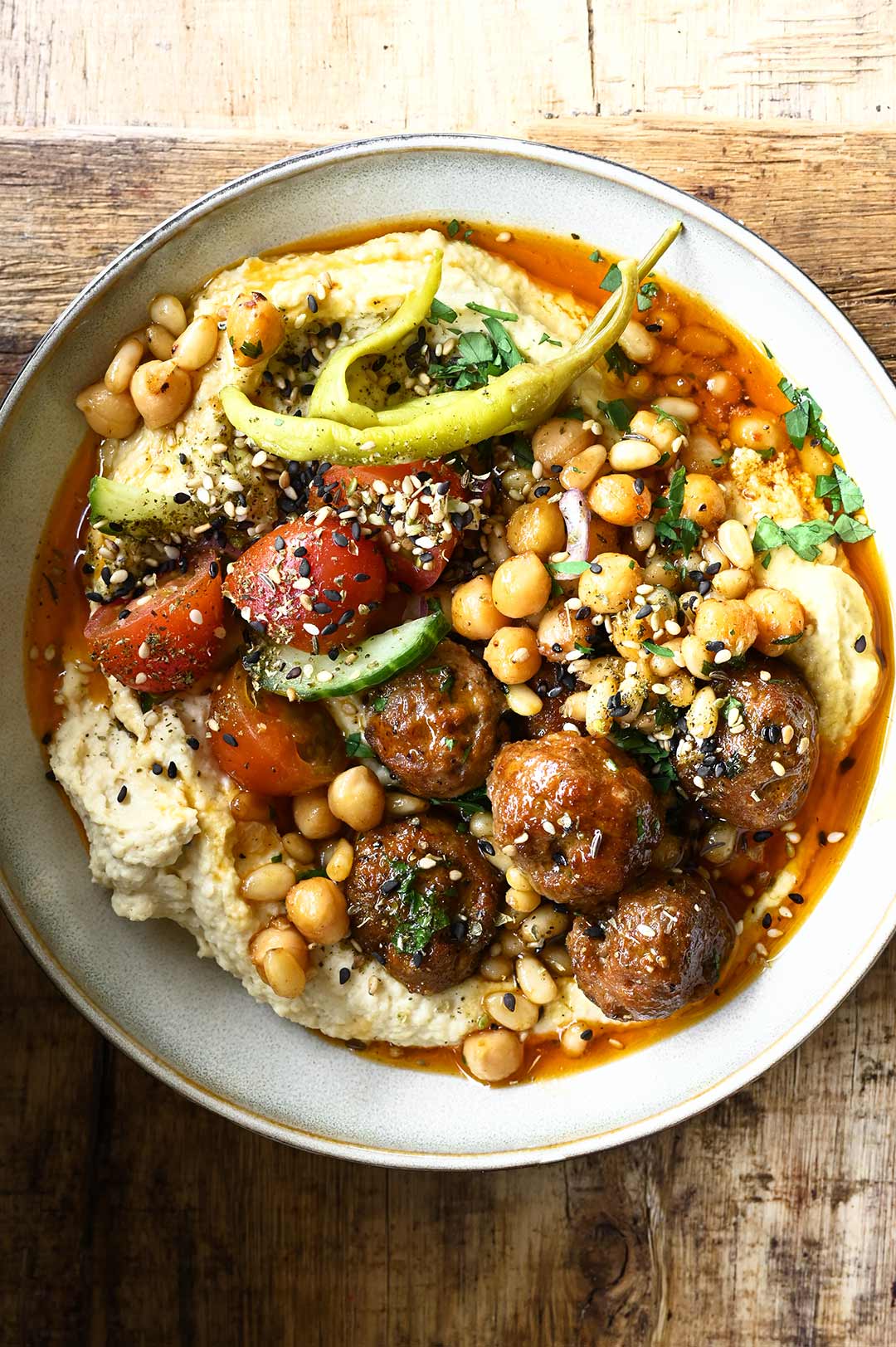 While you can use your favorite store-bought hummus here, nothing beats the homemade stuff. This hummus recipe is super silky and creamy, though it's not only the hummus base, but also the combination of juicy meatballs, fresh cucumber-tomato salad, briny peppers and spice toppings that will have everyone asking for more naan to dip.
And the merguez meatballs? These are not just any ordinary meatballs. The mixture of spices, chickpeas and pine nuts cooked together, brings a whole explosion of flavor.
This meal is absolutely doable on a weeknight. If you can blend the hummus and roll the meatballs beforehand, your dinner will be ready 15 minutes. That said, it requires a little of hands-on time. Why not make it easy and prep most of it in advance?
Let me guide you through the recipe with this step-by-step VIDEO.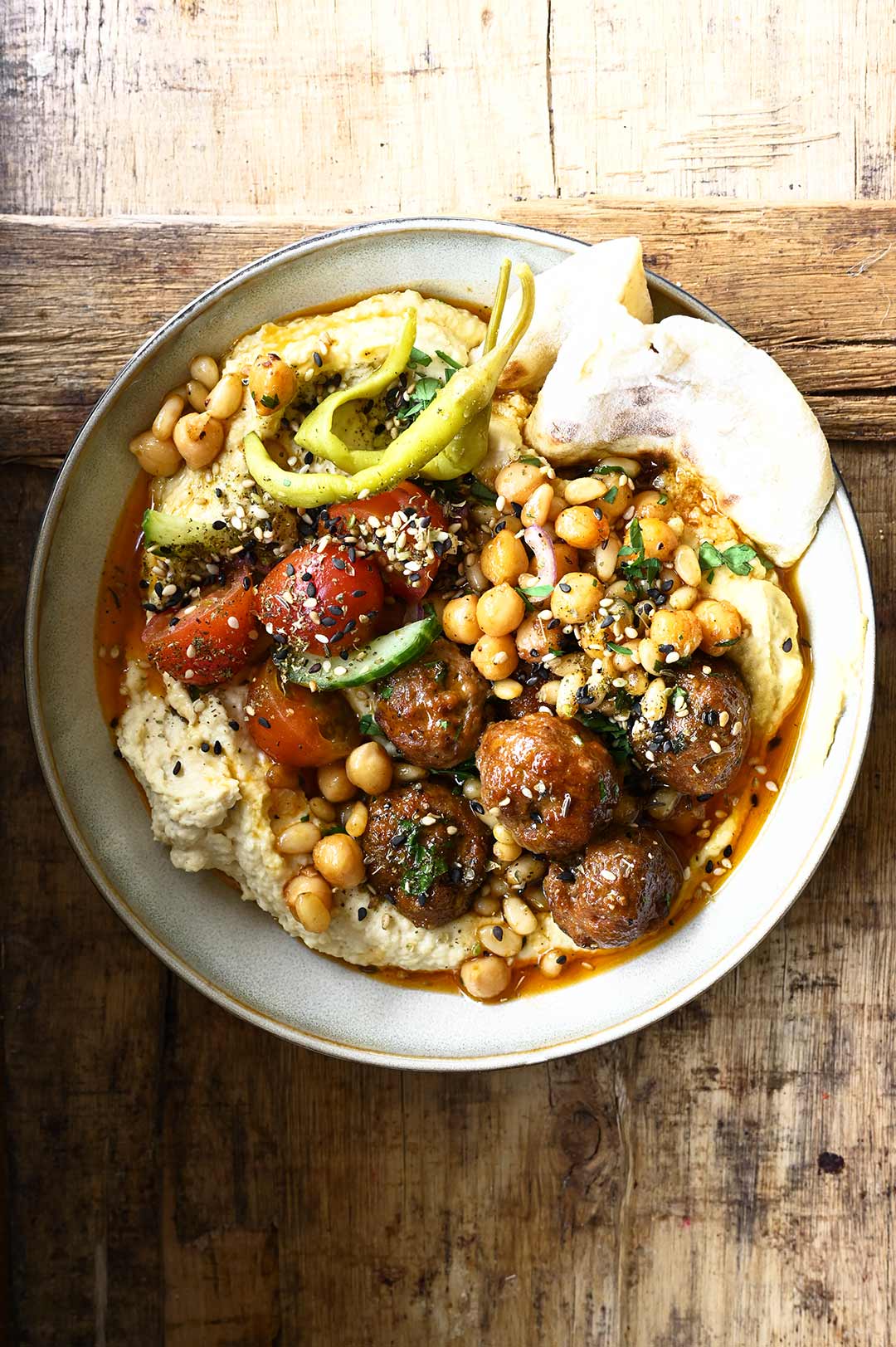 RECIPE NOTES
to save time, make the hummus and roll the meatballs beforehand
can't find merguez sausage? make your own! combine ground lamb (or beef) with harissa spices, ground garlic, sumac, cumin and chili pepper
instead of the cucumber-tomato salad, add pickled cabbage, black olives or roasted eggplant
serve with naan, pita, crackers or some crusty bread
naan recipe: 400 g/14 oz flour + the same amount Greek yogurt + 1 tsp salt, black pepper, garlic powder and baking powder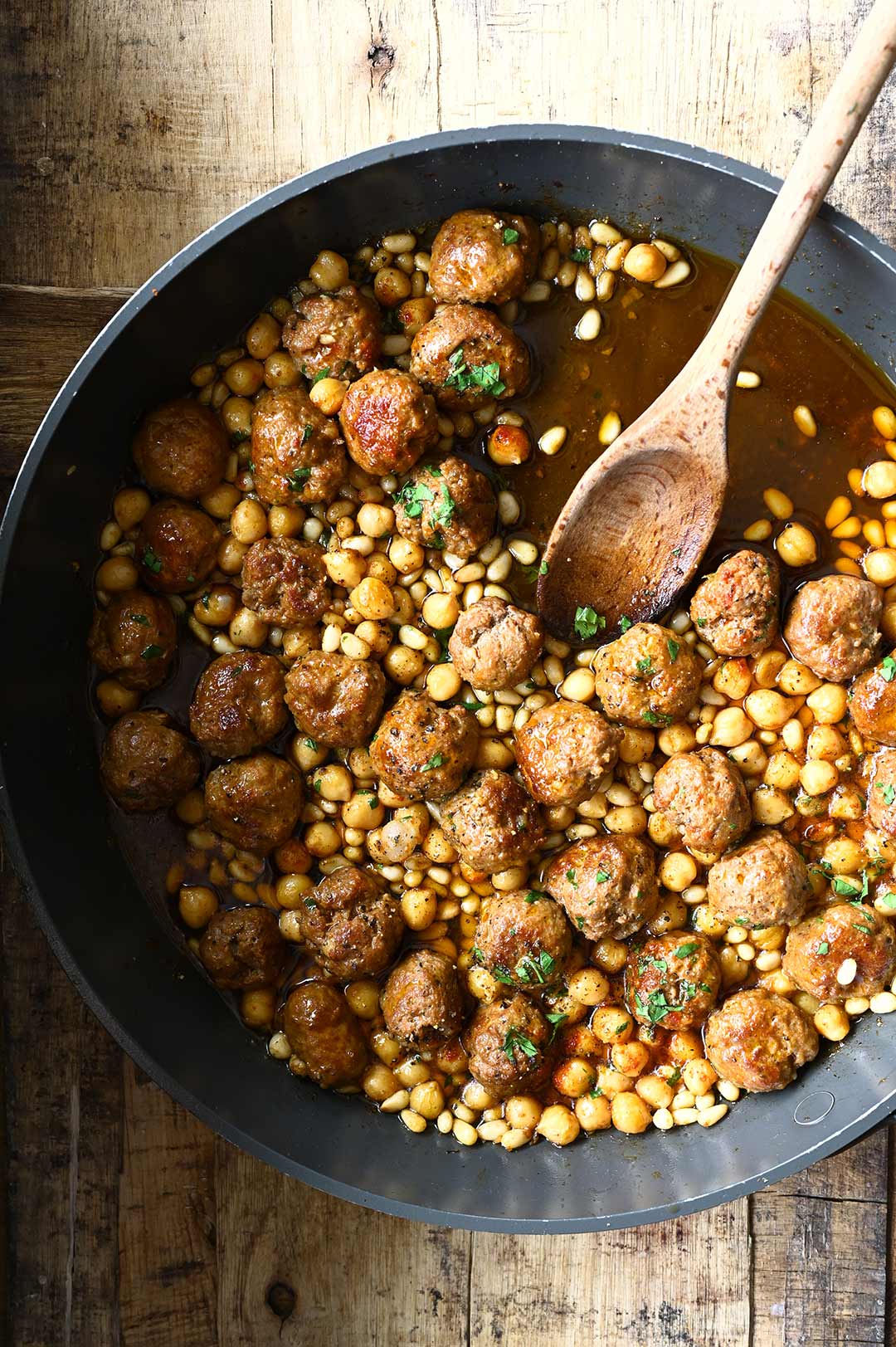 Try These Next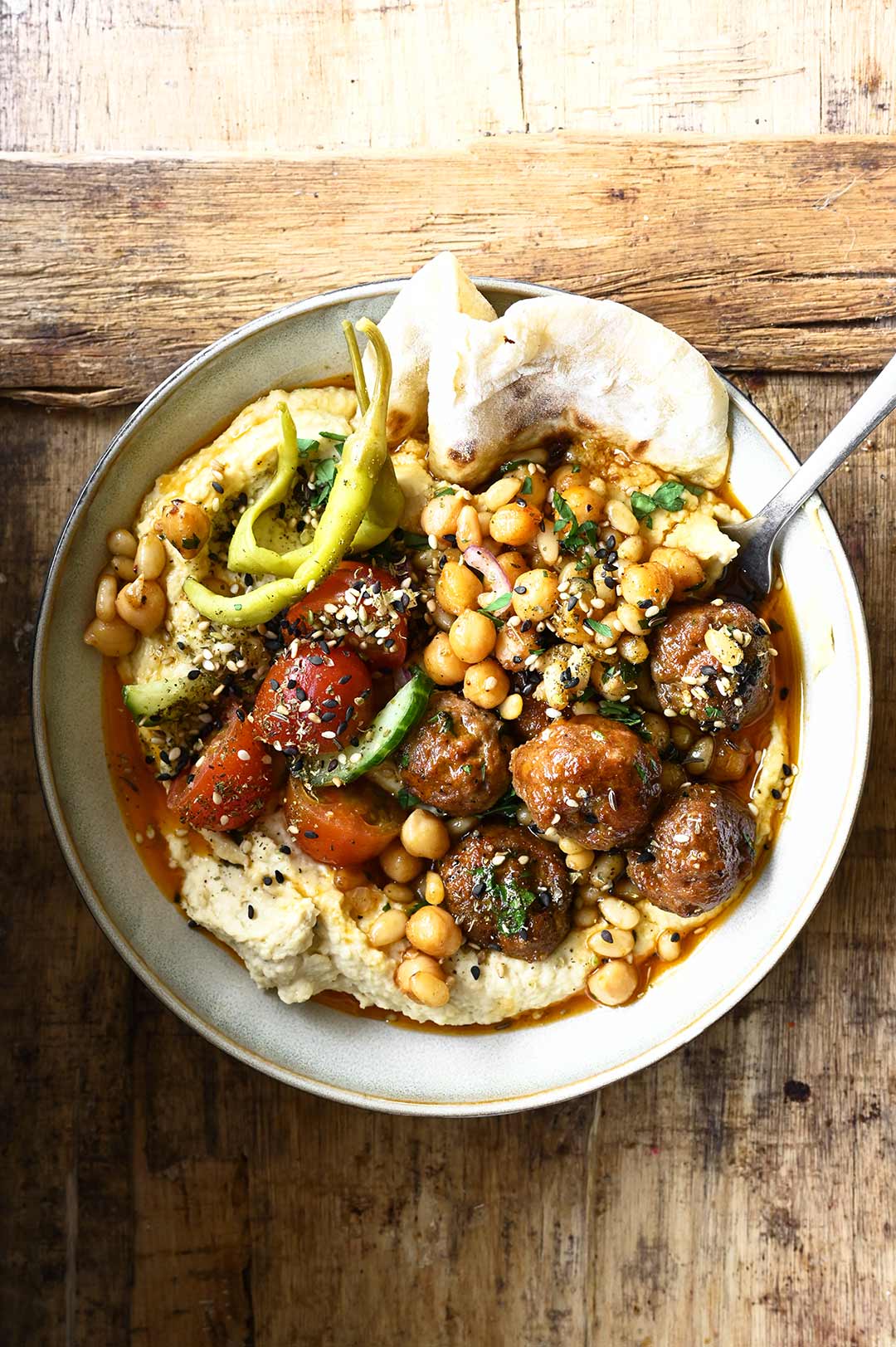 Cooking Video
Yield: serves 4
Loaded Hummus Bowl with Merguez Meatballs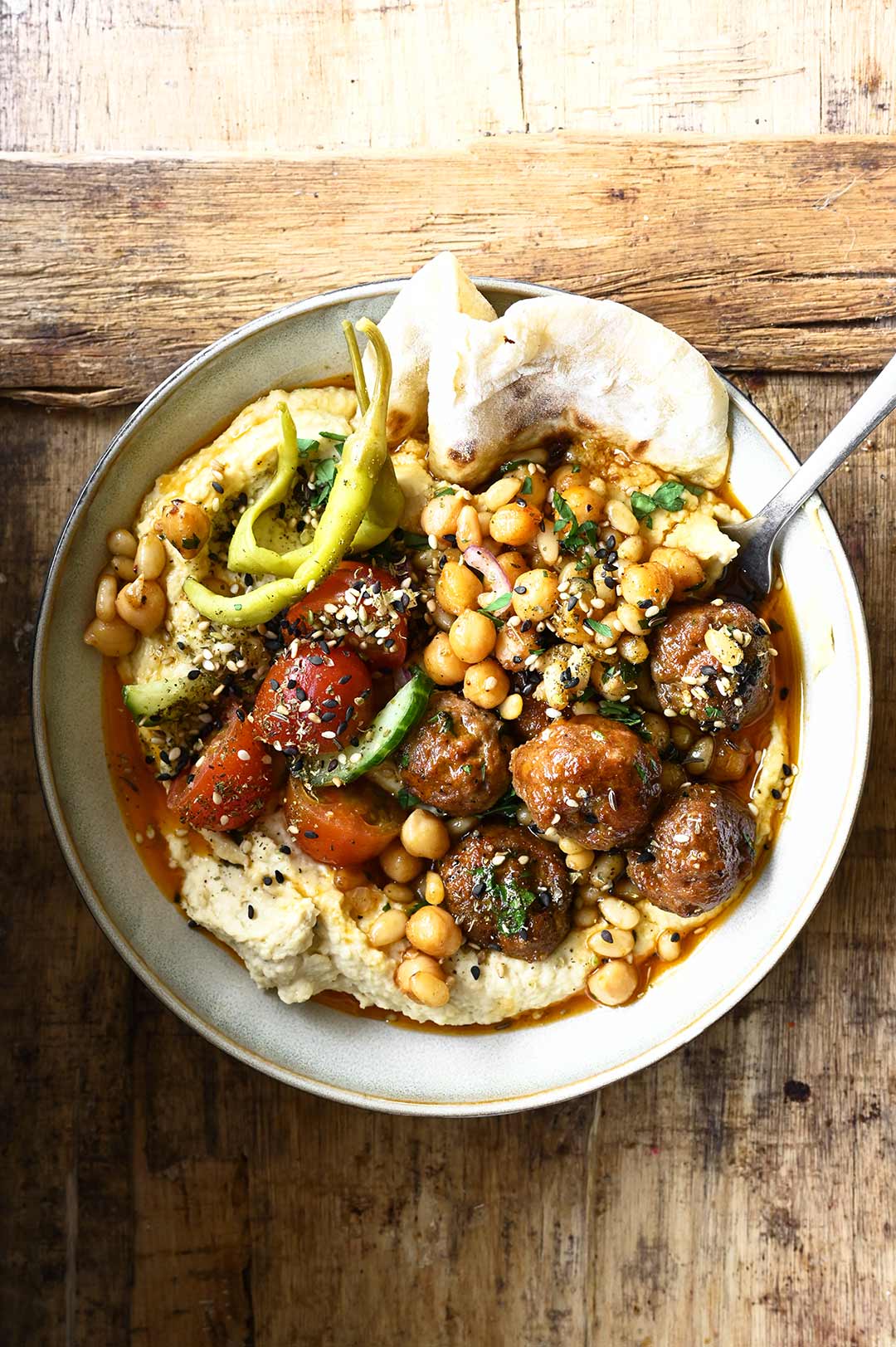 Prep Time 20 minutes

Cook Time 20 minutes

Total Time 40 minutes
Ingredients
Hummus
5 tbsp lemon juice
1 garlic clove, smashed
1 tsp each: salt, black pepper, ground cumin
½ cup tahini
1 can (400g/15 oz) chickpeas, drained
1 tbsp sesame oil
1 tbsp greek yogurt
4 tbsp ice cold water
Cucumber-Tomato Salad
1 cucumber, thinly sliced
200 g/7 oz cherry tomatoes, halved
1 red onion, thinly sliced
2 tbsp olive oil
1 tbsp lemon juice
½ tsp each: salt black pepper, garlic powder
Merguez Meatballs
450 g/1 pound merguez sausage
3 tbsp olive oil
200 g/7 oz chickpeas, drained
½ cup pine nuts
1 garlic clove, minced
2 tbsp parsley, more for serving
red pepper flakes, for serving
za'atar spices, fro serving
flakey salt, for serving
freshly ground black pepper, for serving
pickled green chili peppers, for topping
Instructions
Start by making the hummus. To your food processor, add lemon juice, salt, pepper, cumin, smashed garlic clove and tahini. Blend until the garlic is finely chopped, about 2 minutes. Next add chickpeas, sesame oil, yogurt and ice water. Process until super smooth and creamy, about 5 minutes.
Next prepare the salad. Thinly slice the cucumber and red onion, cut the cherry tomatoes in half. Combine with olive oil, lemon juice, salt, pepper and garlic powder.
Remove the casings from the merguez sausages, cut into 5 cm/2 inch pieces and roll into balls.
Heat oil in a skillet over medium. Add meatballs and brown on all sides, about 3 minutes. Add chickpeas, pine nuts and garlic. Cook fro 3-5 minutes, or until the chickpeas are crispy. Stir in parsley and black pepper.
Bring it all together. Divide hummus among 4 bowls (or use 1 large shallow bowl) and use a spoon to create swirls. Top with the meatball mixture, cucumber-tomato salad and green peppers. Finish off with za'atar, flaky salt, black pepper, red pepper flakes and parsley. Serve with warm naan, enjoy!
Notes
Calories Per Serving: 726 kcal
Nutritional information is only an estimate. The accuracy of the nutritional information for any recipe on this site is not guaranteed.


DOWNLOAD PRINTABLE RECIPE PDF