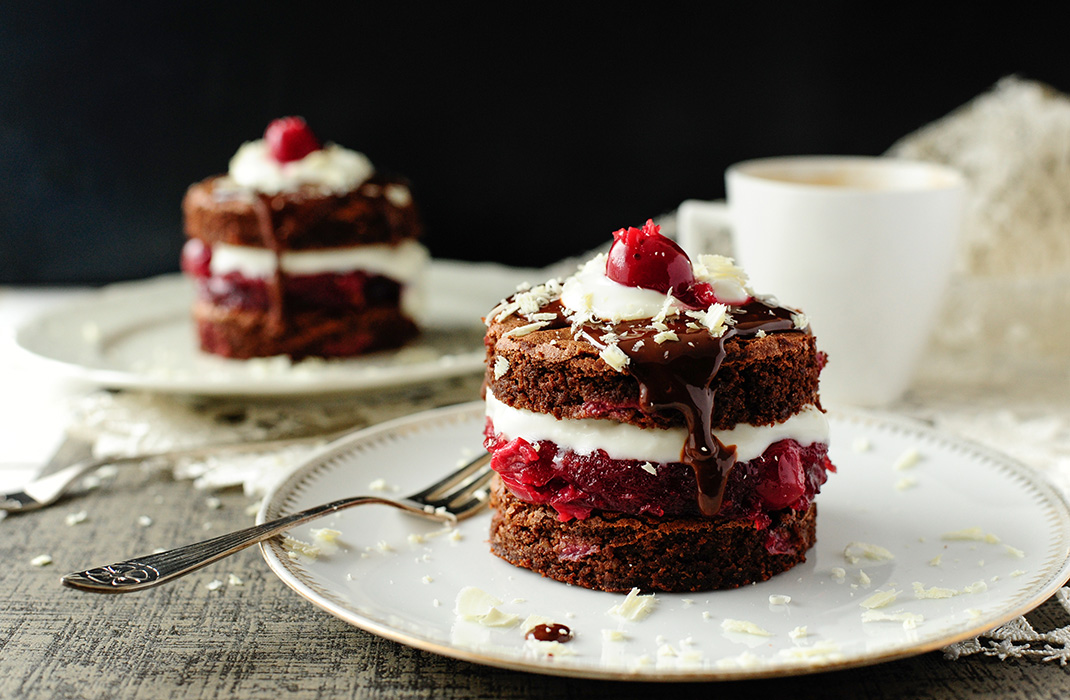 Mini gluten-free chocolate tarts with sour cherries, Greek yogurt and hot chocolate sauce. These pretty tarts are very simple to prepare and make a perfect finish for a special dinner. I love the combination of chocolate and fruit together with the freshness of yogurt, I'm sure you'll like it too!
Ingredients
gluten-free sponge cake
100 g almond flour
3 eggs
70 g sugar
70 g butter
70 g dark chocolate
10 g cocoa powder
4 tablespoons cherries in syrup or alcohol, drained
jam
1/2 small jar cherry jam
4 tablespoons cherries in syrup or alcohol, drained
1 teaspoon gelatin
chocolate sauce
1/2 cup soy cream
100 g dark chocolate
1 tablespoon butter
also
Greek yoghurt
cherries in syrup or alcohol to decorate
2 tablespoons grated white chocolate
Instructions
Preheat the oven to 180°C.
In a saucepan, melt the butter and chocolate over low heat. Crack the eggs and separate the egg white from the egg yolk. Beat the egg whites until stiff. Beat the egg yolks with sugar until until fluffy and the color will be light yellow. Add the melted chocolate to the yolks, then stir in the almond flour and add cocoa. Gently mix with the beaten egg whites and cherries.
Pour batter into a square 21×21 cm mold, greased and lined with baking paper. Bake in the oven for 20 minutes, allow to cool.
Dissolve gelatin in a small amount of hot water. In a saucepan, heat the jam with cherries, add gelatin and mix. Pour into a shallow dish and allow to cool.
In a saucepan, melt the chocolate with soy cream. Turn off the heat and add the butter.
Using a glass, cut 4 circles from the chocolate cake and 2 circles from the jam.
Arrange two chocolate circles on the plates, lay the jam circles on each part and spread with 2 tablespoons of Greek yogurt. Cover with the second chocolate circle and pour the chocolate sauce. Top with cherries and Greek yogurt, sprinkle with grated white chocolate.
Enjoy! ♥