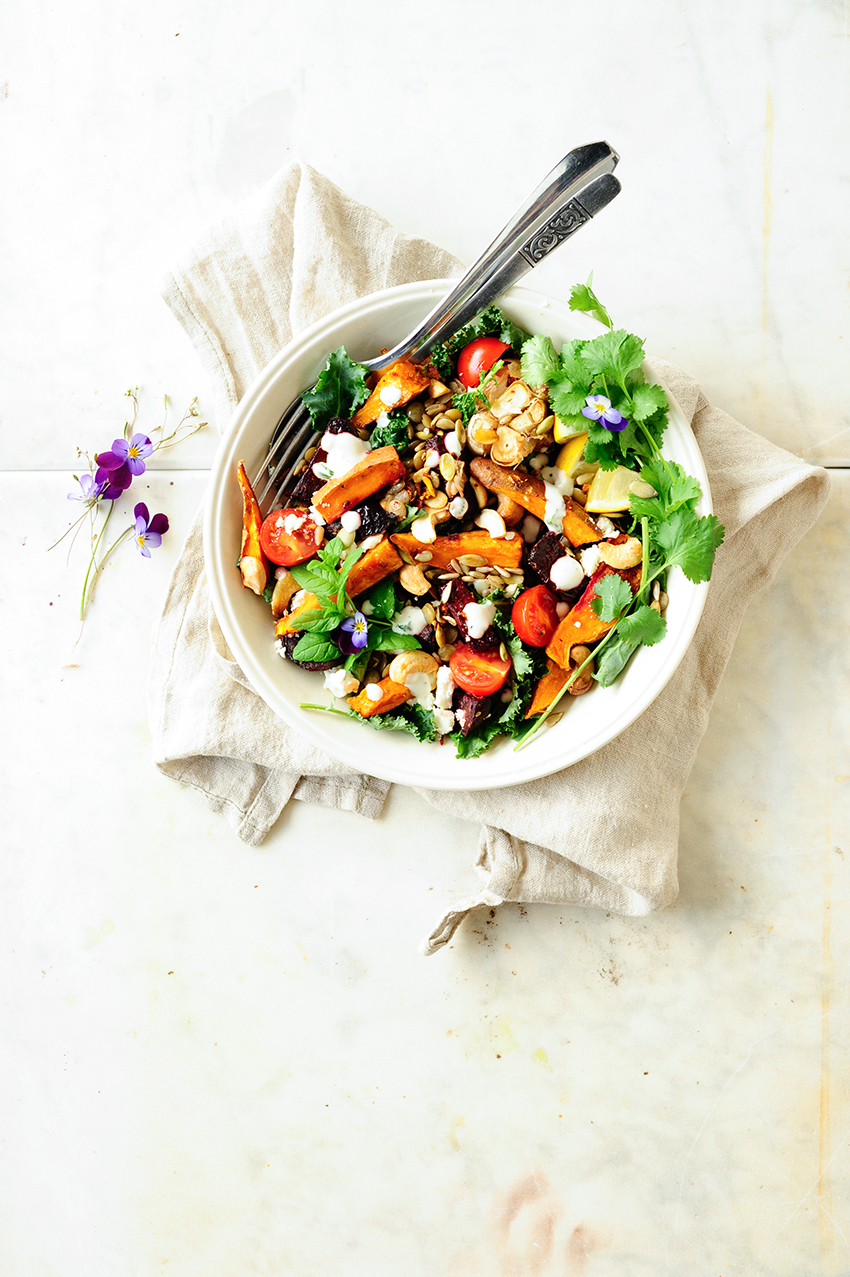 This colorful salad is full of so many vegetables and wonderful flavors, it's my weekly lunch and usually this salad keeps me company at work and I still can't get enough of it. It's packed with plenty of lentils, roasted beetroots, sweet potatoes and nuts. Super easy, healthy and topped with a creamy yogurt dressing. This kind of salad brightens my day and I love it, do you?
prep time 40 minutes | serves 2  as main dish or 4 as side dish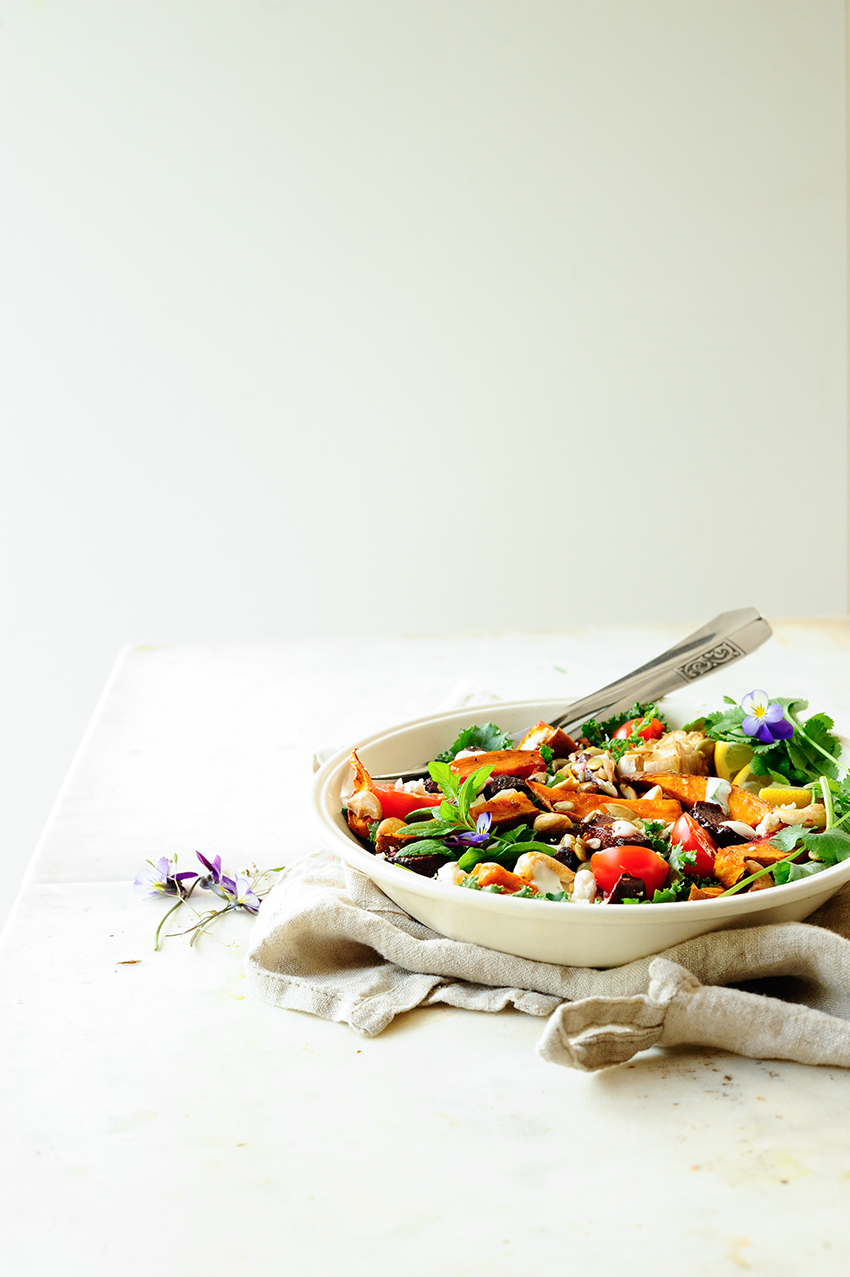 Ingredients
2 small sweet potatoes, cut into large pieces
4 small beets, cut into quarters
100 g green lentils
100 g baby kale
100 g cherry tomatoes, cut in half
50 g feta
1 apple, cut into cubes
1 teaspoon turmeric
1 tablespoon grated ginger
1 teaspoon cumin powder
2 cloves garlic, minced
1/2 teaspoon cayenne pepper
black pepper and salt
1 tablespoon lemon juice
2 tablespoons oil
2 tablespoons cashews
2 tablespoons sunflower seeds
2 tablespoons pumpkin seeds
dressing
2 tablespoons Greek yogurt
2 tablespoon mayonnaise
2 tablespoons rapeseed oil
1 tablespoon chopped mint
1 tablespoon chopped cilantro
1 clove garlic, minced
1 tablespoon lemon juice
black pepper and salt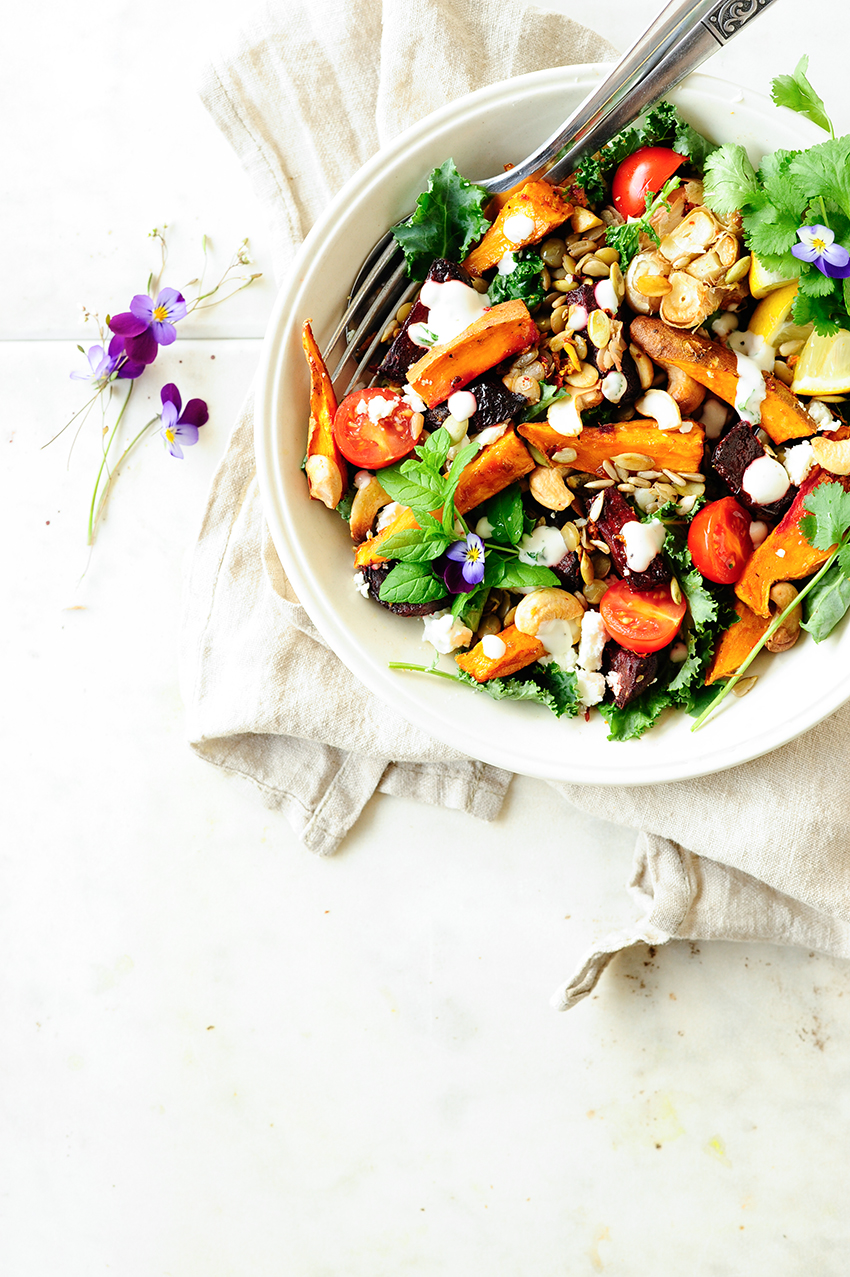 Instructions
Place the beets and sweet potatoes in a bowl and drizzle with oil. Add turmeric, ginger, cumin, lemon juice, garlic and cayenne pepper and season with salt and pepper. Toss with your hands and spread onto a baking sheet in an even layer. Bake for 15 minutes at 200°C. Flip, add nuts and seeds, bake for 15 minutes more.
Bring salted water to a boil, add lentil and simmer until tender, drain.
Combine all the ingredients for the dressing.
In in a large salad bowl, toss together the kale, beetroots,sweet potatoes, apple, tomatoes and lentils. Crush the feta,  season with salt and pepper and serve with the yoghurt dressing. Enjoy!