Lemon garlic scallops with polenta. A straightforward funky recipe made with pan-seared scallops, served with buttery polenta, then topped with a tasty lemon sauce flavored with briny capers and a touch of honey. It's utterly delicious, especially when topped with toasted hazelnuts and dill. Serve over polenta for a flavor-packed dinner or with some crusty bread for an impressive appetizer at your next dinner party. A fuss-free meal with the most indulgent result.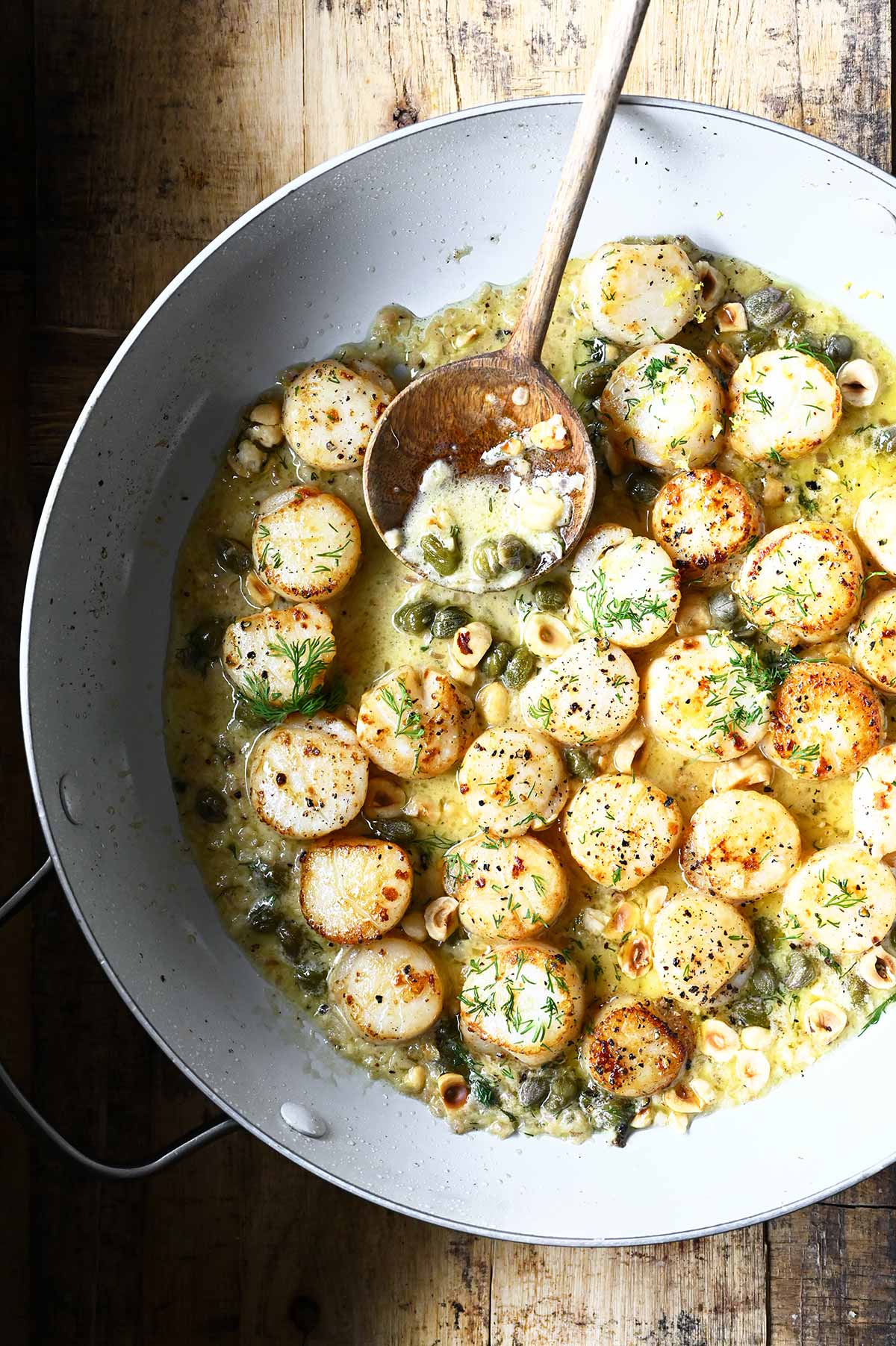 This is the kind of dinner I just want to eat any night of the week, serve for friends or family at a dinner party or prepare on a date night. The pan-seared scallops simmered in a skillet full of lemon garlic goodness, and taste like they were made at your favorite restaurant. Because the recipe comes together so quickly, about 30 minutes, you can turn to it over and over again.
Scallops cook in minutes and are one of the easiest meal options. They're available year round and don't require any technical know-how. Just sear for a couple of minutes. Make the sauce in the same skillet. Done! Seriously, it's that easy.
To complement the scallops and the polenta, we make a luscious and bright lemon garlic sauce in the same skillet that the scallops were seared in. This way there're a lot of wonderful flavors left and you definitely want to incorporate them in the sauce. Aromatic garlic, shallot, chicken broth, capers and cream are cooked until slightly thickened. A little bit of lemon juice is whisked in for a pungent hint, creating a delicate tangy sauce.
Let me guide you through the recipe with this step-by-step VIDEO.
This recipe basically makes itself. Since there's lots of sauce that deserves to be soaked up, I love serving it over polenta, but if you're serving it as an appetizer, pair it with some crusty bread. Either way, it's such a treat, one of the easiest, nicest meals you can eat at home. A simple leafy green salad is also a nice addition to round out the meal.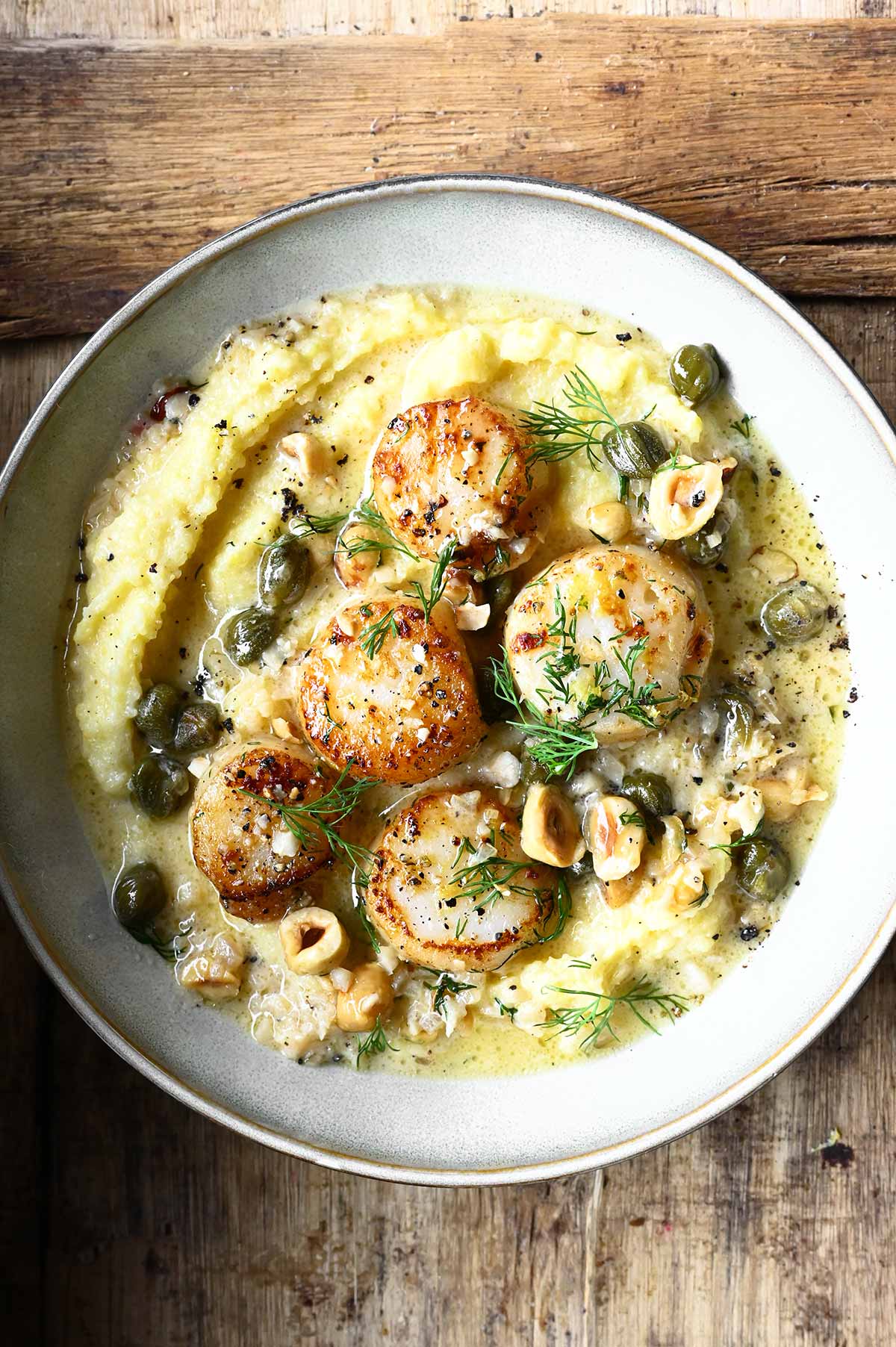 Fresh or Frozen Scallops?
If you can't find fresh scallops, simply use frozen. Thawing scallops is as quick and easy as cooking them. Simply place the sealed package of scallops in a bowl filled with lukewarm water until thawed. You can also thaw them several hours or overnight in the refrigerator. Do not thaw scallops at room temperature. Pat them dry with paper towels before cooking.
The Key for Perfectly Seared Scallops
Real simple! Pat them dry with paper towels. Use a super hot skillet. Once the scallops hit the skillet, do not move them until you are ready to turn! This way your scallops will get perfectly golden brown.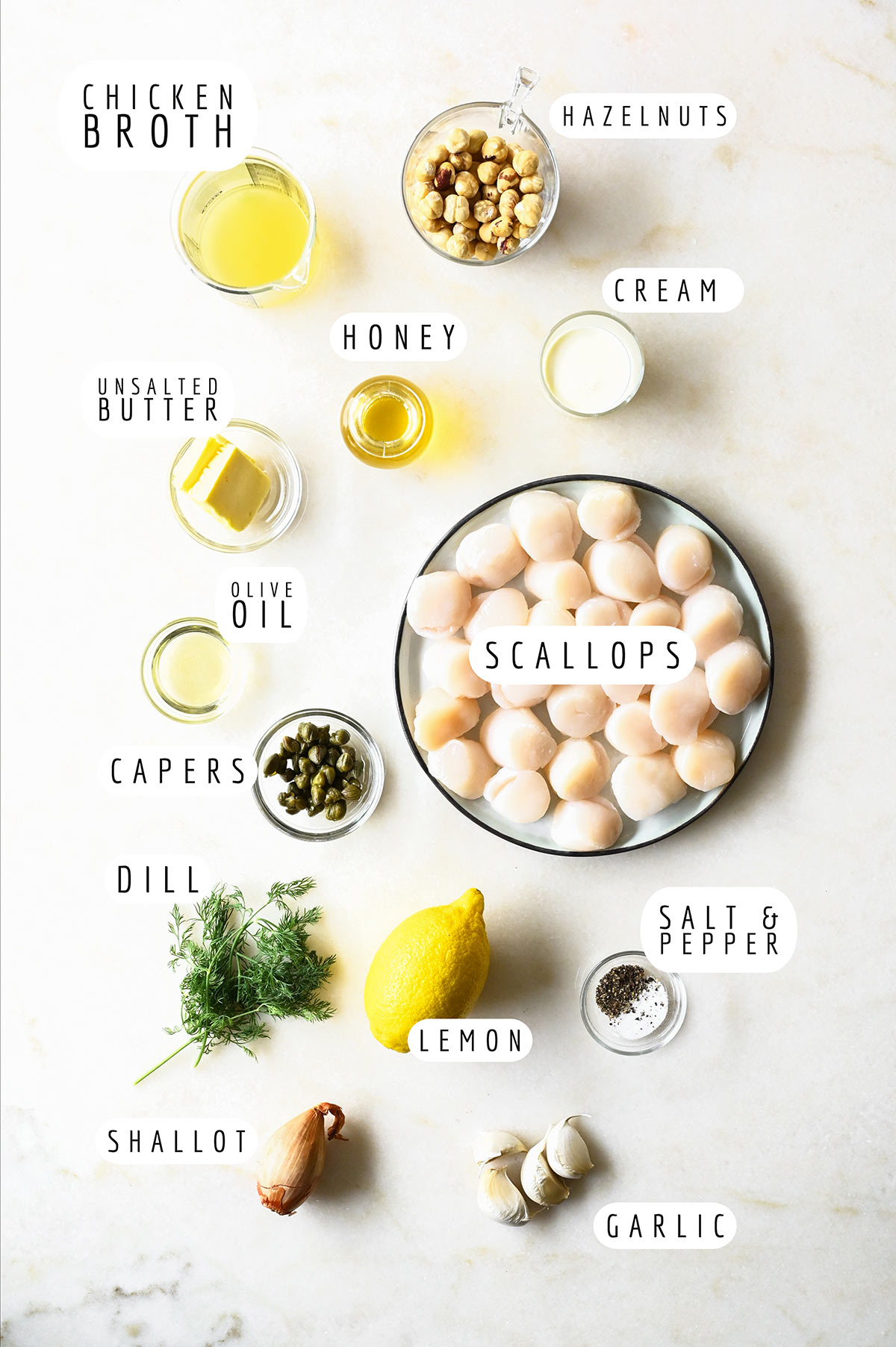 INGREDIENTS
Oil and Butter: To sear the scallops and make the sauce.
Scallops: Fresh or frozen. Thaw first, if frozen and remove the side muscle, if needed.
Garlic and Shallot: Essential flavor base.
Lemon juice and Zest: Helps brighten up the flavor of the garlic butter scallops so don't skip it. Fresh lemon juice is best.
Capers: For a briny touch.
Honey: To keep a balance between the flavors.
Seasoning: We keep things simple with salt and black pepper.
Chicken broth: You can use chicken or vegetable broth.
Cream: Use heavy cream. It has the necessary fat content to thicken the sauce. I don't recommend using half-and-half or milk, as the sauce could turn out too watery.
Dill: Highly recommended.
Hazelnuts: They add a delicious crunchy touch. You can substitute them for pistachios.
POLENTA
And the polenta? It's buttery and swirled with Parmesan to add character and a creamy touch. The ingredients are simple, but the taste is huge. We prepare the polenta first and let it stand aside while we sear the scallops. Super easy!
You can omit polenta and serve the scallops with mashed potatoes, crusty bread, risotto or pasta.
RECIPE NOTES
Can't find scallops? Use shrimp or cod instead.
Serve with a leafy salad drizzled with balsamic dressing.
Storage: Store leftovers refrigerated in an airtight container for up to 2 days.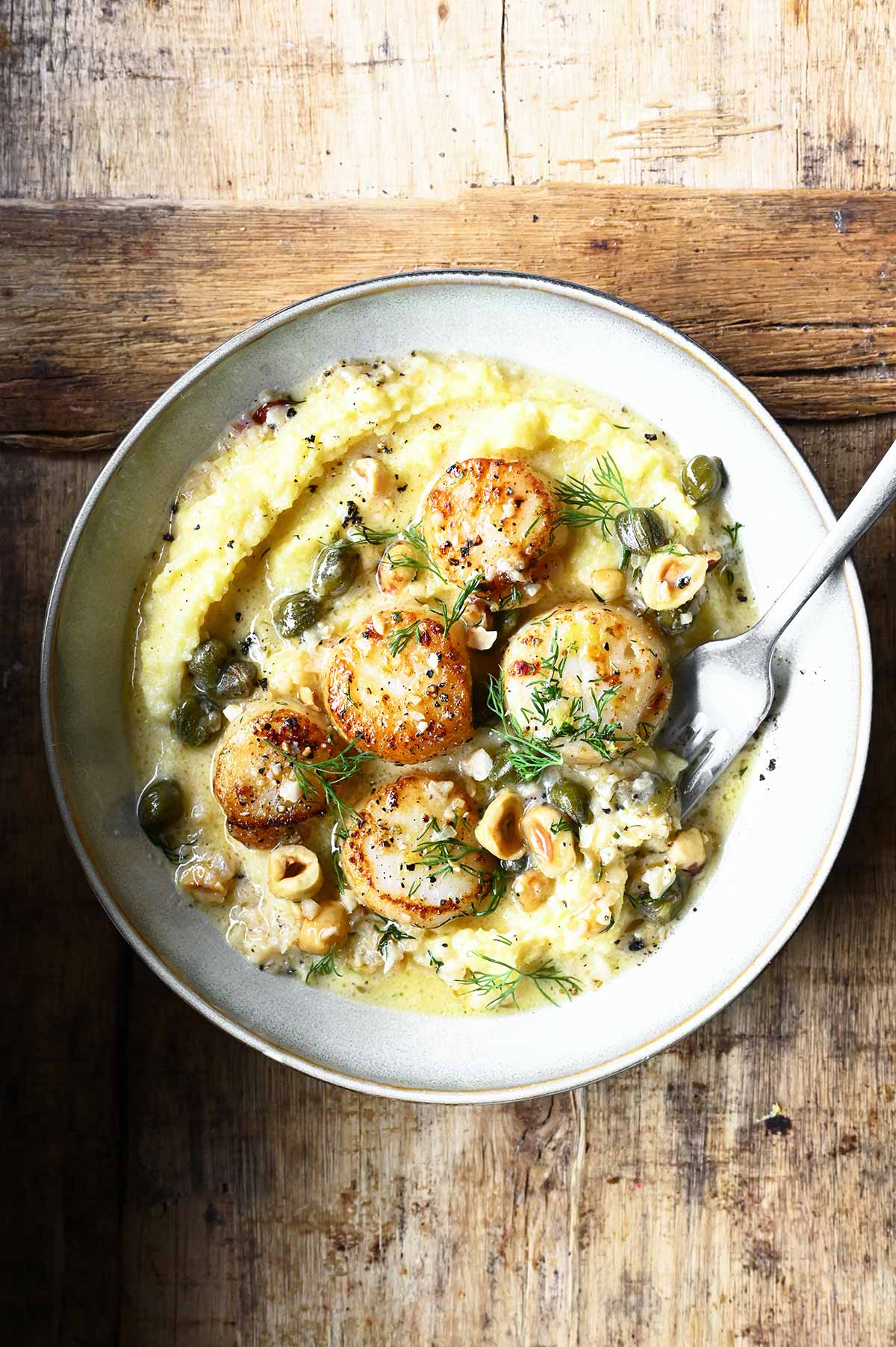 TRY THESE NEXT
COOKING VIDEO
Yield: serves 4
Lemon Garlic Scallops with Polenta
Ingredients
Scallops
1 tbsp olive oil
2 tbsp unsalted butter, divided
1 pound/450 gscallops
salt and black pepper
4 garlic cloves, minced
1 shallot, finely minced
3 tbsp lemon juice
2 tbsp capers
1 tsp honey
¼ cup/50 ml chicken broth
¾ cup /200 mlheavy cream
2 tbsp chopped dill
lemon zest
4 tbsp roughly chopped toasted hazelnuts
Polenta
4 ounces/110 g instant polenta
1 cup/240 ml milk
1 ¼cups/290 ml chicken broth
1 tsp each: salt, black pepper
1 tbsp unsalted butter
4 tbsp grated Parmesan
Instructions
Get all the prep done before you start cooking: roughly chop the hazelnuts, mince the garlic, finely mince the shallot and chop the dill.
Remove the side muscles from the scallops, if needed. Pat them dry with a paper towel and season with salt and pepper.
Start with making the polenta. In a saucepan, bring chicken broth and milk to a simmer. Slowly whisk in the polenta, salt and pepper. Stir continuously, about 2 minutes, over low heat. Turn off the heat. Stir in the grated Parmesan and butter. Cover and set aside. If the polenta thickens too much, thin with some additional milk or water.
Heat the oil and 1 tablespoon butter in a skillet over medium. Place the scallops in a single layer. The first scallop should sizzle, if it doesn't, wait a few seconds to let the skillet heat before adding the rest of the scallops. Sear the scallops undisturbed for 3-4 minutes or until golden brown. Turn the scallops over. Cook undisturbed for 1 minute. The scallops should feel firm to the touch, but still slightly soft. Do not overcook the scallops, they will become tough and chewy. Remove from skillet.
Reduce heat to low, add garlic and shallot, cook until soft and fragrant, about 2 minutes. Stir in lemon juice, capers, honey and the remaining butter. Add chicken broth, stir with a wooden spoon to dissolve the brown bits on the bottom of the skillet, cook for 2 minutes. Pour in cream and season with pepper. Bring to a boil, let simmer for 3 minutes.
Return scallops to the skillet and simmer for 30 seconds. Taste and adjust salt. Top with dill, lemon zest and hazelnuts.
Serve immediately! Enjoy!
Notes
Calories Per Serving: 532 kcal
Nutritional information is only an estimate. The accuracy of the nutritional information for any recipe on this site is not guaranteed.

//= __('Print recipe (no photos)', 'servingdumplings' );?> //= __('Print recipe (with photos)', 'servingdumplings' );?>