Creamy lemon chicken orzo soup. This soup tastes unbeatably delicious, is super easy to make and ready in 30 minutes. Made with hearty ground chicken and tender orzo, simmered in an ultra-creamy broth, layered with garlic and brightened up with lemon juice. It's rich, yet light-tasting and as comforting as it sounds. Stir in some extra veggies and serve with some crusty bread for a weeknight-friendly meal.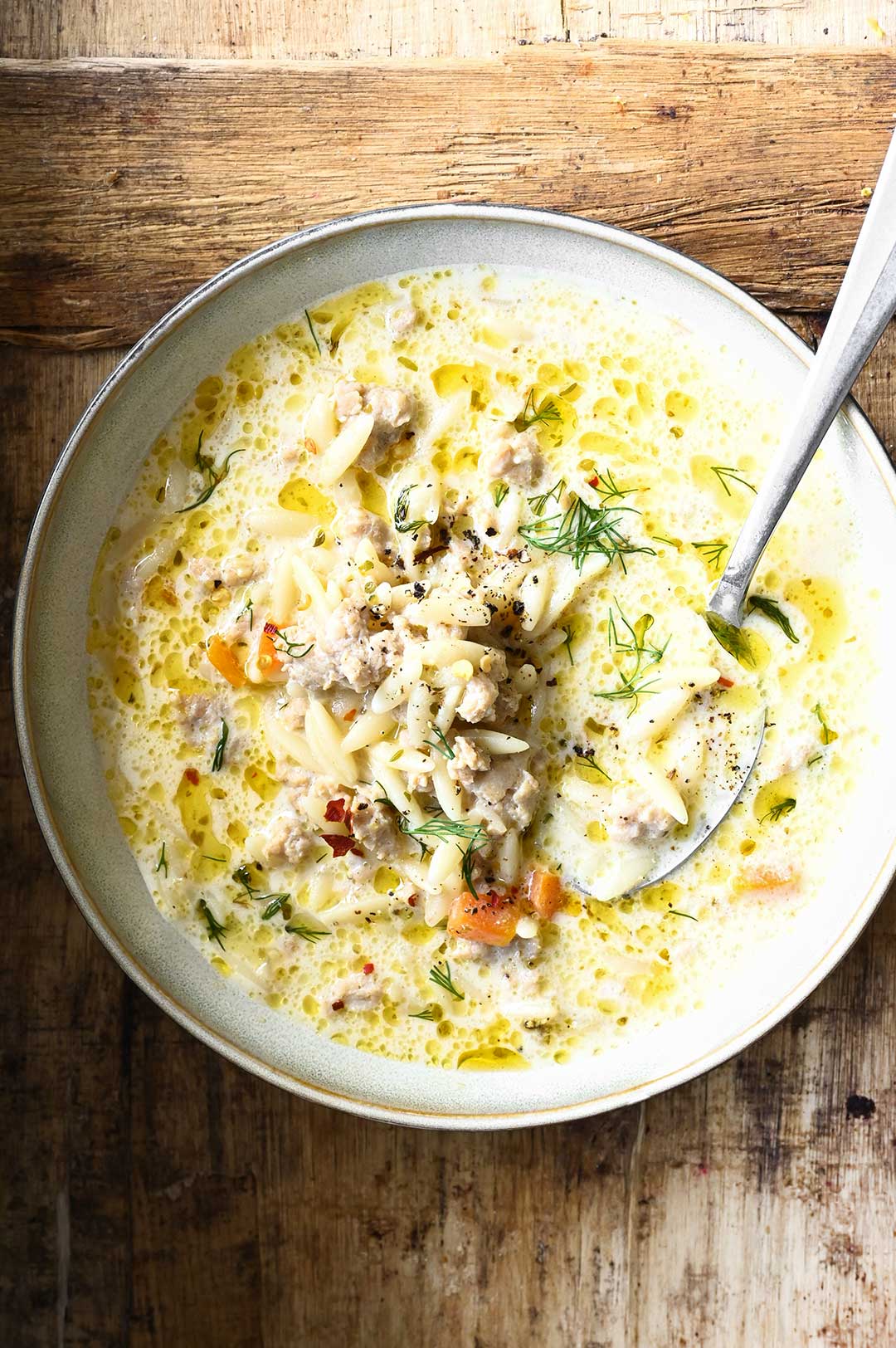 This soup is very straightforward, silky and thick, with a subtle fragrance of dill plus a nice hit of lemon. It's super comforting and satisfying, but what really seals the deal is that the whole thing is made in one pot and tastes like can't-stop-eating-delicious. It's a family friendly and easy meal that feels special, which is what we all deserve now more than ever.
To shortcut a chicken soup recipe, we mostly use rotisserie chicken, which is a convenient hack, but cooked chicken doesn't absorb flavors very well. However, browning ground chicken in olive oil with garlic, shallot and carrot, creates a deeply complex base. We simmer it with some chicken broth and a handful of tiny pasta. Lemon juice and cream cheese round it out into a tangy, savory soup with lots of aromatic flavor from the dill and chicken.
Add some vegetables like zucchini or spinach for a complete meal that cooks in 30 minutes. As for orzo, you can also use cavatelli or pearl couscous.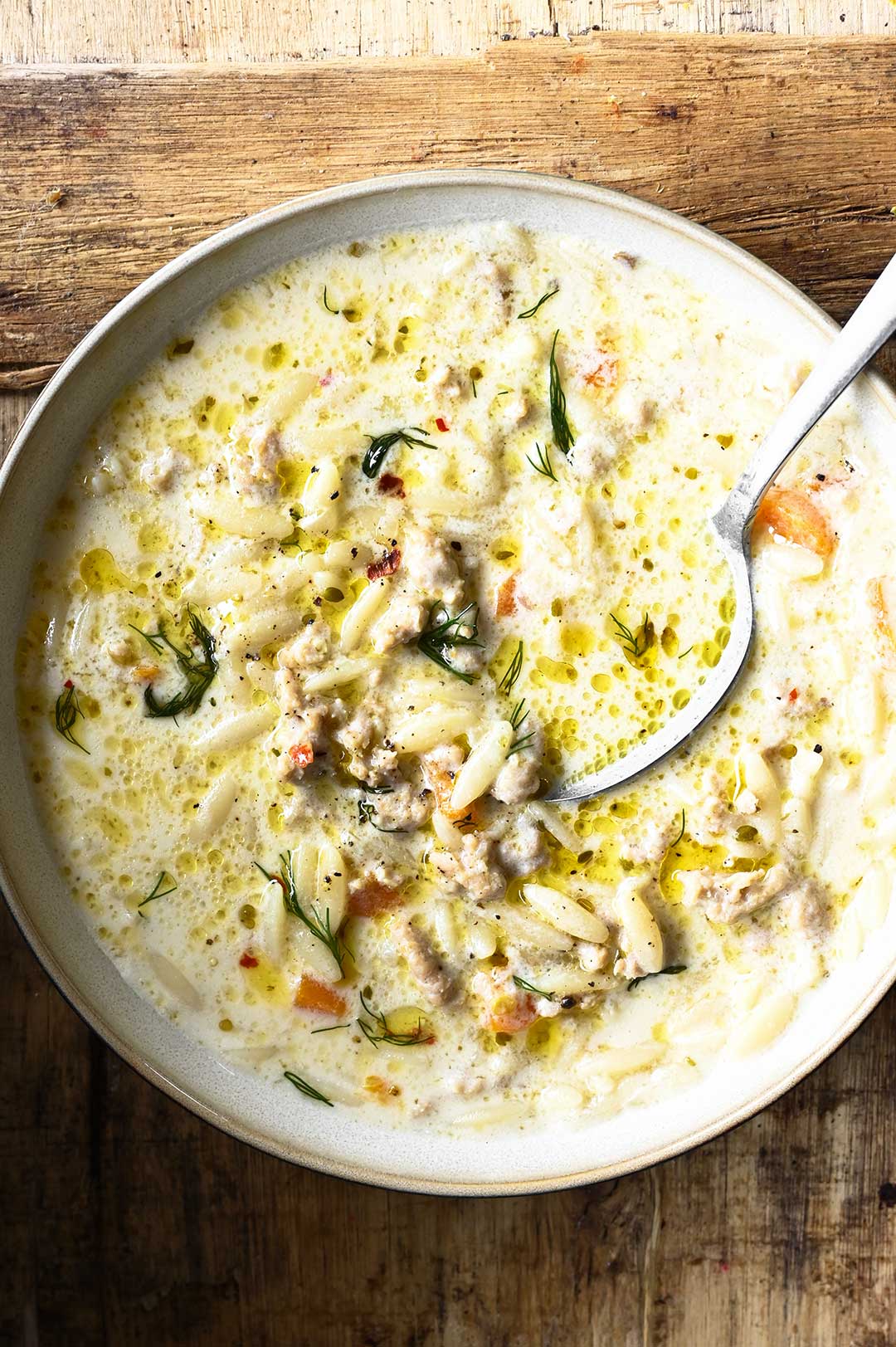 To make this creamy, comforting broth, we start by sautéing garlic, shallot and carrot. Then cook the ground chicken until brown and add orzo. Pour in chicken broth and simmer everything together. While the orzo cooks, it releases starch and thickens the soup. At the end of cooking, you have the option to stir in either heavy cream or half-and-half. Skip low-fat or nonfat milk, as they don't add as much flavor or creaminess. Then add cream cheese, season and stir in some fresh dill. Ready!
Let me guide you through the recipe with this step-by-step VIDEO.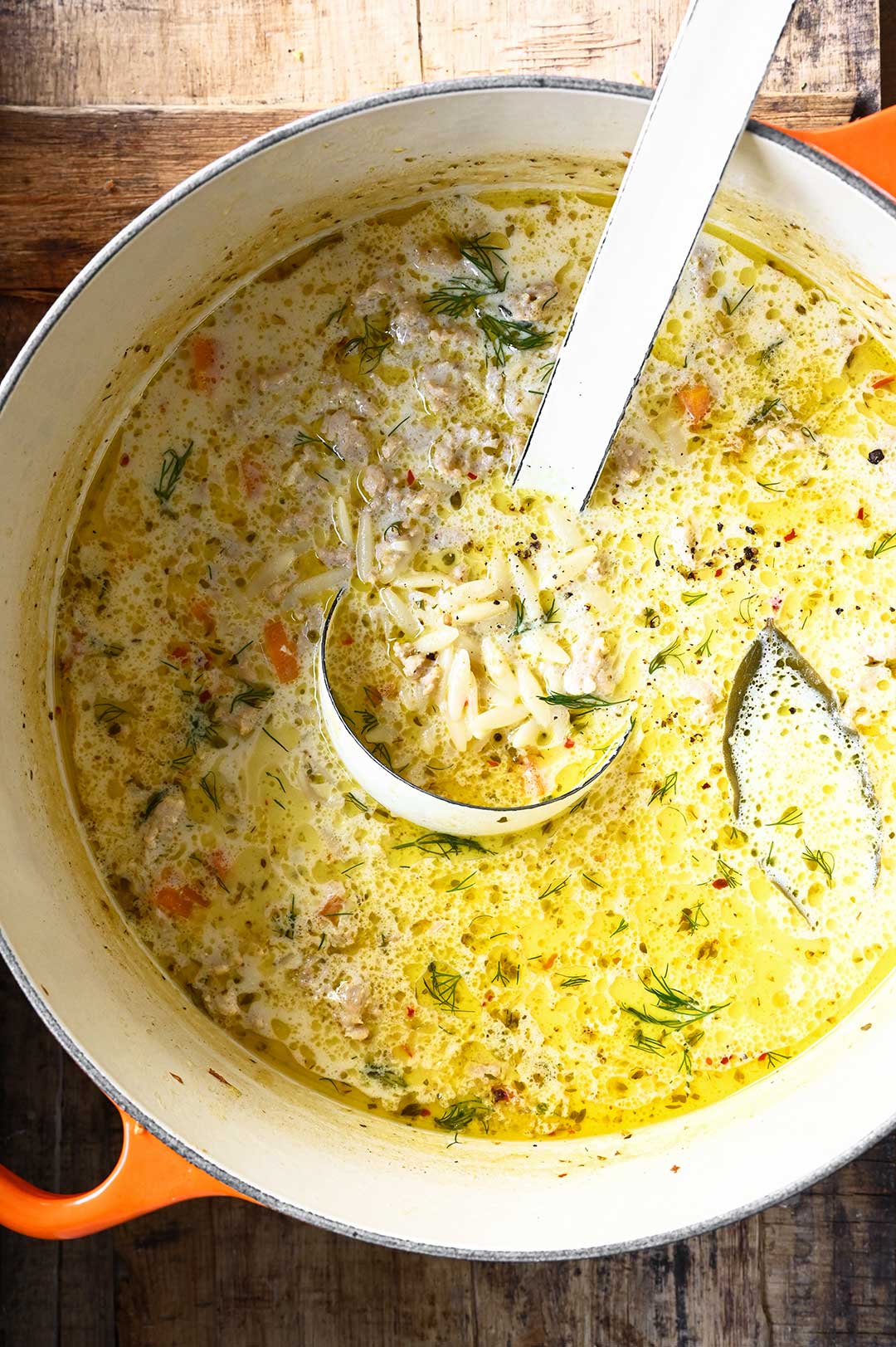 RECIPE NOTES
add baby spinach, kale , broccoli, zucchini, cauliflower or chickpeas
instead of ground chicken, use Italian sausage
if you want a 'brothier' soup, you can cook the orzo in a separate pot and add it straight to the bowls while serving the soup
if you plan to make a batch of this soup beforehand, don't add the orzo yet, add it right before you're planning to serve the soup
when you reheat the leftovers, the orzo will thicken creating a delicious, creamy risotto-style pasta
instead of orzo, you can use cavatelli or pearl couscous, but you'll need to adjust the amount of broth, as they'll each absorb less or more broth than orzo
instead of dill, use parsley, oregano or thyme
for an even more delicious hit of lemon, stir in some lemon zest
Try These Next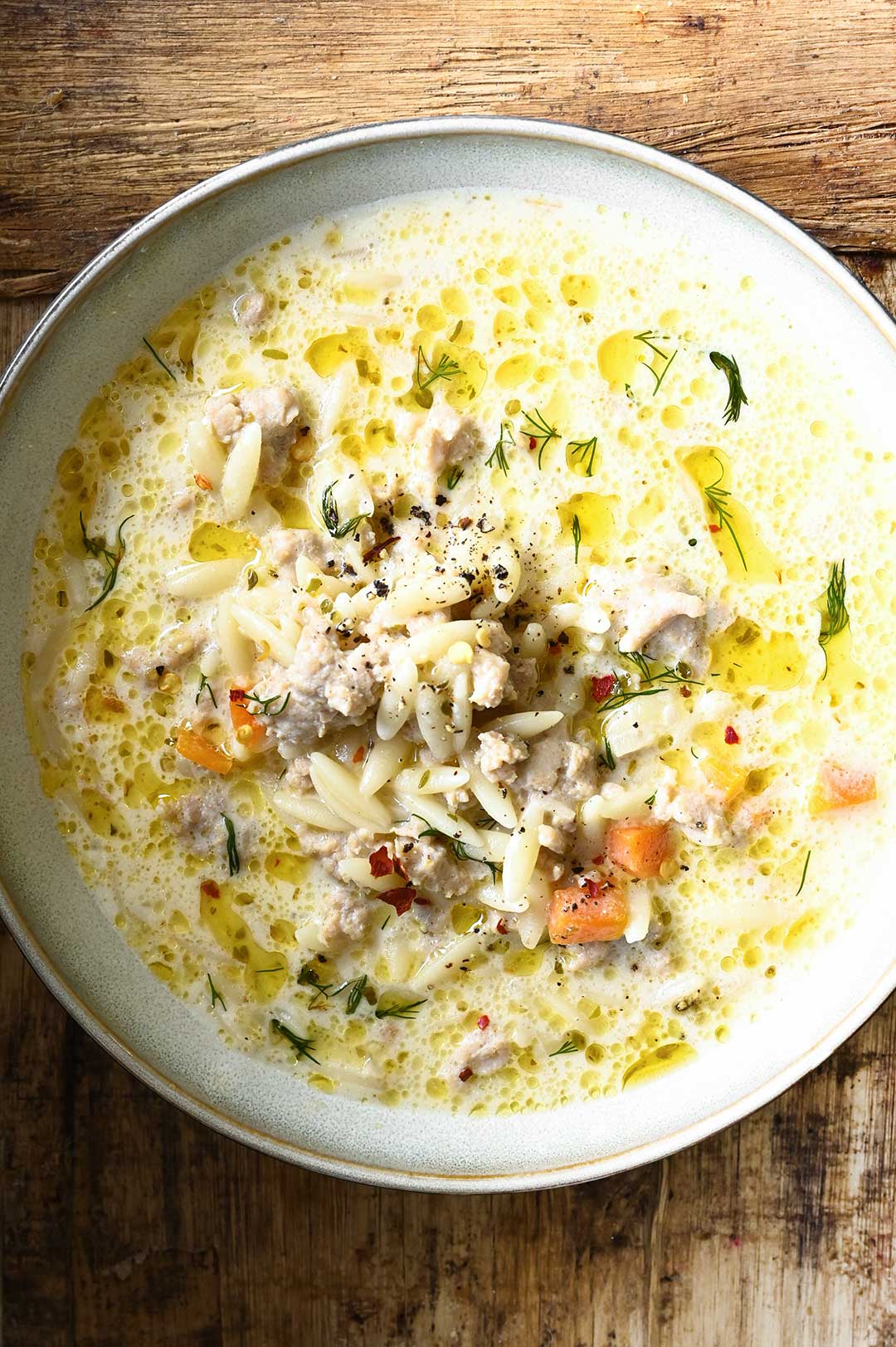 Cooking Video
Yield: serves 4-6
Lemon Chicken Orzo Soup
Prep Time 5 minutes

Cook Time 25 minutes

Total Time 30 minutes
Ingredients
3 tbsp olive oil
6 garlic cloves, minced
1 carrot, chopped
1 shallot, finely chopped
1.1 lbs/500 g ground chicken
1 tsp each: salt, black pepper, ground cumin, ground coriander, dried thyme
1 bay leaf
7 oz/200 g orzo
8 cups/2 L chicken broth
5 tbsp lemon juice
½ cup/120 ml cream 20% fat
3/5 oz/100 g cream cheese, at room temperature
fresh dill, red pepper flakes and black pepper, for serving
Instructions
Heat oil in a large pot over medium. Add garlic, shallot and carrot, cook until soft and fragrant, about 3 minutes. Add ground chicken, break it up into crumbles, cook for 5 minutes.
Stir in salt, black pepper, cumin, coriander and thyme. Add bay leaf and orzo. Pour in chicken broth and bring to a boil. Reduce heat to low and simmer, uncovered, for 10 minutes, while stirring from time to time to prevent orzo from sticking to the bottom of the pot.
When ready, add lemon juice, cream and cream cheese. Simmer for 5 minutes. Finish off with fresh dill, red pepper flakes and freshly ground black pepper. Serve immediately, enjoy!
Notes
Calories Per Serving: 461 kcal
Nutritional information is only an estimate. The accuracy of the nutritional information for any recipe on this site is not guaranteed.


DOWNLOAD PRINTABLE RECIPE PDF

//= __('Print recipe (no photos)', 'servingdumplings' );?> //= __('Print recipe (with photos)', 'servingdumplings' );?>