An easy lemon blueberry crumb cake made with fresh blueberries and a light brown sugar topping. This is a cake we all should be making. My theory is that everybody needs a blueberry crumb cake. So search no longer, this will probably be your favorite summer cake, incredible fluffy and tender with a staggering amount of blueberries and an out-of-this-world delicious crumb. Can I say that this truly is one of my favorites?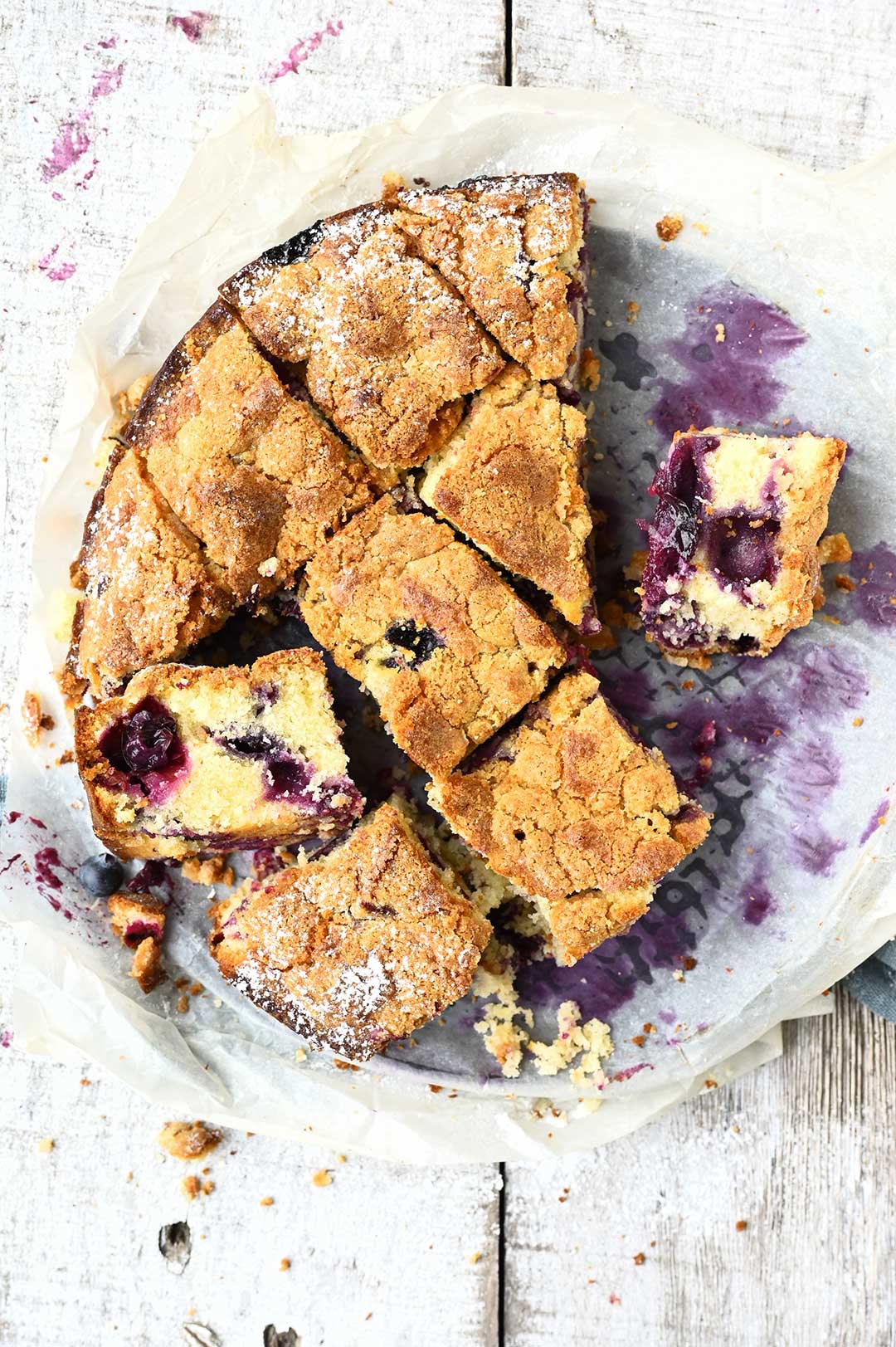 There are some things about this cake that stand out to me. First the crumb, it gives the cake extra flavor and texture. When it bakes, it becomes really crunchy and adheres well to the cake, so it will not fall off when you take the cake out of the pan.
Second, I use a lot of blueberries because I love a blueberry-overloaded cake. Using fresh blueberries will make it a perfect summer treat.
Then the batter, it's thick so it keeps the fruit in place, the blueberries will not sink to the bottom. Oh, and I like to beat the zest together with the sugar, whose grittiness will help release the most oils and lemon flavor from it.
This is a really delicious cake that gets better the next day… but good luck with that.
Looking for other easy summer cakes? Here some favorites.
Strawberry and almond yogurt cake
Easy blueberry lemon cheesecake
Strawberry ricotta cake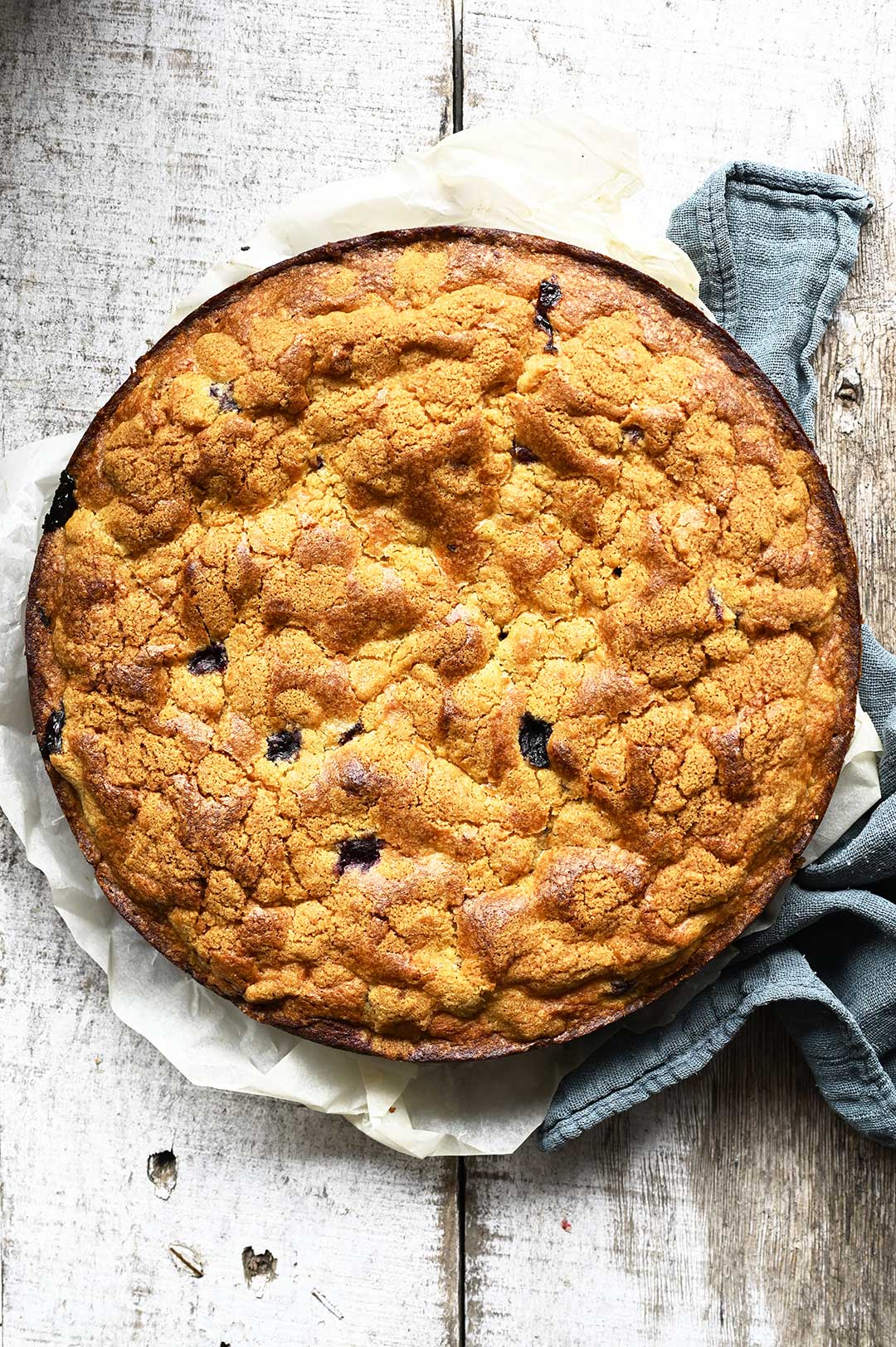 You need
all ingredients at room temperature
crumb
40 g light brown sugar
50 g unsalted butter
50 g flour
cake
300 g blueberries
180 g all-purpose flour
160 g unsalted butter
200 g granulated sugar
2 eggs
2 tsp baking powder
1/4 tsp salt
zest from 1 lemon
juice from 1/2 lemon
2 tbsp milk
1 tsp vanilla
powdered sugar, for serving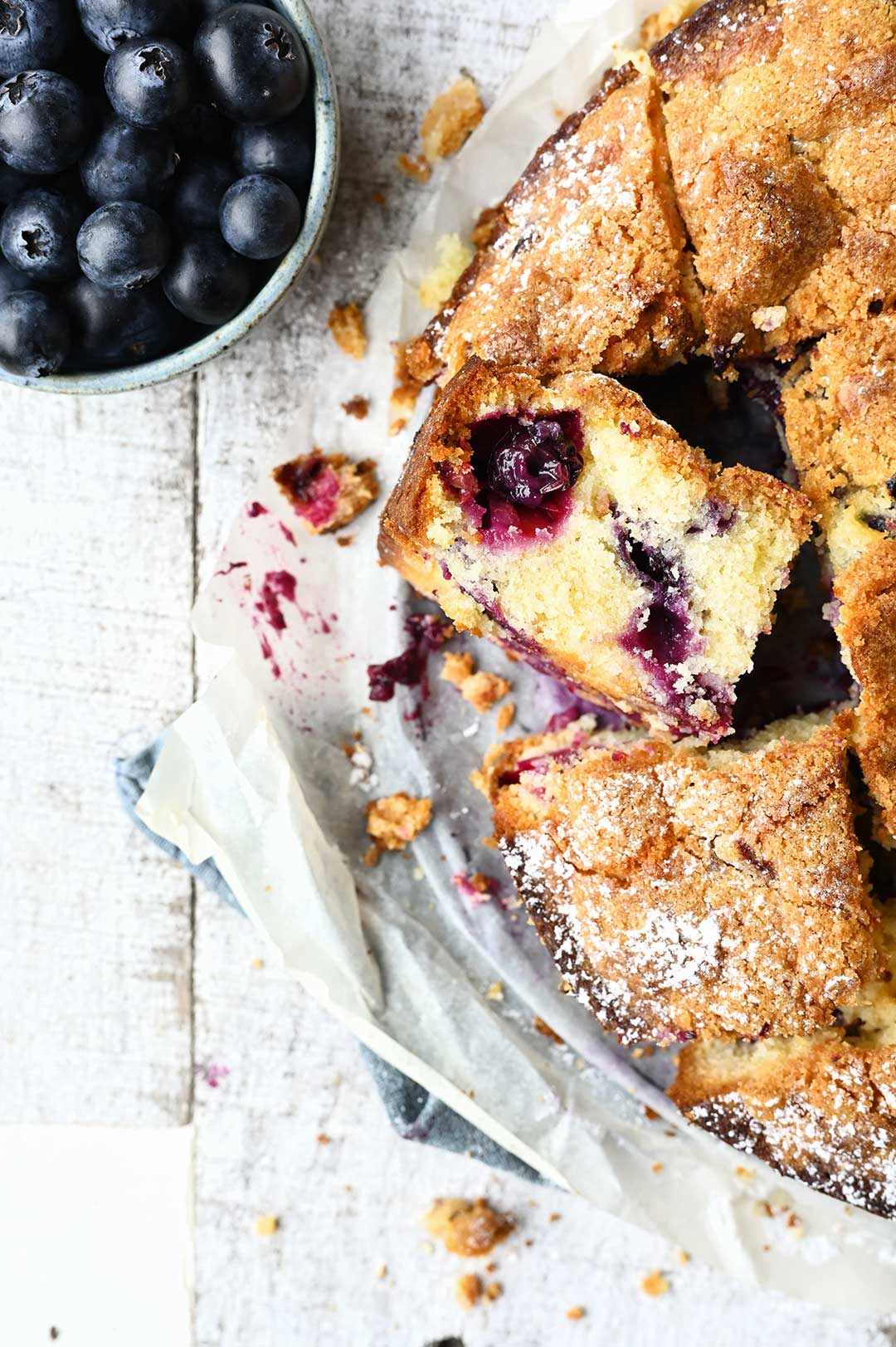 How to
Preheat the oven to 180°C.
Layer the bottom of a 24 cm pan with parchment paper and grease the sides with butter.
In a small bowl, make the crumble by mixing the flour, sugar and butter with your fingertips until the mixture resembles coarse crumbs. Set aside.
In a large bowl, beat butter, sugar and zest together until light and fluffy. Beat in the eggs. Then add vanilla, milk, baking powder and lemon juice, beat until combined. Sift flour and beat just until incorporated. The batter will be pretty stiff. Fold blueberries into the batter.
Scrape the batter into the prepared pan and smooth the top. Sprinkle with crumble. Bake for 50-55 minutes, or until golden brown and a toothpick inserted into the middle of the cake comes out dry. Let cool completely and cut into squares. Serve dusted with powdered sugar.
Note: Keep the cake covered at room temperature for up to three days. It gets better each day.