These Lebanese stuffed eggplants are an absolute winner. A fun, exciting colorful dish filled with delicious Middle Eastern flavors. Beyond creamy, stuffed with fragrant bell peppers and topped with garlicky yogurt. You need to try this one!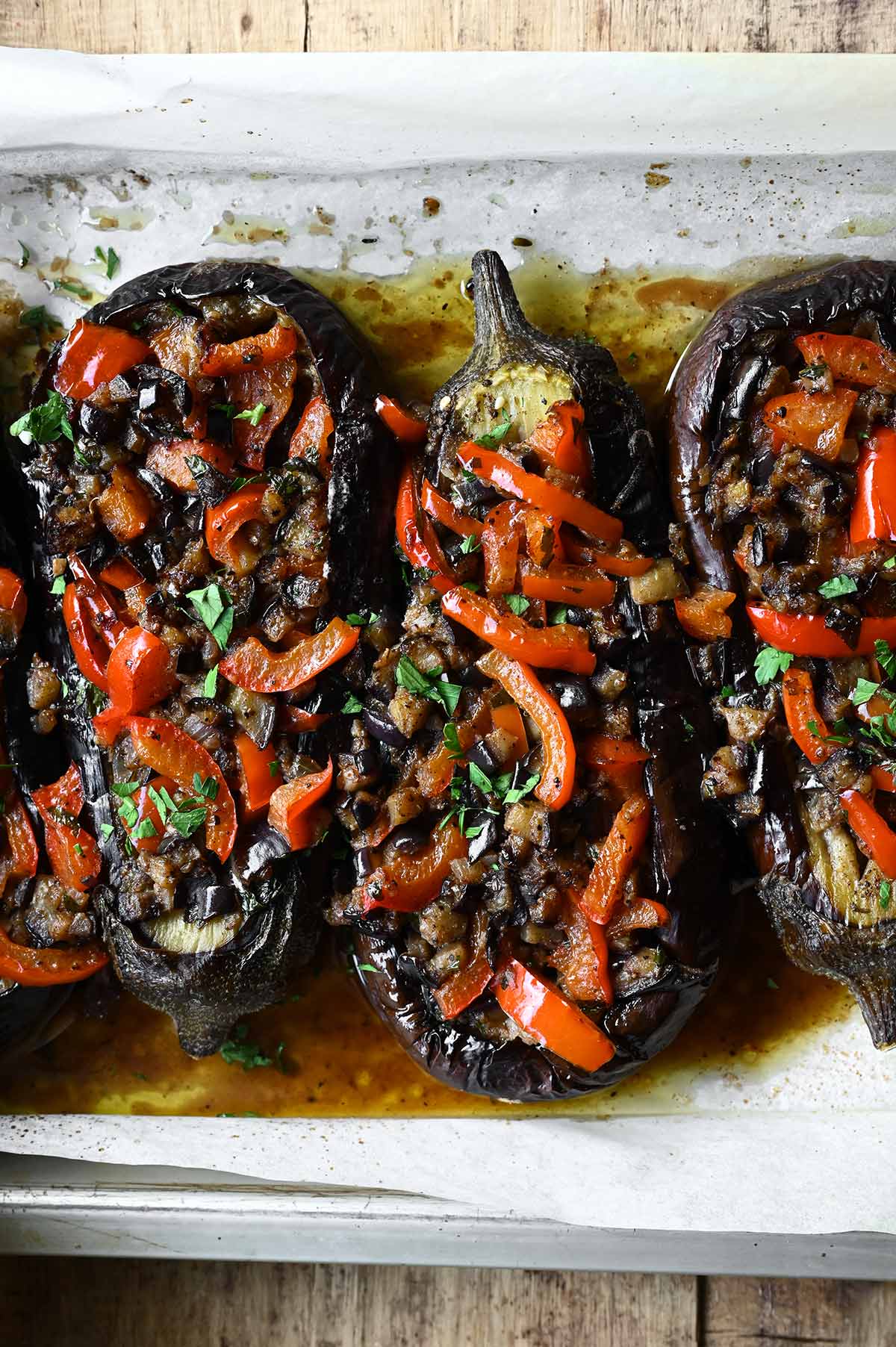 These stuffed eggplants are so hearty and satisfying. For the filling, we make a mixture of onion, eggplant and bell pepper enhanced with Lebanese-inspired spices. Be sure to finish off with a liberal drizzle of yogurt sauce and pair with basmati rice or naan for a complete meal. But this delicious recipe can be both, a healthy dinner or a side dish. Can you imagine it with lamb or grilled chicken?!
The eggplants are infused with za'atar and baked in the oven until meltingly tender. Then filled with the bell pepper filling, covered with foil and baked until melt-in-your-mouth-delicious. The savory yogurt sauce, a sprinkle of pistachios and chili flakes just seal the deal. A combination that's so easy to love.
Perhaps most importantly, though, this recipe is super easy to make. It doubles up your serving of vegetables and the result is a hearty-yet-wholesome meal. It's uncomplicated, satisfying, and doesn't skimp on flavor.
Let me guide you through the recipe with this step-by-step VIDEO.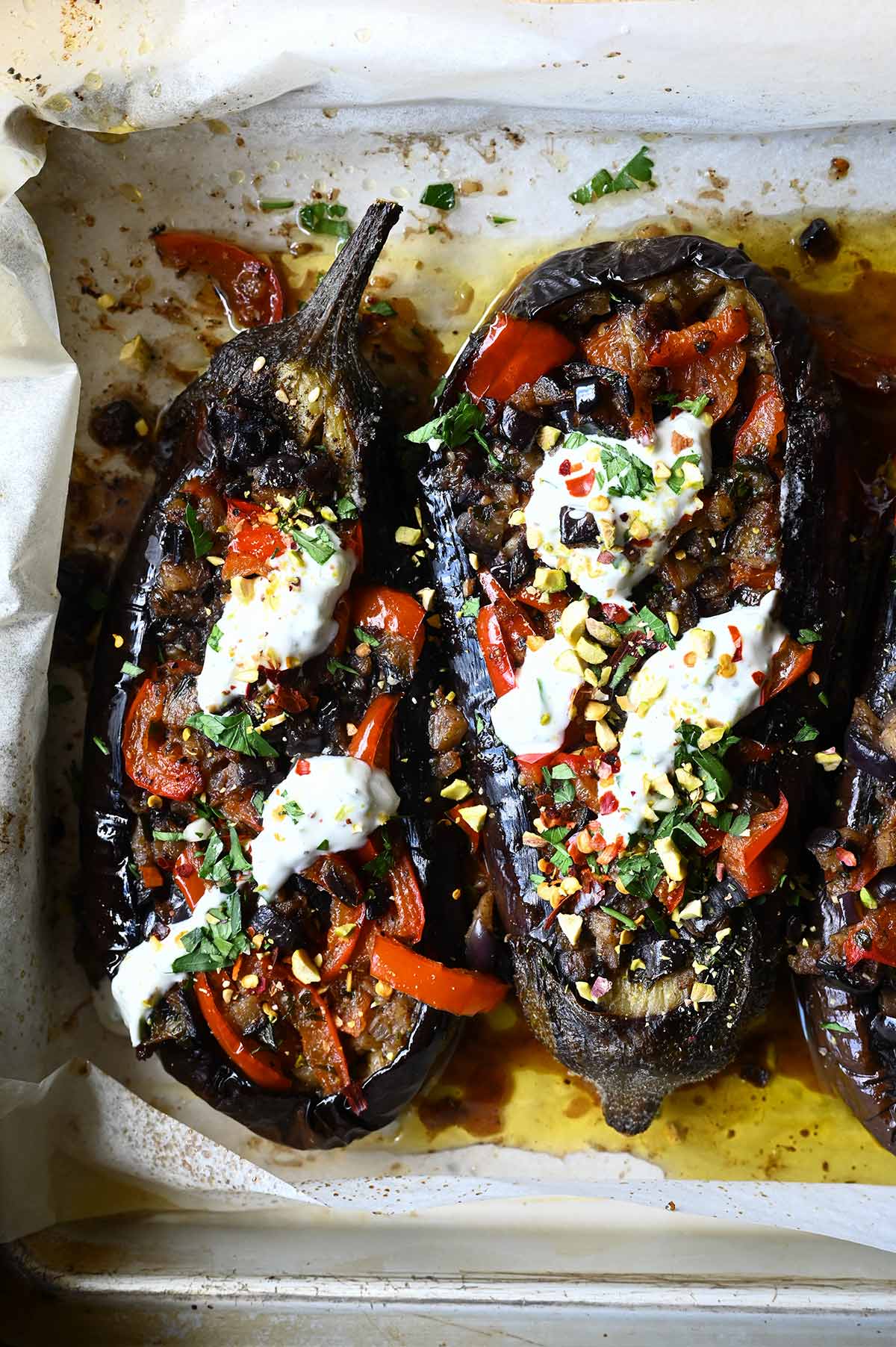 What's The Best Eggplant for Stuffed Eggplant
When choosing an eggplant for stuffing, it's important to know that some varieties and sizes just work better. Italian or white eggplants (used in Middle Eastern dishes) are multi-purpose varieties and are the go-to for this recipe. They're large and sturdy enough and their bulb-shaped bottoms can hold a lot of filling.
The Italian eggplants are by far the most commonly used, and are what you'll usually find in your grocery store. They've a deep purple, smooth, unwrinkled, glossy skin and spongy flesh that's sweet in flavor. When you buy an eggplant, select those that are firm but have a bit of give, and feel heavy for their size. Light eggplants are old and dried out inside.
If you worry that your eggplant will be bitter, don't! In the past, the standard preparation method for eggplant included salting for 30 minutes to remove bitterness. Nowadays, the eggplant has the bitterness bred out of it, so you shouldn't have this problem.
Roasting adds tons of flavor to the eggplant and you don't need much more than salt, pepper and za'atar. The key for delicious roasted eggplant is simple: First, make deep cuts in the flesh. Second, roast at a high temperature so the surface browns while it holds the moisture inside. Finally, don't skimp on olive oil and use parchment paper so your eggplant doesn't stick to the bottom of your baking sheet and become buttery.
If you're bothered by eggplant's skin, there's no need to, it will be tender and delicious!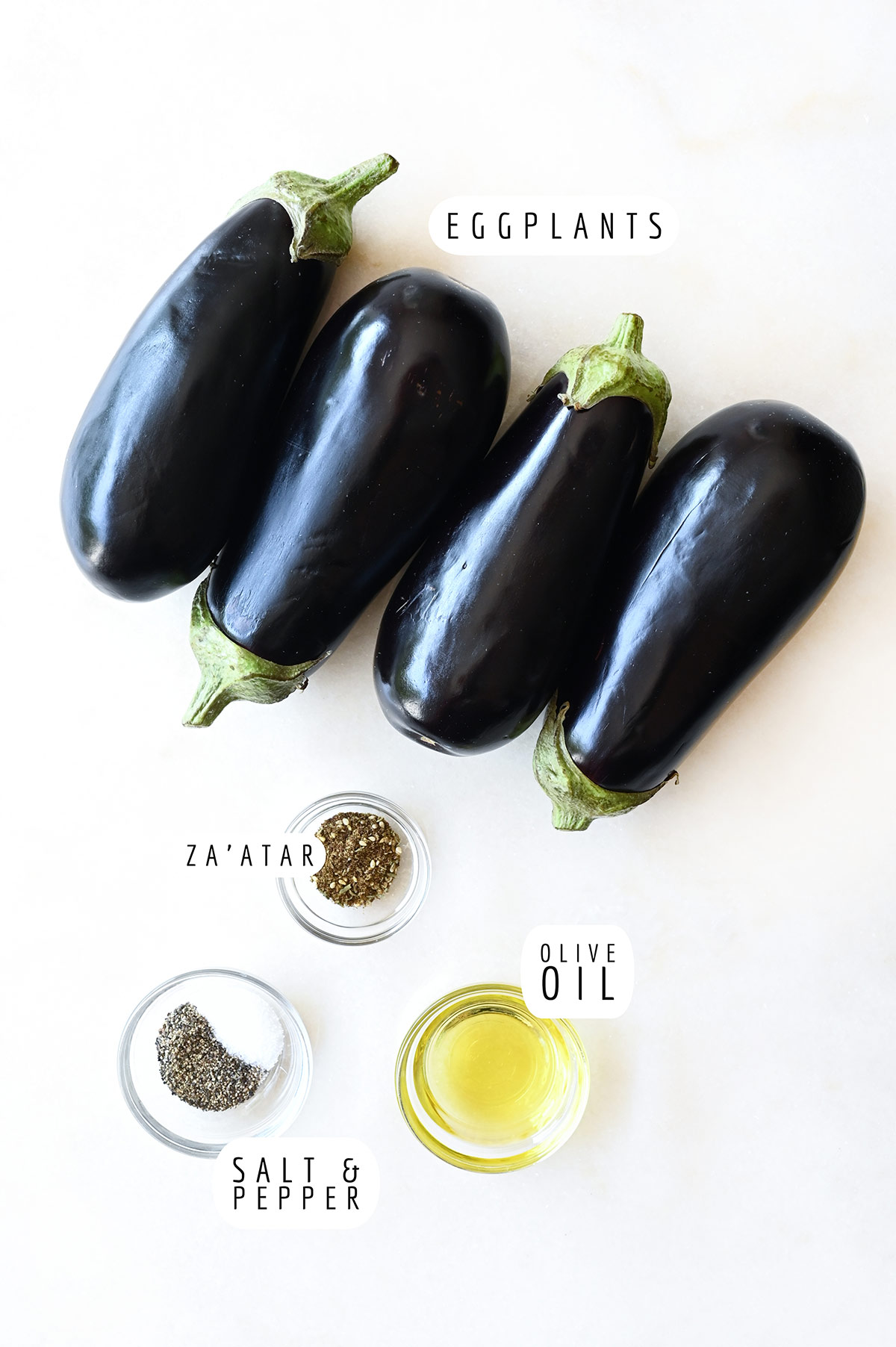 Ingredients, Tips & Substitutions
Eggplants
Eggplants: Look for small or medium eggplants, the larger ones could be bitter and have more seeds. Make sure the skin is smooth and the flesh feels firm. Soft spots indicate that the eggplant is old and is starting to spoil.
Seasoning: Salt, black pepper and za'atar. The last one is a blend of savory dried herbs like oregano, marjoram or thyme, and spices like cumin and coriander, combined with sesame seeds, salt and sumac. You can find it at most larger grocery stores.
Olive Oil: For roasting the eggplants.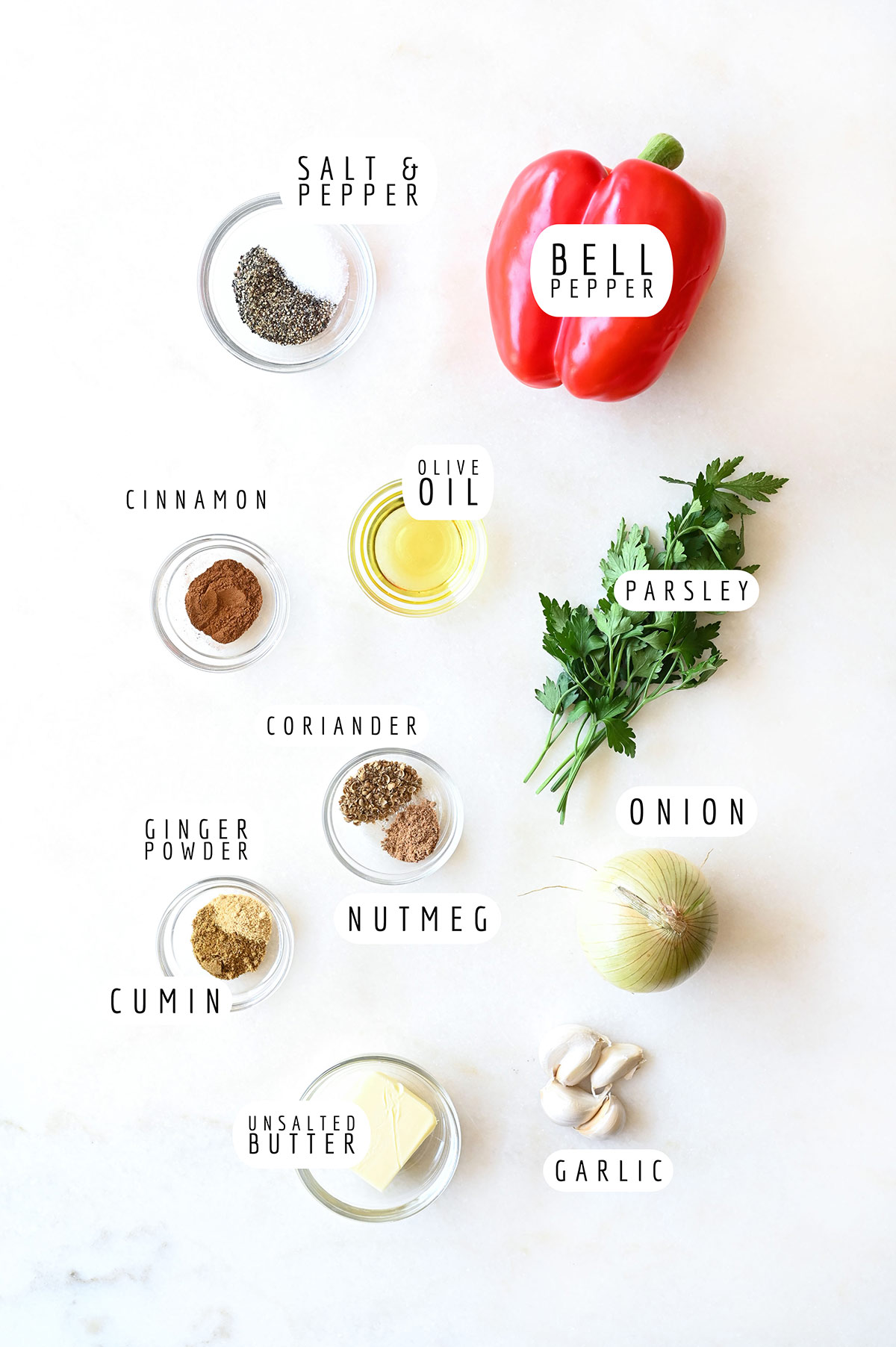 Stuffing
Red Bell Pepper: Adds a natural sweetness, an almost fruity taste that heightens once cooked. You can also use yellow bell pepper.
Onion and Garlic: Essential flavor base.
Olive oil and Unsalted Butter: For sautéing.
Seasoning: A mix of ginger powder, ground cumin, ground coriander, ground cinnamon, nutmeg, salt and black pepper. This mix will bring a burst of flavor to your taste buds.
Herbs: Fresh parsley.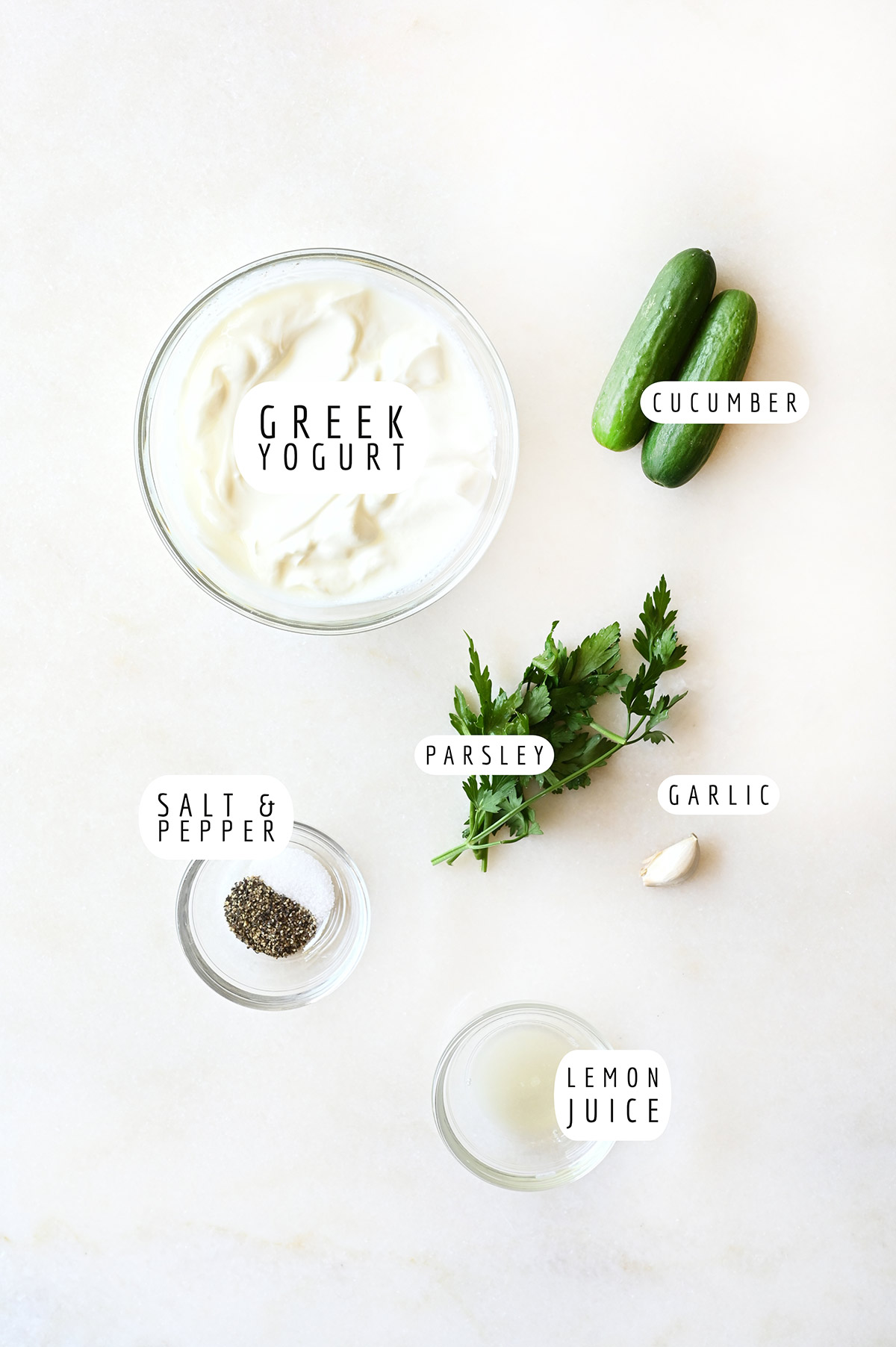 Yogurt Sauce
Greek Yogurt: Full fat for best result.
Cucumbers: Persian cucumbers, you can also go for 1/4 English cucumber.
Lemon Juice: For extra freshness.
Garlic: Just a small clove, but adds lots of flavor.
Seasoning: Salt and black pepper.
Herbs: Parsley, you can swap it for dill or mint.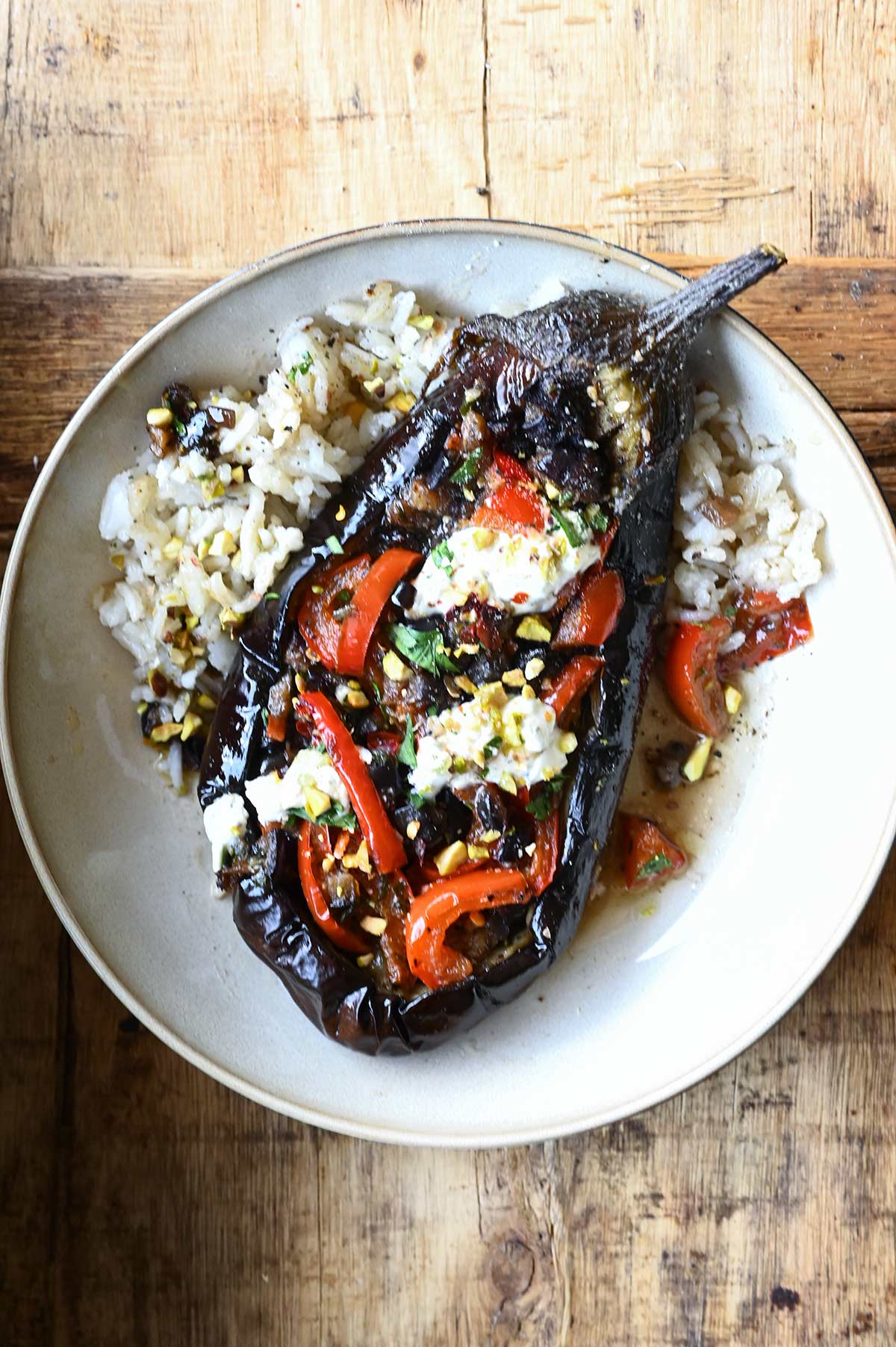 Recipe Notes
Serve with a green salad, basmati rice or naan, although a bit of crusty garlic bread is welcome here too.
This delicious recipe can be both, a healthy dinner or a side dish. Pair with lamb, grilled chicken or steak.
Storage: Leftovers can be refrigerated in an airtight container for up to 4 days.
Make Ahead: The eggplants can be roasted one day ahead, the filling and yogurt sauce can also be made one day ahead. Store in separate containers. Finish baking from step 5.
Try These Next
Cooking Video
Yield: serves 4
Lebanese Stuffed Eggplants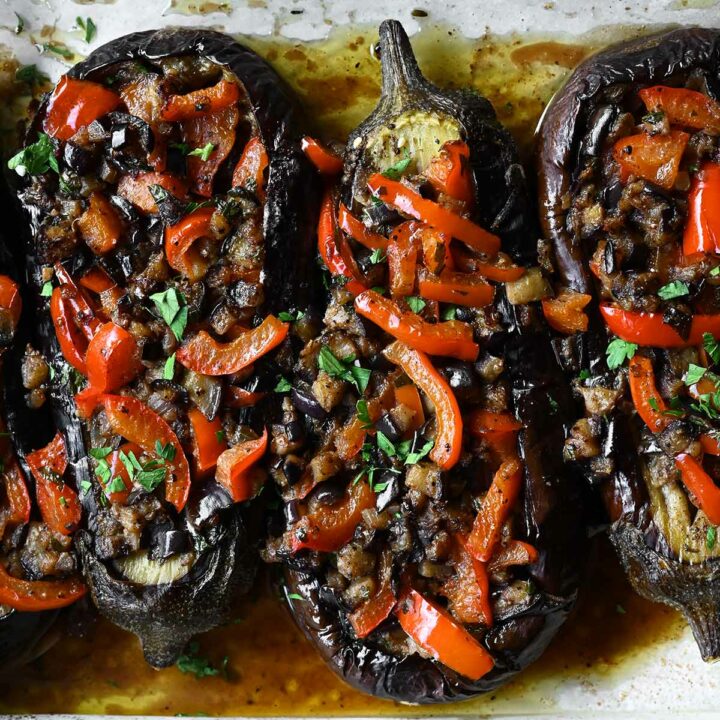 Ingredients
Eggplants
4 small to medium eggplants
1 tsp each: salt, black pepper , za'atar
8 tbsp olive oil
Filling
1 tbsp olive oil
1 tbsp unsalted butter
1 medium onion, finely chopped
4 garlic cloves, minced
1 red pepper, cu into strips
½ tsp each: ginger powder, ground cumin, ground coriander, salt, black pepper
¼ tsp each: ground cinnamon, ground nutmeg
1 tbsp chopped parsley, more for serving
Yogurt Sauce
1 cup /250 g full fat Greek yogurt
2 Persian cucumbers, finely diced
1 tbsp lemon juice
1 tbsp chopped parsely
¼ tsp each: salt, black pepper
1 small garlic clove, minced
For Serving
basmati rice and/or naan
chopped toasted pistachios
chili flakes
Instructions
Preheat the oven to 400°F/200°C.
Cut lengthwise a thin slice of the eggplants. Using a sharp knife, score the flesh deeply in a diamond cross-hatch pattern, without cutting into the skin. Place cut side up on a baking sheet layered with parchment paper. Drizzle each eggplant with 2 tablespoons oil. Season with salt, pepper and za'atar. Place in the oven and roast for 30–35 minutes.
In the meantime, make the filling. Dice the remaining eggplant slices, cut the bell pepper into small strips, finely chop the onion, mince the garlic and chop the parsley.
Heat oil and butter over medium, add garlic and onion. Cook for 2 minutes until soft and fragrant. Add eggplant and bell pepper. Season with cumin, ginger, coriander, cinnamon, nutmeg, salt and pepper. Cook, stirring frequently, for 10 minutes until soft. Turn off the heat and stir in parsley.
When the eggplants are ready, remove from the oven. Using a fork, mash down the flesh to create a well. Spoon the filling mixture into the eggplants. Cover with aluminum foil and return to the oven. Bake for an additional 20 minutes until the eggplants are super soft.
Meanwhile, make the yogurt sauce by combining the chopped cucumbers with Greek yogurt, parsley, salt, pepper, lemon juice and garlic.
When the eggplants are ready, remove from the oven, uncover and let stand for 5 minutes. Sprinkle with parsley, pistachios and chili flakes. Serve with basmati rice or naan and drizzle with the yogurt sauce. Enjoy!
Notes
Calories Per Serving: 326 kcal
Nutritional information is only an estimate. The accuracy of the nutritional information for any recipe on this site is not guaranteed.

//= __('Print recipe (no photos)', 'servingdumplings' );?> //= __('Print recipe (with photos)', 'servingdumplings' );?>