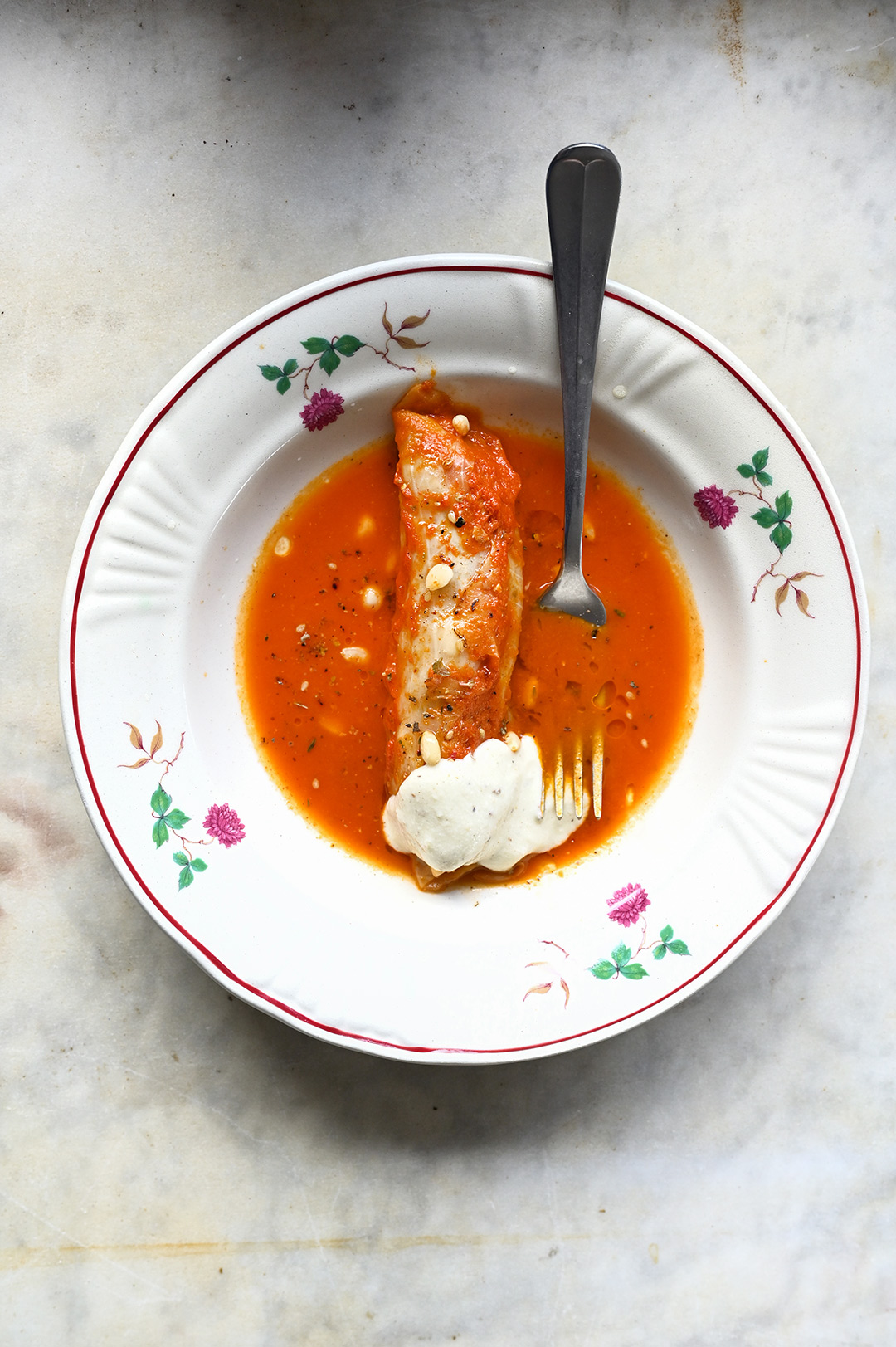 Today a dish from my childhood that I had maybe a thousand times, it's a meat and rice filling wrapped in blanched cabbage leaves and slowly simmered in tomato sauce. Pure comfort.
I stuffed mine with lamb, rice and feta cheese, braised in a spiced paprika-tomato sauce, then served with a silky garlic tahini dressing. 
The slowly caramelized onion and garlic add so much flavor to the filling, but the use of pine nuts, salty feta and herbs is also very important for this dish. I used Lebanese spices like za'atar to jazz everything up. Then fried the rolls until crispy-edged, and simmered them until meltingly tender in a spiced tomato sauce. A drizzle of the creamy garlic dressing is essential for balance and pleasure. Enjoy!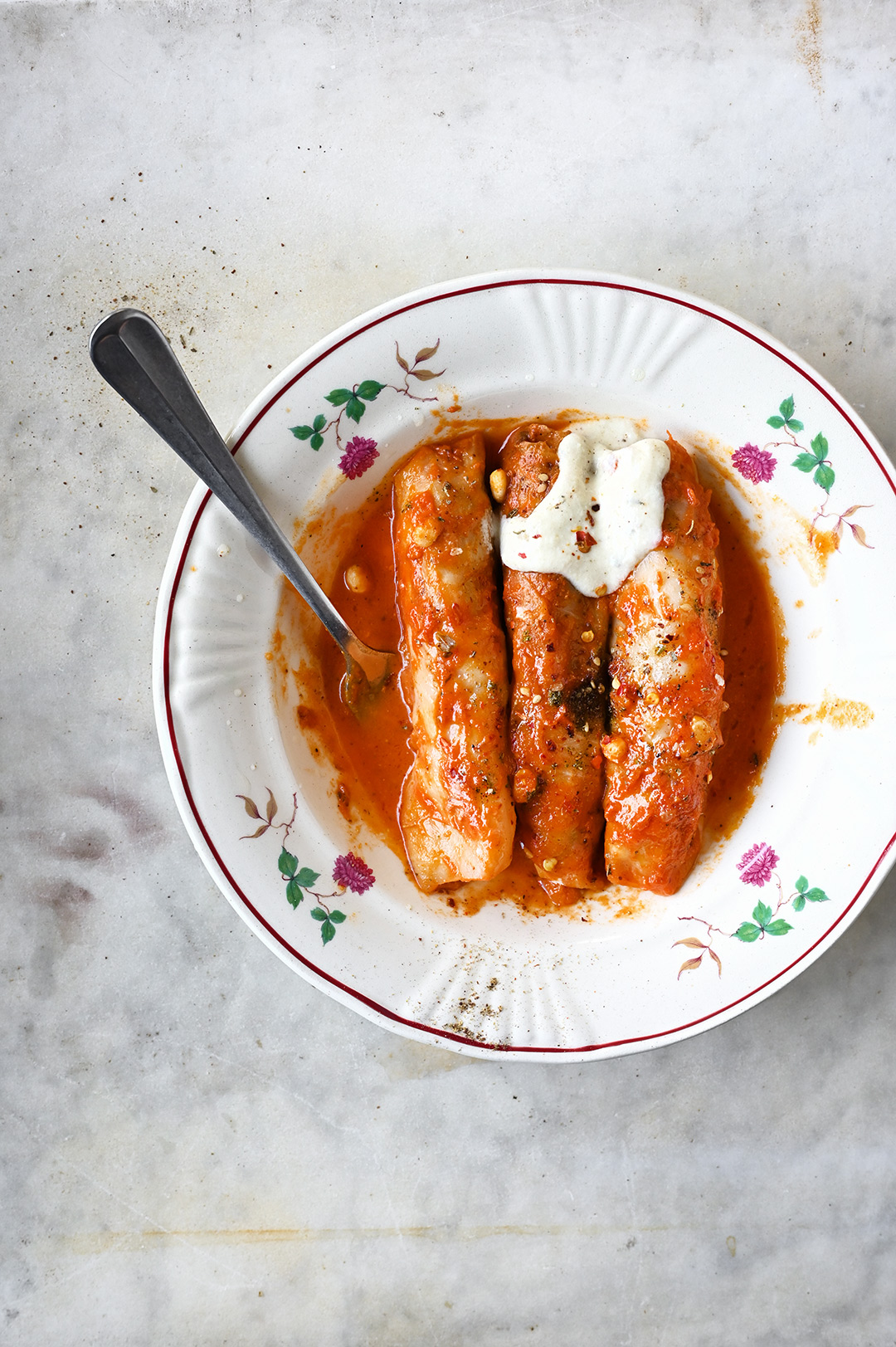 You need
cabbage rolls
1 small green or white cabbage
300 g ground lamb
200 g ground beef
1 small onion, finely chopped
2 cloves garlic, minced
100 g long-grain white rice
200 g feta
50 g toasted pine nuts
2 tbsp butter
2 tbsp olive oil
50 ml milk
20 g bread crumbs
1 egg
1 tsp za'atar
1/2 tsp cayenne pepper
1/2 tsp cumin
sea salt + black pepper
tomato sauce
1,5 L vegetable stock
2 tomatoes, roughly chopped
3 tbsp tomato paste
1 tsp smoked paprika
1 tsp garlic powder
1 tsp onion powder
1/2 tsp crushed red pepper flakes
sea salt + black pepper
garlic tahini dressing
6 cloves garlic
1 tbsp lemon juice
40 ml canola oil
1 tbsp greek yogurt
2 tsp tahini
crushed red pepper flakes to taste
1 tsp za'atar
sea salt + black pepper
How to
Bring a large pot of salted water to a boil over high heat. Using a knife, make four cuts around the stem end of the cabbage, surrounding the core. Cut the core out and discard. Add the cabbage to the boiling water, core side down. Let it cook until the top leaves start to separate from the head, about 15 minutes. Flip the cabbage and continue cooking for 10 minutes more. Drain under cold water. Carefully separate the leaves from the head.
Using a knife, cut a narrow V-shape into the base of each leaf on either side of the rib, to remove the thickest part of the rib, this will make it easier to roll the leaves. Set aside while you prepare the filling.

Cook the rice in salted water until tender. Soak the bread crumbs in milk to soften. Heat the oil in a skillet, add the onion and garlic, cook until tender for 5 minutes. In a large bowl, combine meat with rice, bread crumb mixture, sauteed onion and garlic, feta crumbs, pine nuts, egg and spices. Season with salt and pepper. Mix well with your hands until combined.
Working with one cabbage leaf at a time, on a clean work surface, place 1 tablespoon of filling onto the center of each leaf, then tightly roll the leaves like cigars.
In a Dutch oven or a large pot, heat the butter. Transfer the rolls seam side down into the pot. Fry for 5 minutes over medium heat. Add the broth, tomatoes, tomato paste, spices, salt and pepper. Bring to a boil, cover and slowly simmer for 60 minutes over low heat.

Meanwhile, make the garlic tahini dressing. Using a small knife, split each garlic clove in half lengthwise. With the tip of the knife, remove the germ from each garlic clove half. Place the de-germed garlic in a food processor. Add lemon juice and canola oil. Pulse until finely minced and completely smooth. Add tahini, Greek yogurt, season with za'atar, red pepper flakes, pepper and salt.

Divide cabbage rolls among plates. Top with garlic tahini dressing and serve. Enjoy!

//= __('Print recipe (no photos)', 'servingdumplings' );?> //= __('Print recipe (with photos)', 'servingdumplings' );?>