Lebanese baked chicken with potatoes. This sheet pan dinner is a flavorful way to enjoy Middle Eastern flavors at home. Beyond delicious, easy and so quick to put together. Juicy chicken thighs are roasted with carrots, potatoes and a perfect medley of Lebanese inspired spices. Serve with a side of pita bread and a big leafy salad!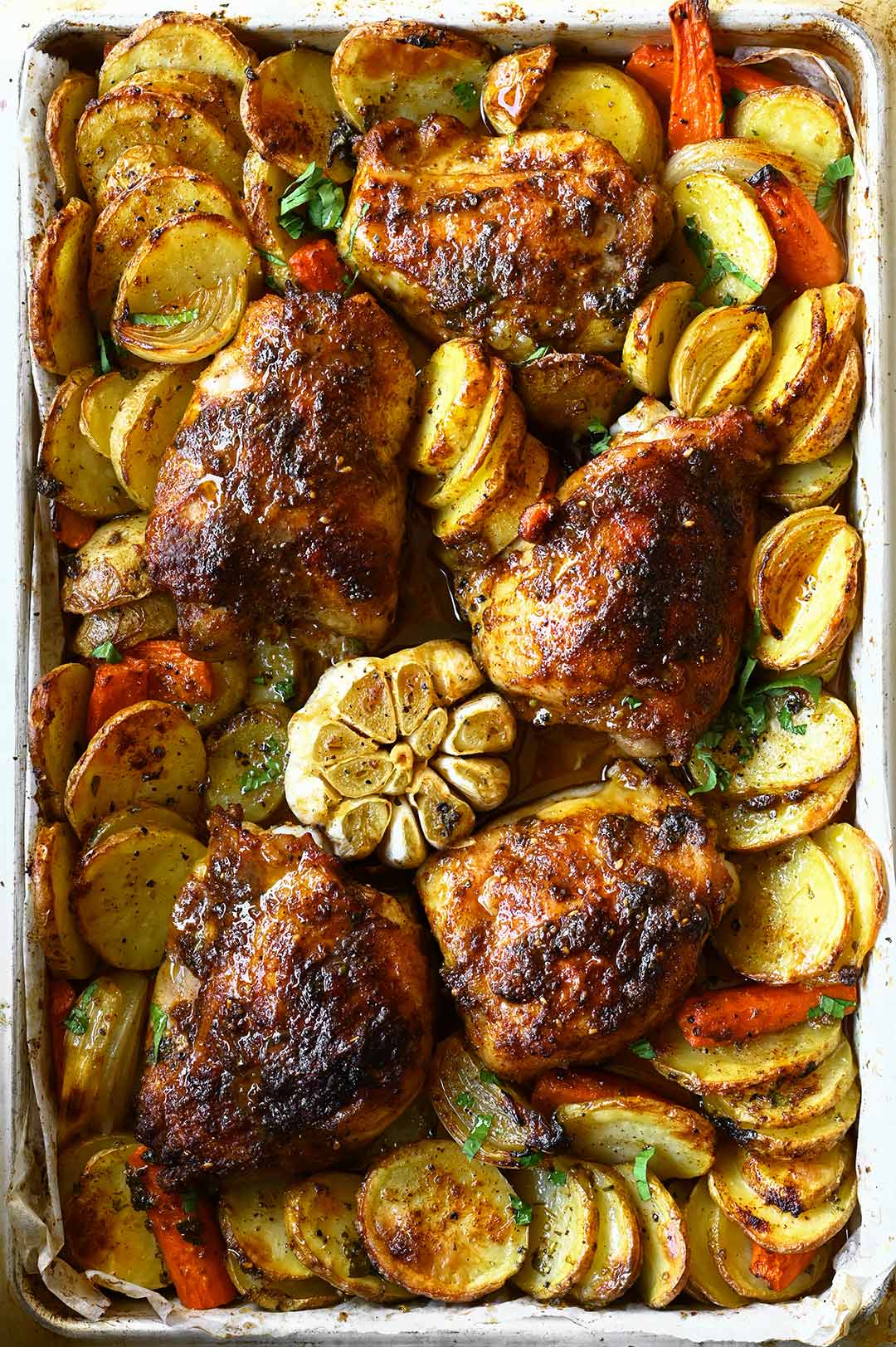 I have a no-fail formula for you for easy weeknight dinners: chicken + any veggie + your trusty sheet pan. Whether you go for skin-on or a boneless, skinless version, versatility is the name of the game when it comes to chicken thighs.
This sheet pan dinner is packed with flavor and a real crowd-pleaser! I'm a huge fan of seriously simple baked chicken, but I'm an even bigger fan of this Middle Eastern inspired chicken complete with crispy potatoes and caramelized carrots. It's one of those dinners that just takes care of itself. Everything comes together in one sheet pan with the promise of easy cleanup and practically no effort. Add a side salad, pita bread or rice and done… dinner is ready.
Let me guide you through the recipe with this step-by-step VIDEO.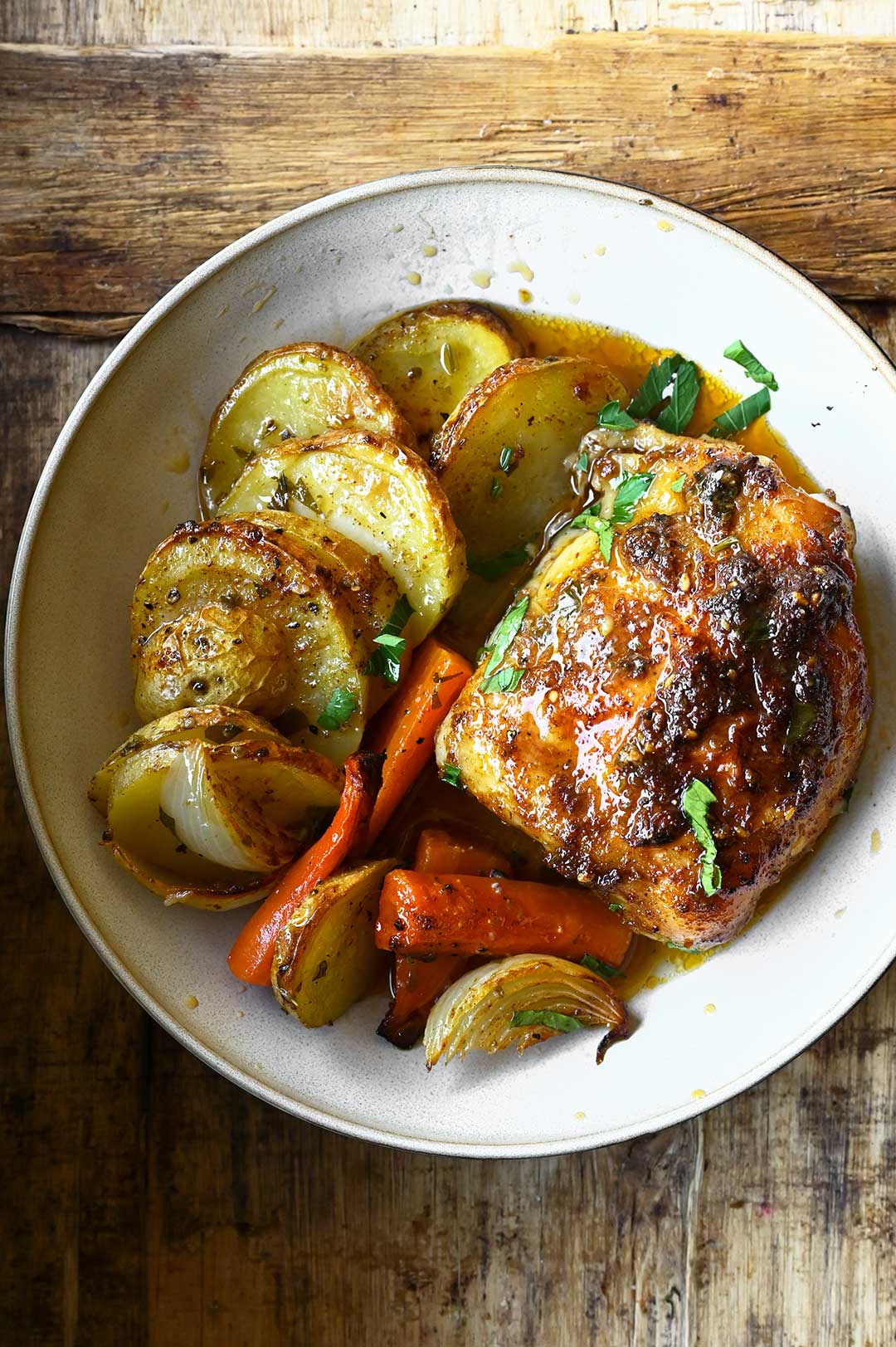 This Is How We Make It
The trick for this recipe is the spice rub. This Lebanese inspired marinade is everything. It's delicate, warm, tangy and incredibly tasty. The easiest marinade, yet so delicious and flavorful that people think you've put loads of effort in it, when actually you'll only spent two minutes getting it all together.
It only requires sweet paprika, salt, black pepper, za'atar and yogurt. Nothing too complicated or difficult to find. The yogurt adds a delicious tang to the chicken thighs and helps to keep it moist and juicy.
Carrots and thinly sliced potatoes are tossed on the bottom of the sheet pan to make the meal complete. The potatoes become perfectly tender in the amount of time it takes to roast the thighs, and the carrots are sweet and slightly caramelized. It doesn't get better than this! Prepare yourself for a flavor explosion.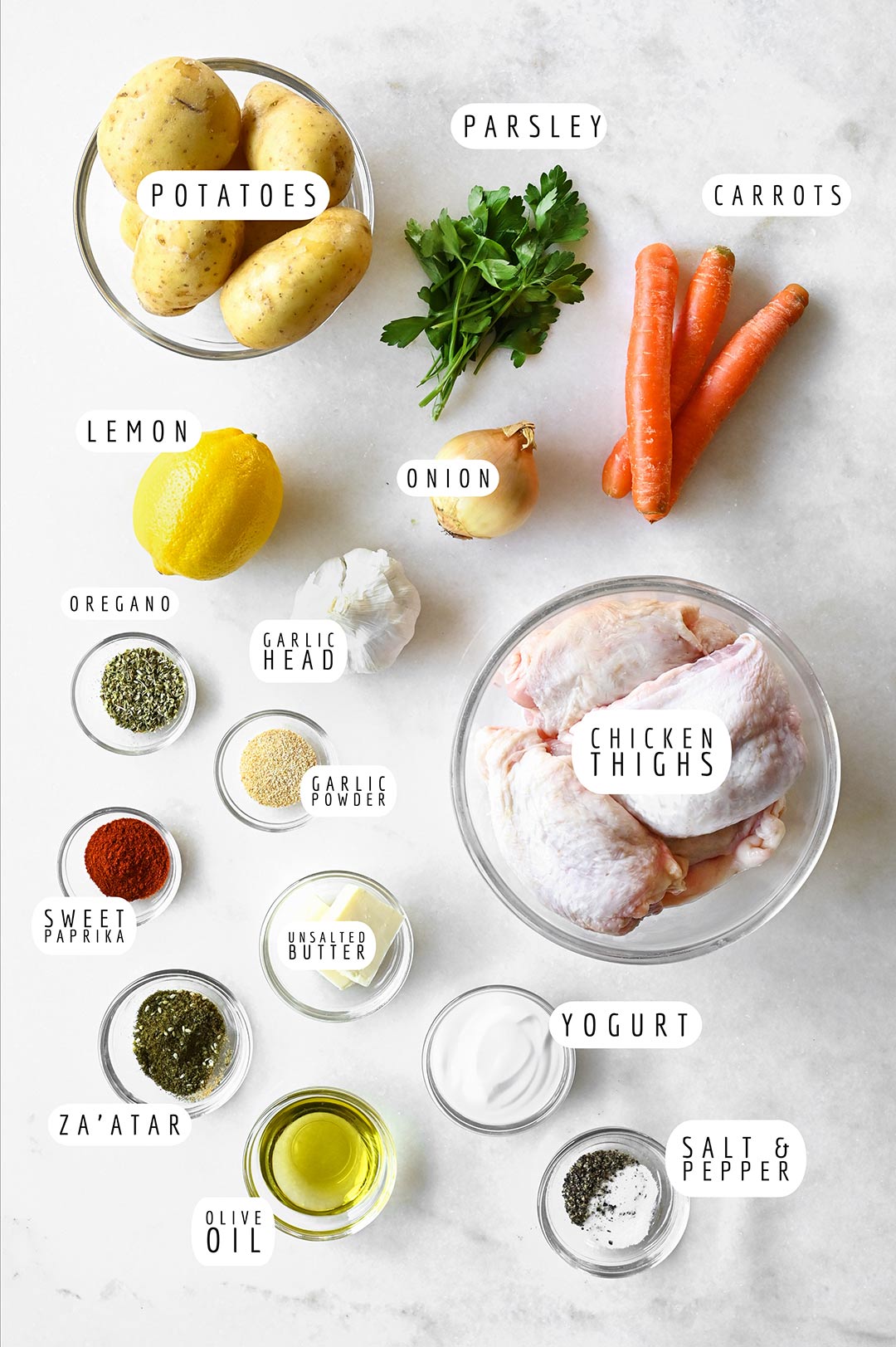 Ingredients For Lebanese Baked Chicken
Chicken thighs: For the most juicy and tender result! But you can also use drumsticks or chicken legs.
Yogurt: Adds a delicious tang to the chicken and helps to keep it tender and juicy. You can use full fat yogurt or Greek yogurt.
Za'atar: A spice blend of savory dried herbs like oregano, marjoram or thyme, and spices like cumin and coriander, combined with sesame seeds, salt and sumac. You can find it at most larger grocery stores.
Other seasonings: Salt, black pepper, sweet paprika, dried oregano and garlic powder.
Lemon: Adds additional depth of flavor and helps to tenderize the chicken thighs.
Oil and butter: When baking chicken in the oven, oil and butter together, help the skin to get that nice, crispy brown color but they also lend moisture inside so the meat stays tender and juicy, while the potatoes become creamy with crispy edges.
Potatoes: I used waxy potatoes with skin on.
Garlic: I added a whole garlic head cut-side-down to the sheet pan, this way it infuses the sauce with its sweet caramelized flavor. I like to squeeze out some cloves and swirl all that goodness into the potatoes. You any keep the rest in the fridge for another occasion.
Onion: You can swap the yellow onion for a red onion or shallots.
Herbs: We add parsley for some freshness.
Carrots: Use less or more.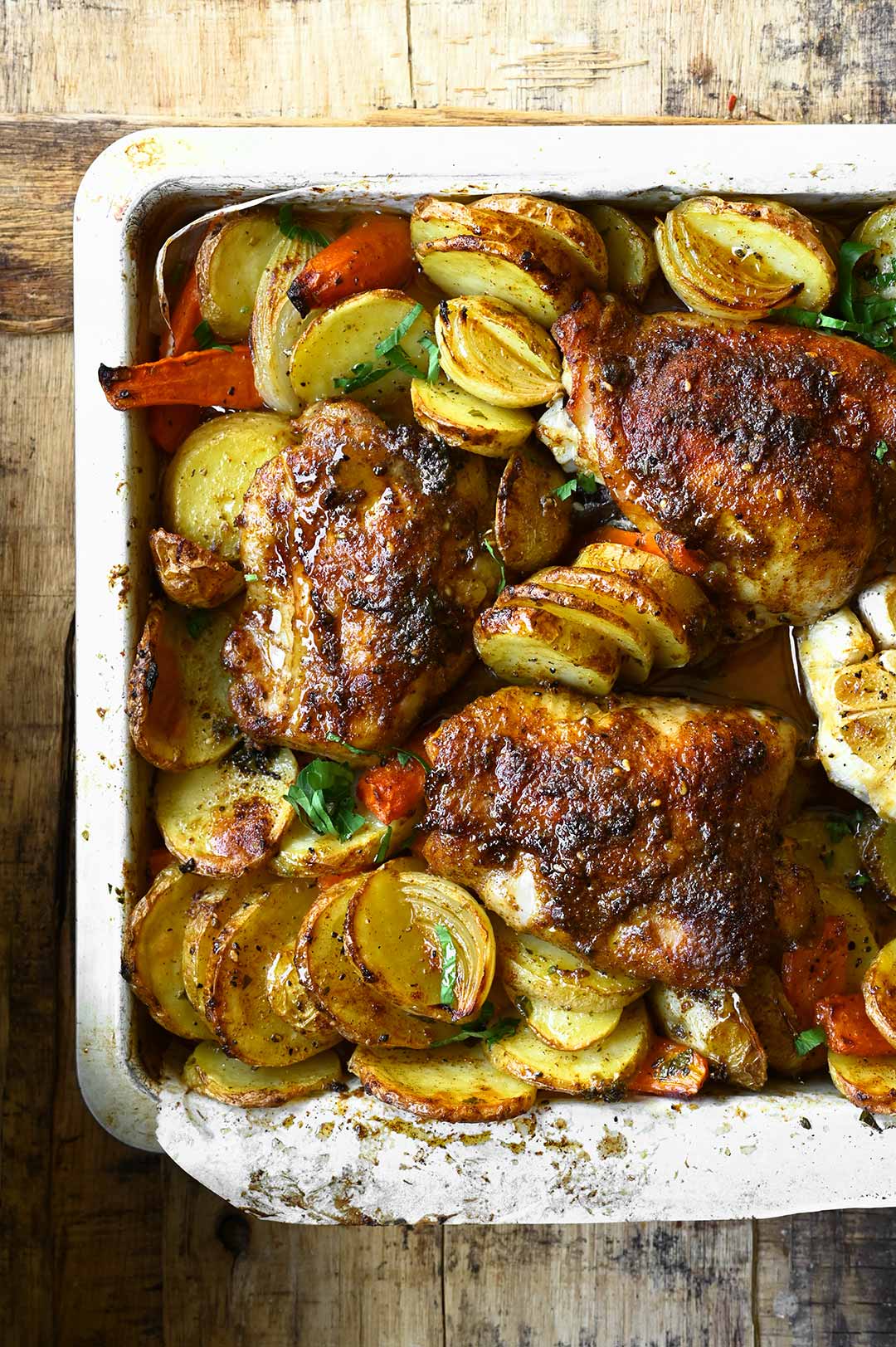 RECIPE NOTES
Serve with pita bread, rice, sautéed vegetables like green peas, or with some crusty bread and a big side salad.
Allow the chicken to reach room temperature! First marinate the chicken thighs, then allow to sit outside the fridge for at least 20 minutes.
Make ahead: You can also marinate the thighs the night before and store them in the refrigerator, just take them out 20-30 minutes before you start to cook. Allowing the chicken thighs to come closer to room temperature will make them tender and juicy.
Leftovers will keep for 2 days in the fridge.
To freeze: Cool completely, then freeze portion sizes in airtight containers. Thaw overnight in the fridge, then reheat, preferably in the oven.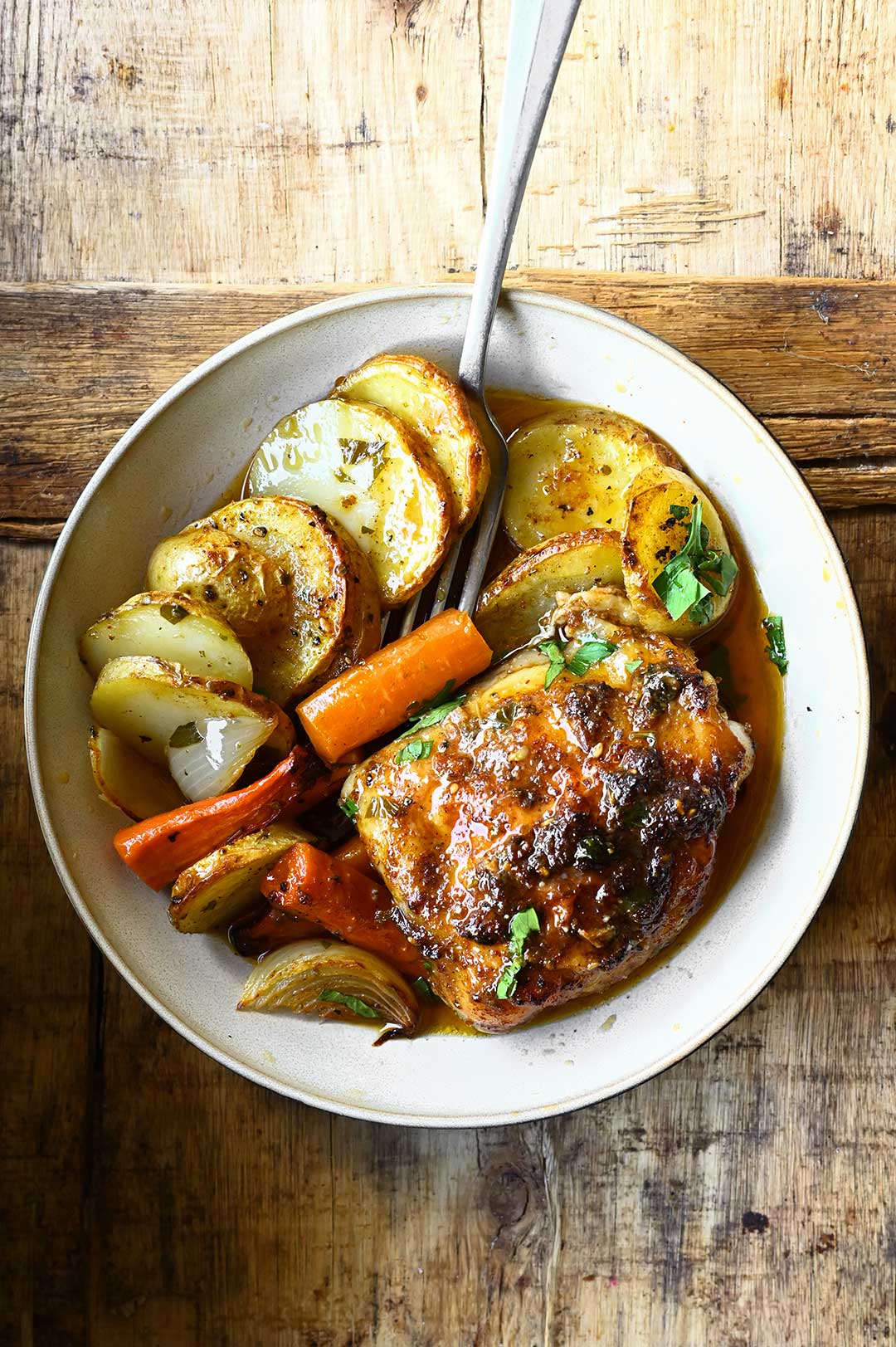 Looking for other easy dinners? Here are some favorites:
COOKING VIDEO
Yield: serves 4
Lebanese Baked Chicken with Potatoes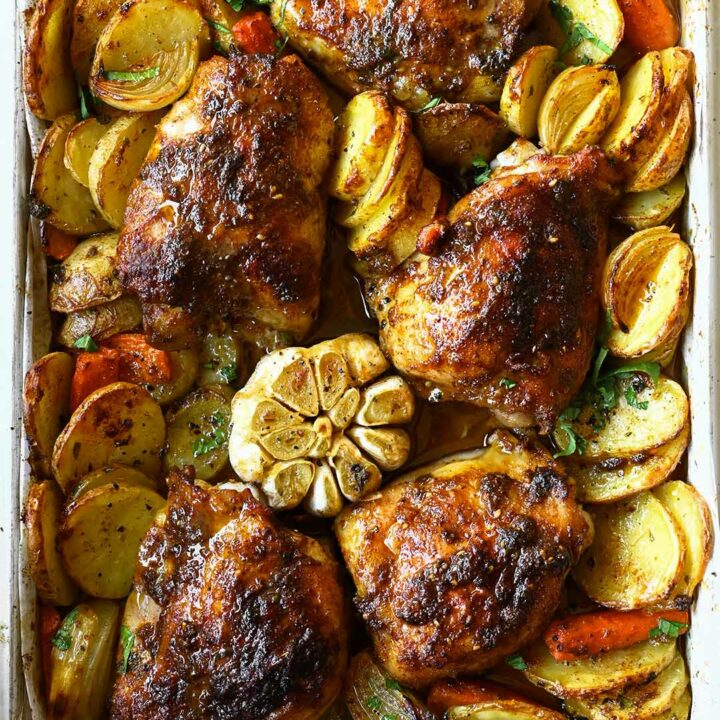 Total Time
1 hour
15 minutes
Ingredients
2 pounds chicken thighs
3 tbsp yogurt, full fat
2 tsp each: salt, black pepper (divided)
1 tsp each: sweet paprika, garlic powder, za'atar
6 medium potatoes
3 large carrots
1 tsp dried oregano
2 tbsp chopped parsley
2 tbsp unsalted butter
1 yellow onion
1 garlic head
3 tbsp lemon juice
2 tbsp olive oil
Instructions
Preheat the oven to 350°F/180°C.
In a large bowl, combine yogurt with za'atar, paprika, garlic powder, and 1 teaspoon salt and pepper. Add chicken thighs and massage well with the yogurt mixture. Set aside to marinate.
In the meantime, peel and chop the carrots, wash and cut the potatoes into ¼ inch/0,5 cm slices. Chop the parsley and cut the onion into wedges. Cut off the top of the garlic head.
To a large bowl, add potatoes, carrots, oregano, parsley and the remaining salt and pepper. Melt the butter and add to the potato mixture. Mix until combined.
Place the potato mixture on a baking sheet layered with parchment paper. Nestle the chicken between the potatoes. Add onion and the garlic head cut-side-down.
Sprinkle with lemon juice and drizzle with olive oil. Transfer to the oven and bake for 60 minutes, until the potatoes are tender and the edges are crispy, and the chicken is cooked through.
Let it rest for 5 minutes before serving. Squeeze out some roasted garlic cloves, smash with a fork and swirl all that goodness into the potatoes. Enjoy!
Notes
Calories Per Serving: 690 kcal
Nutritional information is only an estimate. The accuracy of the nutritional information for any recipe on this site is not guaranteed.

//= __('Print recipe (no photos)', 'servingdumplings' );?> //= __('Print recipe (with photos)', 'servingdumplings' );?>