Kung pao cauliflower is a spicy vegetarian stir-fry. It's a delicious, satisfying dish to serve over rice or with noodles. A crisp-tender cauliflower, shiitakes and crunchy cashews all tossed in a garlicky sauce. 
To get tasty browned edges on the cauliflower but also maximum flavor and some good texture, we use a two-step method for this recipe and start with roasting the cauliflower in the oven.
We stir-fry the shiitakes, garlic and onion before we add the cauliflower to the wok together with the kung pao sauce. Cauliflower turns golden brown as it soaks up this flavorful sauce.
To make this dark rich sauce we only use easy-to-find Asian ingredients like soy sauce, rice vinegar and toasted sesame oil. It coats each and every bite with an aromatic flavor from garlic and Sichuan peppercorns. A handful of crunchy cashews and fresh scallions are the finishing touch, and dinner is served.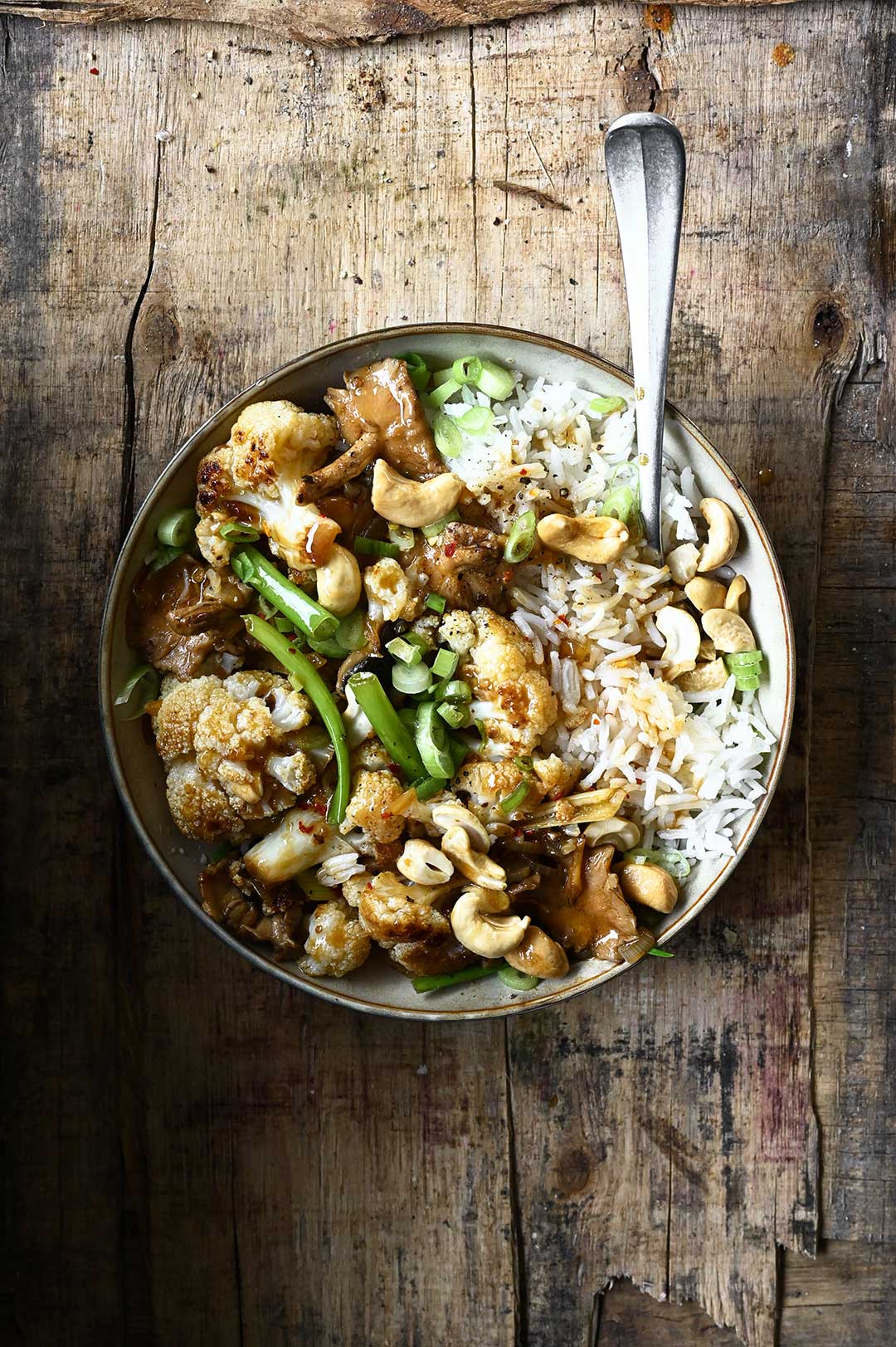 This is a super flavorful dish. It's crunchy, spicy and saucy with a subtle sweetness. Serve as a side dish, with jasmine rice, steamed sushi rice or fried udon noodles. Add as much spice as you'd like (or none at all). Enjoy! It's heavenly!
Can't find cashews? Swap them for peanuts.
Let me guide you through the recipe with this step-by-step VIDEO. 
More easy stir-fry recipes:
Sichuan shrimp stir fry with onions
20 minute Beef and Shiitake Noodle Stir-Fry
Eggplant and halloumi stir-fry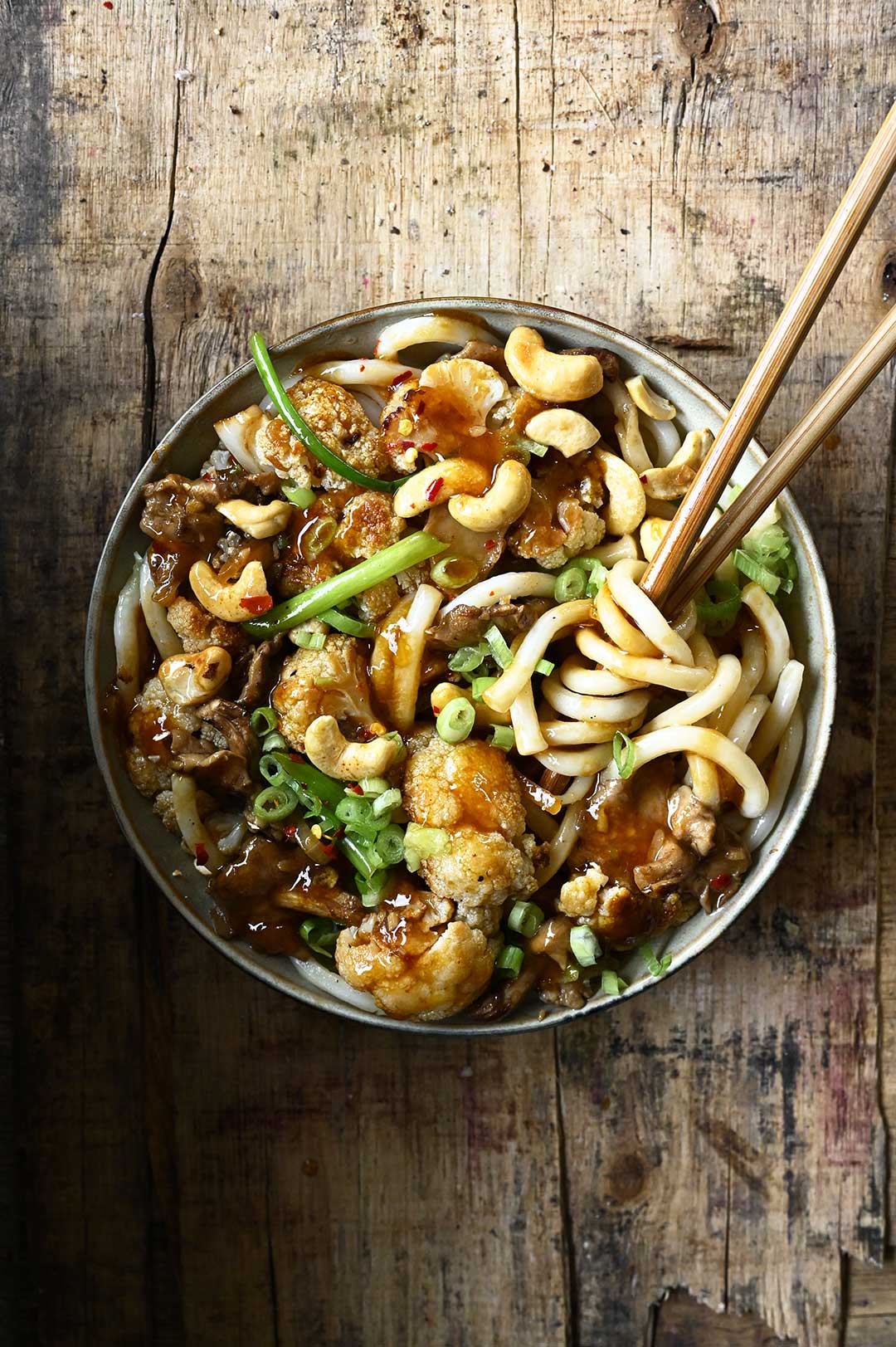 You need
cauliflower + marinade
florets from 1 small cauliflower
3 tbsp peanut oil
1 tsp rice vinegar
2 tbsp soy sauce
1 tbsp sesame oil
stir-fry sauce
60 ml (1/4 cup) low sodium soy sauce
4 tbsp rice vinegar
1 tbsp sambal, more or less for your own taste
2 tbsp brown sugar
60 ml (1/4 cup) water
2 tbsp toasted sesame oil
1/4 tsp white pepper
1 tsp freshly ground black peppercorns
2 tsp corn starch
for stir-frying
100 g (3½ oz) shiitakes, torn into small pieces
3 tbsp peanut oil
4 garlic cloves, minced
1 small onion, cut into thin slices
1 tsp grated ginger
1 tsp crushed Sichuan peppercorns
1 tsp dry chilis, finely chopped
for serving
6 scallions, finely chopped
toasted cashews
steamed rice or udon noodles
How to
Let me guide you through the recipe with this step-by-step VIDEO.

Preheat the oven to 230C (450F).

Cut cauliflower into florets. Cut bigger florets in two, but don't make them too small as they will shrink in the oven.
Combine the ingredients for the marinade, add cauliflower florets. Toss to coat. Place on a baking sheet. Roast the cauliflower for 15 minutes until tender-crisp.

Cook the noodles or rice according to package directions.
Make sure you have all your ingredients prepared, sliced and chopped.
Make the stir-fry sauce by whisking the ingredients together in a bowl.

When cauliflower is ready. Heat your wok or skillet over high heat until smoking-hot. When ready, add 1 tbsp peanut oil, add shiitakes and stir-fry for 2 minutes. Remove from wok.
Heat 2 tbsp peanut oil over high heat. Add garlic, onion, ginger, Sichuan pepper, black pepper and chilis. Fry, until very fragrant, about 1 minute. Stirring constantly. Add cauliflower, stir-fry for 1 minute. Add shiitakes back to the wok and pour the sauce. Fry, tossing until the cauliflower is coated, about 1 minute. Stir in cashews.

Serve immediately with chopped scallions alongside rice or with noodles. Enjoy!

//= __('Print recipe (no photos)', 'servingdumplings' );?> //= __('Print recipe (with photos)', 'servingdumplings' );?>