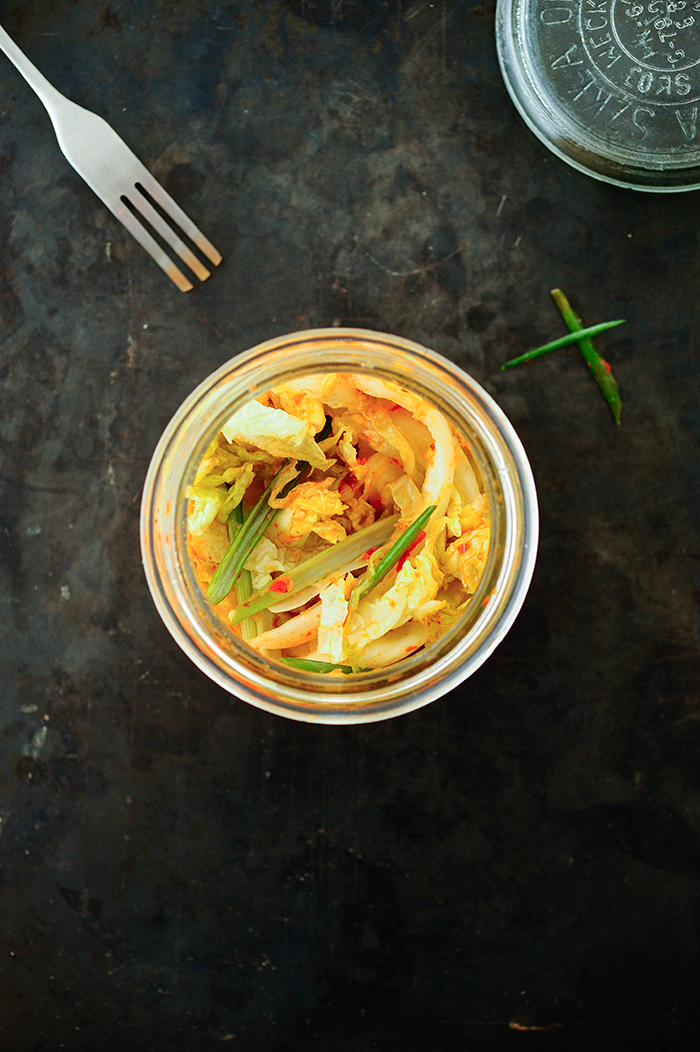 Kimchi is a traditional Korean dish made of fermented vegetables with chili peppers. Usually based on cabbage, but can also be prepared with cucumbers. I love the taste and texture, kimchi is soft but still slightly crunchy. You can use as a  side dish with all your Asian meals; rice, stir – fry, soups, meat or fish.
Ingredients
1 chinese cabbage
100 g salt
3 tablespoons fish sauce
2 tablespoons soy sauce
3 spring onions
1 small onion
4 cloves garlic
2 tablespoons sugar
1 tablespoon grated ginger
2 chilli peppers
Instructions
Cut the cabbage lengthwise into four parts. Cut out the hard core and cut into 1 cm strips. Rub with salt and place the cabbage in a dish with a lid, let stand overnight in the refrigerator.
On the next day put the chillies, garlic, ginger, soy sauce and fish sauce into a foodprocessor and blend. Pour in a saucepan and simmer over low heat for 5 minutes. Add sugar and a teaspoon of salt.
Peel the onion and cut into thin slices. Wash the scallions, cut off the ends and cut into 5 cm pieces.
Rinse the cabbage under running water and squeeze. Rub the sauce in the vegetables and squeeze them tightly in a large jar. It is best to use gloves!
Let stand for 4 days in the refrigerator, stores for up to a month. Enjoy!
//= __('Print recipe (no photos)', 'servingdumplings' );?> //= __('Print recipe (with photos)', 'servingdumplings' );?>