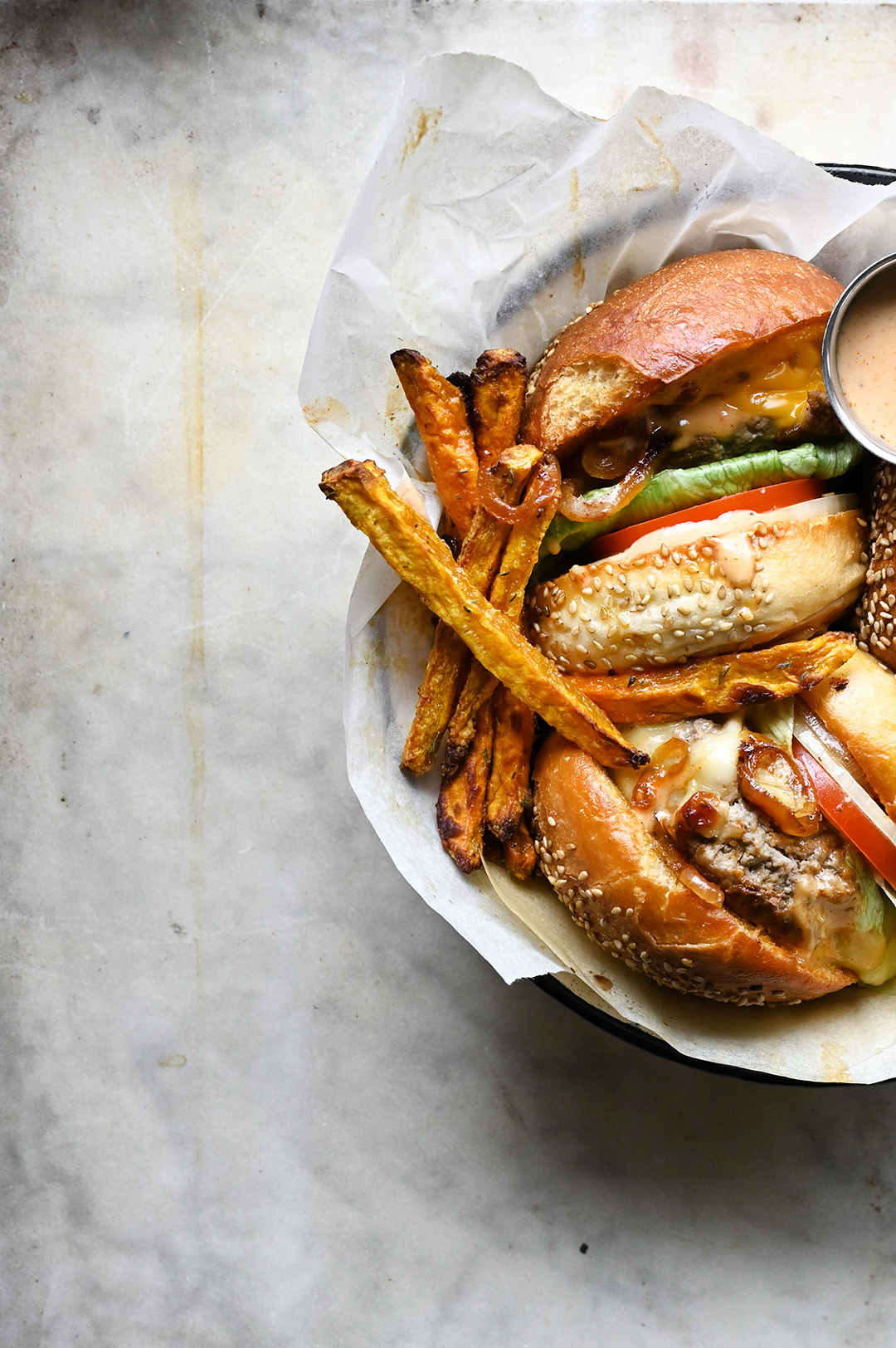 Prepare to get blown away. This could be the very best juicy cheeseburger, glossed with melted cheese, slathered with a sweet and spicy jalapeño sauce, topped with caramelized onions and sandwiched between squishy buns. Served with crispy sweet potato fries.
These are perfectly spiced and juicy 5′ beef burgers, seared on the outside, yet soft in the middle. I like to add thinly shaved onions to my skillet and cook the burgers in salted butter. The result is a more flavorful and juicier patty. Then, I usually toast the buns in the same skillet wherein I cooked the burgers. They will pick up the rendered fat and browned bits. Overall, more flavor.
The sauce is a heavenly combination and a perfect four-way intersection of sweetness, acid, creaminess, and heat. Every flavor balances the other. It's delicious on burgers, salads or fries. And the perfect fit with roasted vegetables as well. You can save the recipe for whenever you need a real garlic hit!
Now for these sweet potato fries… They're simply the best thing to serve with a burger, spiced and sweet all at once. I like to cut them thinly and skinny, then toss with a mix of cayenne pepper, garlic and smoky paprika. Roast in the oven until crisp on the outside, but still soft in the center. These are addictive. You might just double the recipe. Some for the burger and some to snack on. Just a thought…
I hope you make these! You'll be so happy.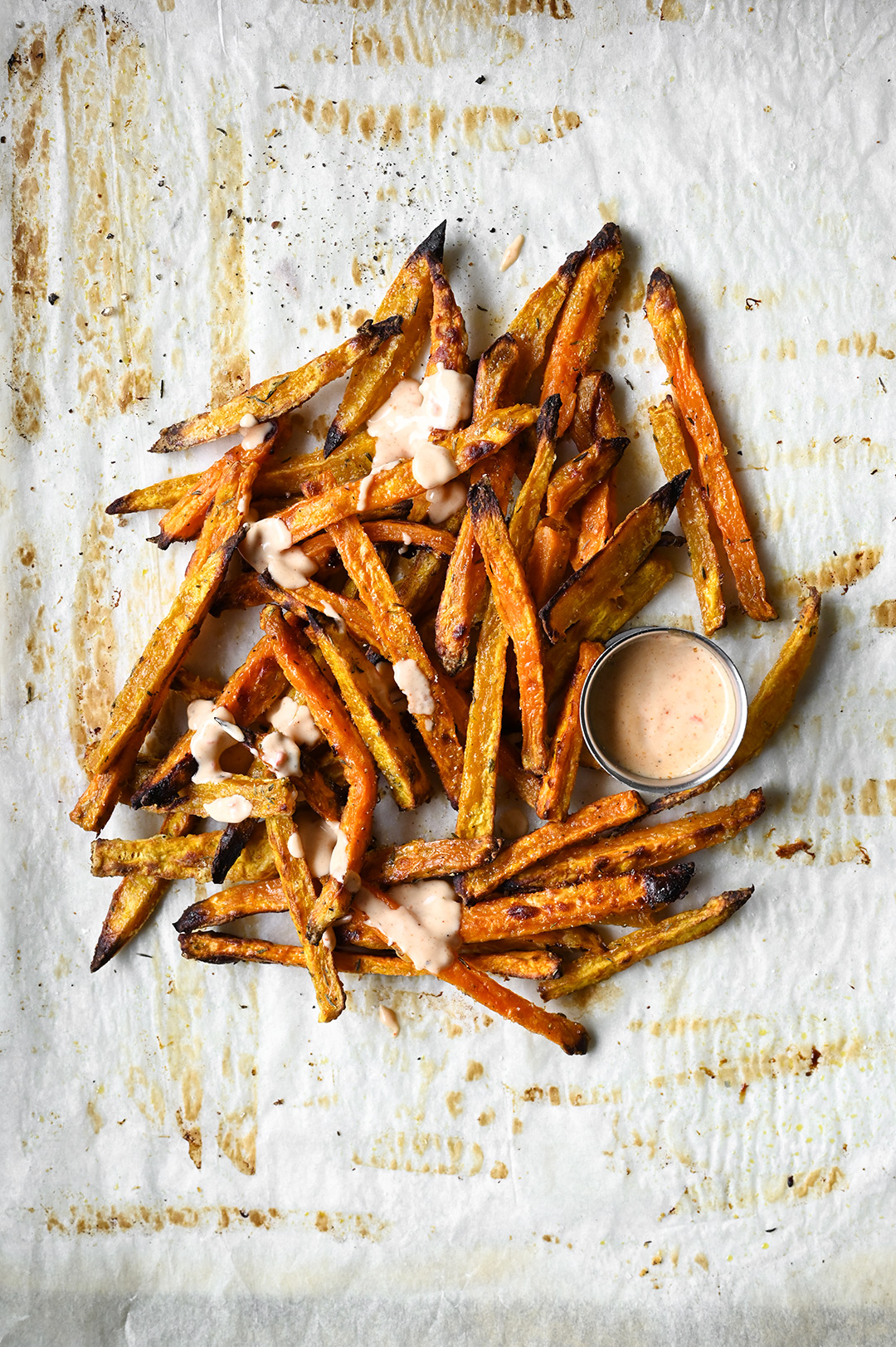 You need
burgers
500 g ground beef
1 tbsp heavy cream
1 tsp onion powder
sea salt + freshly ground black pepper
1 big onion, sliced as thinly as possible
2 tbsp salted butter
4 tomato slices
4 large iceberg lettuce leaves, torn into pieces
4 slices cheddar cheese
4 soft buns
jalapeño sauce
4 tbsp mayo
1 tbsp ketchup
2 tbsp whisky
1 tsp worcestershire sauce
1 tbsp finely chopped jalapeños
1 tsp mustard
1/2 tsp smoked paprika
1 tsp honey
2 cloves garlic, finely minced
1/2 tsp onion powder
sweet potato fries
2 medium sweet potatoes, peeled and cut into 1 cm fries
3 tbsp olive oil
1 tsp thyme
1 tsp cayenne pepper
1 tsp garlic powder
1 tsp smoked paprika
2-3 tbsp potato starch
fine sea salt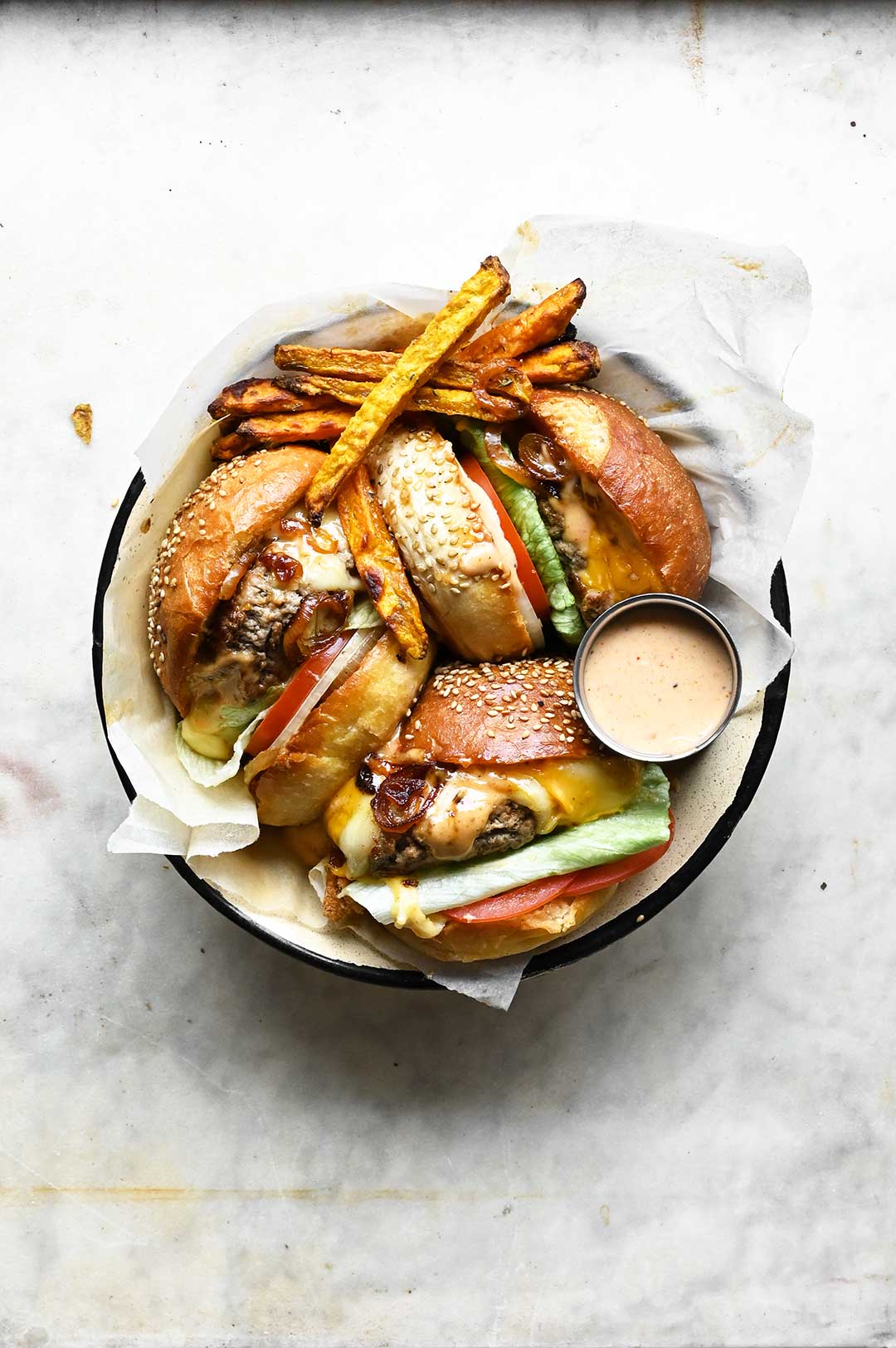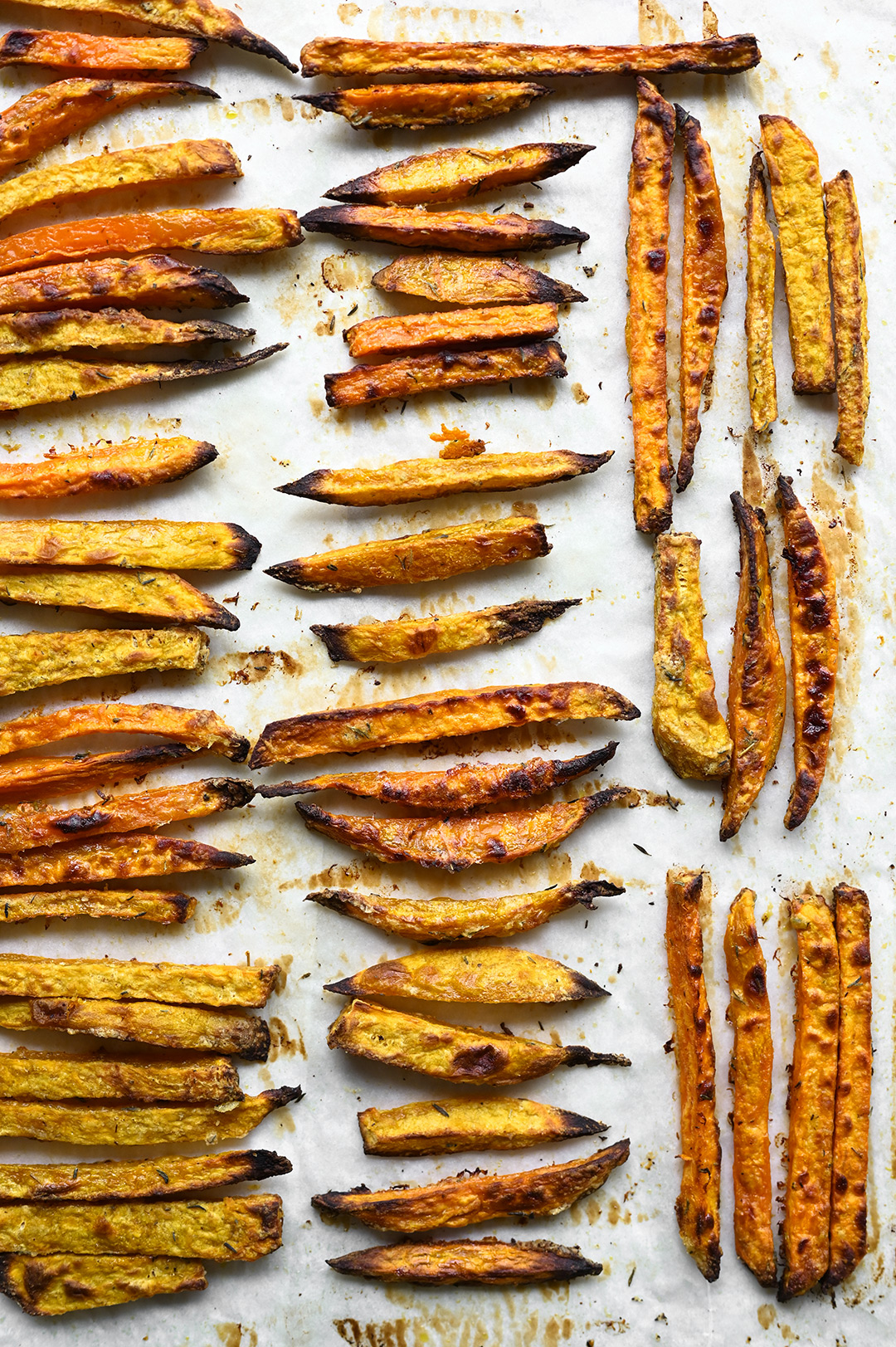 How to
To make the fries. Preheat the oven to 220°C. Place the sweet potatoes in a large bowl filled with ice water, let sit for 5 minutes. Drain and lay them between two clean kitchen towels. Massage a little, they should be as dry as possible. Place in a dry bowl, toss with thyme, cayenne pepper, garlic powder, smoked paprika and potato starch, season with salt. Spread the fries in an even layer on a baking sheet. Do not overcrowd the pan, if needed, divide the fries between 2 baking sheets. Transfer to the oven and bake for 15-20 minutes, flip and bake for 10-15 minutes more. You want the sweet potatoes to be tender, yet crisp.

Combine all the ingredients for the sauce in a small bowl.

Combine beef with heavy cream, onion powder, salt and pepper. Divide into 4 equal pieces. Using both hands, work meat into smooth balls, compacting very lightly. Press down to flatten each ball into a 2 cm thick patty. I highly recommend using a round biscuit-cutter to help forming uniformly shaped patties. It makes a huge difference.
Heat a large, heavy-bottomed skillet over high heat. Melt the butter, add the patties and thinly sliced onion. Cook, without any touching, until edges are browned and you can see juices pooling in the center of patties, about 3 minutes. Then flip them over and place a slice of cheese on each burger. Cook for 2 minutes more. Never cook the burgers all the way through. The best doneness, is medium. The burger should have deeply caramelized crust on both sides, but you'll still see juice oozing out from the mid-section. The skillet should be very hot to achieve this.
Transfer burgers to a plate. Now place the buns into the same skillet, toast the buns, side down, until golden and crisp around the edges.

Start to build your burger. Spread a tablespoon of the sauce on bottom halves of the buns. Place a slice of tomato, lettuce, burgers and caramelized onions. Top with a tablespoon of sauce, close with the top bun, and serve with sweet potato fries and some extra sauce. Enjoy!

//= __('Print recipe (no photos)', 'servingdumplings' );?> //= __('Print recipe (with photos)', 'servingdumplings' );?>