Indian-spiced chicken with sweet potatoes. A comforting one-skillet recipe that's super easy to make and full of Indian inspired warm spices. So delicious!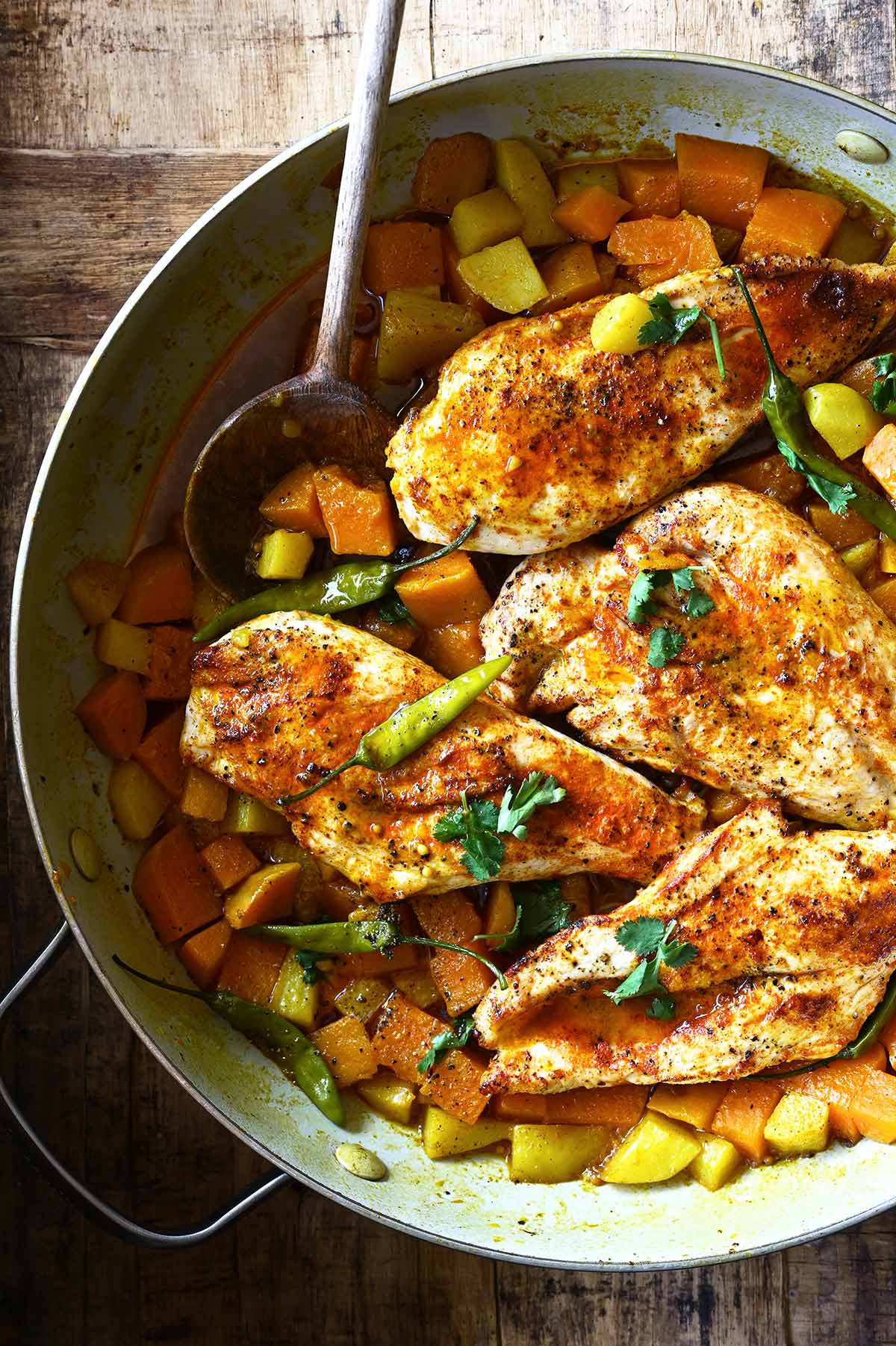 This chicken is so good. Chock-full potatoes, green peppers and some Indian inspired spices, this is a meal everyone will rave about. You can use this recipe as a starting point and customize it to your own liking. For instance, add more veggies like eggplant or bell pepper. It's an ideal dinner for busy nights because it's just so easy to toss together.
It's truly amazing, it doesn't take long to prepare, doesn't have any crazy ingredients, and pretty much tastes like magic. I'm all about accessible recipes, so it's honestly really easy to prepare, and you probably have most of the ingredients already in your pantry.
Let me guide you through the recipe with this step-by-step VIDEO.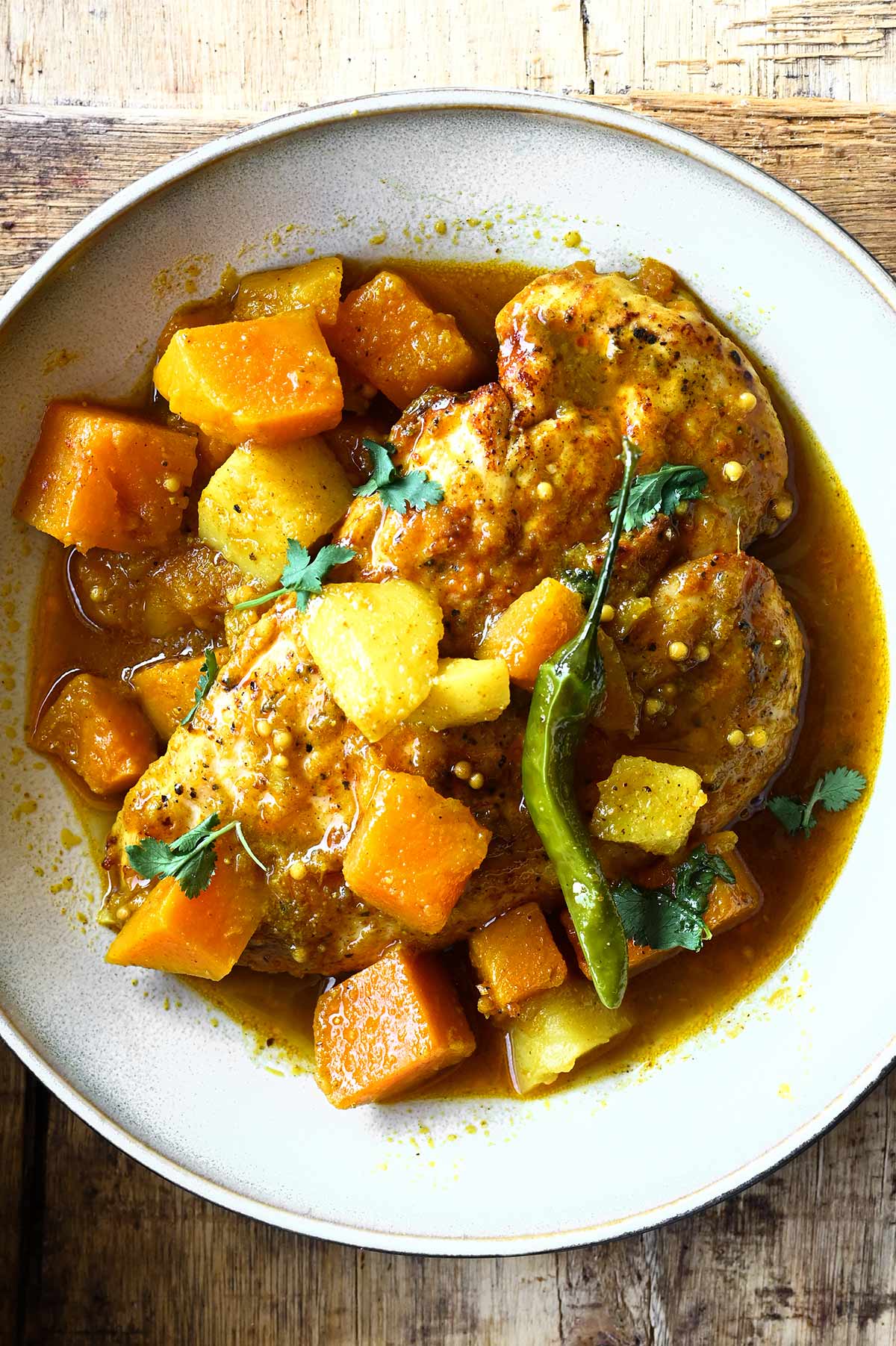 This Is How We Make It
First step is seasoning the chicken with spices, then give it a good sear. We add the potatoes and the sweet potato to te same skillet and cook for a couple of minutes. Next, the Indian spices go in, followed by grated garlic and ginger, and cook them until fragrant. Finally we pour in chicken broth and let the potatoes cook until soft, this takes only 10 minutes.
We return the chicken back to the skillet, sprinkle some cilantro on top… and you're done!
The result is super savory and so good, it will have everyone coming back for more.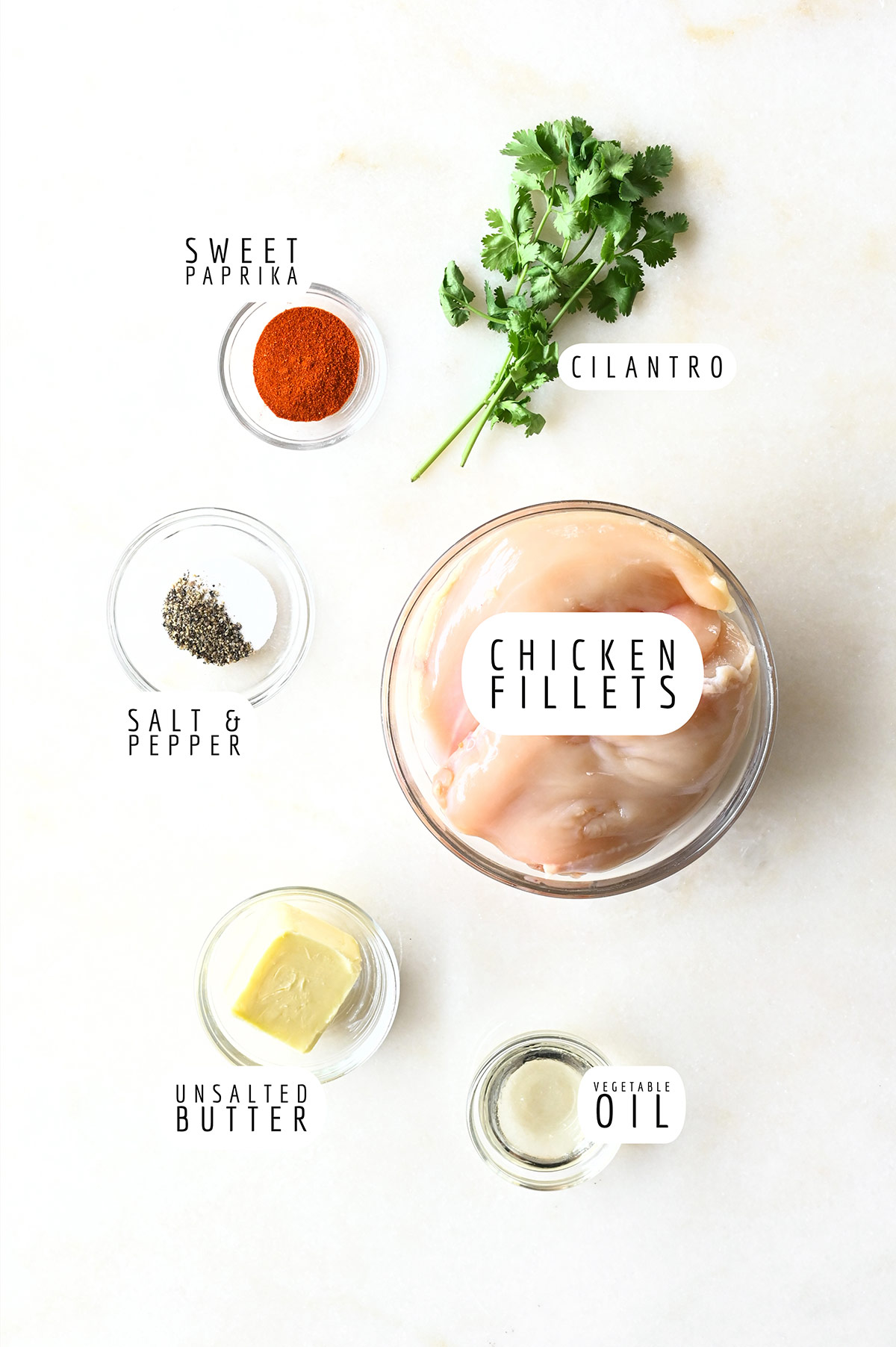 Ingredients, Tips & Substitutions
Chicken
Chicken Fillets: You can use 2 large breasts then cut in half lengthwise or use 4 small breasts and gently pound with a meat tenderizer for an even thickness. You can also use chicken tenders, chicken cutlets or boneless/skinless chicken thighs.
Seasoning: A mix of salt, black pepper and sweet paprika.
Oil and Butter: For searing the chicken and browning the potatoes.
Cilantro: For a fresh finishing touch, you can swap it for parsley.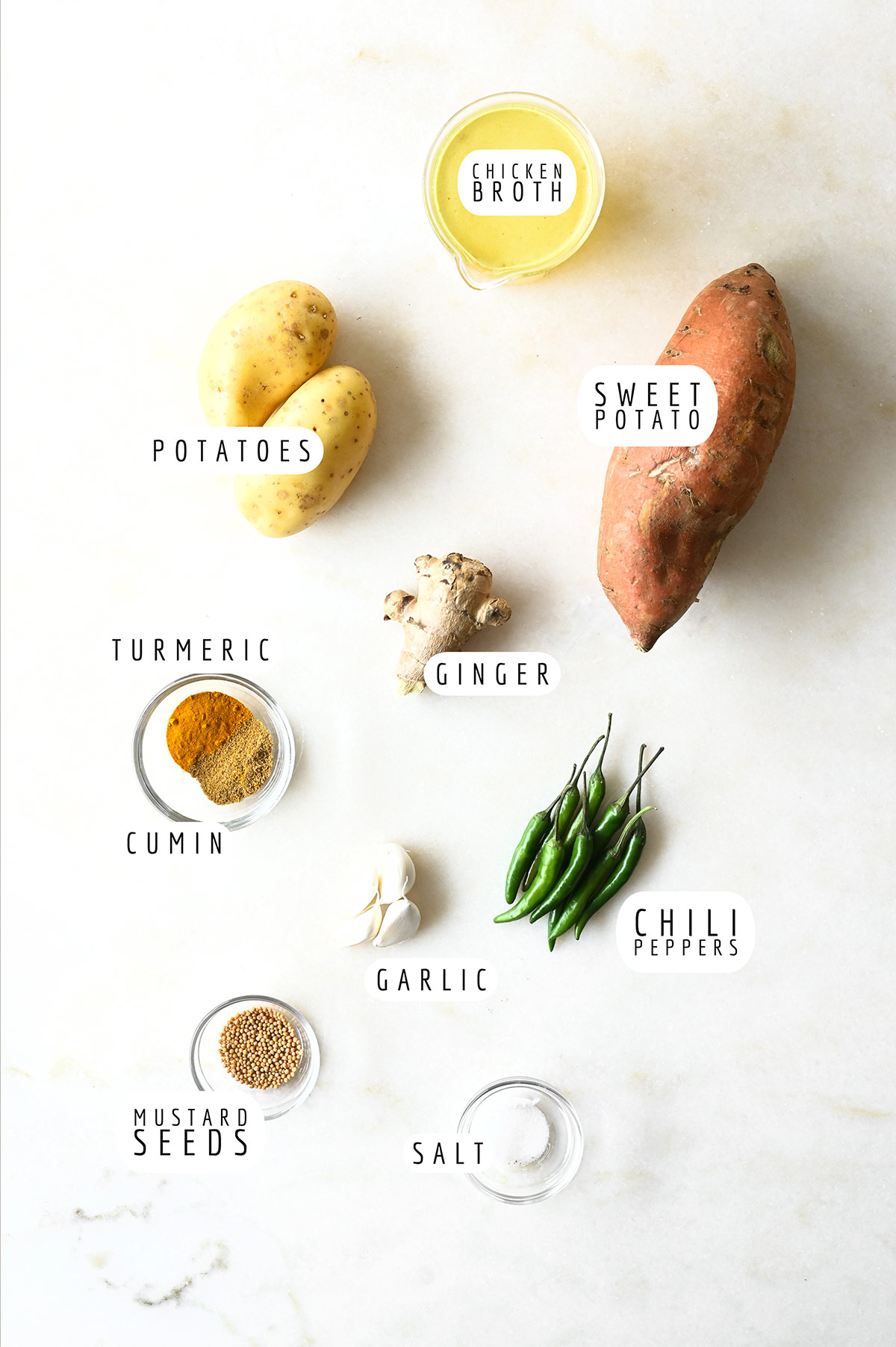 Indian Spiced Sweet Potatoes
Sweet Potato: Goes perfectly with Indian spices. You can use peeled or unpeeled sweet potato.
Potatoes: You can also use baby potatoes, yukon gold, fingerlings or red potatoes in this recipe.
Garlic and Ginger: Both best when freshly grated.
Seasoning: A mix of warm Indian spices like turmeric, cumin and mustard seeds.
Chicken Broth: You can also use vegetable broth. Don't try it with only water and salt, the flavors would be bland.
Green Chilis: They add a nice kick, you can substitute them for chili flakes.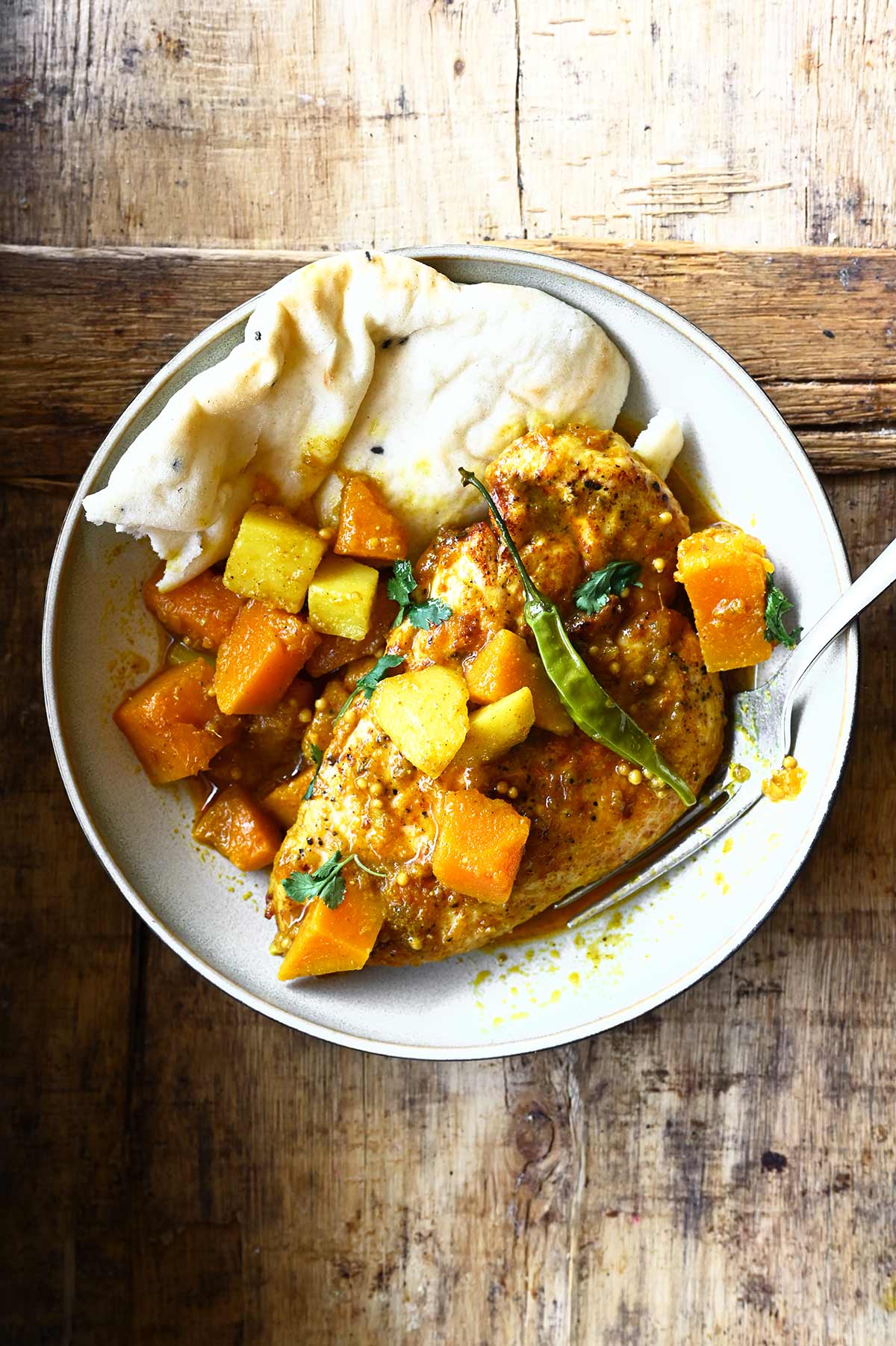 Recipe Notes
Add more veggies like eggplant, zucchini, green bell pepper or cherry tomatoes.
Serve with warm naan and a leafy salad or a creamy cucumber salad.
Storage: Store leftovers refrigerated in an airtight container for up to 2 days.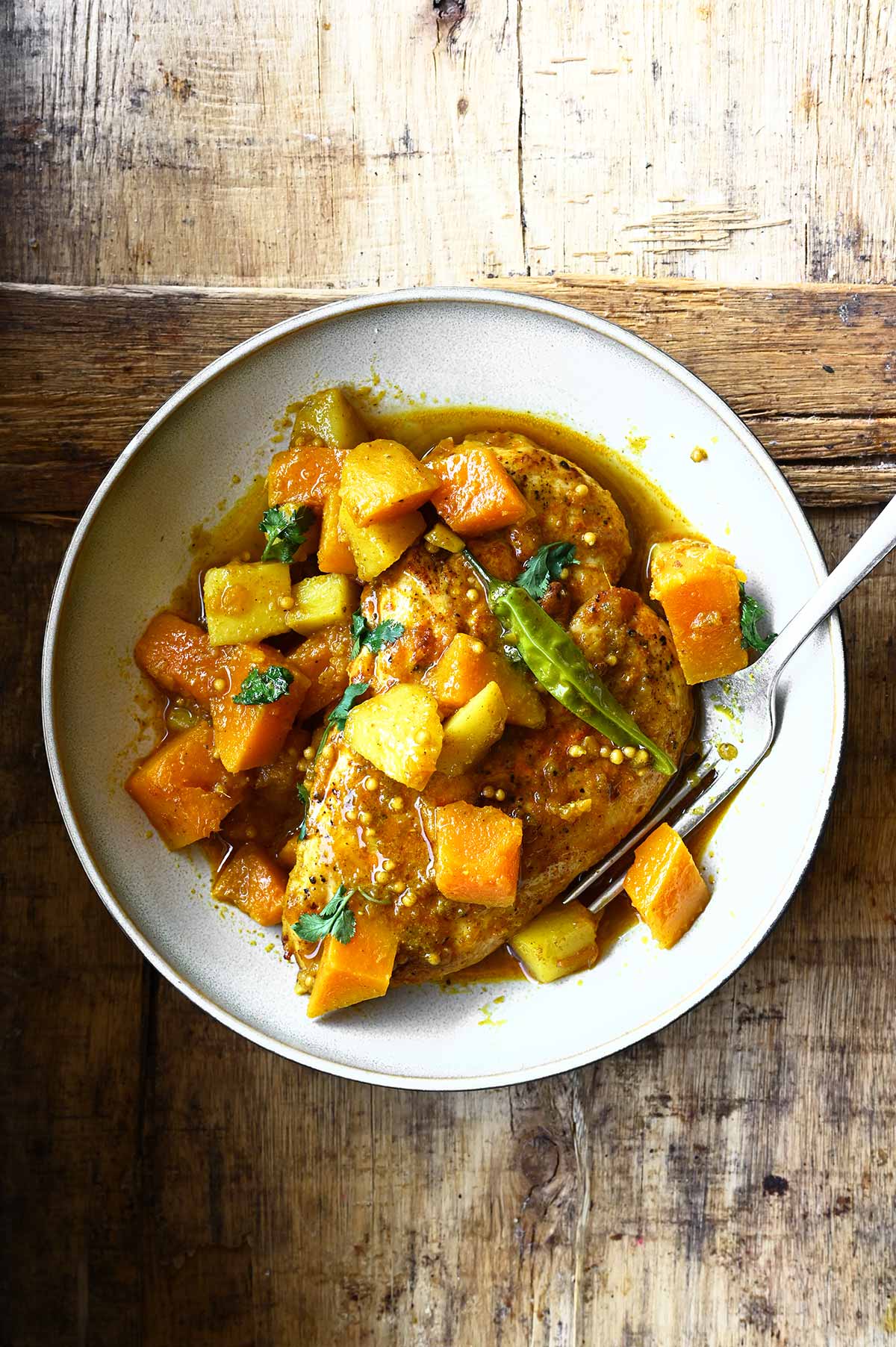 Try These Next
Cooking Video
Yield: serves 4
Indian Spiced Chicken with Sweet Potatoes
Ingredients
2 large chicken fillets, cut lengthwise in 2 parts
1 tsp salt, divided
1 tsp each: black pepper, sweet paprika
1 large sweet potato, about 1 pound/450 g
2 medium waxy potatoes
4 garlic cloves, grated
1 tsp grated ginger
1 tsp each: turmeric, ground cumin, mustard seeds
2 cups/500 ml chicken broth
8 green chilis
cilantro, for serving
Instructions
Get your prep done before you start cooking. Cut the chicken fillets lengthwise in two parts. Season both sides with pepper, paprika and ½ teaspoon salt.
Peel the sweet potato and cut into bite-sized pieces. Peel and dice the potatoes. Grate the ginger and garlic cloves.
Heat oil and butter over medium high in a large skillet. Add chicken fillets and cook 2-3 minutes per side. The cooking time can vary with the size of your chicken. Remove from skillet and place on a clean plate.
Add potatoes and sweet potato, cook for 2 minutes. Stir in garlic, ginger, turmeric, cumin, mustard seeds and the remaining salt. Cook for 3 minutes until fragrant.
Pour in chicken broth and bring to a boil. Add green chilis, cover and simmer for 10 minutes over medium low.
When ready, taste and adjust salt. Return chicken fillets to the skillet. Simmer for 1-2 minutes, until heated through. Finish off with cilantro. Serve with warm naan and a creamy cucumber salad. Enjoy!
Notes
Calories Per Serving: 249 kcal
Nutritional information is only an estimate. The accuracy of the nutritional information for any recipe on this site is not guaranteed.