This honey mustard chicken makes for a super easy, delicious weeknight dinner. Sweet honey with whole-grain mustard, chicken broth, garlic and a bit of rich melted butter to make the most flavorful and yet ridiculously simple sauce to go with the chicken.
It's super delicious, especially when finished off with fresh parsley and chopped almonds. A foolproof recipe for chicken breast fillets, one that transforms them into something exciting to bring to your dinner table.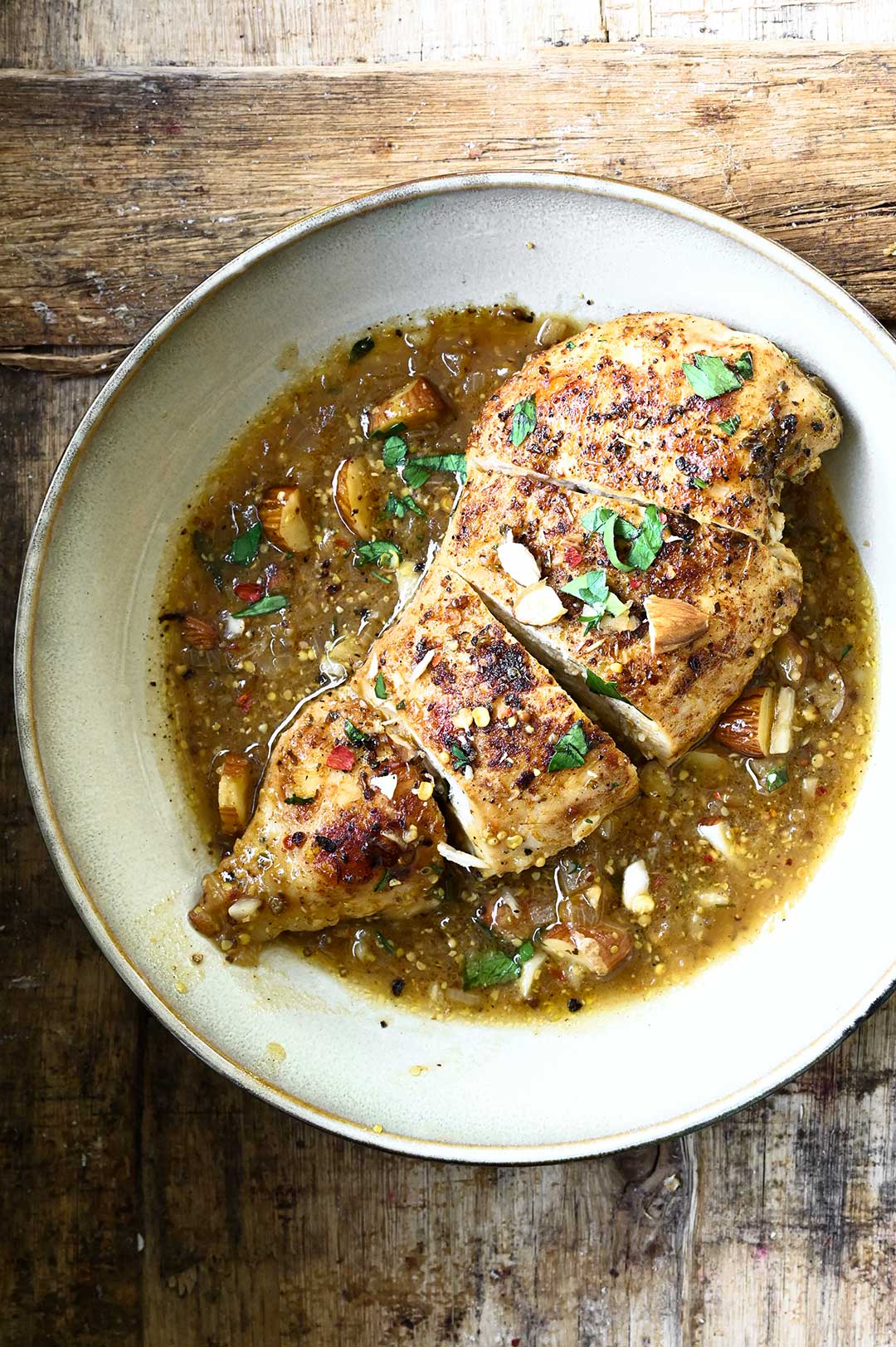 Simple pan sauces are a secret weapon in the kitchen, it's like magic. They're the easiest way to turn your meal into something really mouthwatering. This recipe is the perfect example. With only a handful of simple ingredients, you can make this honey mustard chicken in a blitz. Promise.
Add some mashed potatoes and sautéed vegetables, and you've got a quick weeknight dinner that's full of bright flavors and textures.
Let me guide you through the recipe with this step-by-step VIDEO.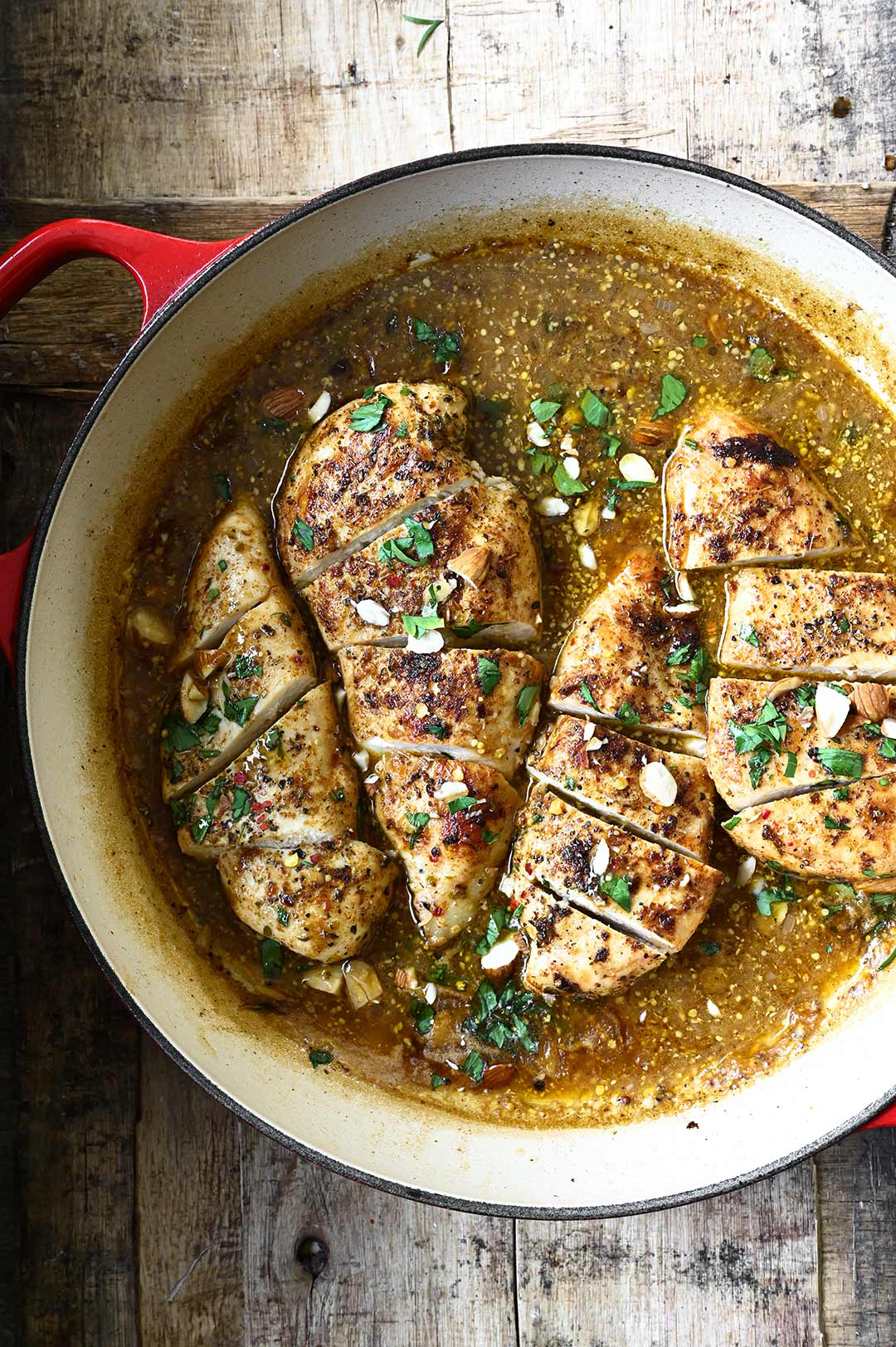 RECIPE NOTES
you can use boneless, skinless chicken thighs instead of chicken breast fillets, or turkey
you can pound the chicken breasts out to an even thickness before browning in the skillet or cut larger chicken breasts in half lengthwise into thin, even slices. This way the meat cooks up faster and more evenly
serve the chicken over mashed potatoes, polenta, roasted potatoes or rice to catch all that sweet, tangy sauce
add something green, like roasted broccoli or sautéed green beans
make sure to use whole-grain mustard, it brings a texture to the sauce and makes for an eye-catching entrée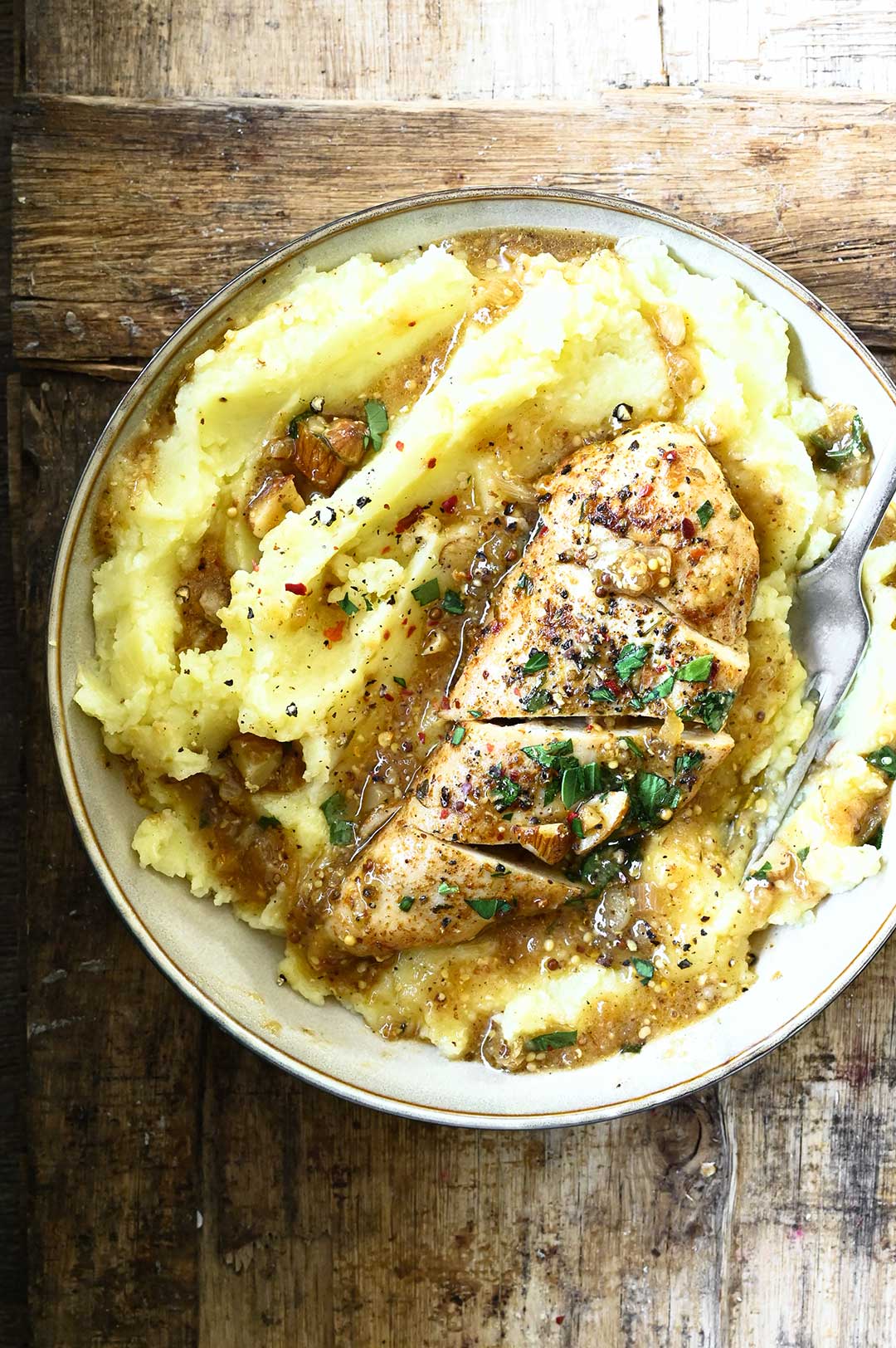 More chicken, please!
Recipe Video
Yield: serves 4
Honey Mustard Chicken
Ingredients
4 boneless, skinless chicken breasts, or thighs
2 tbsp olive oil
1 tbsp unsalted butter
2 garlic cloves, minced
1 small onion, finely chopped
1 tsp each: sweet paprika, salt, black pepper, dried oregano
1/2 tsp red pepper flakes
250 ml (1 1/4 cups) chicken broth
2 tbsp whole-grain mustard
1 tbsp honey
1 tbsp flour
2 tbsp chopped parsley
3 tbsp chopped almonds
Instructions
Season the chicken breasts with salt, pepper, paprika, oregano and red pepper flakes. Pound larger chicken breasts out or cut in half lengthwise into thin, even slices. This way the meat will cook up faster and more evenly.
Heat the oil and butter in a non-stick frying skillet over medium heat. Add the chicken and cook, for 5 minutes per side or until fully cooked and browned on both sides. This can vary with the size of your chicken pieces. Remove from skillet and place on a clean plate. Cover with foil.
In the same skillet. Add garlic and onion, cook over low heat, about 2 minutes. Stir in flour. Add the chicken broth and stir with a wooden spoon to dissolve the browned bits from the bottom of the skillet. Bring to a boil. Stir in mustard and honey.
Return the chicken together with the released juices to the skillet. Cook until the sauce thickens and the chicken is cooked through, about 5 minutes. Taste and adjust salt.
Serve with mashed potatoes and sautéed vegetables. Garnish with chopped parsley and almonds. Enjoy!
Notes
Calories Per Serving: 349 kcal
Nutritional information is only an estimate. The accuracy of the nutritional information for any recipe on this site is not guaranteed.