You might have increased your interest in baking right now. You're not the only one. I started baking bread. Probably your cousin is making bread. Your friend is making bread. Everyone is making bread. 
Baking your own sourdough bread is highly satisfying and exhilarating, and totally worth the effort. You take just two ingredients and turn them into a beautifully proofed, airy loaf of bread. But, a simple loaf of crusty bread might seem to be the most deceptively challenging baking project to tackle. Yet, every first-time bread baker needs to start somewhere.  
So, here's the thing with baking sourdough bread at home: it's not difficult, it just takes time and a little patience, it's something you learn by doing. And you may have to make this a couple of times before you really get a feeling for it. Once you taste your first loaf, you will not be able to stop. It's addictive. I love sourdough so much I need to put a self-imposed limit on it.

This is one of my first loafs ↓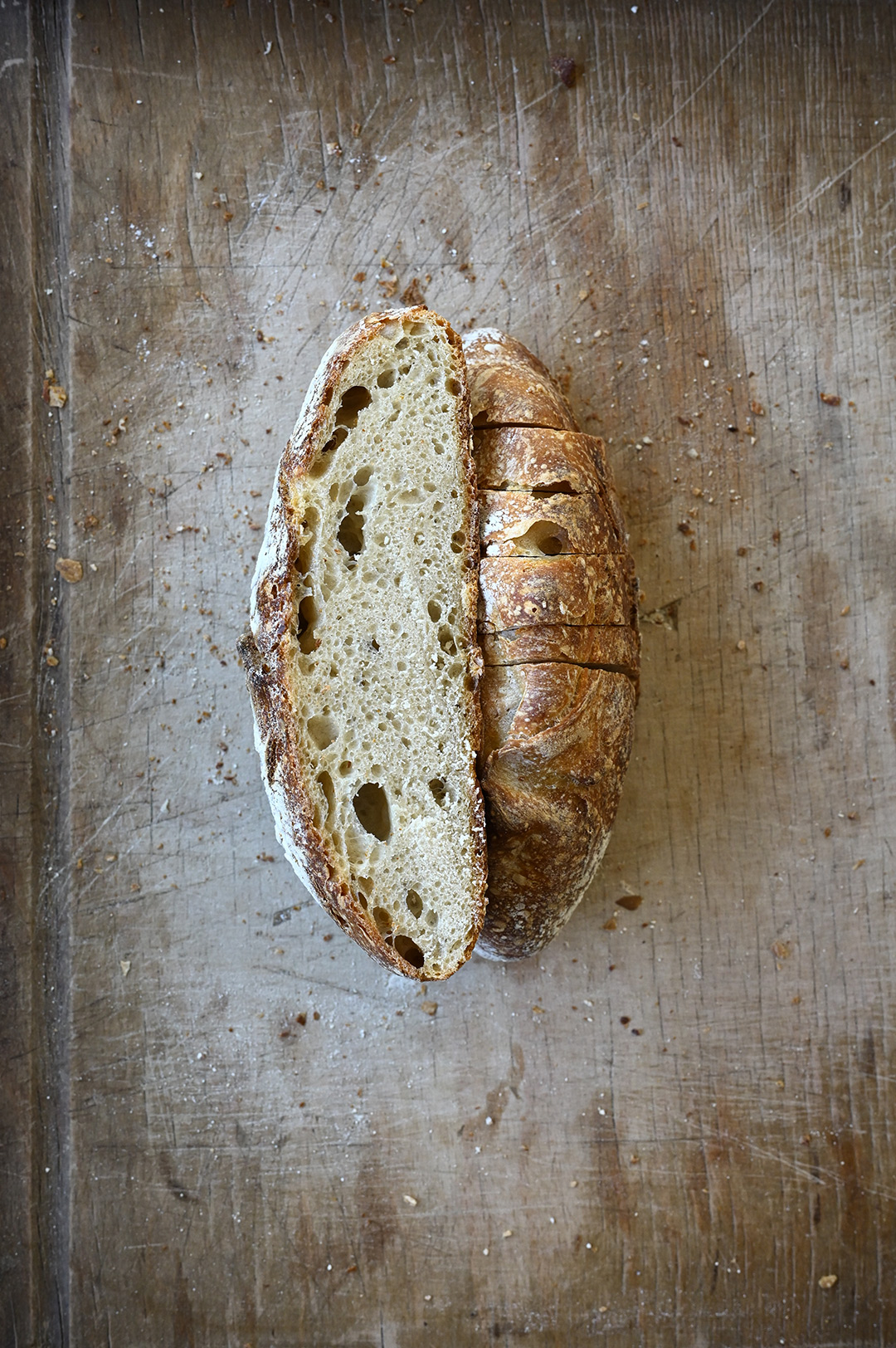 This bread has a thick, nutty crust. Is airy and bouncy in the middle with a delicate present taste of sourdough and an intense chew, that makes a great toast that's a wholesome meal unto itself.  You can add some extra seeds to it and it doesn't need much more, some olive oil and salt or a thick layer of butter. It can go savory with mayo, sardines,… or it can go sweet, with labneh and jam. 
Sourdough bread is made entirely by using a sourdough starter aka wild yeast. A starter is a mix of flour and water that has been fermented and contains a natural colony of wild yeast that makes your dough rise. With a good, active sourdough starter, you won't need any commercial yeast at all. Wild yeast works a little bit slower, so sourdough bread needs to be made over the course of a day, or even two days. It's important you organize your time correctly. This slow development helps to tease out more complex, nuanced flavors in your sourdough bread — far beyond those of store bought ones.
You can take a look at my sourdough process on my Instagram Stories in Highlights.
Note: With your sourdough starter you are able to make sourdough babka, waffles, pizza, bagels, …
Read how to make your own Sourdough Starter HERE
Step by step instructions from scratch.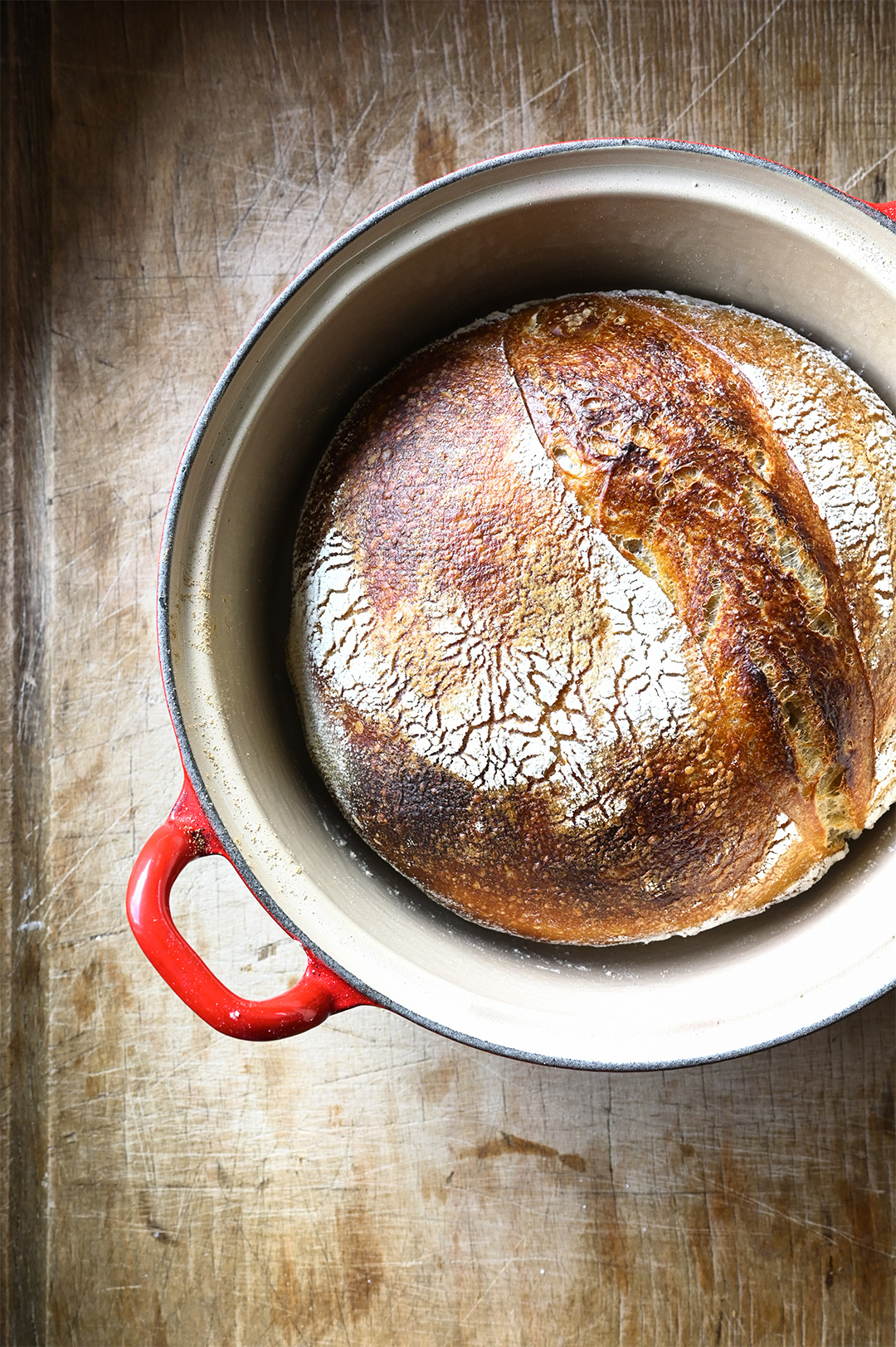 This post contains a few affiliate links which means a portion of the proceeds go to me, at no extra cost to you. If you should consider buying something, I would greatly appreciate it. Thank you for supporting Serving Dumplings.
Sourdough Bread
You need
2 loafs
1000 g all-purpose flour (or wholemeal spelt flour or bread flour)
– I use a mix of wheat flour, rye flour and spelt flour
710 g lukewarm water, or more
150 g sourdough starter
20 g salt
How to
First you need to start with your sourdough starter.
Here's my baking schedule, that I like to use:
If your sourdough starter has been in the refrigerator, take it out 1 day before you plan to bake. First leave it to come to room temperature, then feed your starter. Make sure it's strong and active before you make the bread.
Start in the afternoon at 14:00
Combine flour and lukewarm water, stir with a spatula until there are no more bits of dry flour. Add some more water if the dough is too dry. Cover and let stand for 30 minutes at room temperature.
Add the starter and salt, work it into the dough by stretching, pinching and squeezing the dough. The dough will feel quite wet and loose. Let stand for 30 minutes.
Fold the dough, grab it at one side, shake and stretch, and fold it over on top of itself. Do not knead. Let the dough rest for 30 minutes, then repeat. Cover every time and let stand at room temperature. Repeat this 4 more times. 6 times in total, every half hour, for a total of 2 1/2 hours. The dough will be wet and loose, but will become smoother and tighter as you continue folding.
After the last time you fold it, cover and let stand for 3 hours at room temperature.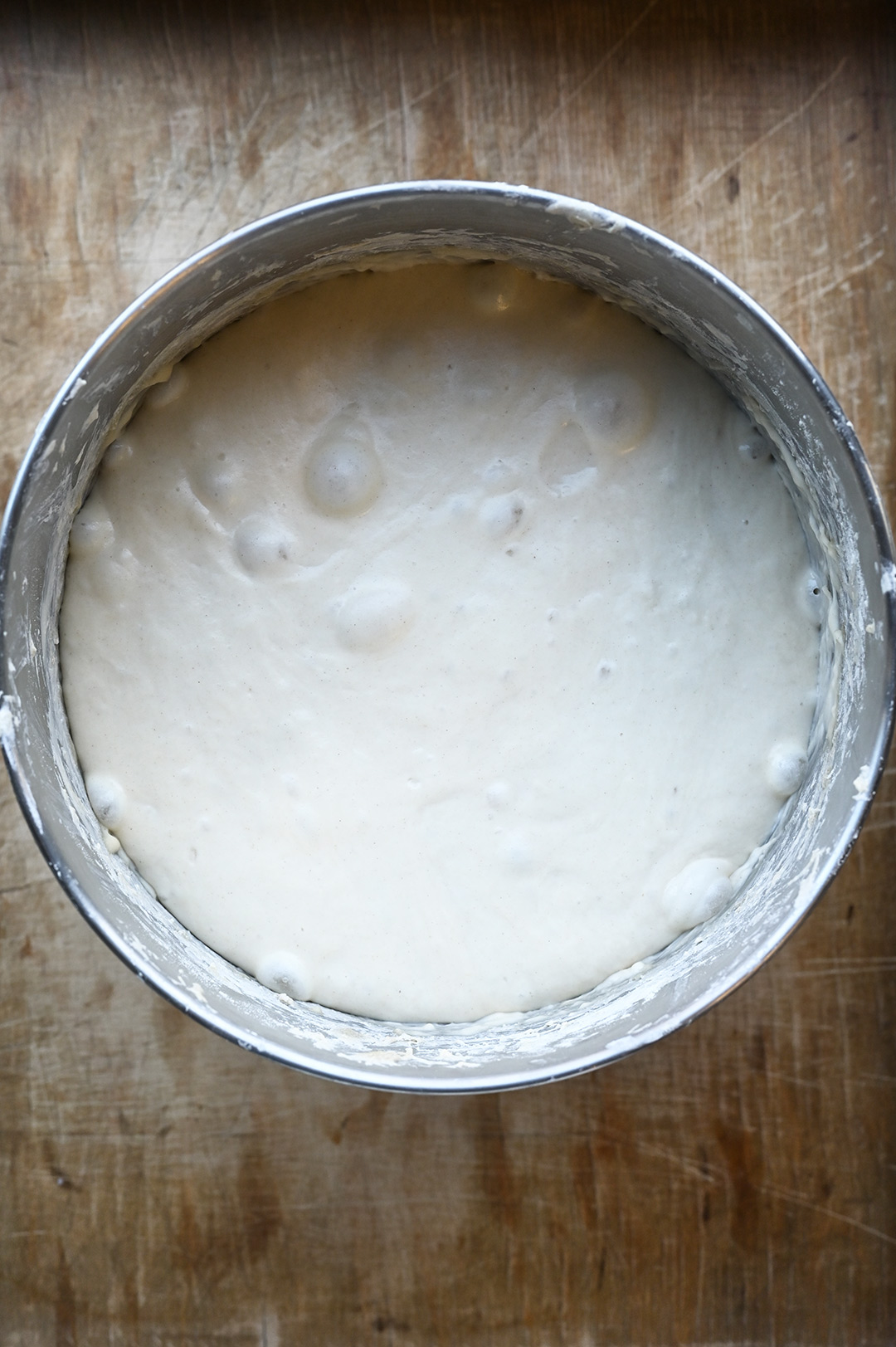 Divide the dough on a floured work surface, shape the dough into balls by folding and rolling the dough. Transfer into the bread proofing baskets or clean bowls with clean kitchen towels. Dust them heavily with flour, rubbing the flour into the cloth on the bottom and up the sides with your fingers. Use a lot of flour, it should form a thin layer over the surface of the towel.

Cover with plastic wrap, place in the fridge and let them rise slowly overnight, for 12-15 hours.

In the morning.
Place two Dutch ovens or other heavy-bottomed pots with lids in the oven, and preheat the oven to 260°C. Prepare two pieces of parchment paper. Remove the heated Dutch ovens from the oven and remove the lid. Tip the loafs onto the parchment paper and place them into the pots.
If your loaf sticks to the proofing basket, try to gently disengage it or pinch it away with your fingers.

Cover and bake the loafs for 20 minutes. Reduce the oven temperature to 230°C without removing the lid and bake for 10 minutes. Remove the lids and bake for 15 minutes more until golden brown.
Remove from the oven and let cool completely. Then eat with a thick layer of butter!

//= __('Print recipe (no photos)', 'servingdumplings' );?> //= __('Print recipe (with photos)', 'servingdumplings' );?>