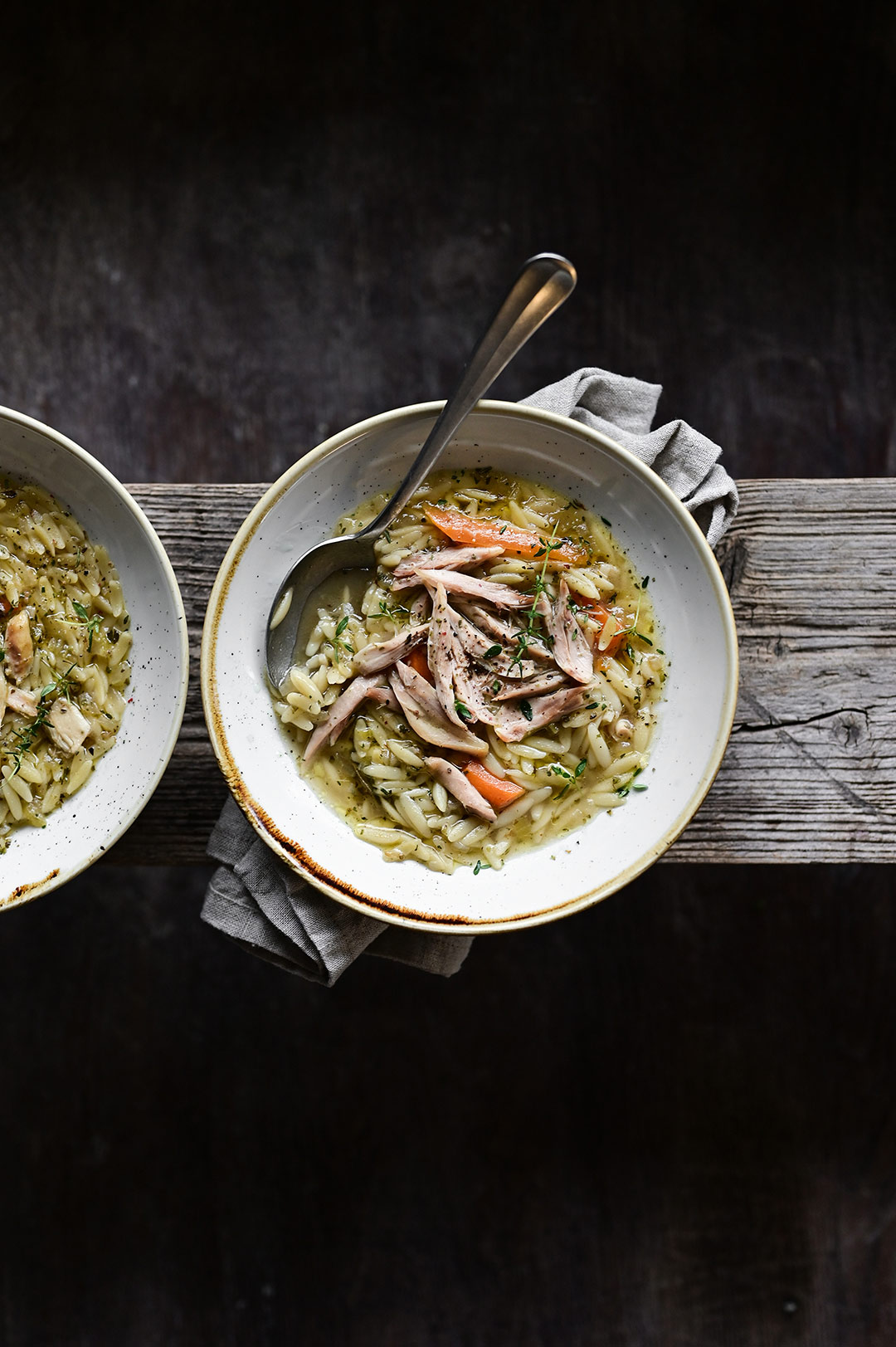 It's amazing how just a few simple ingredients can be transformed into a nutritious, comforting and healthy dish in no time at all. A few additional elements like orzo, herbs and a splash of lemon make this soup hearty and filling.
You just can't beat chicken soup for a satisfying wholesome meal, and this herby chicken soup with orzo proves it all. It's the ultimate comfort food, fairly thick with rich textures, warm aromas and herbal notes. Simple, easy to make, quick with an extraordinary delicious result. Exactly what I want to eat during these cold winter months.
Ingredients
150 g  orzo
4 chicken drumsticks
3 tablespoons olive oil
1 onion, finely chopped
4 garlic cloves, finely chopped
2 carrots, peeled and cut into small pieces
1 celery stalk, finely chopped
1 L chicken stock
1 tablespoon lemon juice
1 bay leaf
1 teaspoon dried thyme
1 teaspoon dried marjoram
1 teaspoon dried lovage
sea salt + black pepper
to finish
chopped parsley for sprinkling
black pepper
Instructions
Heat the olive oil in a large pan with a thick bottom, brown the chicken for 5 minutes on each side. Add garlic and onion, sauté over medium heat. Then add the chopped carrots and celery, stew for another 5 minutes. Pour in the broth and bring to a boil. Add bay leaf, all herbs and lemon juice. Turn down to a small simmer, cover and allow to cook for about an hour until the meat is falling off the bone.
Then, remove the chicken from the pan, add orzo and cook until tender.
In the meantime, shred the chicken into preferred size and add to the soup. Season with salt and pepper to taste, serve with chopped parsley. Eat and enjoy!