Greek style spaghetti with a tomatoey meat sauce. Delicious, rich and layered with so many flavors. Think about it as a bolognese sauce but combined with other spices: a hint of cinnamon, oregano and red wine. Serve with pasta or use it as a base for moussaka.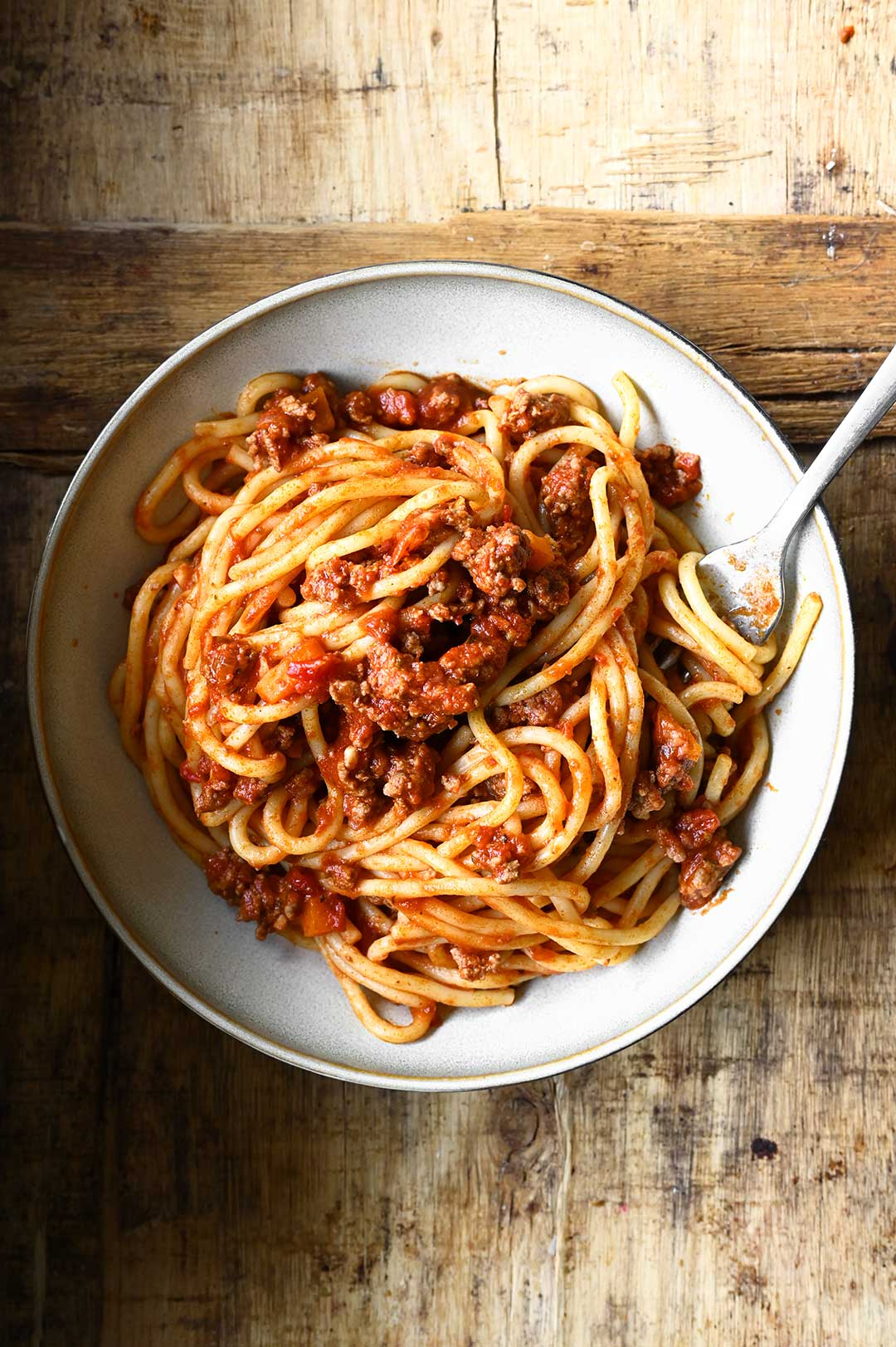 'Makaronia me kima' is the Greek version of spaghetti bolognese. This pasta doesn't need to get cooked quietly for hours. It can do a Greek dance to your table in just about 30 minutes.
It's usually prepared with beef or lamb that has been cooked in a tomato based sauce along with red wine, an earthy touch of oregano and a pinch of cinnamon for that unique warmth of Greek food. Easy to make and simply irresistible!
Serve with a tomato-cucumber-feta salad drizzled with olive oil and lemon juice.
Let me guide you through the recipe with this step-by-step VIDEO.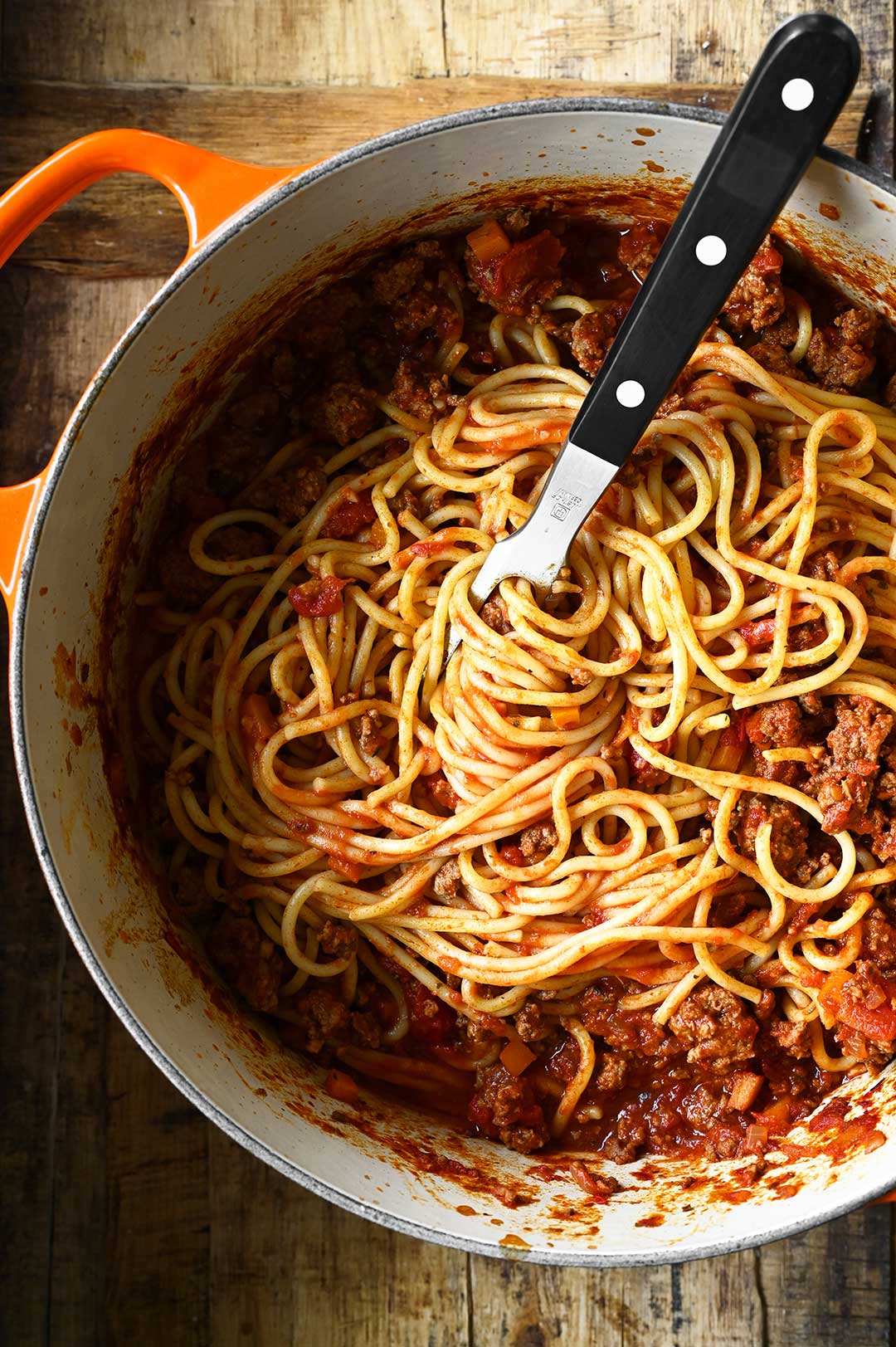 RECIPE NOTES
You should feel free to improvise on this recipe. Want to add veggies? Add eggplant or zucchini. Have some fresh tomatoes on hand? Use those instead. Have ground pork, lamb, veal, chicken or beef? All will work. Love a spicy kick? Add cayenne pepper or red pepper flakes. Serve with pasta, use as filling for moussaka or pastitsio.
You don't have to feel obligated to cook this dish the raditional way forever, feel free to play around with ingredients. As long as it tastes great, it's welcome to join the crowd.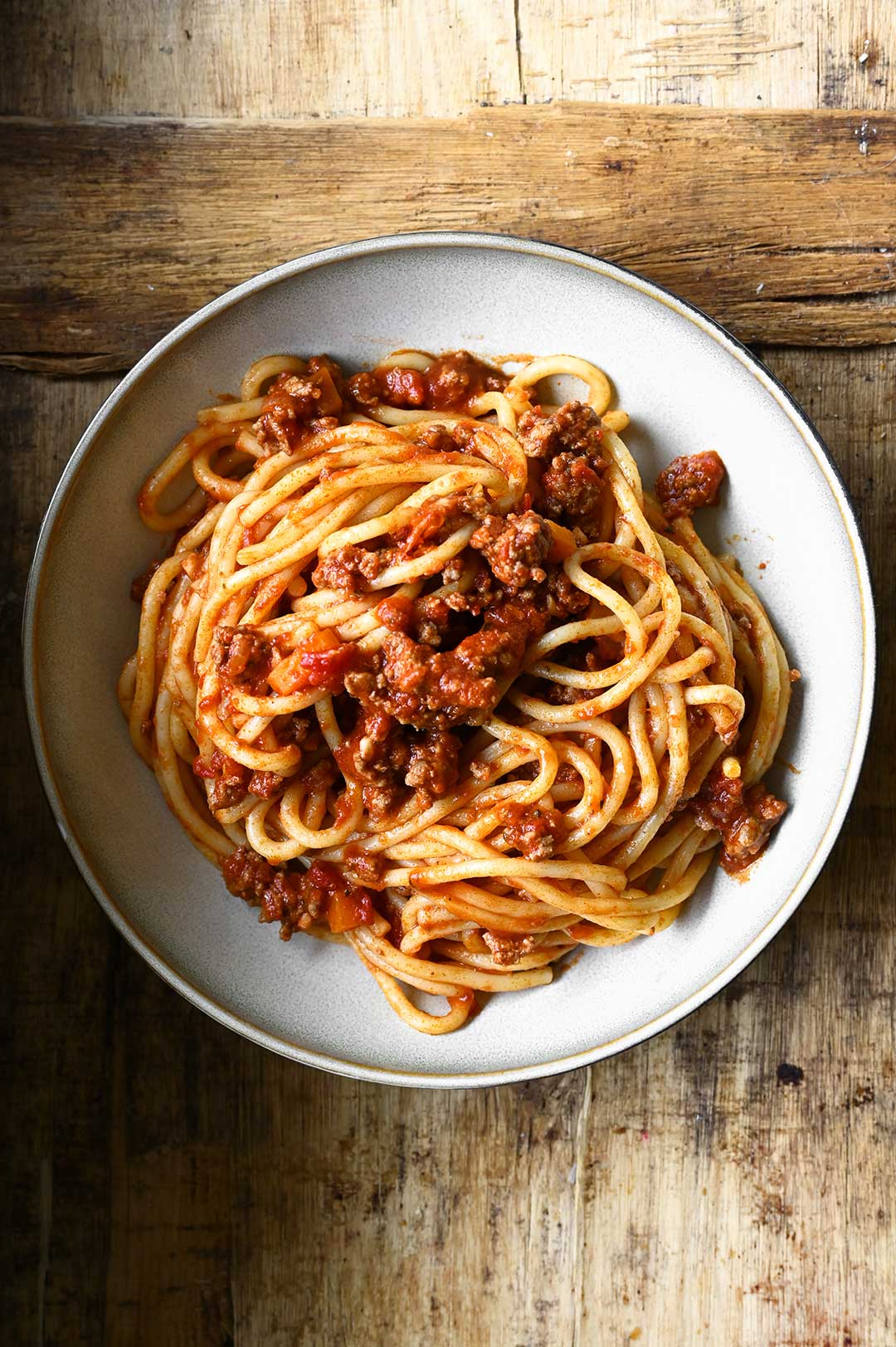 Make ahead: The sauce can be made and the pasta cooked 1 day ahead. Store in the fridge in separate airtight containers. Reheat the sauce before tossing with spaghetti
Which cheese can you use for serving? Greek Kefalotyri or Mizithra cheese, but if you can't find it, use Gruyere, Parmesan or Pecorino to mimic the sharp, salty flavor
Storage: Leftovers can be stored in an airtight container in the refrigerator for up to 2 days
TRY THESE NEXT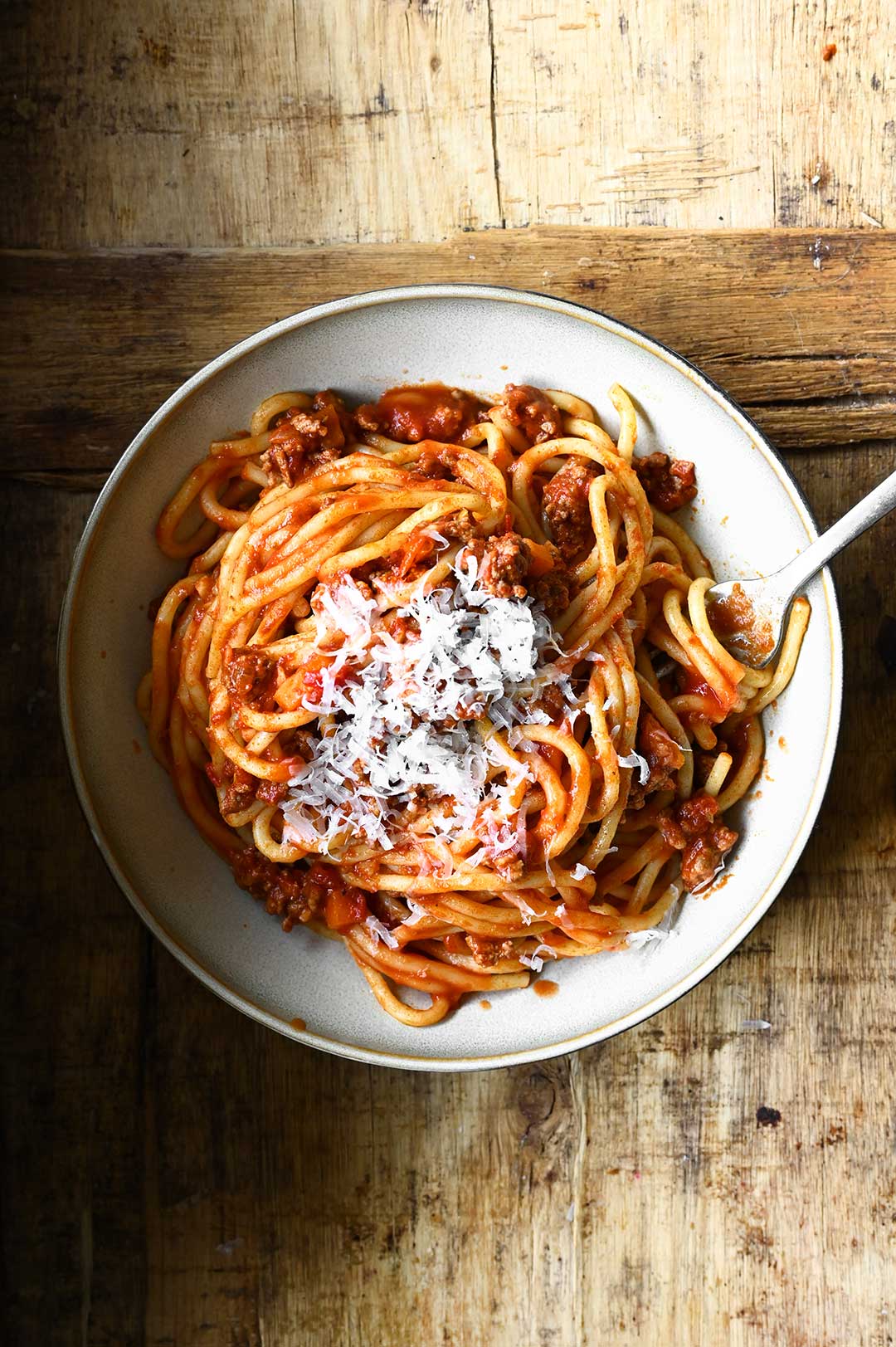 COOKING VIDEO
Yield: serves 4
Greek Style Spaghetti
Prep Time 5 minutes

Cook Time 25 minutes

Total Time 30 minutes
Ingredients
10.5 ounces/300 g spaghetti
2 tbsp olive oil
1 medium red onion, finely chopped
4 garlic cloves, minced
1 carrot, diced
1.1 pounds/500 g ground beef
1 tsp each: salt, sugar, black pepper, dried thyme
2 tsp dried oregano
¼ tsp cinnamon
2 bay leaves
2 cloves
½ cup red wine
5 tbsp tomato paste
1 can (14 oz/400 g) crushed tomatoes
Instructions
Get all the prep done before you start cooking: mince the garlic, finely chop the onion and dice the carrot.
Heat oil in a large pot over medium-high. Add onion, garlic and carrot, cook for 5 minutes.
Add ground beef, break up into small pieces with a wooden spoon. Stir in salt, pepper, sugar, cinnamon, thyme, oregano, cloves and bay leaves. Cook until the meat is browned and no longer pink, about 5 minutes. Pour in red wine, bring to a boil and simmer for about 2 minutes.
Add tomato paste and crushed tomatoes, reduce the heat to low and cook, uncovered, stirring occasionally for 15 minutes.
In the meantime, cook the spaghetti in a large pot of generously salted boiling water, until al dente. Drain, reserving 1 cup cooking water.
Add ½ cup cooking water to the sauce. Adjust salt and pepper to your own taste. Remove from heat and toss with spaghetti. Enjoy!
Notes
Calories Per Serving: 624 kcal
Nutritional information is only an estimate. The accuracy of the nutritional information for any recipe on this site is not guaranteed.


DOWNLOAD PRINTABLE RECIPE PDF