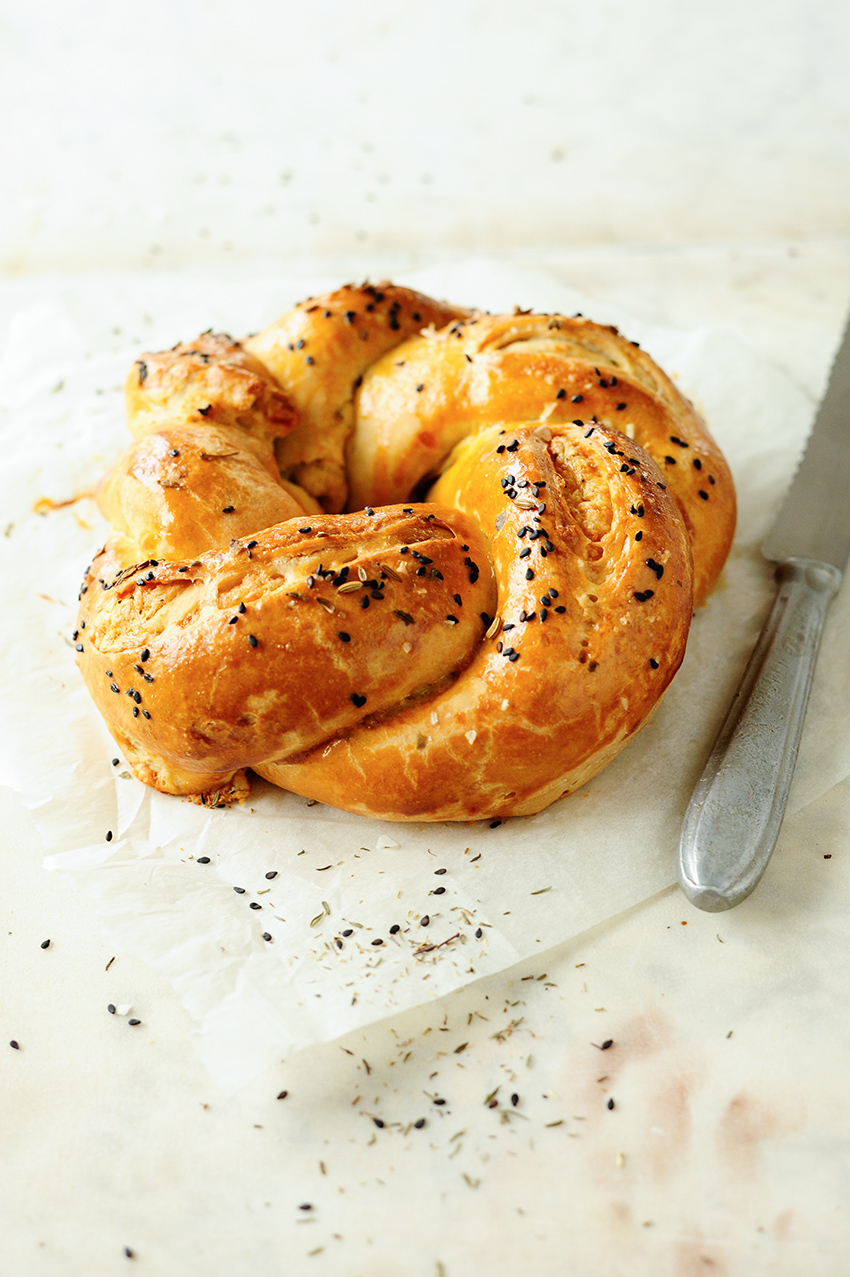 Everything that I like is wrapped into this insanely tasty wreath with a crispy crust and sprinkled with sesame seeds, cumin and sea salt. The key to stuffing this with goat cheese is to wrap the cheese in the dough completely so none leaks out while baking. Fresh, still warm this bread tastes like it's from the best bakery in the world!
Ingredients
wreath
230 g bread flour
30 g fresh yeast
1 teaspoon honey
40 ml water
50 ml milk
40 ml vegetable oil
1 teaspoon salt
stuffing
150 g hard goat cheese
1/2 teaspoon thyme
1 organic egg
black pepper
also
1 organic egg
1 tablespoon olive oil
cumin
black sesame seeds
sea salt

Instructions
Heat the milk and water, combine with yeast and honey and let stand for 5 minutes.
Sift the flour into a large bowl, add salt and oil, gradually pour the milk with yeast and knead to an elastic dough. Cover and let rise for an hour.
Transfer dough to a lightly floured work surface. Fold two or three times, cover and let stand for half an hour.
Meanwhile, prepare the stuffing: grate the cheese and combine with the egg, thyme and pepper.
Roll the dough into two thin rectangles, spread them evenly with the filling and tightly roll up the dough. Loosely twist ropes around each other and make a wreath. Arrange on a baking tray lined with baking paper, cover and let rise for 40 minutes.
Before placing in the oven, brush the wreath liberally with the beaten egg with olive oil and sprinkle with cumin seeds, sesame seeds and sea salt.
Bake for 40 minutes until golden brown at 180°C. Enjoy!