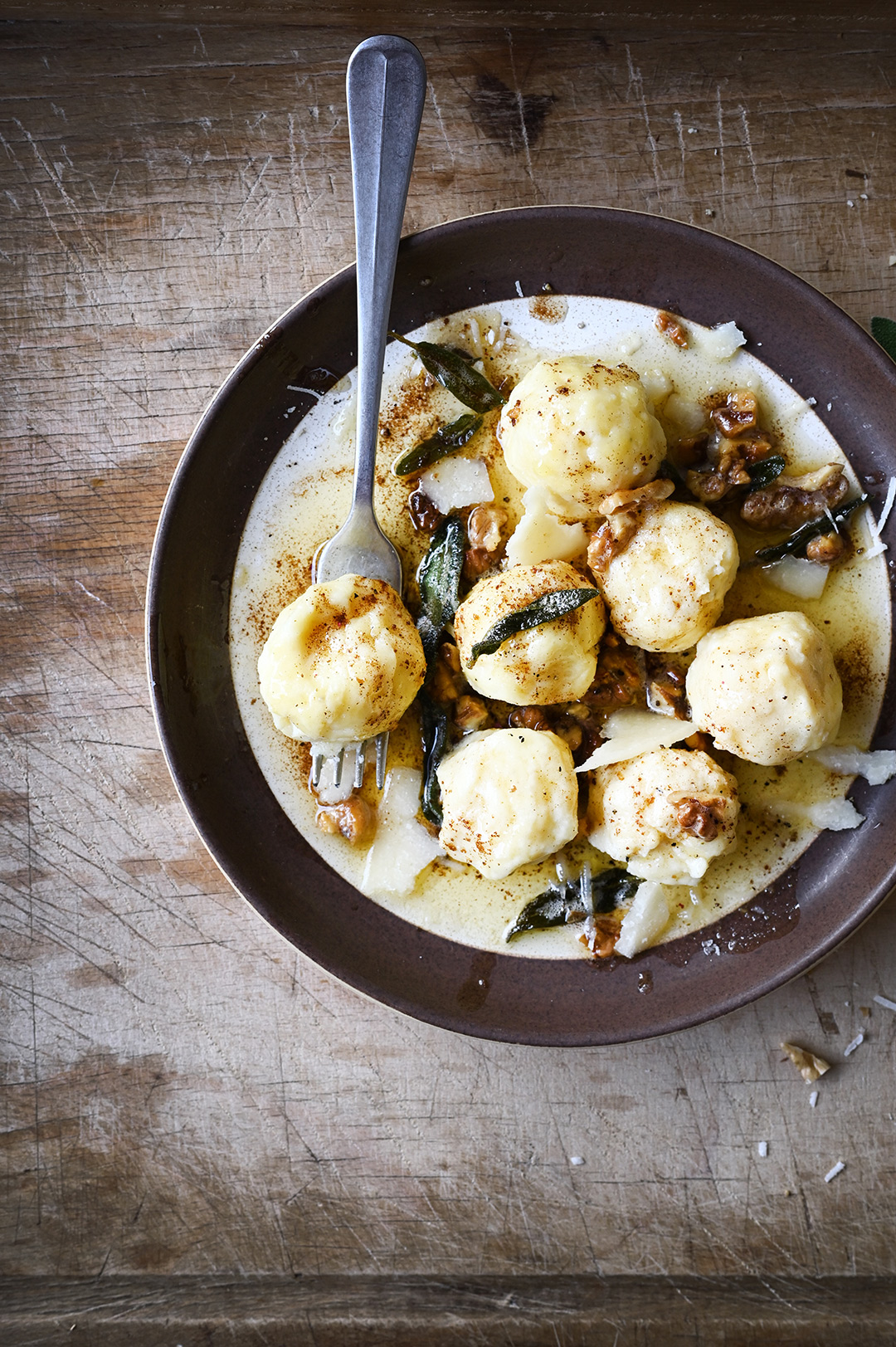 Gnudi, fluffy ricotta dumplings, dressed with nothing more than browned butter, walnuts and fried sage leaves. Nothing gets better then this, believe me! These featherlight clouds of ricotta are all about delicious chewy simplicity. 
This is a dish I've been eyeing on for a long time. I've honestly would never thought to throw a wet cheese filling into boiling water, you could guess that as a dumpling lover I was super intrigued to try some recipes. And now, many gnudi later I am officially a huge fan.
But what are gnudi exactly? The Florentine term gnudi, or naked, refers to their resemblance to ravioli minus the pasta. Aka naked dumplings because they wear no shell of dough. Just a fairly compact mixture of ricotta, Parmesan and egg yolks with the consistency of potato puree. These soft, fragile little things get covered in semolina to draw out moisture, creating a thin skin just firm enough to hold them together while boiling. It's a delicate process, but you'll get the most wonderful light cheesy dumplings.
Fortunately, they're considerably easier to make than ravioli or gnocchi, so if you're ready to make some, throw your caution away and dive in.
Ingredients
gnudi
250 g ricotta
2 egg yolks
70 g grated parmesan
4 tbsp semolina
zest from 1/4 lemon
1/4 tsp grated nutmeg
sea salt + black pepper
browned butter
100 g unsalted butter
pinch of salt
1 garlic clove, finely chopped
50 g walnuts, chopped
16 sage leaves
also
grated parmesan for sprinkling
200 g semolina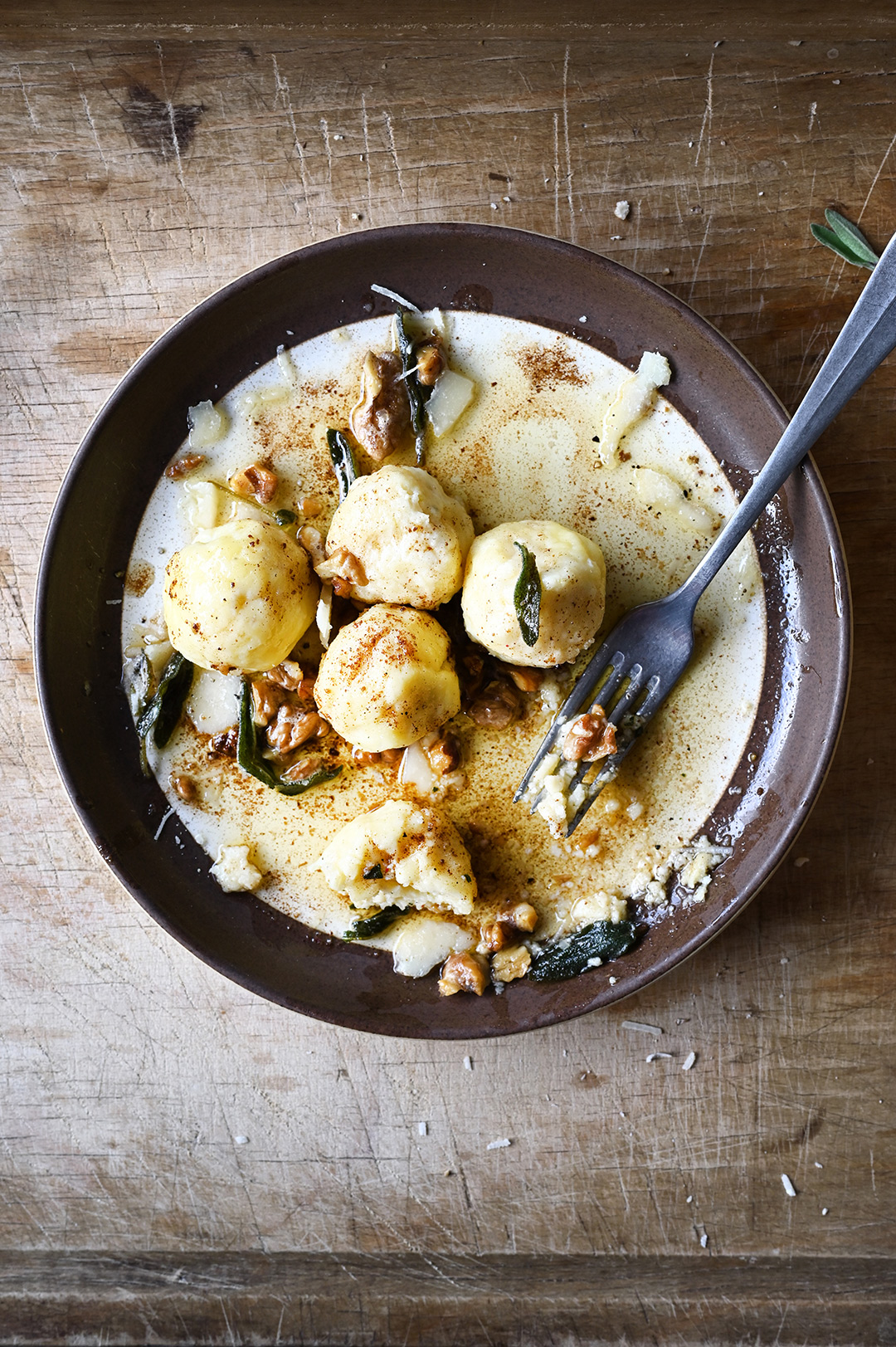 Instructions
Line a fine sieve with a few layers of cheesecloth and set over a bowl. Put the ricotta into the cheesecloth-lined sieve and fold layers of cheesecloth over the ricotta to cover completely. Leave to drain for at least 30 minutes.
Transfer the ricotta into a bowl, combine with the grated parmesan, egg yolks, semolina, lemon zest and nutmeg. Season with a pinch of salt and pepper.
Scoop out portions of the ricotta about the size of a walnut, then roll them between wet hands into balls. The dough will be sticky.
Put the semolina into a shallow baking dish. Roll each ball in semolina to coat, chill, set aside.
Put unsalted butter and sea salt in a small non-stick skillet. Cook over medium-low heat, stirring frequently until the butter starts to get foamy on the surface. Add walnuts and garlic, continue to cook, stirring often, for about 3-4 minutes or until nuts and garlic are light golden brown. It will get foamy and hard to see the bottom of the skillet, so push aside the foam with a wooden spoon to check on the milk solids. The butter should be gorgeously brown and there will be a trail of little brown specks in your skillet. Add sage leaves and fry, still over medium-low heat, stirring constantly, until sage is dark green and crisp, about 30 seconds longer. Remove skillet from heat.
Cook gnudi in a large pot of boiling salted water, stirring occasionally, until cooked through and tender, 5-6 minutes.
Divide gnudi among plates. Drizzle with walnut sage butter sauce. Sprinkle with parmesan and a few good cranks of black pepper. Serve immediately.