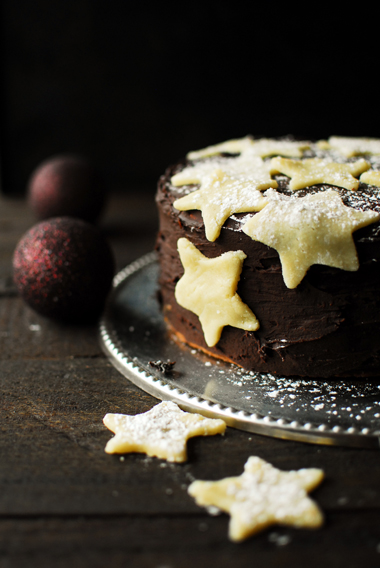 December means Christmas and that means the smell of gingerbread in your kitchen…
I made this three layer gingerbread cake with chocolate frosting and marzipan stars on top. It's layered with apricot jam and vanilla pudding. The cake itself is full of fresh ginger and cinnamon. It's amazing, I hope you love it as much as I do!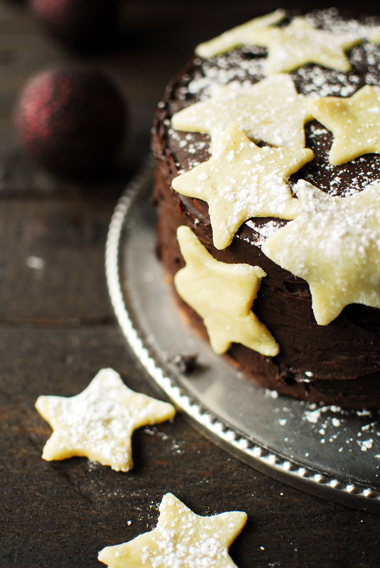 Ingredients
gingerbread cake
100 g flour
100 g sugar
100 g butter at room temperature
100 g dark chocolate
50 g ground almonds
4 farmers eggs
1 heaped teaspoon baking powder
1 tablespoon vanilla sugar
1/2 teaspoon ground cloves
1/2 teaspoon ground nutmeg
1/2 teaspoon ground ginger
1 teaspoon cinnamon
pinch of salt
crust
100 g flour
2 tablespoons sugar
50 g cold butter
1 tablespoon sour cream
1 egg yolk
vanilla pudding
1 package vanilla pudding powder
2 tablespoons vanilla sugar
1 egg yolk
1/2 L milk
150 g butter at room temperature
50 g icing sugar
chocolate topping
300 g dark chocolate
1 tablespoon butter
marzipan stars
100 g icing sugar
100 g ground almonds
2 teaspoons egg white
a few drops of lemon juice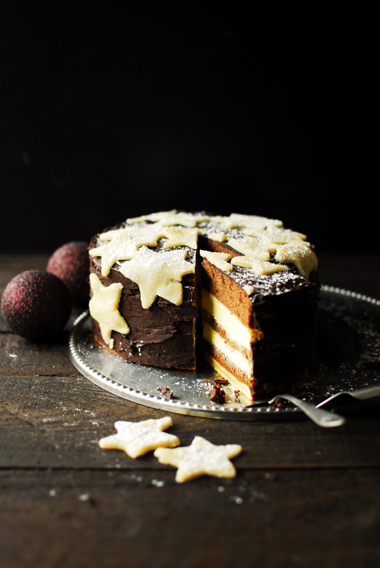 Instructions
Gingerbread
Preheat the oven to 175°C.
Melt the chocolate in a water bath. Crack the eggs, beat the egg whites with a pinch of salt until stiff. Beat the egg yolks with sugar, vanilla sugar and butter until light and fluffy. Add the cloves, cinnamon, ginger, nutmeg and the melted chocolate and whisk to combine. Little by little stir in the flour, almonds and baking powder. Then gently stir with the egg whites. Prepare a 20 cm springform pan, line the bottom with parchment paper. Pour the batter and place in the oven for 35-40 minutes. Let the cake cool in the pan for 15 minutes and then turn it out onto a wire rack to cool completely.
crust
Combine the ingredients until smooth. Wrap in foil and put in the fridge for 30 minutes. Then roll out between two sheets of parchment paper. Place in a 20 cm springform pan, prick with a fork and bake for 20 minutes at 180°C. Remove and cool completely.
vanilla pudding
Combine the pudding powder with a 1/2 cup milk, egg yolk and sugar. Bring the rest of the milk to a boil, stir in the pudding mixture, bring to a boil and turn off the heat. Allow to cool, stirring frequently. Beat the butter with icing sugar until smooth, add to the pudding and whisk to combine.
Cut the gingerbread cake into 3 layers. Place the crust into the springform, spread with 3 tablespoons of apricot jam and place the first layer of the cake. Spread the top with 2 tablespoons of apricot jam and half of the pudding mixture. Place the second layer on top and again spread with 2 tablespoons of apricot jam and the rest of the pudding mixture. Add the third cake layer and place in the fridge for an hour.
chocolate topping
Melt the chocolate in a water bath, add butter and stir.
marzipan stars
Whisk the sugar with the almonds and egg white, add the lemon juice and knead until combined. Roll out the marzipan on a work surface sprinkled with icing sugar and cut out stars.

Take the cake out of the pan and cover the top and the sides of the cake with chocolate topping. Decorate with marzipan stars and sprinkle with icing sugar. Enjoy!

[/ Recipe-instructions]

//= __('Print recipe (no photos)', 'servingdumplings' );?> //= __('Print recipe (with photos)', 'servingdumplings' );?>