Garlic tomato chicken with mozzarella. Imagine perfectly tender chicken, cherry tomato sauce, fresh basil, and lots of cheese. This utterly delicious combo is super easy to make and ready in about 30 minutes. It's the perfect comfort food for the whole family but will easily impress the fussiest guests. Serve with pasta or some toasted ciabatta and a big side salad.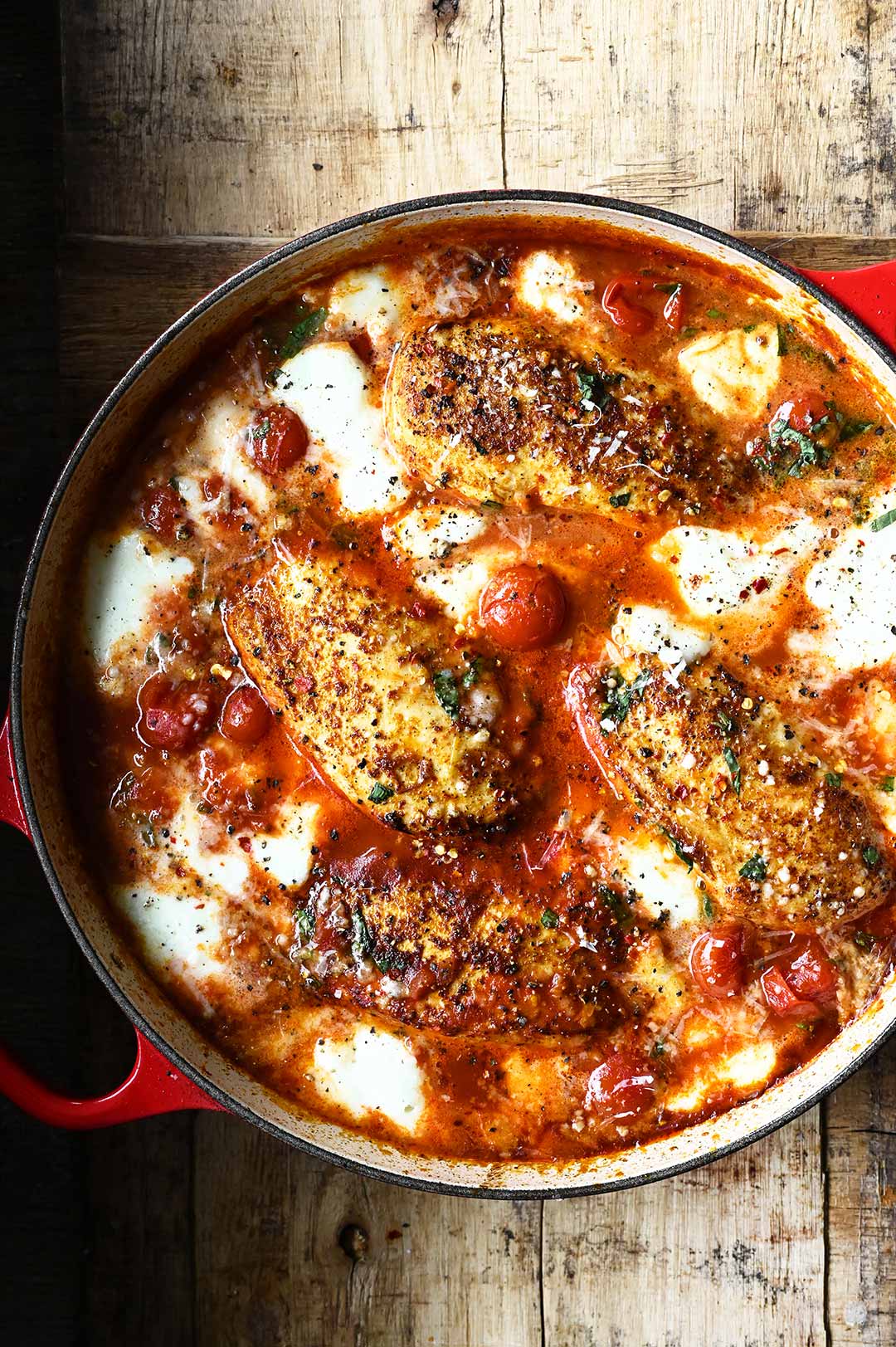 You'll love these tender chicken fillets! And the best part? There will be plenty of sauce for a side of pasta or some ciabatta to mop up all of that goodness. This is one of those dishes you'll totally fall in love with after the first bite.
Let me guide you through the recipe with this step-by-step video.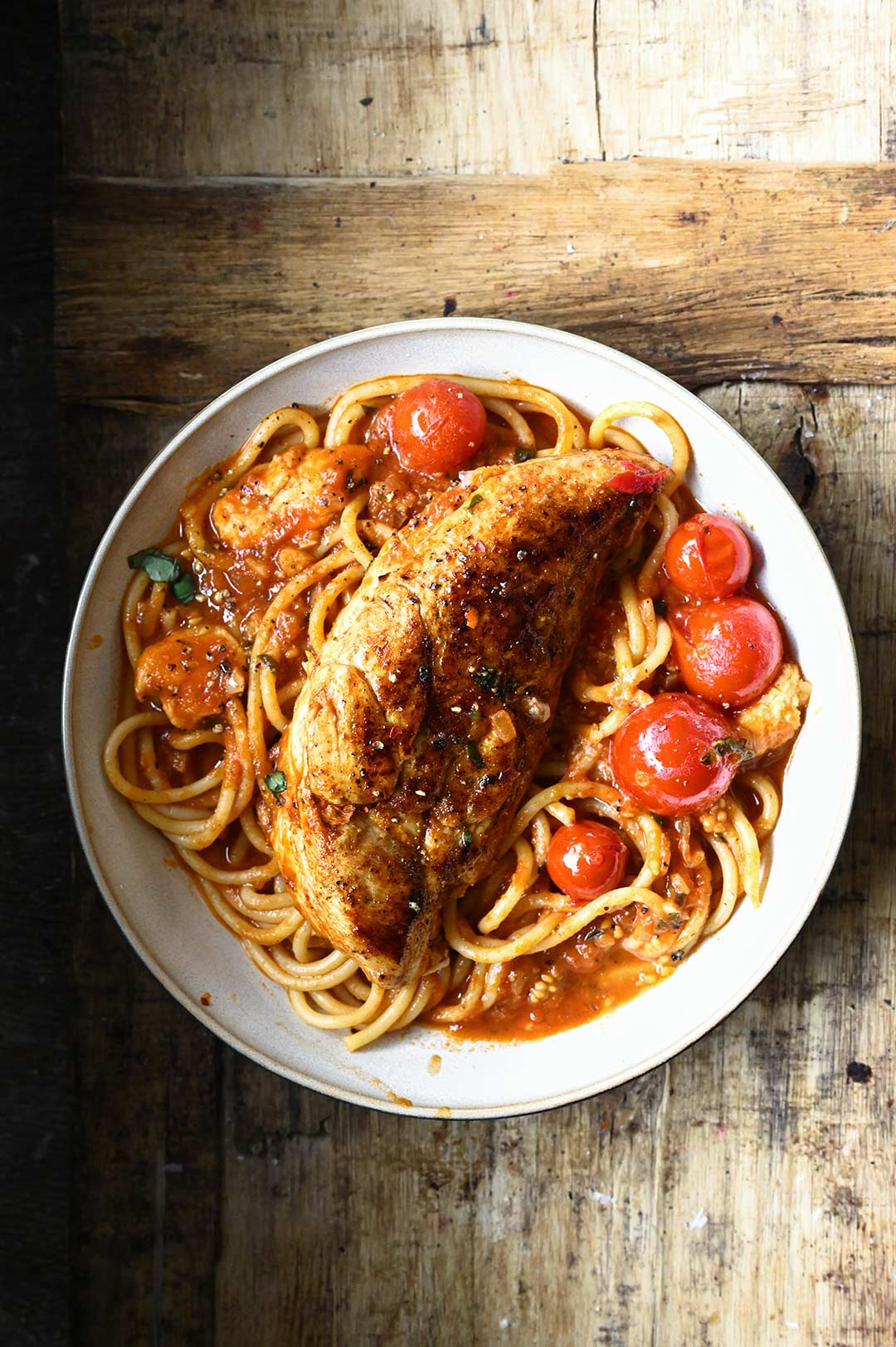 What to serve with garlic tomato chicken and mozzarella?
pasta like spaghetti, linguine or penne
broccoli
spinach
fresh salad drizzled with balsamic vinegar
crusty bread or toasted ciabatta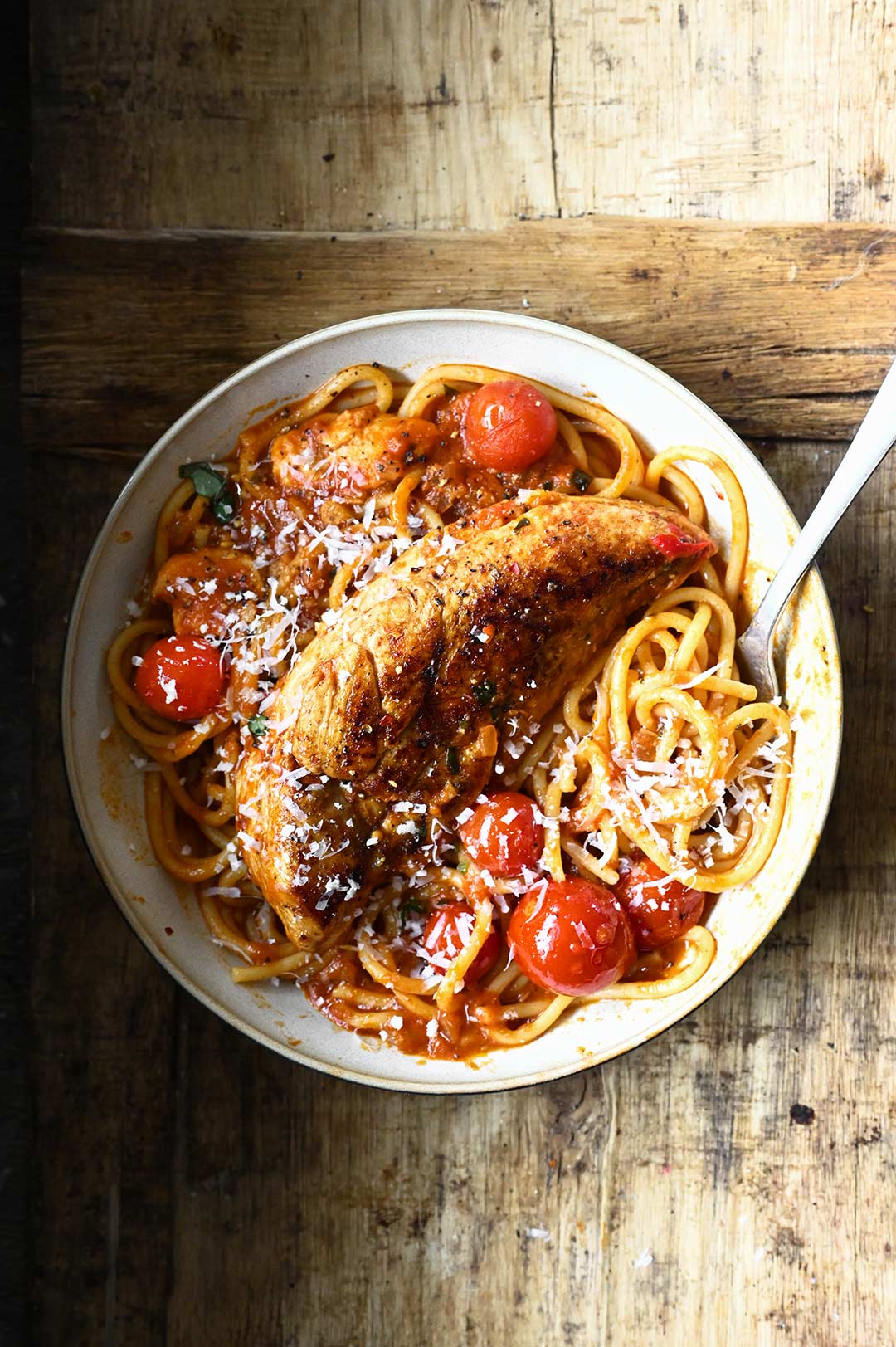 RECIPE NOTES
swap canned chery tomatoes for crushed tomatoes
don't use grated mozzarella, it's best to use mozzarella balls since they are higher in moisture, will melt into the sauce and make it creamier
you can slice the chicken breast fillets into cutlets, then you'll be ready in 20 minutes
you can make this recipe on the stovetop or finish it off in the oven for a golden brown top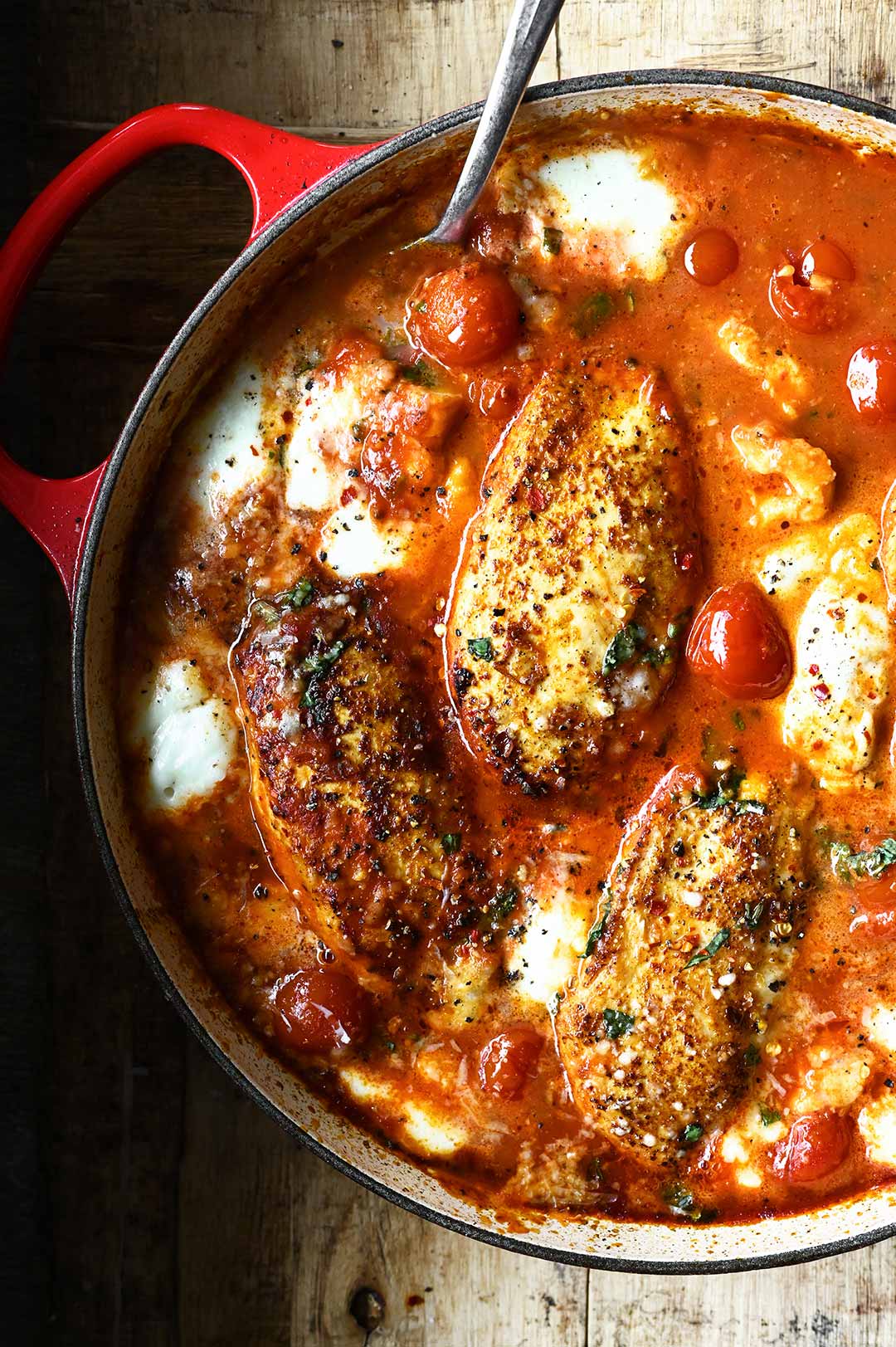 TRY THESE NEXT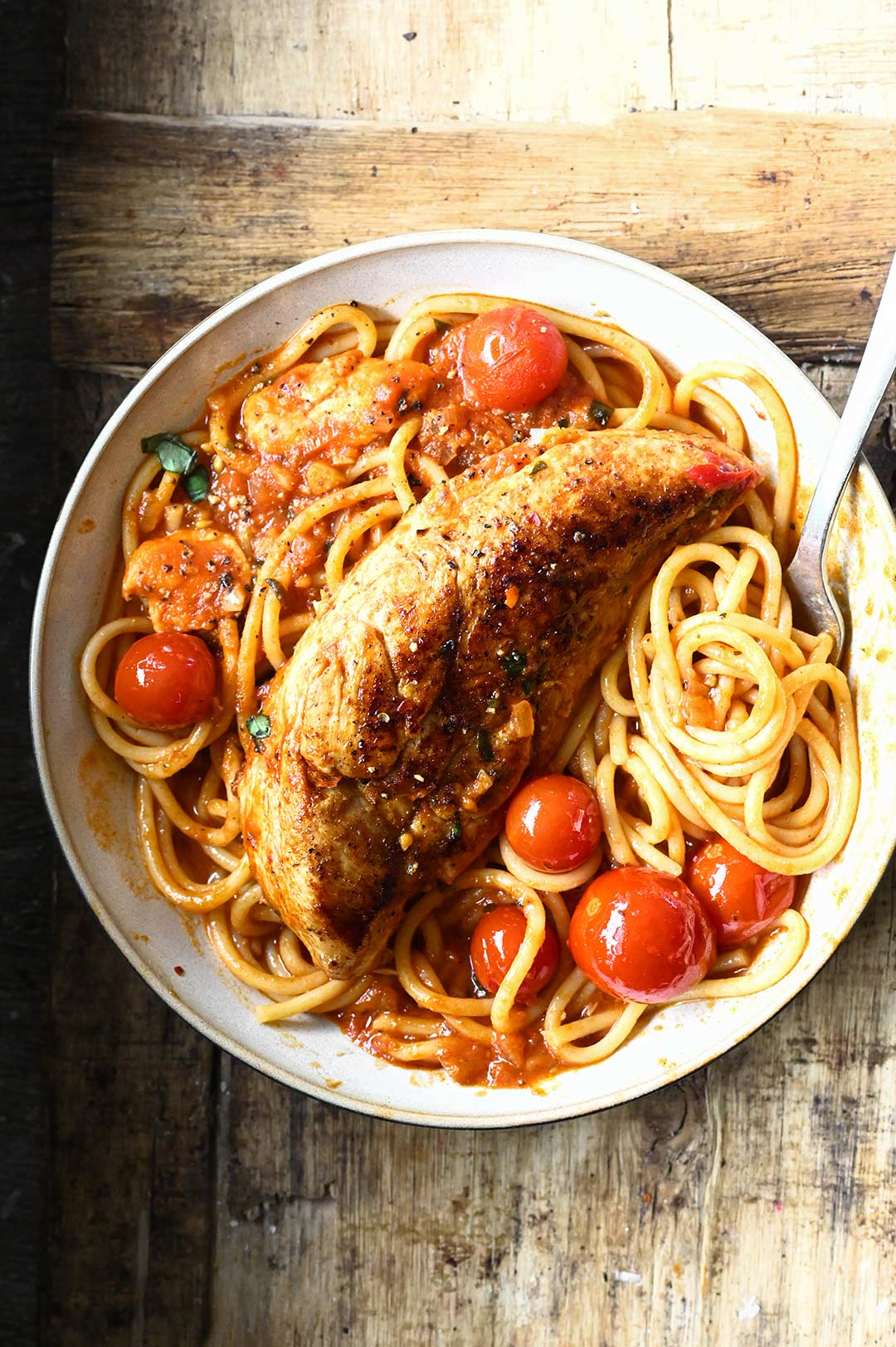 COOKING VIDEO
Yield: serves 4
Garlic Tomato Chicken with Mozzarella
Ingredients
4 chicken breast fillets
1 tsp salt, black pepper, garlic powder, sweet paprika
cherry tomato sauce
1 tbsp olive oil
1 tbsp unsalted butter
1 shallot, finely chopped
4 garlic cloves, minced
¼ cup/60 ml white wine, like Pinot Grigio
1 tsp salt, black pepper, dried basil
2 tbsp tomato paste
½ cup/120 ml chicken broth
1 can (14 oz/400 g) cherry tomatoes
3 tbsp chopped basil leaves
2 mozzarella balls, chopped
3 tbsp grated Parmesan
crushed red pepper flakes, for sprinkling
Instructions
Get all the prep done before you start cooking: mince the garlic, finely chop the shallot and cut mozzarella into cubes.
Season the chicken fillets on both sides with salt pepper, garlic powder and paprika.
Preheat the oven to 200 °C/400 °F (if using).
Heat oil and butter in a large (ovenproof) skillet over medium high. Add the chicken fillets and cook over medium heat, for 5 minutes per side or until fully cooked and browned on both sides. Remove from skillet and place on a plate. Cover with foil.
In the same skillet, add garlic and shallot, cook until fragrant, 2 minutes. Deglaze with white wine, simmer for 2 minutes, stir with a wooden spoon while scraping up the brown bits on the bottom of the skillet. Add salt, pepper, dried basil and tomato paste. Cook, while stirring constantly for 1 minute.
Pour in chicken broth, stir to combine. Add canned cherry tomatoes, bring to a boil and simmer for 5 minutes. Adjust salt, if needed. Meanwhile, chop the basil leaves.
Next, nestle chicken between the cherry tomatoes. Add basil and mozzarella cubes. Top with black pepper, red pepper flakes and grated Parmesan. Let simmer for 5 minutes or until all flavors are well combined, the chicken is cooked through and mozzarella has slightly melted. Alternatively, slide the skillet into your oven and bake for 10 minutes or until golden. Serve!
Notes
Calories Per Serving: 337 kcal
Nutritional information is only an estimate. The accuracy of the nutritional information for any recipe on this site is not guaranteed.