This garlic soy sauce chicken is easy enough for a weeknight, but tastes like something truly special. Super fast and packed with flavor. The chicken thighs are impossibly juicy and tender, while the cauliflower has a nice crisp-tender bite. It's delicious, slightly spicy and hinted with ginger and garlic. To complete the meal, we boil noodles or make a pot of rice while we cook the chicken. Bonus? It comes together in about 25 minutes. Perfect for busy weeknights when you're looking for something a little more funky.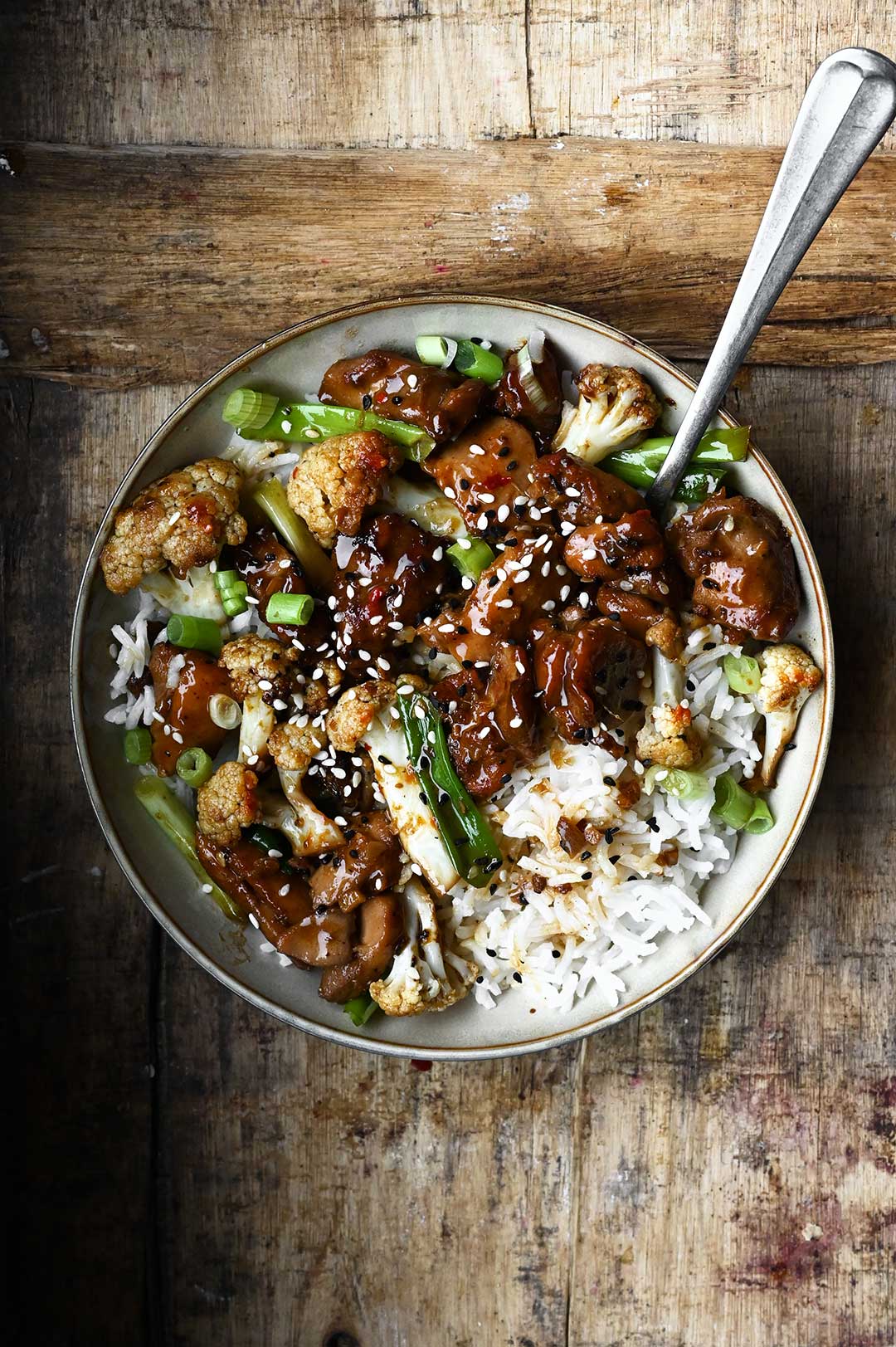 And the sauce? It's sticky, super savory and a little spicy. Although you can make it as spicy as you can handle. It's made with flavor bombs like soy sauce, sesame oil, tahini, chili sauce, ginger and garlic. You'll love it!
Let me guide you through the recipe with this step-by-step VIDEO.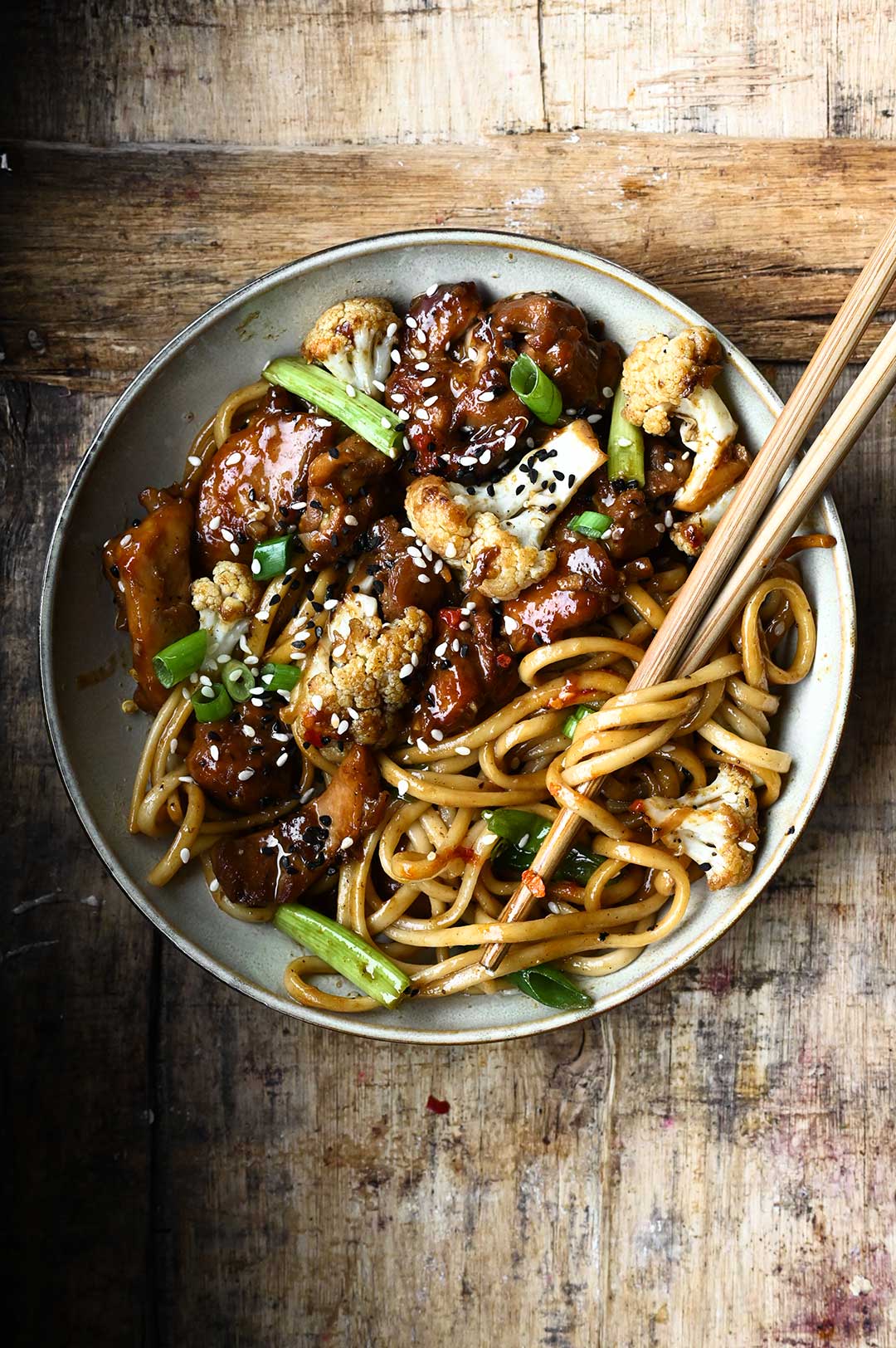 RECIPE NOTES
You can throw practically any vegetable into the pan instead of the cauliflower, fresh or frozen, and it'll get cooked in this stunning sauce. You can use broccoli, green beans, carrots or corn.
Instead of noodles or rice, serve with spiralized zucchini.
Add nuts for more crunchy textures, like cashews or peanuts.
Other Delicious Recipes to Try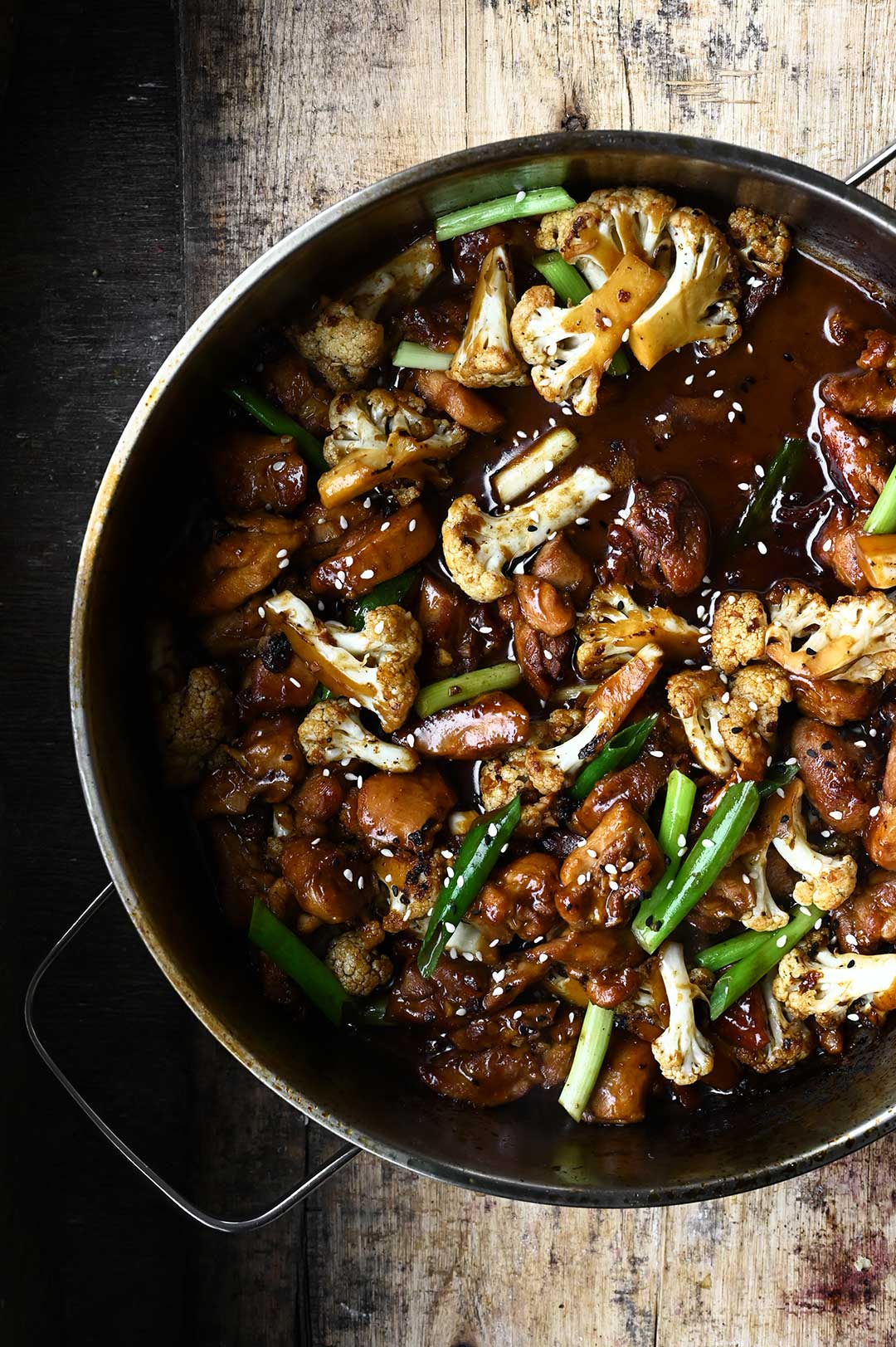 Cooking Video
Yield: serves 4
Garlic Soy Chicken with Cauliflower
Prep Time 5 minutes

Cook Time 20 minutes

Total Time 25 minutes
Ingredients
½ cauliflower, cut into florets, then into tiny bite-sized pieces
500 g/1.1 pounds boneless, skinless chicken thighs, thinly sliced
5 tbsp peanut oil
2 tbsp corn starch
4 garlic cloves, minced
1 tsp grated ginger
5 scallions, cut into small pieces
150 g/5.5 ounces noodles or rice
sesame seeds, for serving, optional
Sticky Garlic-Soy Sauce
½ cup/120 ml low sodium soy sauce
3 tbsp toasted sesame oil
2 tbsp chili garlic sauce
1 tbsp tahini
1 tsp sambal oelek, optional
1 tbsp rice vinegar
1 tbsp honey
¼ tsp white pepper
Instructions
In a medium bowl, combine the chicken with corn starch and 1 tablespoon oil. Set aside.
Boil the rice, or noodles. Drain, reserving ½ cup of cooking water.
In a glass jar, combine the ingredients for the sauce. Shake well, set aside.
Heat 1 tablespoons oil in a large non-stick skillet over high heat. When the oil shimmers, add the chicken and brown until crispy, about 5 minutes, stir form time to time. Remove from skillet.
Heat 3 tablespoons oil in the skillet. Add cauliflower florets, sauté until slightly browned, about 5 minutes. Add chicken back to the skillet. Pour in the sauce mix. Stir in garlic and ginger. Cook over medium heat until the sauce starts to thicken. Add ½ cup cooking water, simmer for 5 minutes over low heat. Stir in the scallions, then remove the skillet from heat.
Divide the rice or noodles among bowls and top with the chicken and cauliflower. Serve with additional scallions and sesame seeds. Enjoy!
Notes
Calories Per Serving: 645 kcal
Nutritional information is only an estimate. The accuracy of the nutritional information for any recipe on this site is not guaranteed.

DOWNLOAD PRINTABLE RECIPE PDF