Garlic mushroom chicken with bacon. Imagine juicy chicken fillets simmered in a mouthwatering parmesan cream sauce, studded with earthy mushrooms and jazzed up with crispy bacon. Best part? It's ready in about 30 minutes and you'll only need one skillet. Pair with some crusty bread or buttery mashed potatoes, and don't forget to throw in a side salad.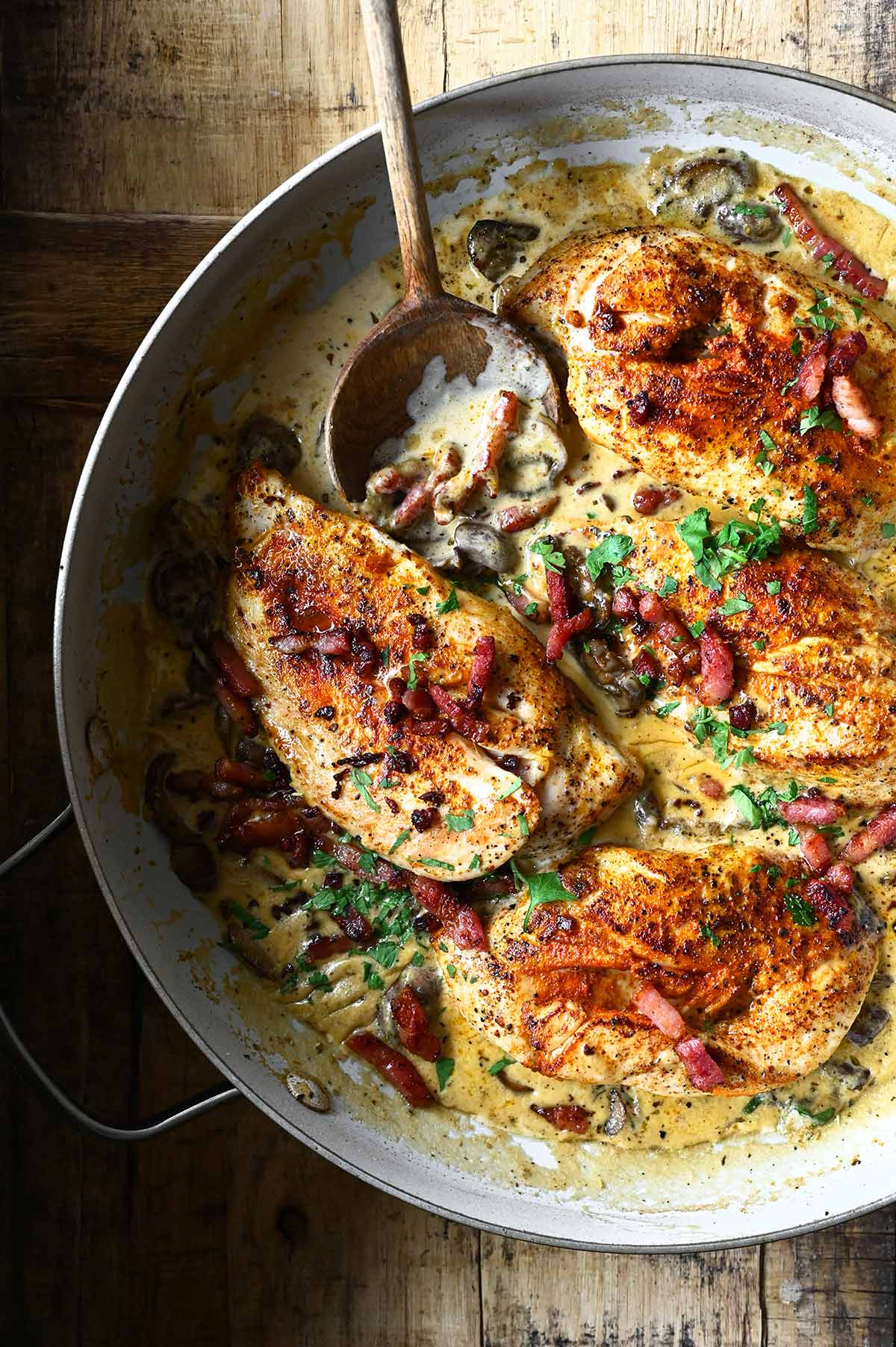 This one transforms your chicken dinner into a spectacular dish! It's insanely delicious, but also so quick and easy to make. Chicken fillets paired with buttery garlic mushrooms, sautéed in a creamy sauce filled with bacon. Finished with parmesan and Italian seasoning for an intense flavor explosion.
The very best thing about this skillet dinner is the pan sauce. It's super creamy with lots of garlic and a handful of salty Parmesan. The result is a one-pan meal that brings the chicken into a whole new light, you're in for a dinner that's pure joy.
Let me guide you through the recipe with this step-by-step VIDEO.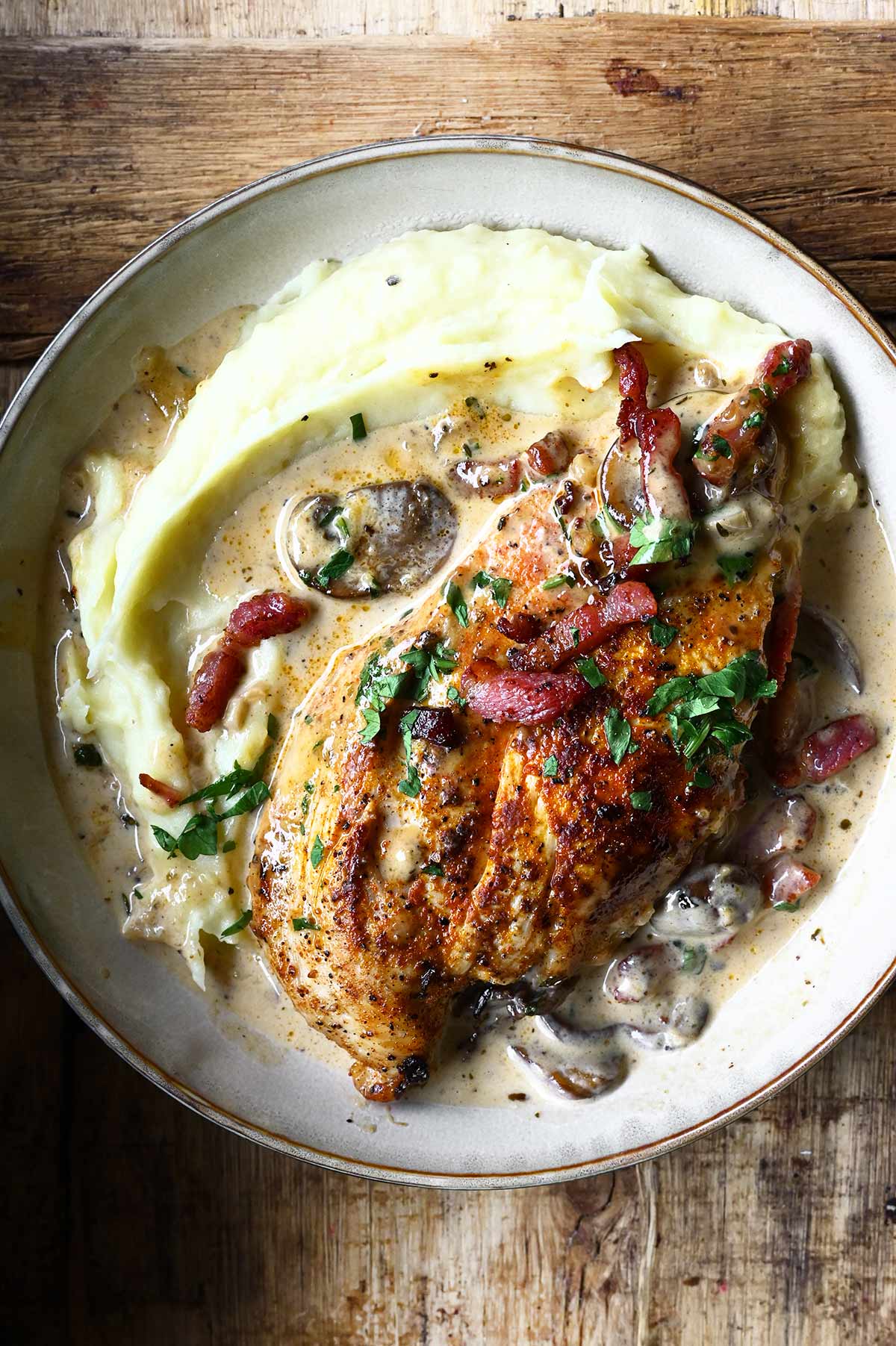 How To Make Garlic Mushroom Chicken
While many recipes start by cooking the chicken first, this version takes a different approach. That's because it's all about the flavors.
We start by cooking the bacon bits for a few minutes to kick up the flavor, and then comes the good part. We use the bacon grease to sear the chicken fillets and prepare the sauce. Next we throw in the mushrooms and cook them until brown. Then the garlic and our seasonings go into the skillet… and when they release their aroma, we deglaze the skillet with white wine. This means, we loosen and dissolve food bits that are stuck at the bottom of the skillet after cooking. Those tiny bits are the source of immense flavor and an essential addition to make our pan sauce.
Finally we pour in cream, add some parsley and stir in parmesan. The chicken goes back into the skillet to simmer for a couple of minutes. We finish the dish with crispy bacon and lots of freshly cracked black pepper.
The whole dish stays interesting thanks to a mix of textures you'll get in every bite. Enjoy!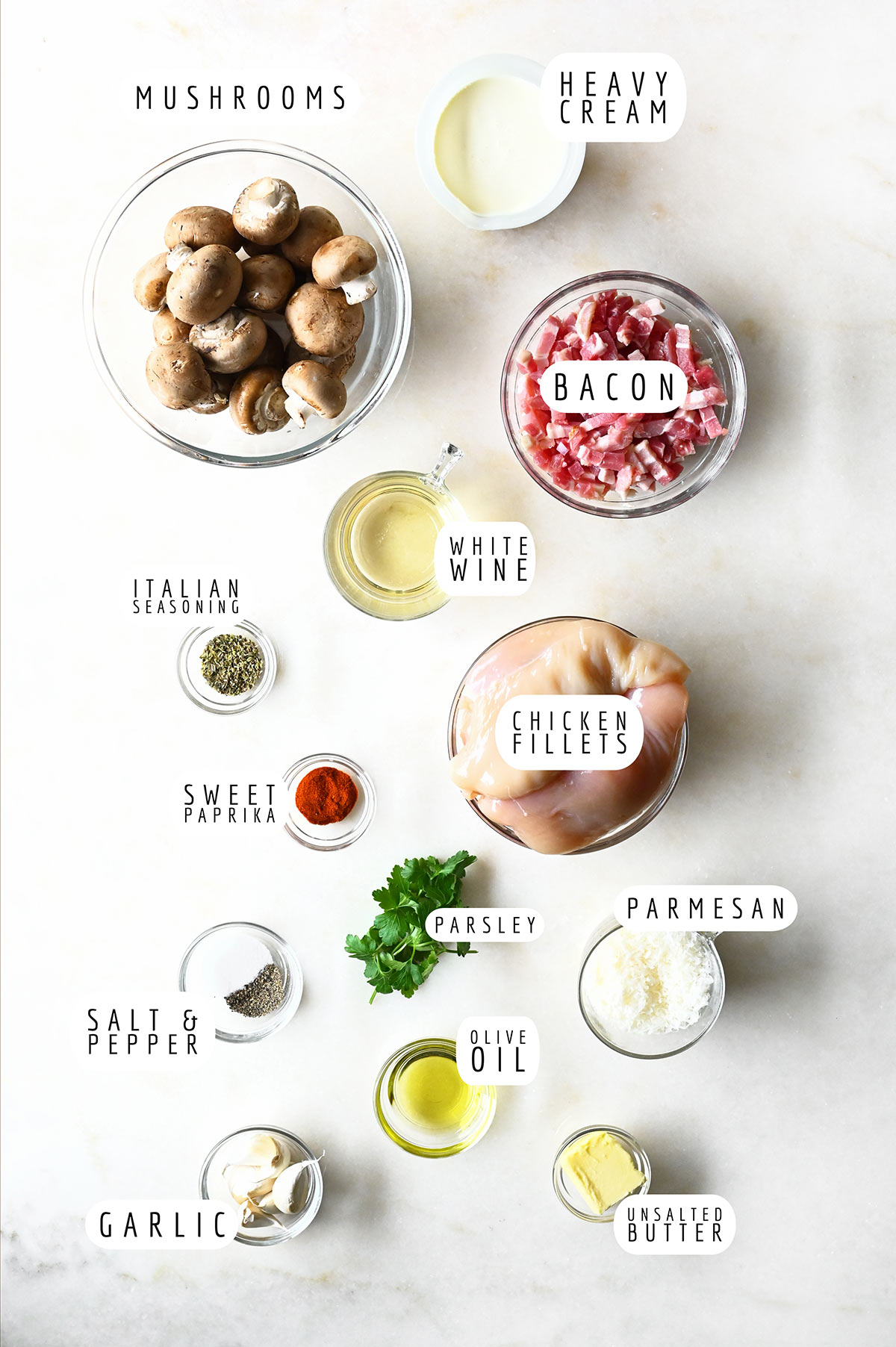 INGREDIENTS, TIPS & SUBSTITUTIONS
Oil and Butter: For searing the chicken and cooking the mushrooms.
Bacon: I used salted bacon bits, but you can also use turkey bacon or pancetta. I don't recommend using smoked bacon, as it would totally change the overall taste.
Chicken: Boneless/skinless chicken breasts, you can also use boneless/skinless chicken thighs. Cut larger chicken breasts in half lengthwise into thin, even pieces. This way the meat cooks up faster and more evenly.
Mushrooms: For this recipe, I used brown mushrooms, but you can choose any type you are familiar with.
Garlic: Used as a base flavoring element. The flavor of garlic is pronounced and it's above all mighty delicious.
Seasoning: Salt, black pepper, sweet paprika and Italian seasoning.
White wine: To deglaze the skillet. Use dry white wine, you want the wine to add acidity, not sweetness.
Cream: We use heavy cream for a rich, thick sauce.
Parmesan: Thickens the sauce and adds a deep savory note. Best when freshly grated.
Herbs: Fresh parsley.
RECIPE NOTES
Serve over creamy polenta, buttery mashed potatoes or crusty bread.
Pair with a simple side salad drizzled with olive oil and balsamic vinegar.
Storage: Leftovers can be stored in an airtight container and refrigerated for up to 3 days.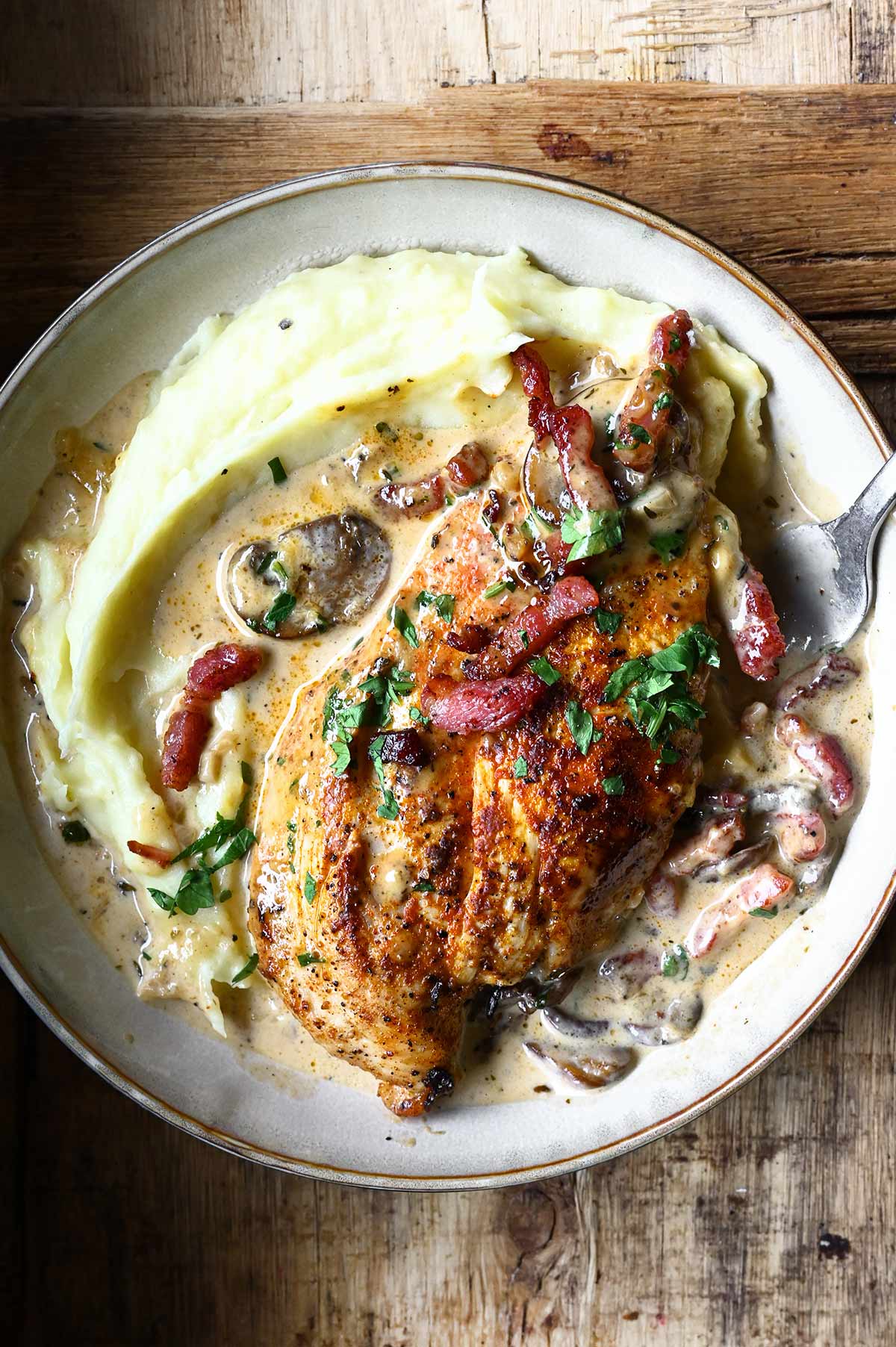 TRY THESE NEXT
COOKING VIDEO
Yield: serves 4
Garlic Mushroom Chicken with Bacon
Ingredients
7 ounces/200 g salted bacon bits
1 tbsp unsalted butter
4 chicken breast fillets
1 tsp each: salt, black pepper - divided
1 tsp sweet paprika
9 ounces/250 g brown mushrooms, sliced
1 tbsp olive oil
6 garlic cloves, minced
1 tbsp Italian seasoning
¼ cup/50 ml dry white wine
1 cup/250 ml heavy cream
1 tbsp chopped parsley, more for serving
¼ cup/30 g grated Parmesan
Instructions
Get your prep done before you start cooking: season both sides of the chicken fillets with paprika, ½ tsp salt and ½ tsp black pepper. Thinly slice the mushrooms and mince the garlic. Chop the parsley.
Heat a nonstick skillet over high heat. Add bacon and cook until crispy and golden brown. Transfer to a plate layered with a paper towel. Try to leave as much bacon grease as possible in the skillet.
Add butter, stir until melted. Add chicken fillets and sear over medium high heat, about 8-10 minutes per side or until fully cooked and browned on both sides. This can vary with the size of your chicken. Remove from skillet and place on a clean plate. Cover with aluminum foil.
Add mushrooms and cook until they release their moisture. Add oil and garlic, cook for 2 minutes. Stir in Italian seasoning and the remaining salt and pepper. Deglaze with white wine, while stirring with a wooden spoon to dissolve the browned bits from the bottom of the skillet. Simmer for 2 minutes.
Pour in cream and stir in parsley and Parmesan. Bring the sauce to a simmer, then return the chicken fillets to the skillet. Simmer for 3 minutes or until cooked through. Taste and adjust salt if needed.
Finish off with bacon, parsley and freshly ground black pepper. Enjoy!
Notes
Calories Per Serving: 489 kcal
Nutritional information is only an estimate. The accuracy of the nutritional information for any recipe on this site is not guaranteed.

//= __('Print recipe (no photos)', 'servingdumplings' );?> //= __('Print recipe (with photos)', 'servingdumplings' );?>