Do you like crispy textured food? This chicken Katsu noodle bowl could be right up your alley. Easy to make and ready in about 30 minutes. Who isn't a fan of noodles flavored with miso and loaded with garlic? Creamy, slightly spicy, with plenty of noodles and an umami-rich savory broth. Let's do this!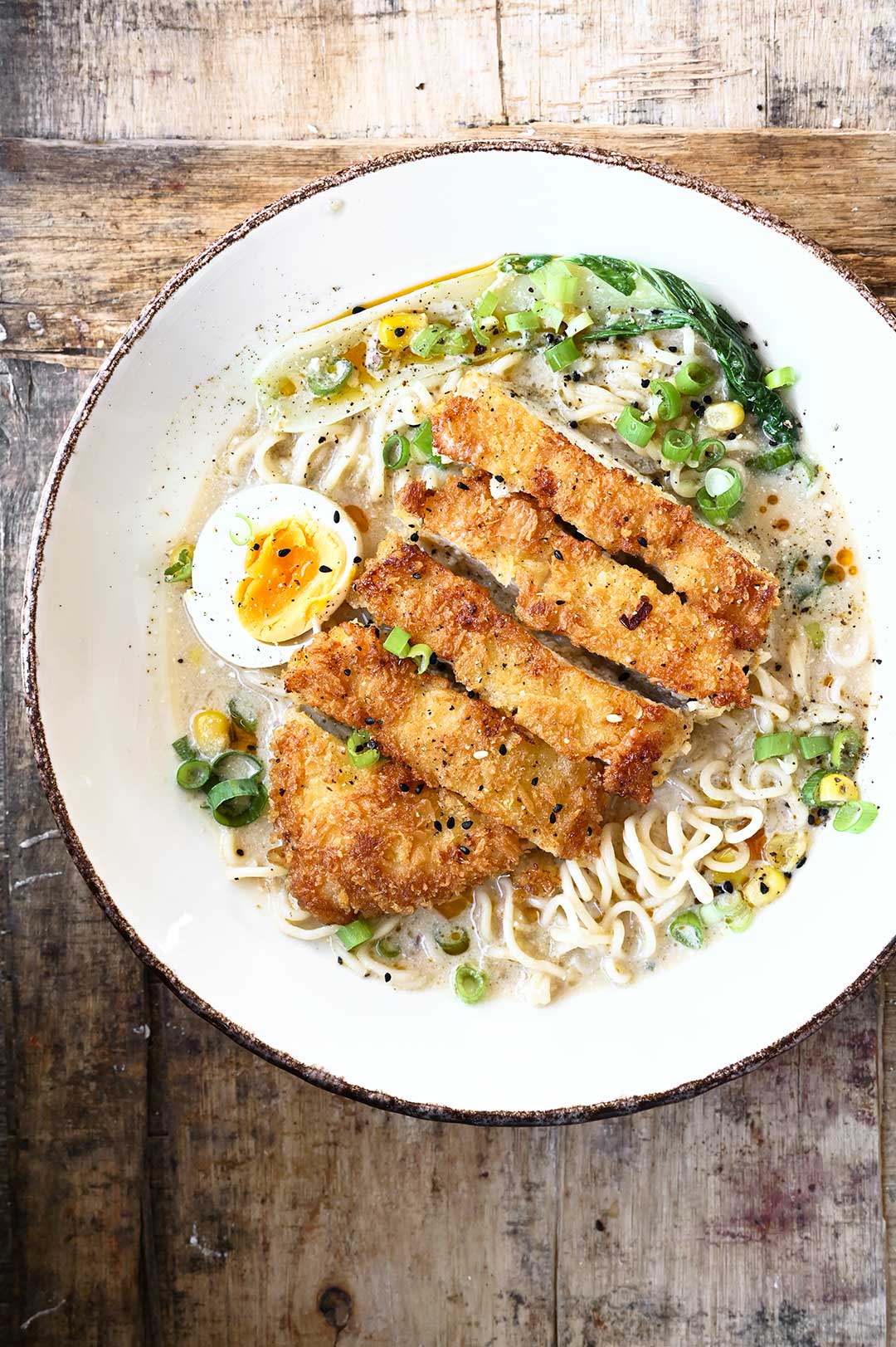 Chicken Katsu is basically a Japanese version of fried chicken cutlets. The crust is extra crispy thanks to the panko breadcrumbs. We dip the cutlets in flour, eggs and panko, then fry them until golden brown.
We serve the noodles with blanched bok choy and corn kernels, the soft boiled eggs and scallions just seal the deal.
To complete the meal, you can serve it with other veggies like broccoli, spinach, mushrooms or top it with fresh soybean sprouts. If you like it more spicy, try this noodle bowl with pickled jalapenos. Give it a try!
Let me guide you through the recipe with this step-by-step VIDEO.
Other delicious recipes to try:
Honey Butter Garlic Chicken
Spicy Garlic Shiitake Noodles
15 minute cheese ramen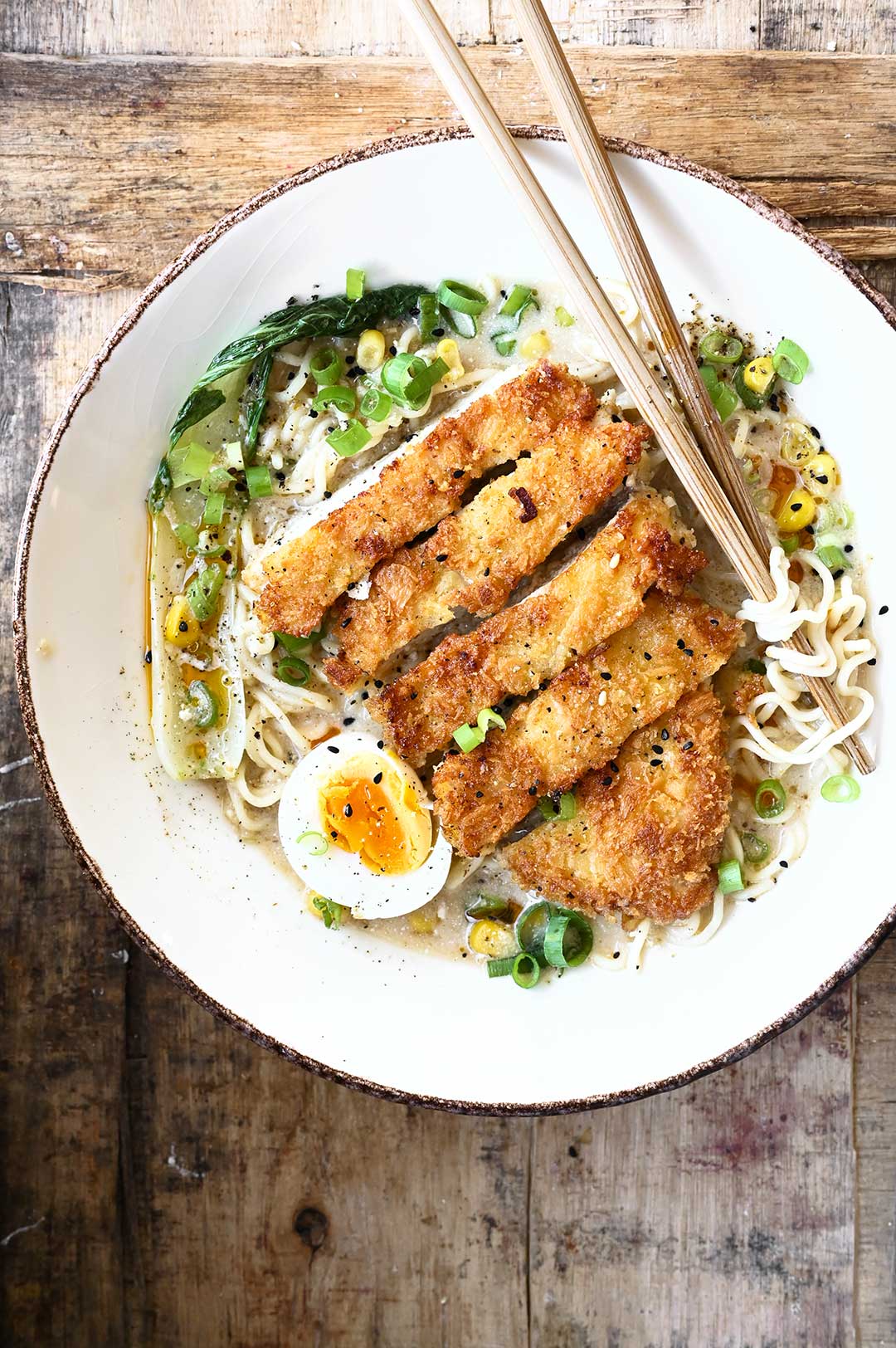 You need
chicken katsu
1 large boneless skinless chicken breast
3/4 cup panko
3 heaped tbsp flour
2 small eggs
1 tbsp milk
1 tsp salt
1/2 tsp each: garlic powder, cayenne pepper
1/4 cup vegetable oil
broth
1 tbsp vegetable oil
6 garlic cloves, grated
1 tbsp grated ginger
1 L (4 cups) chicken broth
2 tsp balsamic vinegar
3 tbsp soy sauce
1 tsp sambal sauce
1 tbsp toasted sesame oil
1/2 tsp white pepper
3 tbsp white miso paste
120 ml (1/2 cup) soy cream
1 small bok choy
1 small can (150 g/5 oz) corn kernels
2 squares instant ramen noodles
for serving
2 eggs, soft boiled (7 minutes)
4 scallions, finely chopped
2 tbsp sesame seeds
chili oil
How to
Let me guide you through the recipe with this step-by-step VIDEO.
Prepare the Katsu. Slice the chicken breast in half horizontally to become 2 equal parts. Pound the chicken cutlets to 1 cm (quarter inch) thickness with a meat mallet.
Place flour in a shallow bowl. Whisk eggs with milk, salt, garlic powder and cayenne pepper in a medium bowl. Place panko on a large plate. Working one at a time, dip chicken into flour, turn to coat, remove any excess flour. Next dip into the egg mixture until coated. Finally dredge in panko, turn to coat. After the meat is covered with breading, pat it down gently on all sides so that every piece of breadcrumbs sticks to the egg layer. Place on a plate.
Heat a large pot over low heat, add 1 tbsp oil, garlic and ginger. Cook until fragrant, 2 minutes. Pour broth, add soy sauce, balsamic vinegar, sambal, sesame oil and white pepper. Bring to a boil, cover, simmer over low heat while you fry the chicken.
Make the Katsu. Heat oil in a large skillet over medium-high until shimmering. Add chicken, fry until golden and very crisp on both sides, about 3-4 minutes per side. Reduce heat to medium if it browns too quickly. Transfer to a cutting board. Slice into thin strips.
Meanwhile, add water to a small sauce pan, once boiling, add eggs. Cover, simmer for 7 minutes. Run under cool water, set aside.
Cook the noodles according to package directions until just al dente. Drain and run the noodles under cool water to stop the cooking process.
To the broth, add miso paste, stir until dissolved. Then add bok choy and corn kernels, blanch for 30 seconds. Remove the broth from heat and add soy cream. Add more soy sauce or sambal to your own taste.
Divide the noodles between bowls and ladle the broth overtop. Add the chicken. Top with eggs, scallions, sesame seeds, and a drizzle of chili oil. Serve immediately.
//= __('Print recipe (no photos)', 'servingdumplings' );?> //= __('Print recipe (with photos)', 'servingdumplings' );?>