20 minute garlic chicken and broccoli stir-fry. This recipe is fast, delicious and ideal for a weeknight. Every bite is filled with garlicky chicken that's sautéed together with broccoli and crunchy peanuts, then bound in a sticky sauce. It's a Chinese-style recipe, in which chicken and broccoli are chopped into small pieces so they cook quickly over high heat. Add some steamed rice or noodles and dinner is served. This one will definitely satisfy your taste buds.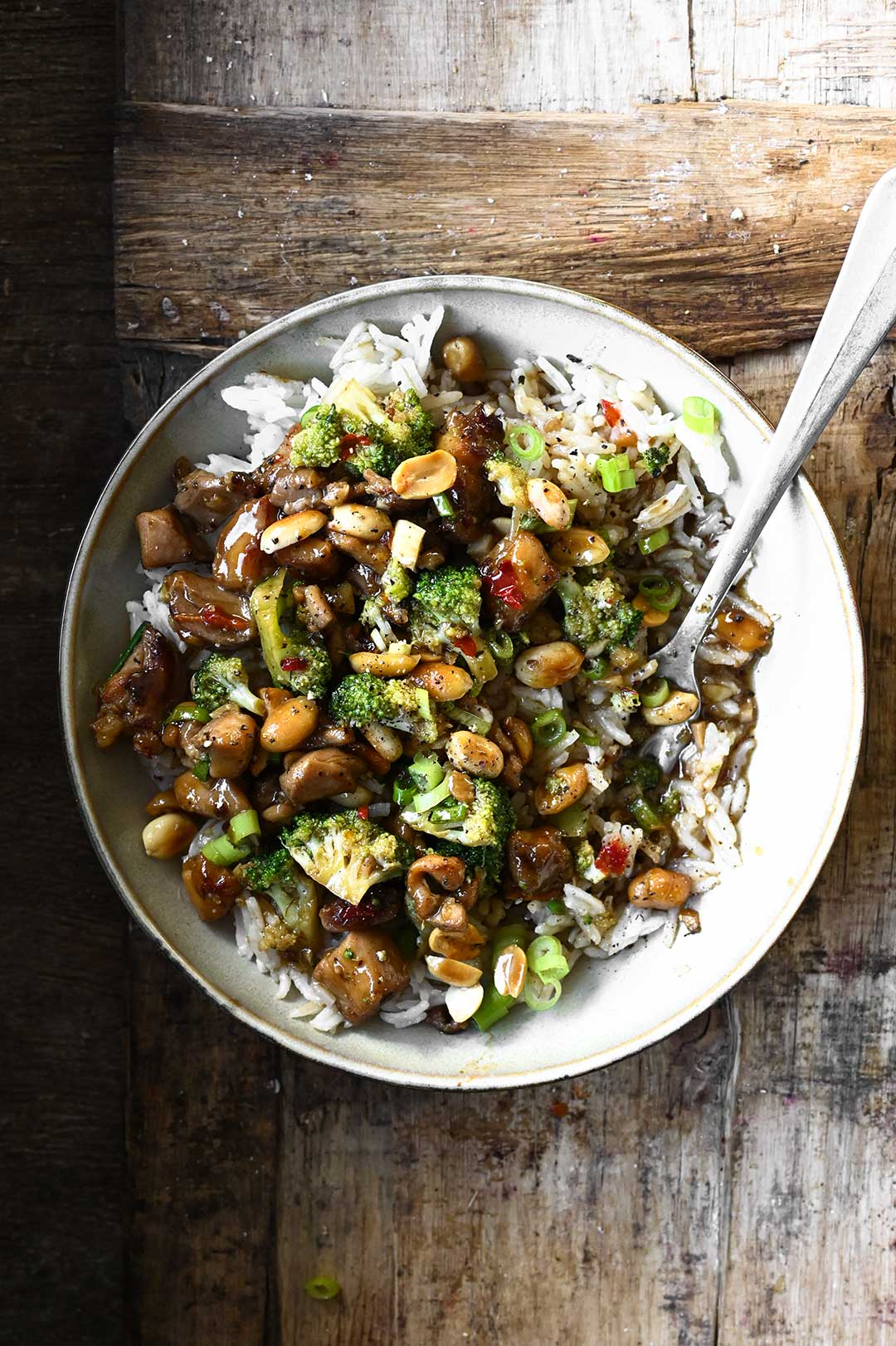 So here's how we do it. First we toast the peanuts. Next we stir-fry the chicken to tender perfection along with some garlic and ginger. After this, the broccoli goes into the wok. The final step is an easy sauce which gets poured over the chicken to simmer, and we are done. The broccoli and chicken soak up all that delicious sauce and become highly addictive.
Let me guide you through the recipe with this step-by-step VIDEO.
RECIPE NOTES
if you have a wok, now is the time to use it, though a large skillet will also do the trick
if you don't have sriracha, use sambal or any other basic chili paste. Use as much as you can handle
you can swap broccoli for sliced carrots, mushrooms or green beans
this recipe can be doubled and is a great meal prep option
for a different flavor, use shrimp or thinly sliced flank steak
More stir-fries, please!
Cooking Video
Yield: serves 4
Garlic Chicken Broccoli Stir-Fry
Ingredients
80 g/3 oz peanuts
1 small broccoli
6 garlic cloves, minced
1 tsp grated ginger
4 tbsp vegetable oil, for frying
4 scallions, chopped, for serving
rice or noodles, for serving
Chicken
500 g/1.1 lb boneless skinless chicken thighs
1 tbsp vegetable oil
2 tbsp potato starch
1 tbsp low sodium soy sauce
Sauce
6 tbsp low sodium soy sauce
2 tbsp oyster sauce
2 tbsp mirin
2 tbsp sesame oil
1 tbsp honey
1 tsp sriracha
1/4 tsp white pepper
½ cup/120 ml water
Instructions
Cut the chicken into small bite-sized pieces. Combine with vegetable oil, potato starch and soy sauce. Set aside.
In the meantime, cut the broccoli florets into tiny bite-sized pieces, mince the garlic and grate the ginger.
Combine the ingredients for the sauce in a small bowl.
Prepare the rice or noodles according the package directions.
Heat vegetable oil in a wok over medium heat. Add peanuts and toast until golden, stirring constantly, for 1-2 minutes. Remove from wok with a slotted spoon, this way you leave the oil behind.
Now heat the wok until smoking-hot. Place chicken in a single layer, let cook undisturbed until the chicken begins to sear, about 30 seconds. Then stir-fry for about 2 minutes until the chicken is browned but not cooked through, it will cook further together with the broccoli. Add garlic and ginger, stir-fry for 30 seconds. Add broccoli and cook for 3 minutes. The broccoli should be tender-crisp. Now pour the sauce and stir-fry for 2 minutes more, until sauce thickens and coats the chicken evenly.
Stir in the peanuts and serve with rice or noodles. Sprinkle with chopped scallions and add some chili sauce to your own taste. Enjoy!
Notes
Calories Per Serving: 540 kcal
Nutritional information is only an estimate. The accuracy of the nutritional information for any recipe on this site is not guaranteed.