There's something about corn and warm days that's just right. You can't talk about summer without talking about corn on the cob that's slicked with butter and sprinkled with salt. It's possibly the most enjoyable way to eat this marvellous yellow treat. I think we can all agree that corn and summer make the perfect couple.
This dish puts a spin on the classic buttered corn on the cob. The ears are roasted in the oven with butter and garlic, then sprinkled with cilantro, chilies and feta that melts all over the sweet, blackened kernels. This delish side dish is salty, buttery and garlicky at the same time with a bit of a spicy kick. Love it? Me too! Best part? It comes together in about 30 minutes and you only need one baking sheet.
Not a fan of feta cheese? No problem. You can substitute other cheeses for the feta, and play around with different kinds of chilies.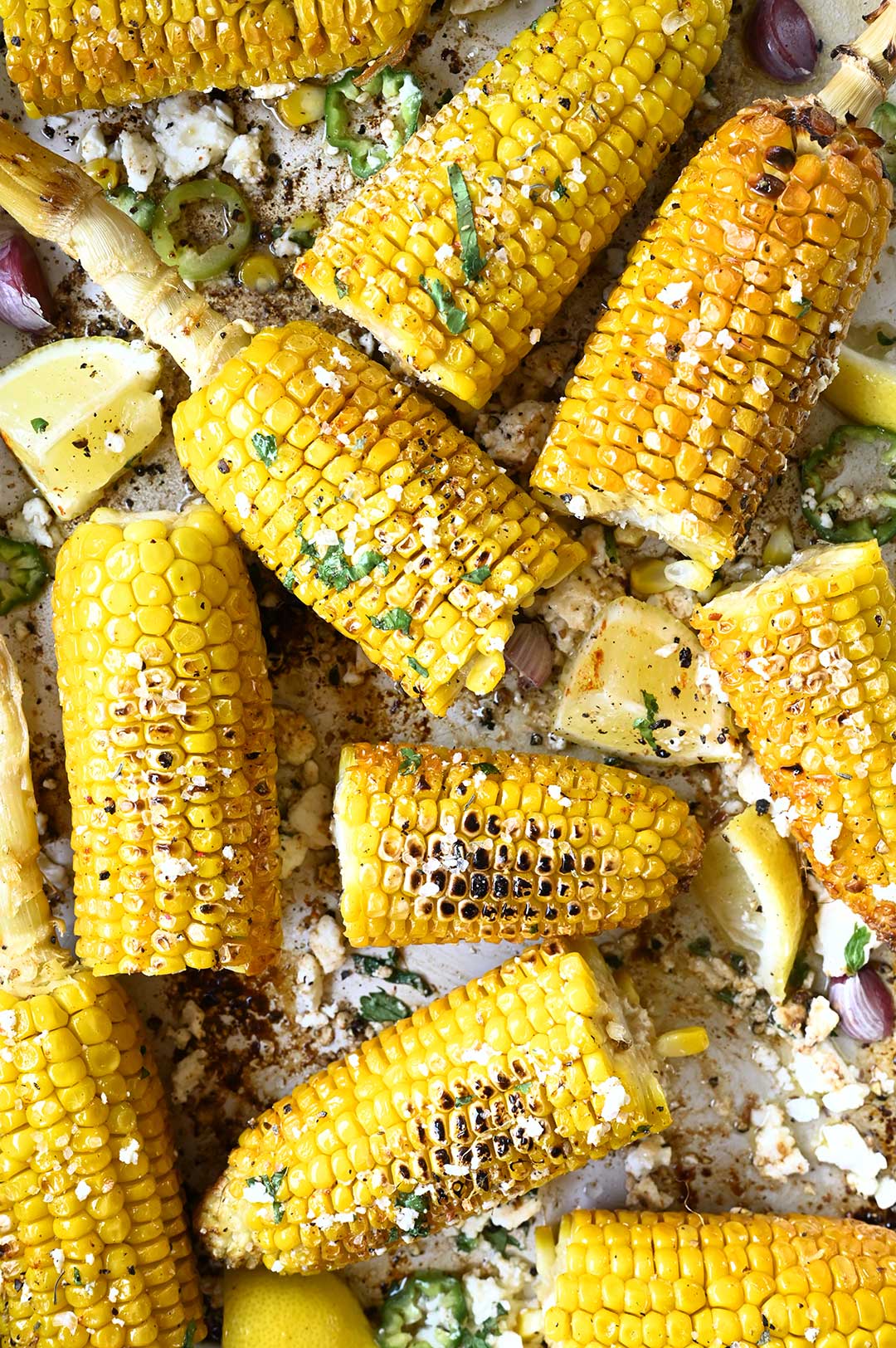 For this recipe, you can grill the corn on your barbecue, then rub it with garlic butter and top with feta, chili and cilantro. Yet! Roasting corn is like unlocking its hidden sweetness and earthy flavor in a totally hands-off way. Roasting brings out a crisp sweetness in the corn. It contributes to browning, which adds another layer of flavor, think about caramel-like richness, and doesn't require the tending that grilling does.
This is an absolute summer staple. The corn is perfectly sweet and juicy, served with the most irresistible toppings. Perfect for summer get-togethers and barbecues or just as a snack. This is a must-try, especially when you can pack your corn with this much flavor. Have fun with it!
Hop on over to Instagram to see how to make this in my highlights!
3 more delicious corn recipes:
Corn salad with spicy peanut dressing
Very juicy kale salad with plums
Creamy corn soup with jalapeños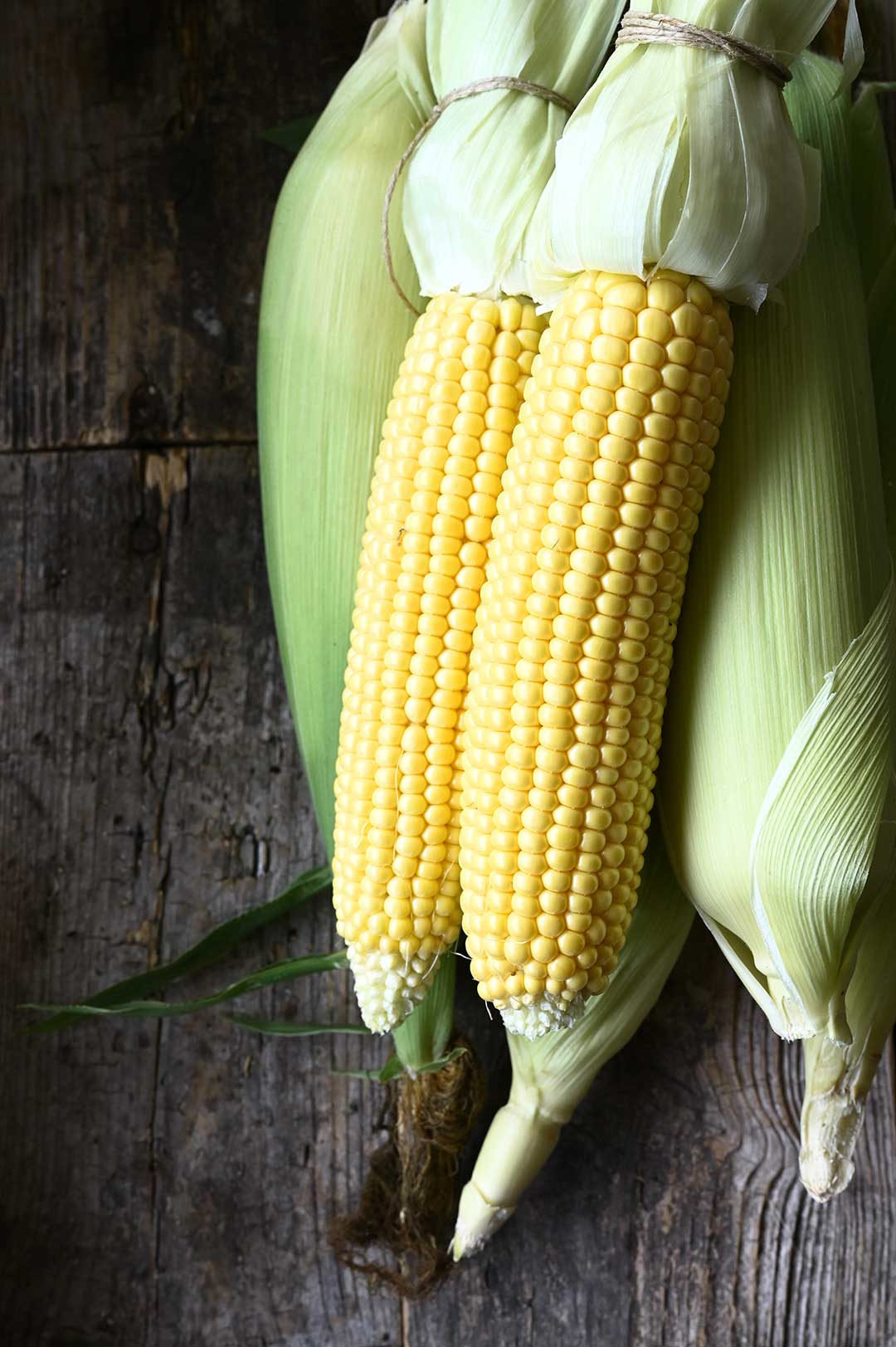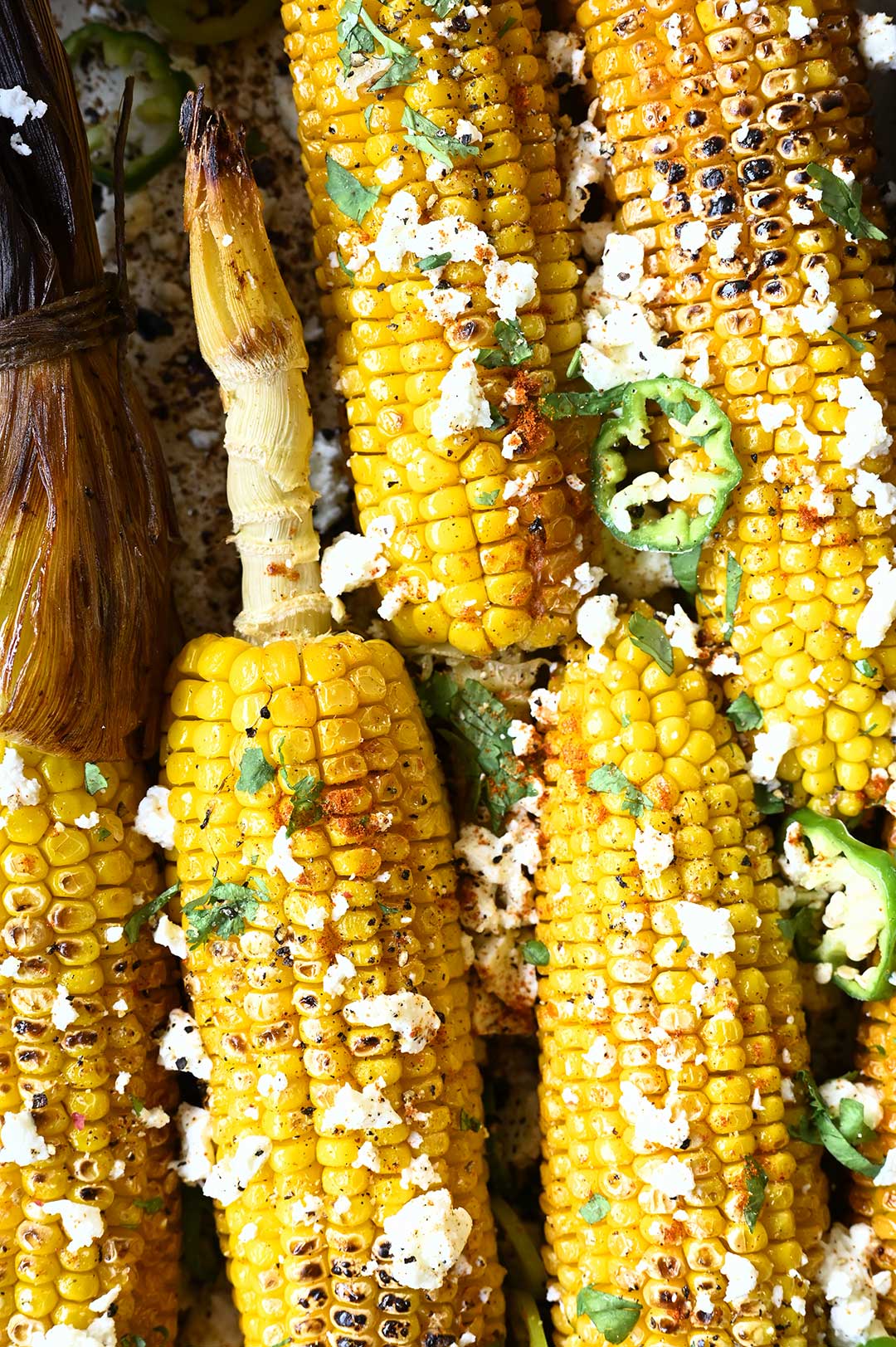 You need
4 ear corns
100 g (1/2 cup) butter, melted
2 garlic cloves, grated
1/2 tsp smoked paprika
salt + black pepper
toppings
50 g (1¾ oz) feta, crumbled
chilies
1 tbsp chopped cilantro
1 lemon, cut into slices
flaky salt + black pepper
How to
Preheat the oven to 230°C (450°F).
Line ears of corn on a baking sheet, pour the melted butter, add garlic and sprinkle with smoked paprika, salt and pepper. Roast for 20-25 minutes, turning halfway through.
Remove from the oven, top with crumbled feta, cilantro and chilies. Sprinkle with extra flaky salt and pepper. Serve with lemon slices. Have fun!
TIP: You can grill the corn on your barbecue or boil in salted water, then top with garlic butter, feta, cilantro and peppers.
Hop on over to Instagram to see how to make this in my highlights!