Roasted root vegetables are one of my favorites and will probably always be, love them! they're easy to prepare, adaptable and delicious. There are so many things you can do with them. For some textural contrast simply add fresh vegetables, lettuce, roasted nuts or halloumi chunks after the tray is out of the oven. It's also lovely served alongside roasted chicken or simply spooned over rice, as a side salad or on a bed of hummus.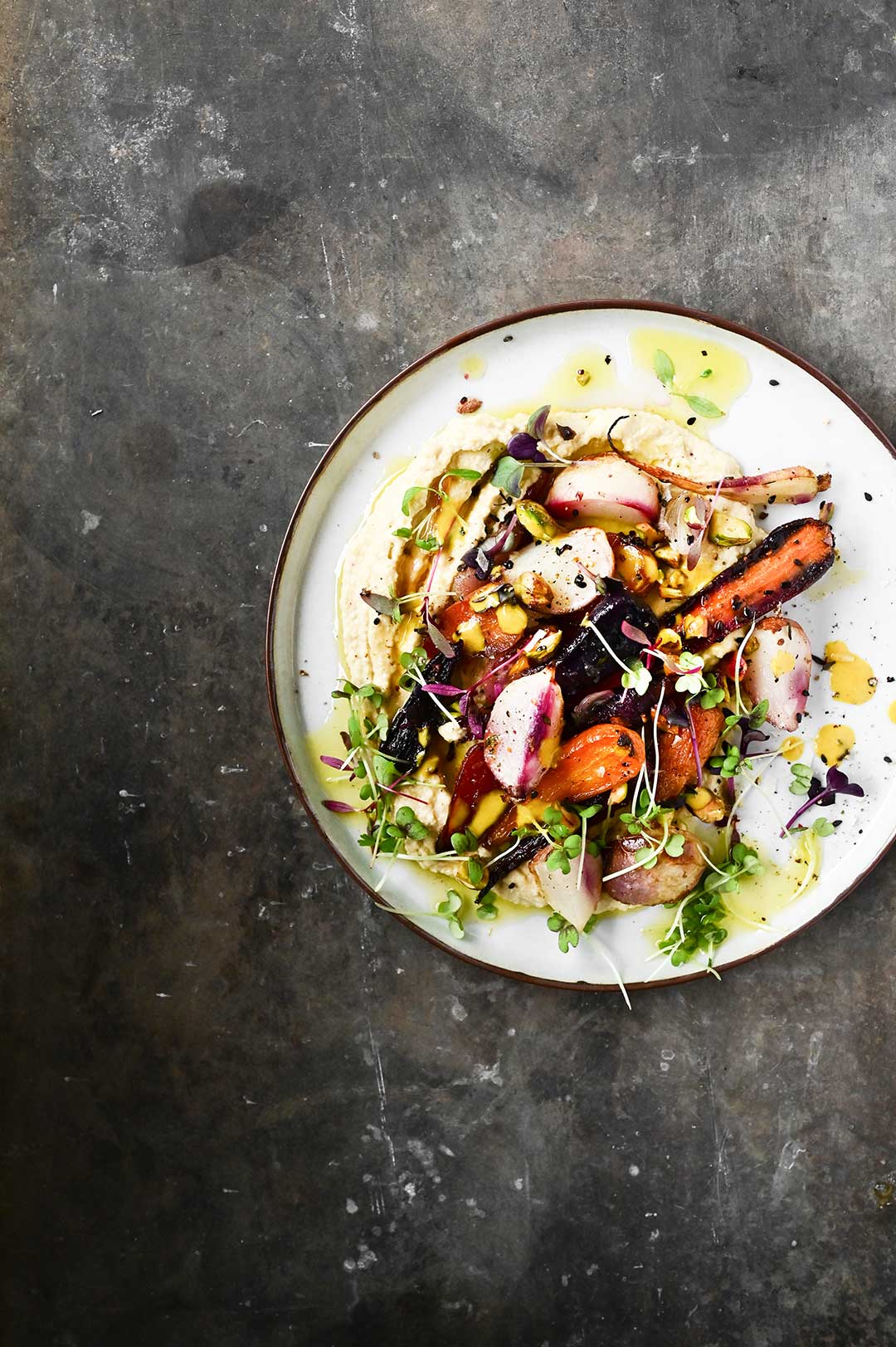 I thought turnips and carrots roasted with maple syrup, garlic and pistachios would be great for this winter season. I roasted the garlic cloves in their skin (which helps keep them moist and flavorful) and added a few chopped up shallots to complete this tasty side dish. It is basic but packed with a lot of flavor. Then served it with creamy hummus and a turmeric tahini sauce. This sauce is absolutely delicious and I'll be drizzling it all over of my roasted veggies for the foreseeable future! Grab a fork and dig in!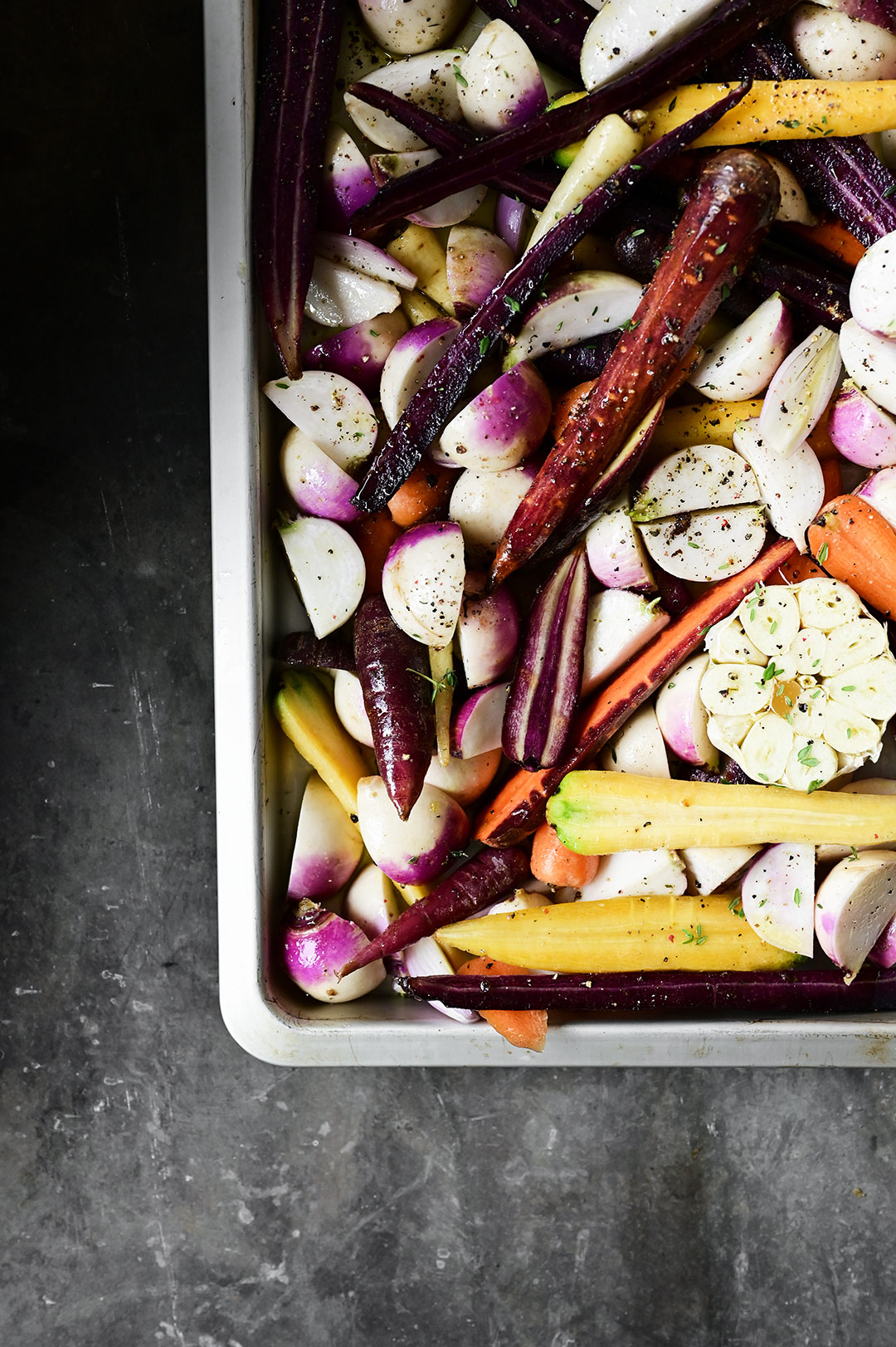 Ingredients
vegetables
500 g root vegetables (turnips, carrots in different shapes and colors,…)
8 garlic cloves
2 shallots, cut in half
2 tablespoons maple syrup
5 tablespoons olive oil
4 sprigs of fresh thyme
1 tablespoon lemon juice
40 g chopped pistachios
sea salt + black pepper
tahini turmeric sauce
50 ml tahini
2 teaspoons lemon juice
2 teaspoons soy sauce
2 teaspoons turmeric
1 teaspoon maple syrup
50 ml water
1 roasted garlic clove, peeled
sea salt + black pepper
hummus
240 g canned chickpeas
2 tablespoons Greek yoghurt
1/2 teaspoon ground cumin and coriander
1 teaspoon tahini
2 tablespoons olive oil
1 tablespoon sesame oil
2 roasted garlic cloves, peeled
1 teaspoon lemon juice
sea salt + black pepper
finishing touch
lemon juice
1 tablespoon black sesame
micro greens
chilli flakes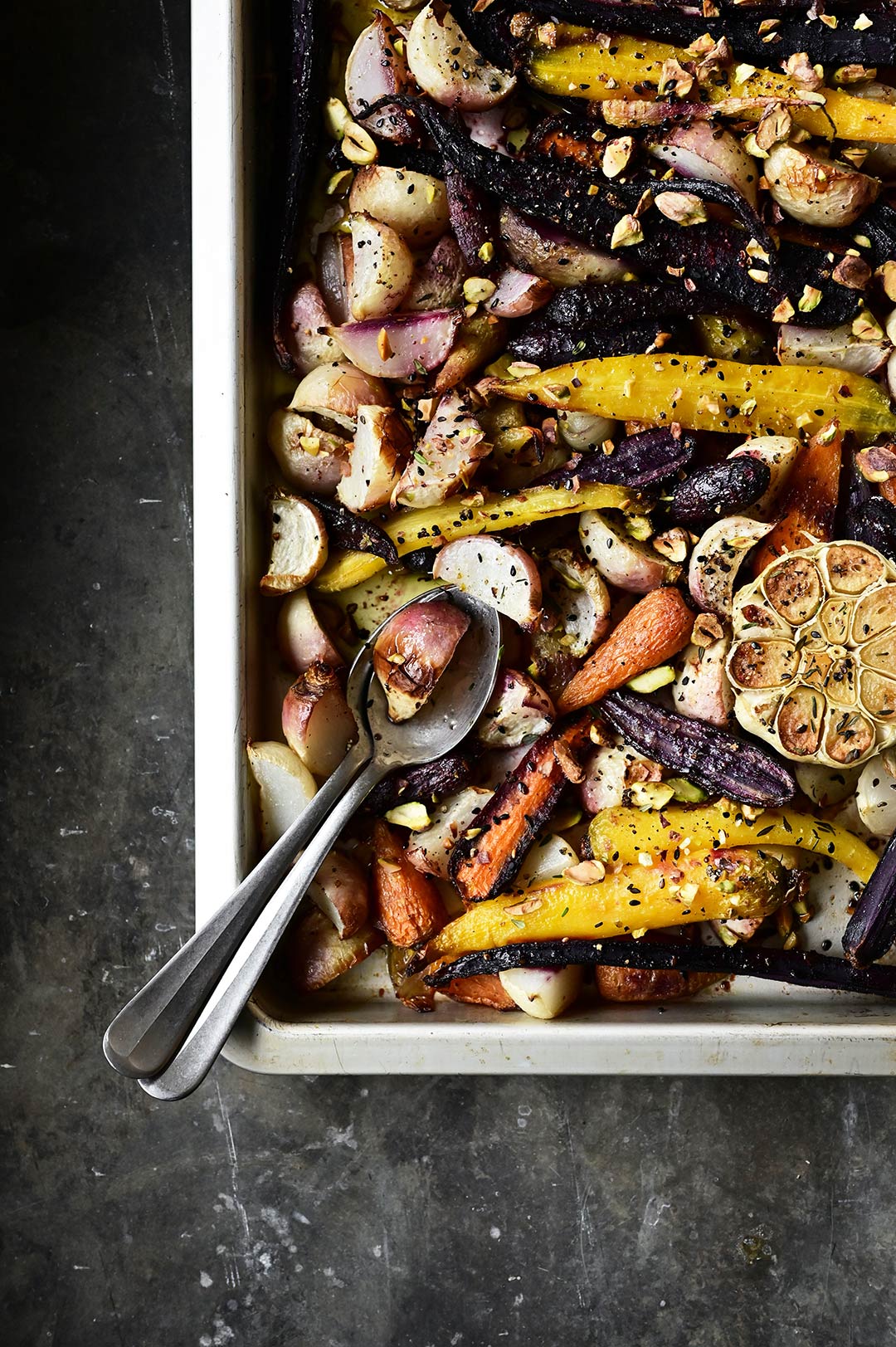 Instructions
Peel and cut the carrots in half. Cut the small turnips in half, bigger ones in quarters. Combine the vegetables with the unpeeled garlic cloves, shallots, olive oil, maple syrup, thyme and lemon juice. Season with salt and pepper. Bake for 20 minutes at 190°C. Remove from the oven, stir, sprinkle with pistachios and bake for 10-15 minutes more, or until lightly browned.
Drain the chickpeas, combine with all other ingredients in a food processor, and blend to a creamy purée.
Combine all ingredients for the tahini sauce in a bowl.
Serve the roasted vegetables with hummus, tahini sauce and micro greens. Sprinkle with chili peppers and black sesame, drizzle with olive oil and lemon juice. Enjoy!