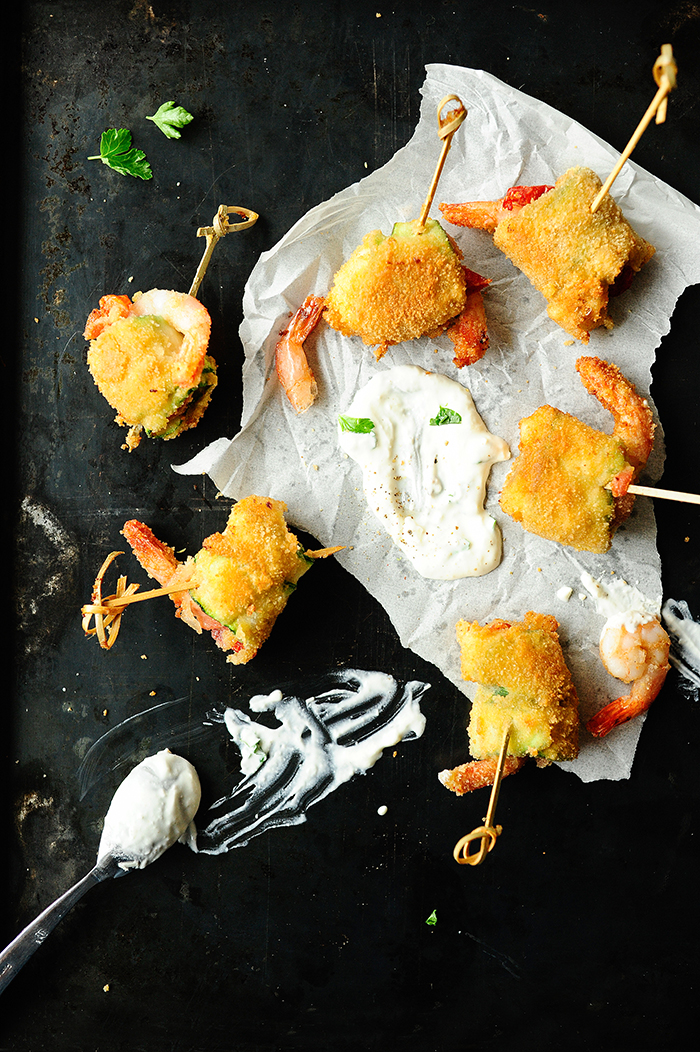 Shrimps with sun dried tomatoes wrapped in serrano ham and thinly sliced zucchini. I dipped the rolls in breadcrumbs and baked them in oil, then served with a sauce based on Greek yogurt and Parmesan cheese. Small, delicious party snacks. Great hot or cold.
Ingredients
12 shrimps
1 zucchini
6 slices serrano ham
12 dried tomatoes
1/4 cup flour
2 eggs
1/2 cup bread crumbs
black pepper
1/2 cup vegetable oil
parmesan dip
4 tablespoons Greek yogurt
1 tablespoon lemon juice
3 tablespoons grated Parmesan
1 clove garlic, crushed by a garlic press
1 tablespoon chopped parsley
salt and black pepper
Instructions
Peel and devein the shrimps, leaving the tip of the tail. Slice the zucchini lengthwise very thinly using a peeler. Cut the serrano ham lengthwise in two pieces.Roll the shrimps and dried tomatoes in the ham, then in zucchini slices, use toothpicks to hold them together.
Prepare the flour, egg and bread crumbs on separate plates. Dredge the rolls in flour, then in eggs beaten with pepper, and finally in breadcrumbs. Then again in eggs and in breadcrumbs.
Heat the oil in a deep skillet over high heat. Fry rolls, 6 pieces at a time, until golden brown. Remove and place on a paper towel to drain.
Mix all the ingredients for the dip together and serve with baked zucchini rolls.
Bon Appetit!