Fried feta with sesame and spicy honey. A delicious and funky appetizer idea that will most definitely amaze you. Salty feta covered with crispy sesame seeds, pan-fried until super crunchy and served warm with a spicy honey sizzle on top. It's easy to make and ready in only 15 minutes. Pair with some crusty bread and watch everyone fight over it.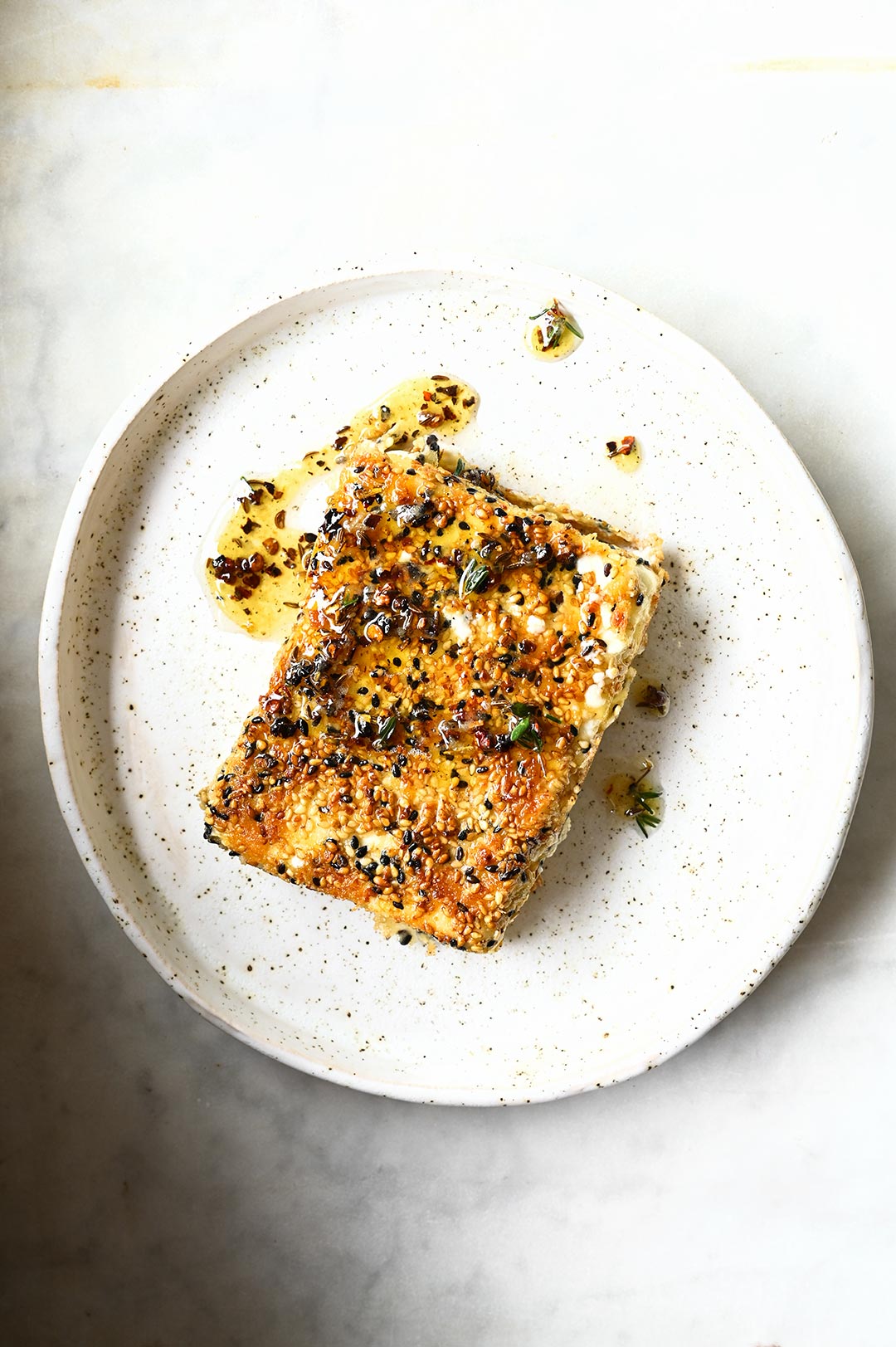 When pan-fried, feta becomes spreadably soft with a salty, rich flavor that's almost impossible to resist. Adding a sweet-spicy honey sauce rounds out the flavors and turns the feta into a knock-out appetizer that is pretty perfect for any party… and always the first starter to disappear! Serve with a leafy salad and a glass of cold white wine, and enjoy.
This recipe uses simple, budget-friendly pantry ingredients: feta, sesame seeds, oil, spices and honey. If you love to use feta in savory-sweet combinations, you're going to love this recipe as well. It's nutty, salty, spicy and sweet at the same time.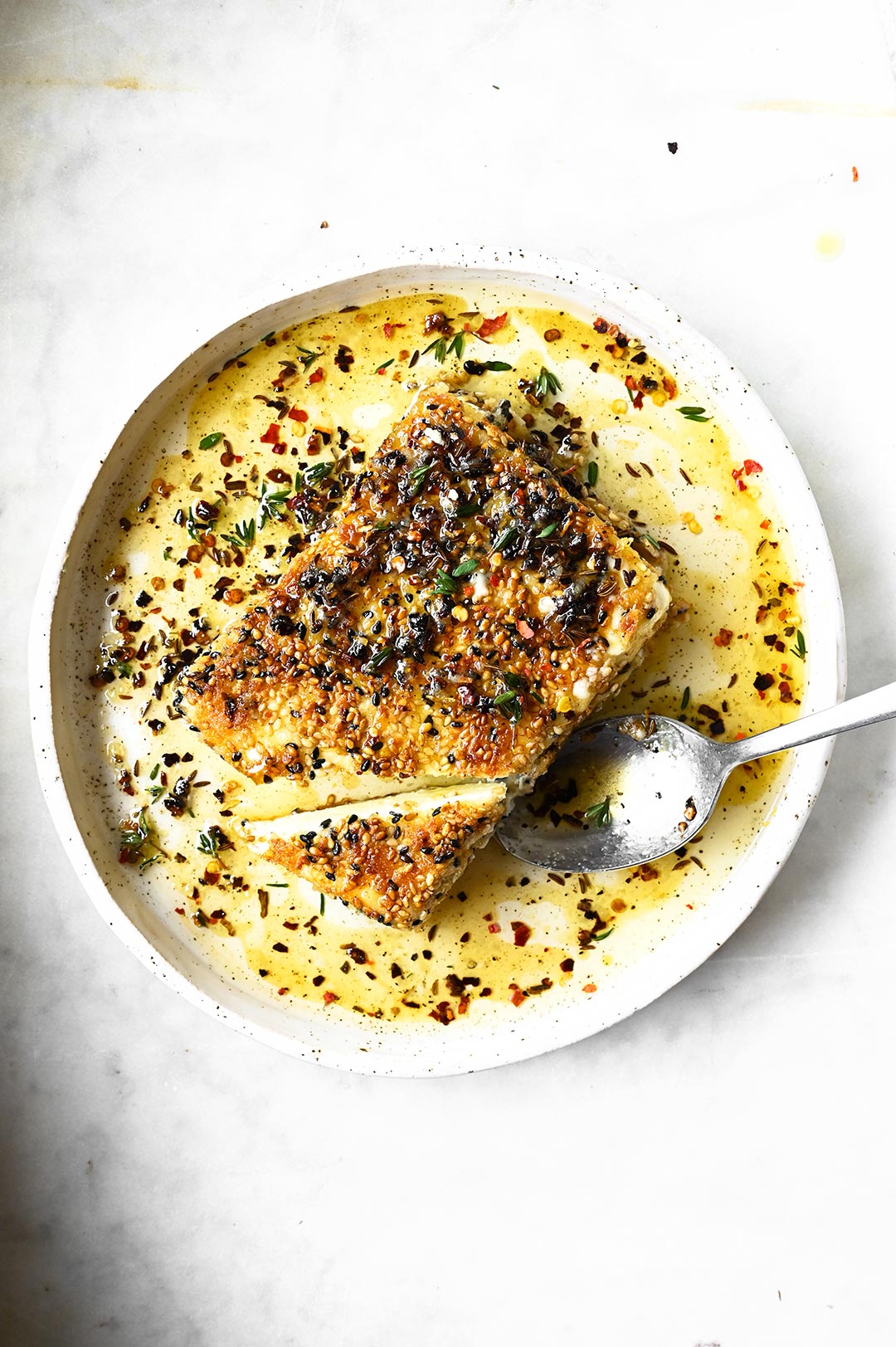 To make it, we dredge the feta through flour, beaten egg and a sesame seed-panko mixture. Then fry the entire feta block in hot oil. To make it healthier and to ensure the feta doesn't lose its shape, we shallow fry it using just enough olive oil to cover the bottom of the skillet, instead of deep-frying it in lots of oil.
The generous drizzle of spicy honey right before serving, takes the crunchy feta to the next level. And it's so easy! Heat some olive oil, then pour it over honey, fresh thyme, chipotle flakes, lots of black pepper, minced garlic and a squeeze of lemon juice. Pour it while still warm over the fried feta and serve!
Let me guide you through the recipe with this step-by-step VIDEO.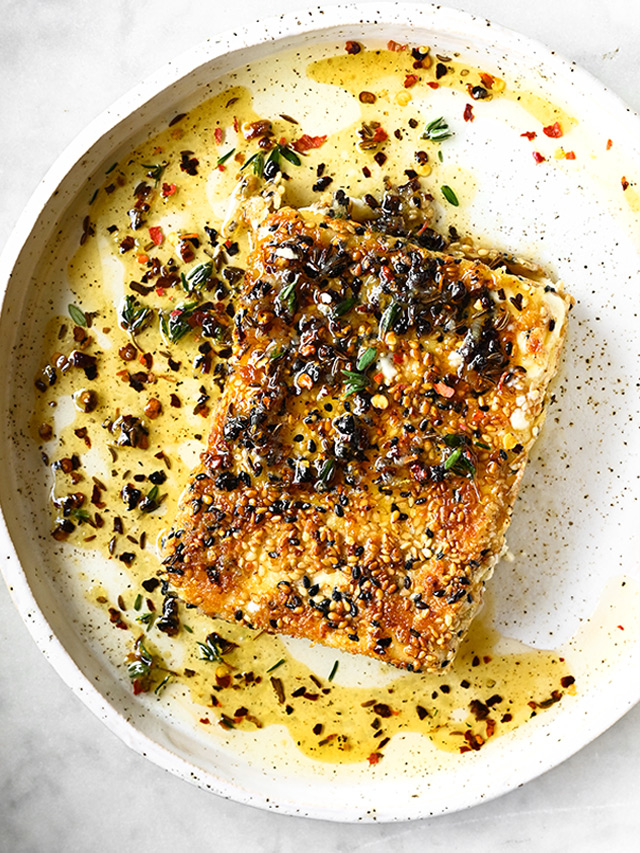 RECIPE NOTES
enjoy with crusty bread, pita bread, crostini, focaccia or crackers
serve as lunch and add a leafy salad drizzled with lemon juice and olive oil
out of thyme? Use oregano! No chipotle flakes? Use Aleppo pepper or crushed chili flakes
this recipe makes more spicy honey than you'll need for one block of feta. Keep the leftovers to drizzle your salad. Or hey, roast another block of feta
Try These Next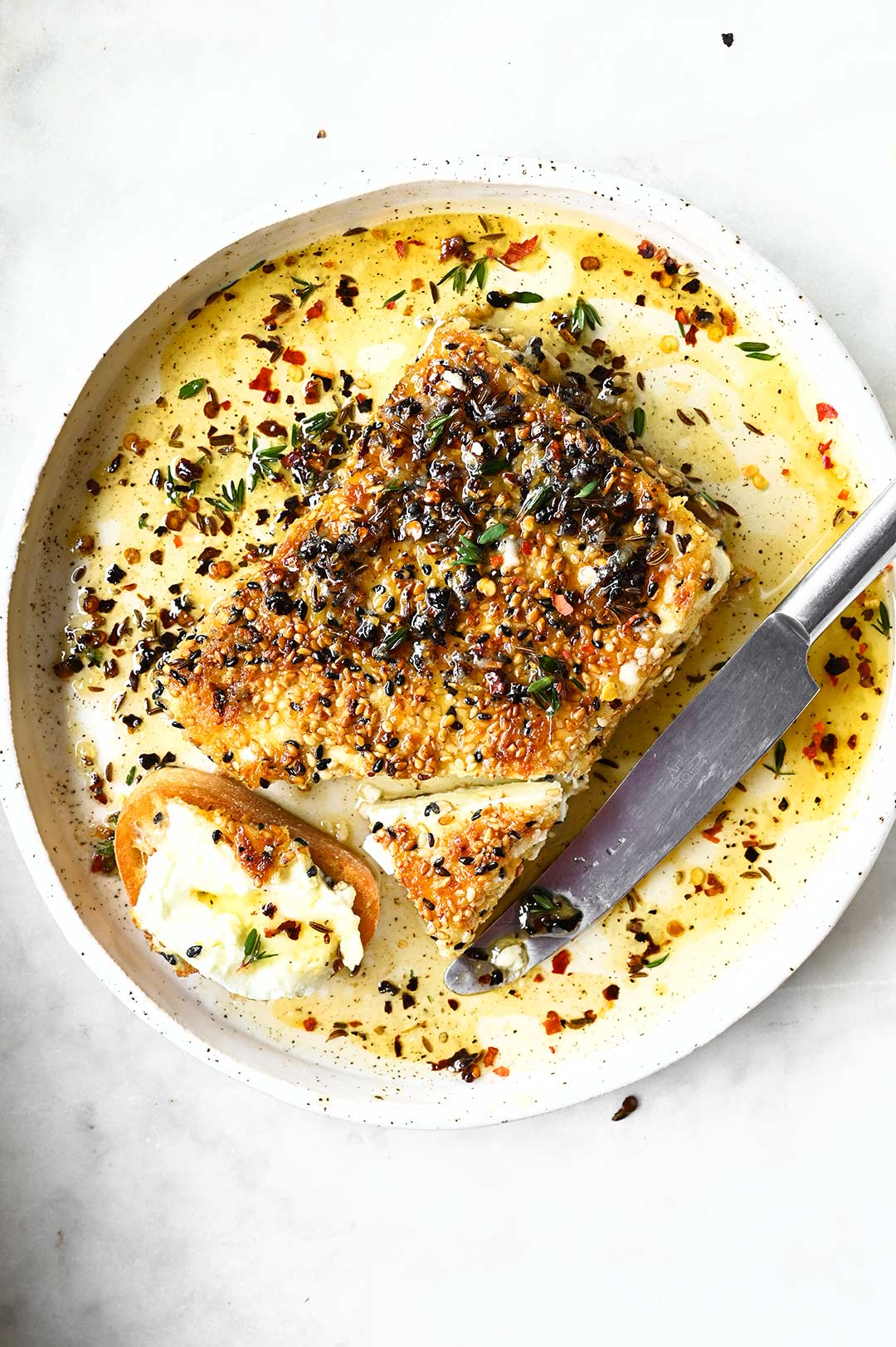 Cooking Video
Yield: serves 4
Fried Feta with Sesame and Spicy Honey
Prep Time 10 minutes

Cook Time 5 minutes

Total Time 15 minutes
Ingredients
Fried Feta and Sesame Crust
1 (7 ounces) block of feta
3 tbsp all-purpose flour
1 egg, beaten
2 tbsp white sesame seeds
1 tbsp black sesame seeds
2 tbsp panko bread crumbs
2 tbsp olive oil, for frying
Spicy Honey
5 tbsp honey
1 tsp crushed chipotle pepper, or red pepper flakes
½ tsp each: cumin seeds, salt
1 tsp fresh thyme leaves
1 tsp ground black pepper
2 garlic cloves, grated
1 tbsp lemon juice
¼ cup olive oil
Instructions
Prepare 3 shallow plates or bowls. Add flour into the first plate, crack the egg into the second and beat with a fork. Into the third plate, add the sesame seeds and panko, and give it a quick stir.
Pat the feta dry with a paper towel. First, dredge in flour, Then dip into the beaten egg. Finally, cover all over with the sesame seeds mixture. Set aside.
Add all spicy honey ingredients to a heat-proof bowl (except for the oil). Set aside.
Heat 2 tbsp olive oil in a nonstick skillet over medium and add feta. Fry the feta until nicely colored on all sides, 1-2 minutes per side. Reduce the heat, if needed. Transfer the feta to a serving plate.
In the meantime, heat the oil for the spicy honey until sizzling hot, about 1 minute. Carefully pour the hot oil over the prepared honey mixture.
Serve the feta immediately drizzled with spicy honey, when still warm. Enjoy with pita chips or some crusty bread.
Notes
Calories Per Serving: 257 kcal
Nutritional information is only an estimate. The accuracy of the nutritional information for any recipe on this site is not guaranteed.

DOWNLOAD PRINTABLE RECIPE PDF