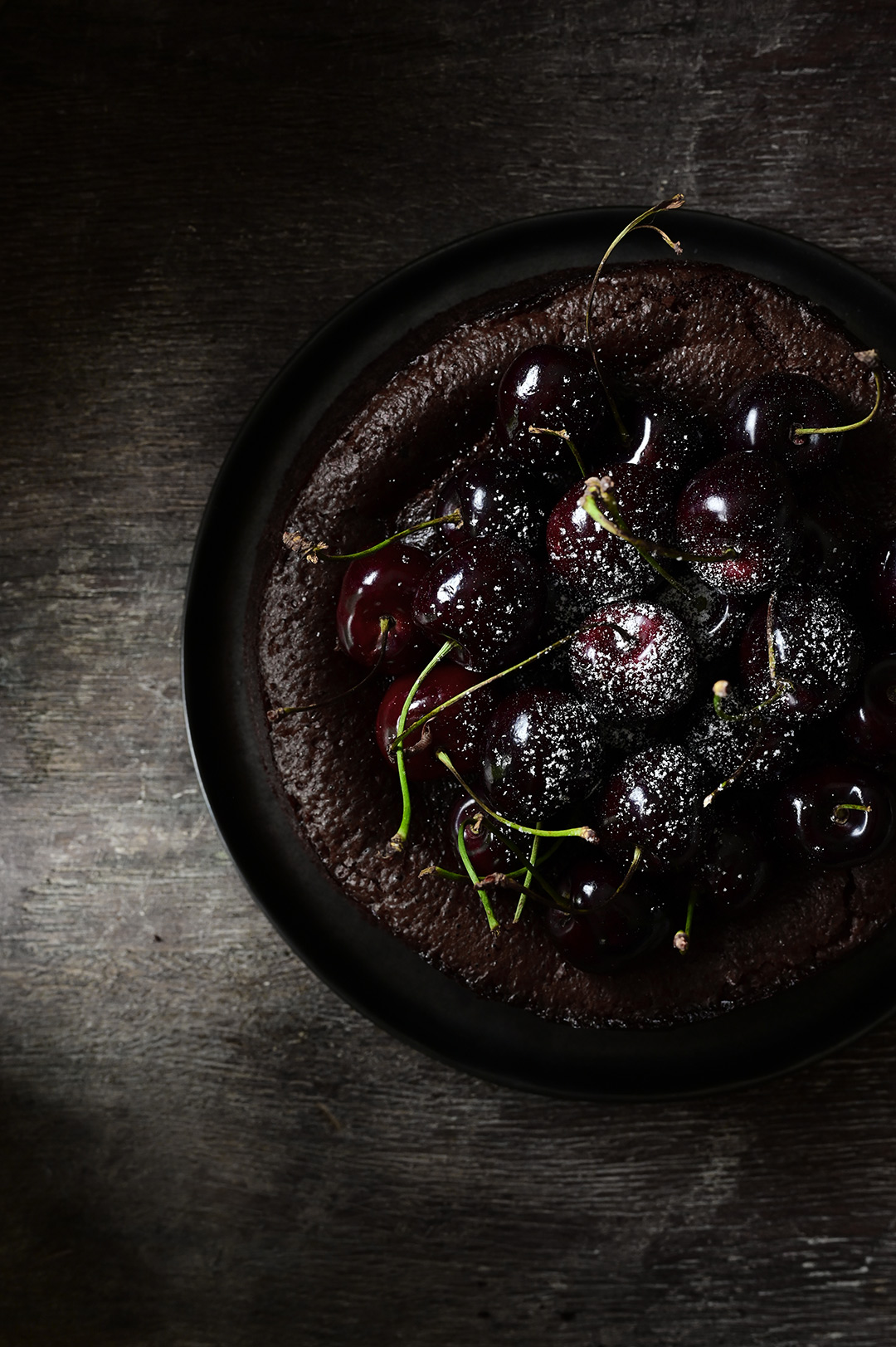 I love to bake, and love to eat sweet treats. I really have a huge sweet tooth! I used to bake a cake every weekend, but I'm going to be honest, I really hate photographing them! Don't know why, but it's just not my thing. So I stopped baking them that often, but sometimes there are recipes that need to be shared.
Because of too much work and lack of time, I have had this recipe sitting in my computer for way too long. But now it's time to write it down, because it's not an ordinary cake. It's a chocolate cloud that instantly melts in your mouth. It's like lava cake meets flourless brownie.
I'm pretty jazzed on chocolate and cherries together, so I started with an incredibly dense flourless milk chocolate cake with cherries inside and layered it up from there with a coconut and mascarpone whip. Sometimes life just needs a little milk chocolate and I find it really makes all the flavors work together instead of the whole thing just being this overly rich experience. A pile of fresh cherries on top and all is good. Really, really good. I mean really, easy and delicious, what more could you ask for!
Ingredients
chocolate cake
all the ingredients at room temperature
200 g milk chocolate
2 tbs cocoa powder
1 tbs potato starch
150 g butter
100 ml  milk
20 ml strong espresso
150 g  sugar
4 eggs
1 tsp vanilla extract
150 g cherries, cut in half and pits removed
coconut mascarpone cream
250 g mascarpone, cold
200 ml coconut milk, chilled for 24 hours
4 tbs icing sugar
1 tsp vanilla extract
finishing touch
250 cherries
icing sugar for dusting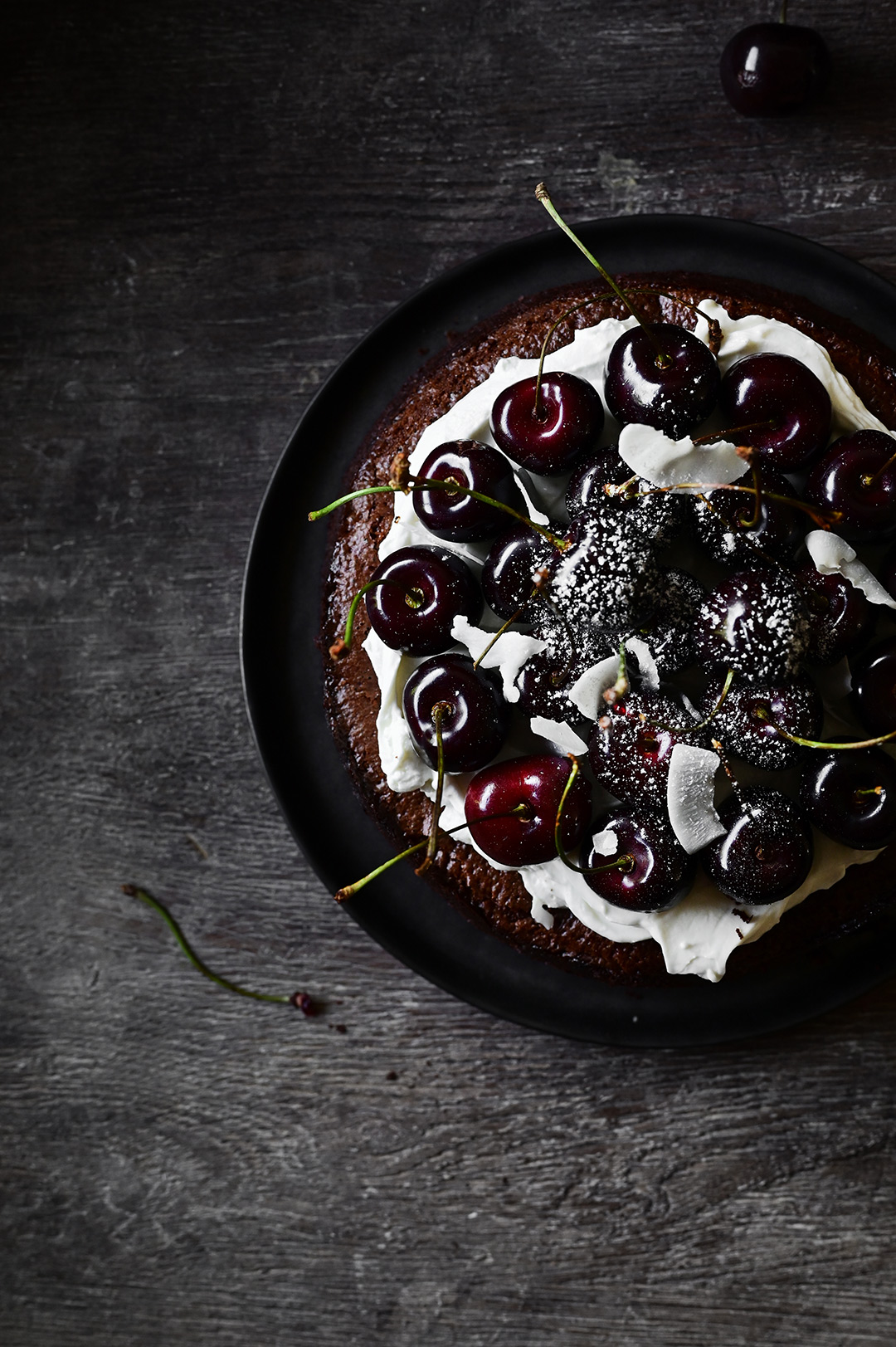 Instructions
In a saucepan, add milk and butter, heat until the butter is melted. Do not bring the milk to a boil. Turn off the heat, add chopped chocolate, set aside for a couple of minutes and stir until smooth and completely combined.
In a large bowl, beat eggs and sugar with an electric mixer on high speed until the mixture has thickened and turned a very pale yellow. Mixture will fall in ribbons from a spoon. Add vanilla extract, the chocolate mixture and espresso, stir with a wooden spoon until combined. Stir in the cocoa powder and potato starch.

Pour the batter in a 24 cm springform pan lined with parchment paper, add the cherries and bake until a toothpick inserted into the center comes out dry, for 40-45 minutes in an oven preheated to 180°C. Remove from the oven and let cool completely.

In a bowl, add the mascarpone, vanilla extract and icing sugar, beat until stiff. Carefully open the coconut milk, scoop out the thick coconut fat, leaving the watery part. Add to the mascarpone and beat again until stiff. Scoop it onto the cake base, smoothing it out or fluffing it up however you like. Top with cherries, enjoy!

//= __('Print recipe (no photos)', 'servingdumplings' );?> //= __('Print recipe (with photos)', 'servingdumplings' );?>