Firecracker chicken meatballs. Tender meatballs coated in a sticky sweet and spicy sauce make for an exciting weeknight dinner. Super delicious, full of flavor and easy to make. Plus, ready in just 30 minutes. Serve with steamed rice and a crunchy cucumber salad for a dinner that will rock your world.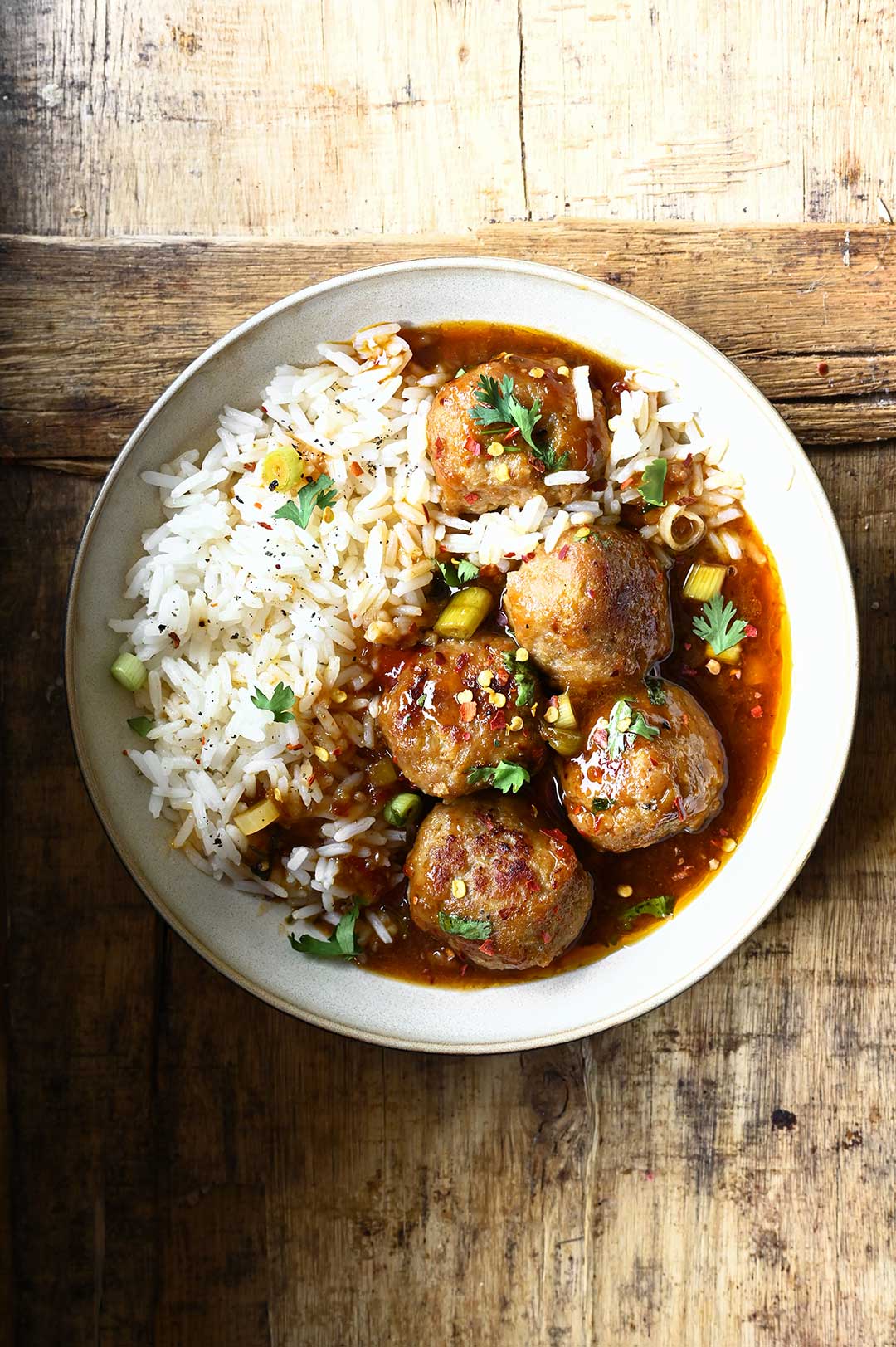 As any really good firecracker chicken recipe should be, this one is all about the vibrant, sticky sauce. It's a weeknight dinner that combines chicken meatballs with a bright, glossy sauce that's sweet, tangy and a little bit spicy. It's packed with just enough heat to tickle your tongue, but never intensifies or overwhelms.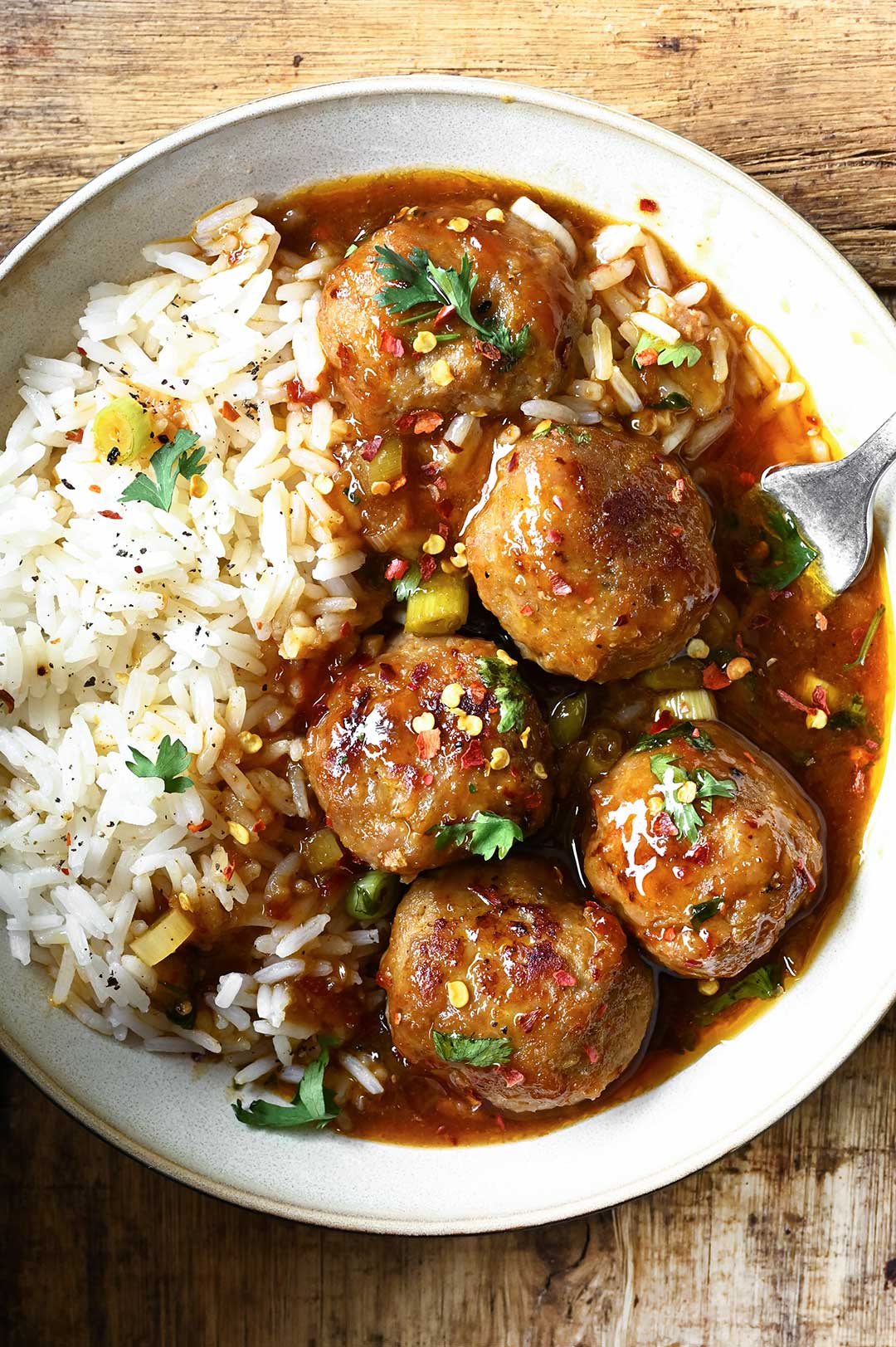 And the meatballs? They're pan-seared, juicy, tender and loaded with lots of delicious spices.
After searing the meatballs, we quickly make the firecracker sauce, add the meatballs back to the skillet and simmer everything together. The sauce blends with the meatballs and as they cook, the flavor soaks through and works its way into the center. Immensely delicious when spooned over some steamed rice.
Let me guide you through the recipe with this step-by-step VIDEO.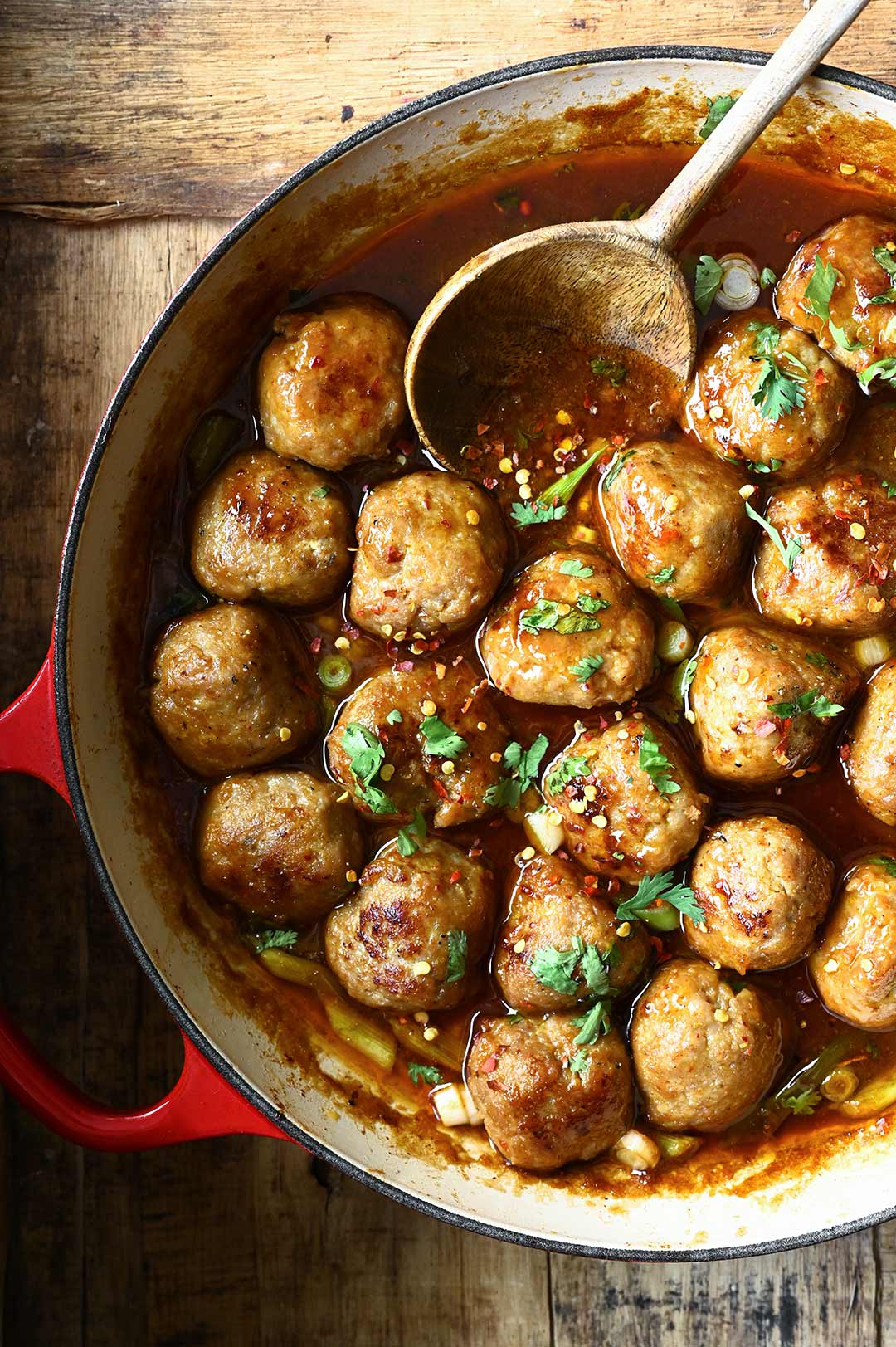 RECIPE NOTES
this is a pleasantly spicy dish, but if you're heat adverse, you'd like to use less sriracha to turn down the heat, and you can also omit the red pepper flakes at the end
serve this firecracker chicken meatballs over steamed rice, rice noodles or chow mein noodles… actually, you can eat them with almost everything! Think sandwiches, tortillas, tacos, fries, lettuce wraps, ramen, or as a starter. Let your mind go wild with possibilities!
don't forget to add a big crunchy cucumber salad to balance the heat
we mix the meatballs with our hands, but be sure you don't over mix. The shorter you mix and form the balls, the lighter they will be. If you overwork the meatballs, they'll get tough. Also, pan frying these balls keeps them super tender
this dish can be made ahead, both the sauce and the meatballs themselves can be stored in an airtight container in the fridge for up to 3 days
to freeze the meatballs: transfer to a freezer-safe container and freeze for up to 3 months. Thaw overnight in the fridge or simmer over low heat for 15 minutes, until thawed, add water if needed to thin the sauce
Try These Next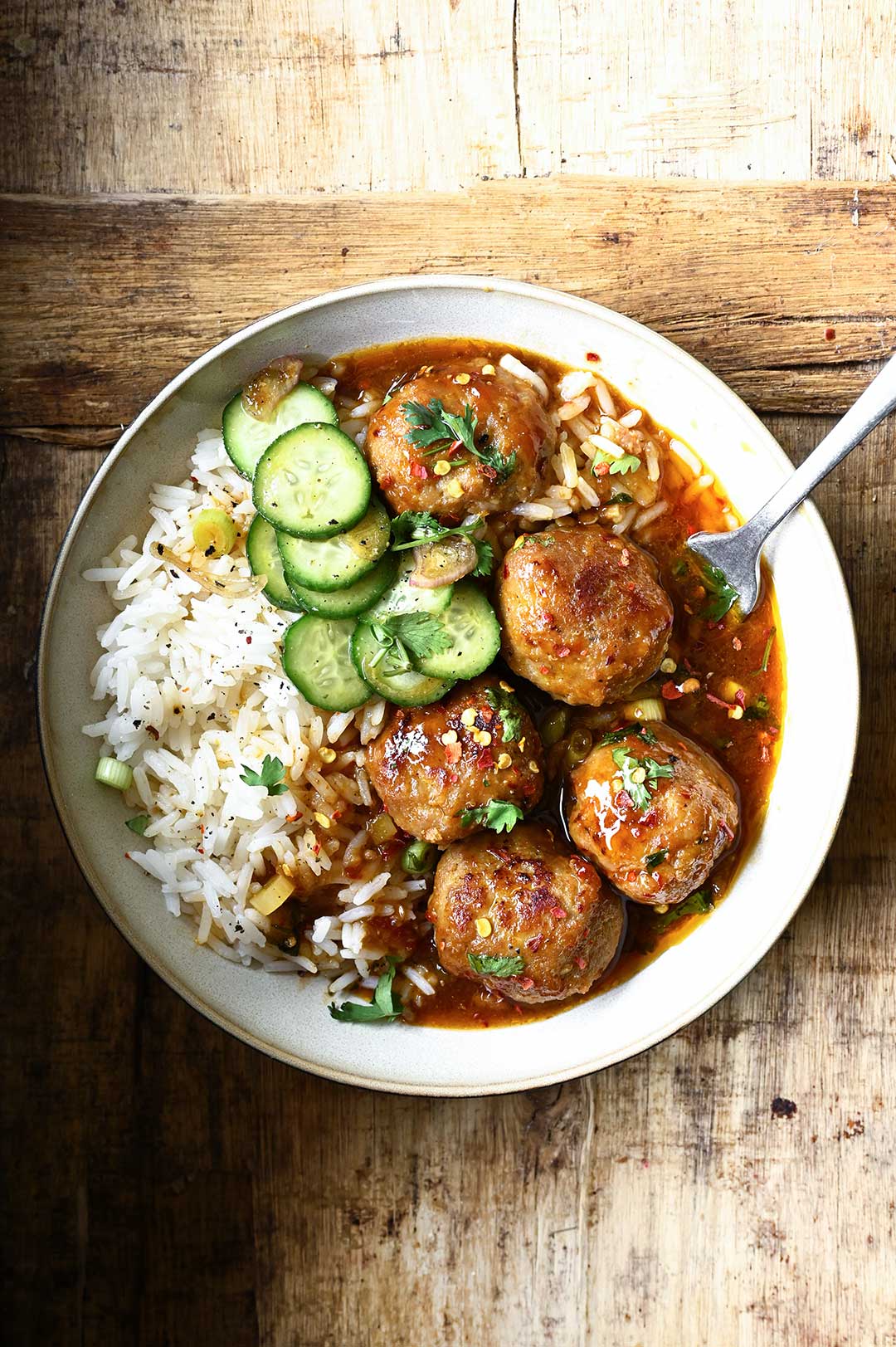 Cooking Video
This post contains affiliate links which means a portion of the proceeds go to me, at no extra cost to you. Thank you for supporting Serving Dumplings.
Yield: serves 4
Firecracker Chicken Meatballs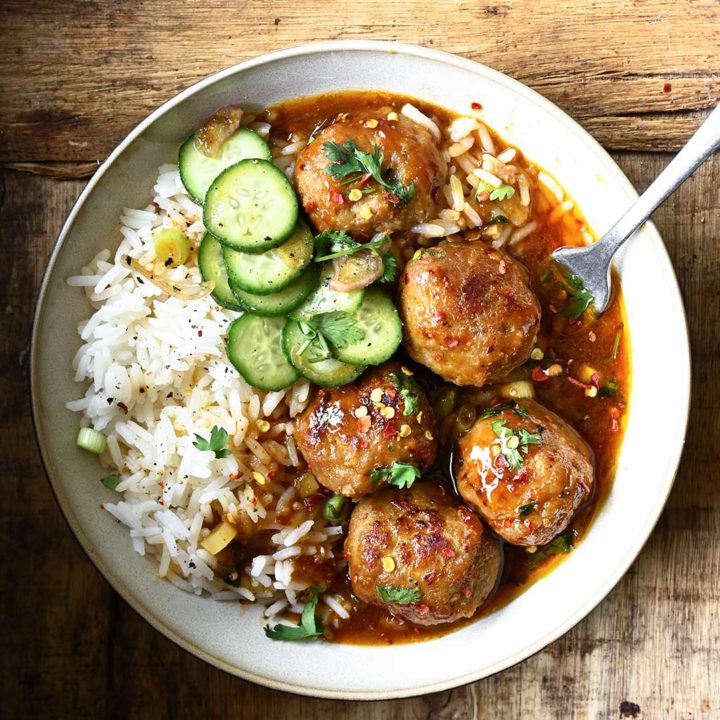 Prep Time 10 minutes

Cook Time 20 minutes

Total Time 30 minutes
Ingredients
Chicken Meatballs
1.1 lbs/500 g ground chicken
2 tbsp bread crumbs
1 egg yolk
1 tsp each: salt, black pepper, sweet paprika, garlic powder, ginger powder, onion powder
Firecracker sauce
1 tbsp vegetable oil
1 tbsp unsalted butter
4 garlic cloves, grated
1 tbsp freshly grated ginger
½ cup/120 ml sweet chili sauce
1 tbsp fish sauce
2 tbsp soy sauce
2 tbsp oyster sauce
3 tbsp sriracha, more or less to taste
2 tbsp lime juice
4 scallions, chopped
cilantro leaves, for serving (optional)
red pepper flakes, for serving
Instructions
Get all the prep done before you start cooking: grate ginger and garlic cloves. Chop the scallions.
Add the ingredients for the meatballs to a large bowl. Mix until just combined, using your hands. Roll the meat mixture into 2-tablespoon sized balls. Will make about 25 meatballs.
Heat oil and butter in a large nonstick skillet over medium. Add meatballs and brown on all sides, about 8 minutes, turning them frequently. Remove from skillet.
Reduce heat to low. Add garlic and ginger, cook until fragrant while stirring frequently, about 1 minute. Deglaze with ½ cup water, simmer for 2 minutes while scraping up the brown bits on the bottom of your skillet with a wooden spoon. Add lime juice, sweet chili, soy, fish and oyster sauce. Stir to combine and bring to a gentle simmer.
Stir in sriracha and scallions. Return meatballs and their released juices to the skillet, stir to coat the meat with sauce. Simmer until the meatballs are cooked through, about 10 minutes.
Finish off with red pepper flakes and cilantro. Serve with steamed rice and a crunchy cucumber salad. Enjoy!
Notes
Calories Per Serving: 435 kcal
Nutritional information is only an estimate. The accuracy of the nutritional information for any recipe on this site is not guaranteed.


DOWNLOAD PRINTABLE RECIPE PDF