Fiery scallion beef. Brace yourself for an explosion of flavors with this sizzling stir-fry! Succulent beef, tender scallions, and a spicy-savory sauce come together in perfect harmony. The best part? It's ready in just 15 minutes! Pair it with a bowl of steamed rice to elevate the experience and transport yourself to the realm of comforting culinary delights. Are you ready? Let's dive right in!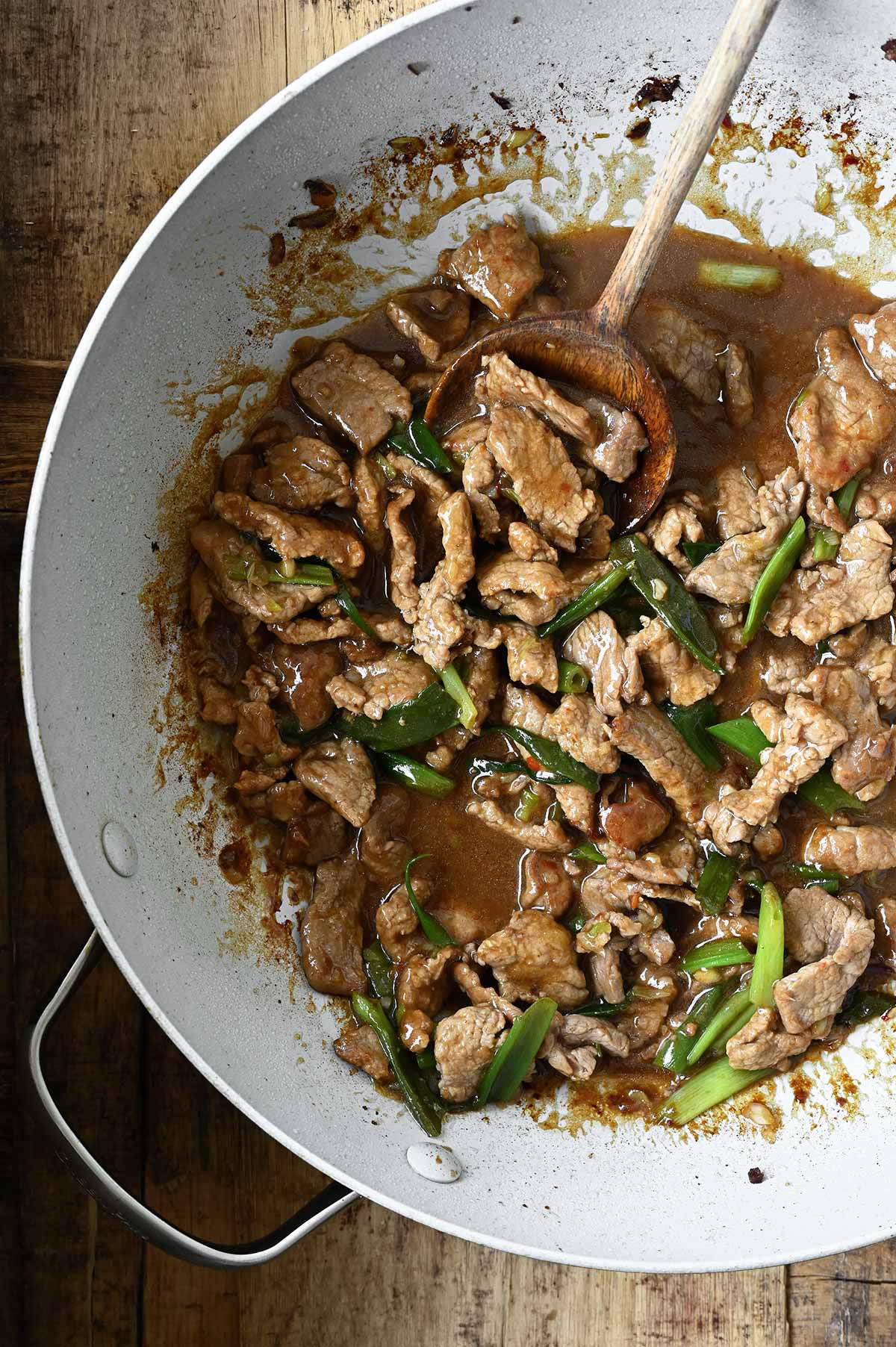 When time is limited but you still want an impressive meal, turn to this quick and flavorful stir-fry. This dish fits the bill perfectly for those busy nights when time is of the essence. In just about 15 minutes, you can prepare a satisfying meal without any rushing. It's a simple and convenient option, especially if you've prepped your veggies and sliced your steak ahead of time. With just 5 minutes of cooking, you'll be ready to indulge in a fantastic dinner at home. Trust me, you're in for a treat!
One of the highlights of this recipe is the spicy-savory sauce that generously coats the tender beef and scallions. It's a robust and flavorful blend of soy and oyster sauce, infusing the meat with a burst of taste. For exceptionally tender and flavorful beef, we thinly slice it and give it a quick marinade. When stir-fried at a high temperature, the scallions, ginger, and garlic release an explosion of flavors… and do not worry, you can adjust the spice level to your own taste.
Let me guide you through the recipe with this step-by-step VIDEO.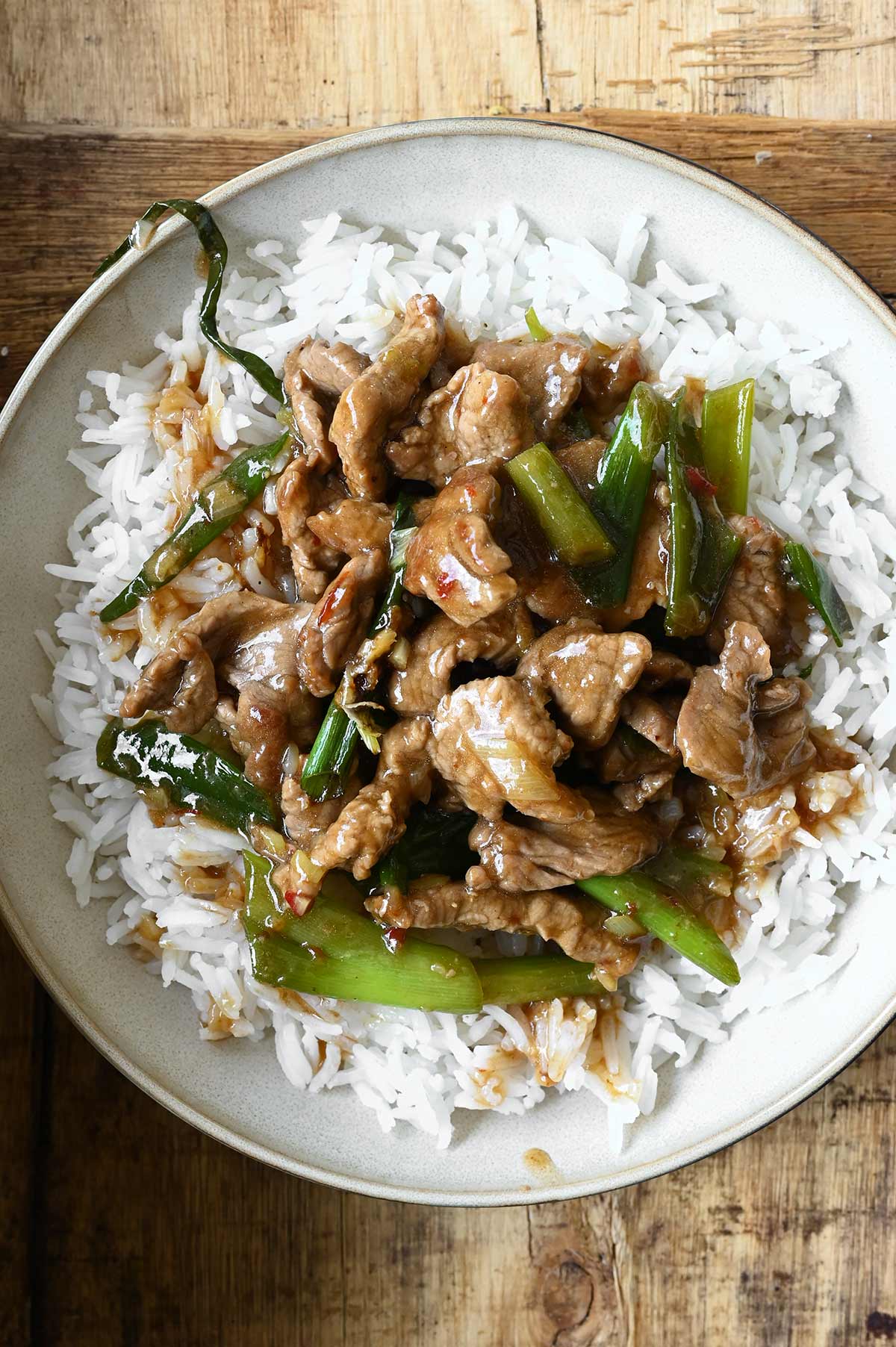 How To Make Scallion Beef Stir-Fry
To bring it all together, we crank up the heat until the wok is steaming hot. We give the beef a perfect sear, then set it aside. Next, we introduce ginger, garlic, and the white scallion parts to the wok and stir-fry them for a brief moment. The beef makes its return to the wok, along with the vibrant green parts of the scallions, creating delicious aromas as everything gets tossed together. Finally, we pour a generous amount of the mouthwatering sauce over the dish, ensuring that every bite is coated with its savory goodness. And just like that, you're done!
The Key for A Good Stir-Fry
Achieving tender beef is all about careful cooking and cutting your meat in thin slices against the grain. To enhance its tenderness, a short marinade does the trick. While the beef marinates, we take advantage of the time to prepare the remaining ingredients.
When it comes to stir-frying, you need to work quickly. Stir-frying is a fast cooking method, so have all your ingredients readily accessible and stir-fry them in a timely manner. Once everything is prepped, you'll spend no more than 5 minutes at the stove, effortlessly creating this delicious stir-fry. Keep the ingredients moving in the wok to prevent sticking and ensure even cooking.
To achieve optimal results, it's recommended to use a wide wok placed over high heat. This setup creates that signature stir-fry texture and flavor. Keep in mind that stoves may vary in their heat output, so don't overcrowd the wok, as it can lead to steaming instead of stir-frying. Cook the beef in smaller batches, if needed.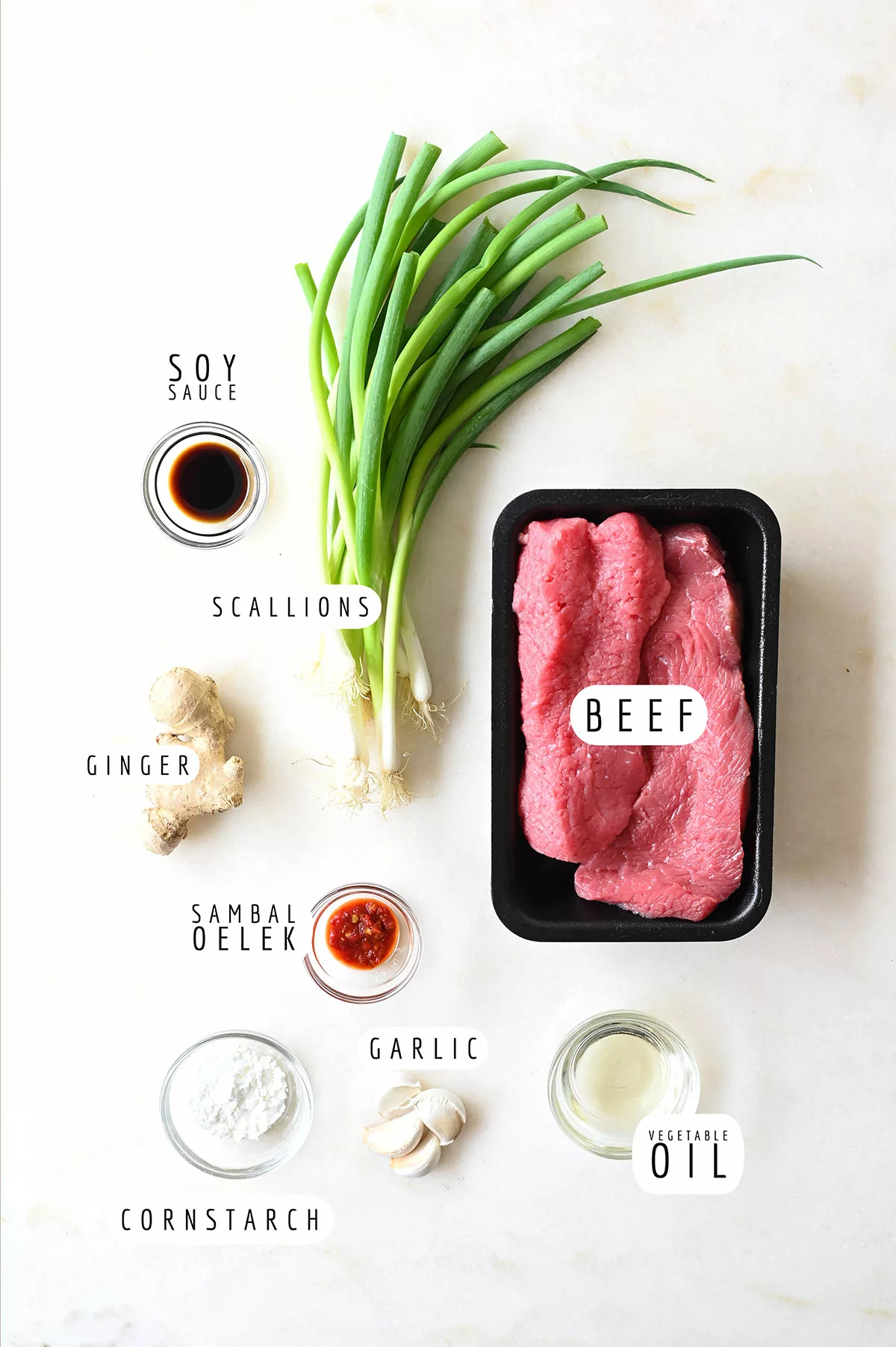 Ingredients, Tips & Substitutions
Beef: Thinly sliced against the grain. You can use flank steak, skirt steak, sirloin, rib eye or rump steak.
Cornstarch: Creates a light coating to the beef that protects it slightly from the intense heat of the wok and helps to prevent toughening of the meat.
Soy Sauce: To add flavor to the meat.
Oil: Use peanut or vegetable oil.
Sambal Oelek: It adds a delightful kick and depth of flavor to the beef.
Scallions: An essential ingredient in this recipe. They add a fresh and mild onion flavor to the dish. When stir-fried at high temperatures, scallions add a fragrant and aromatic element to the overall flavor profile of the dish.
Garlic: Plays a crucial role in enhancing the flavor. It brings a pungent and aromatic taste to the stir-fry.
Ginger: It offers a warm and slightly spicy taste that pairs beautifully with the other components. Best when freshly grated.
Vegetable Oil: Best to use an oil with a high smoke point that can withstand the high temperatures involved. You can use vegetable oil, canola oil or peanut oil.
Spicy Sauce
Sesame Oil: To add rich and aromatic flavor.
White Pepper: It has a hotter and more pungent taste compared to black pepper. Its heat is more subtle and provides a slightly floral and earthy undertone to the sauce.
Sambal Oelek: A spicy chili paste, made from ground red chilies, vinegar, and salt, resulting in a vibrant and fiery condiment. If you don't have sambal oelek, use anything you have on hand like Sriracha sauce, red pepper flakes or even Gochujang paste. Adjust the amount based on your spice preference.
Oyster Sauce: Full-bodied sauce made from a reduction of boiled oysters. Adds thick glaze-like texture and a salty-sweet flavor.
Soy Sauce: Low sodium adds a perfect amount of saltiness.
Mirin: To balance out the flavors. It's a sweet rice cooking wine with a thick consistency.
Cornstarch: To thicken the sauce.
Recipe Notes
Serve with steamed sushi rice, jasmine rice, rice noodles, egg noodles brown rice or stir-fry noodles.
Adjust the spice level according to your taste preferences. If you like it a milder, using 1 teaspoon of sambal oelek will provide just the right amount of spiciness. However, if you're seeking a fiery experience that brings beads of sweat to your brow, don't hesitate to go for 3 teaspoons. Feel free to experiment and find the perfect balance that satisfies your desire for heat.
You can also use chicken instead of beef.
Storage: Leftovers can be stored in the fridge for up to 3 days.
Try These Next
Cooking Video
Yield: serves 4
Fiery Scallion Beef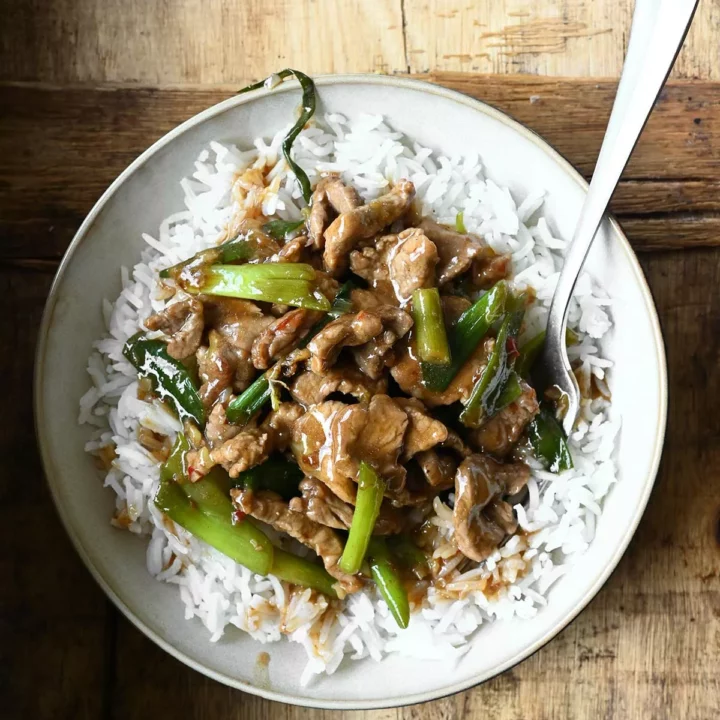 Ingredients
Beef + Marinade
1.1 pounds steak (flank steak, skirt steak, sirloin or rump steak)
1 tbsp cornstarch
1 tsp vegetable oil
¼ tsp sambal oelek, more to taste
1 tsp low sodium soy sauce
To Stir-Fry
10 scallions
4 garlic cloves minced
1 tbsp grated ginger
2 tbsp vegetable oil, divided
Spicy Sauce
1 tbsp toasted sesame oil
¼ tsp white pepper
1 tsp sambal oelek, more or less to taste
1 tbsp oyster sauce
3 tbsp low sodium soy sauce
2 tbsp mirin
¼ cup water
1 tbsp cornstarch
Instructions
Cut the steak in really thin slices across the grain. Combine with soy sauce, oil, sambal oelek, and cornstarch. Set aside.
In the meantime, mince the garlic and grate the ginger. Thinly chop the white part of scallions and slice the green part into 2-inch/5 cm pieces.
Prepare the sauce by combining the ingredients in a small bowl.
Heat 1 tablespoon oil in a wok over high heat until smoking-hot and oil is shimmering. Add the beef, spread in a single layer, sear undisturbed for 30 seconds. Turn, and stir-fry for 30 seconds more, until the beef is slightly browned but not cooked through. Transfer the beef to a clean bowl.
Add 1 tablespoon oil, then garlic, ginger and white scallion parts. Cook for 30 seconds. Stir in green scallion parts, then return beef to the wok and stir-fry for 30 seconds.
Add the prepared sauce, stir-fry for 1 minute. Turn off the heat, and serve!
Notes
Calories Per Serving: 508 kcal
Nutritional information is only an estimate. The accuracy of the nutritional information for any recipe on this site is not guaranteed.

//= __('Print recipe (no photos)', 'servingdumplings' );?> //= __('Print recipe (with photos)', 'servingdumplings' );?>