Eggplant and zucchini rigatoni with bacon. Super easy to make and ready in about 30 minutes. Imagine bacon sizzling with hearty veggies sautéed until golden to max out on flavor. This pasta dish is elegant, straightforward, and perfect for a stress-free weeknight dinner. So, let's get cooking and dig into this mouthwatering meal!
If you're looking for a flavor-packed pasta dish that's a total crowd-pleaser… Look no further! Picture this: caramelized and perfectly cooked veggies creating a mouthwatering sauce that's perfect for mixing with pasta.
But wait, there's more! We're bringing in the big guns, crispy bacon for a salty punch, creamy Parmesan for extra richness, and vibrant sun-dried tomatoes to brighten it all up. And here's the secret to that amazing flavor: the sun-dried tomato oil! It adds an extra layer of flavor, and works wonders, especially when the eggplant soaks it all up, turning irresistibly tender and delicious.
This dish is a guaranteed winner for your next dinner. So, grab that skillet, get cooking, and enjoy a spectacular dinner that'll leave you wanting more.
Let me guide you through the recipe with this step-by-step VIDEO.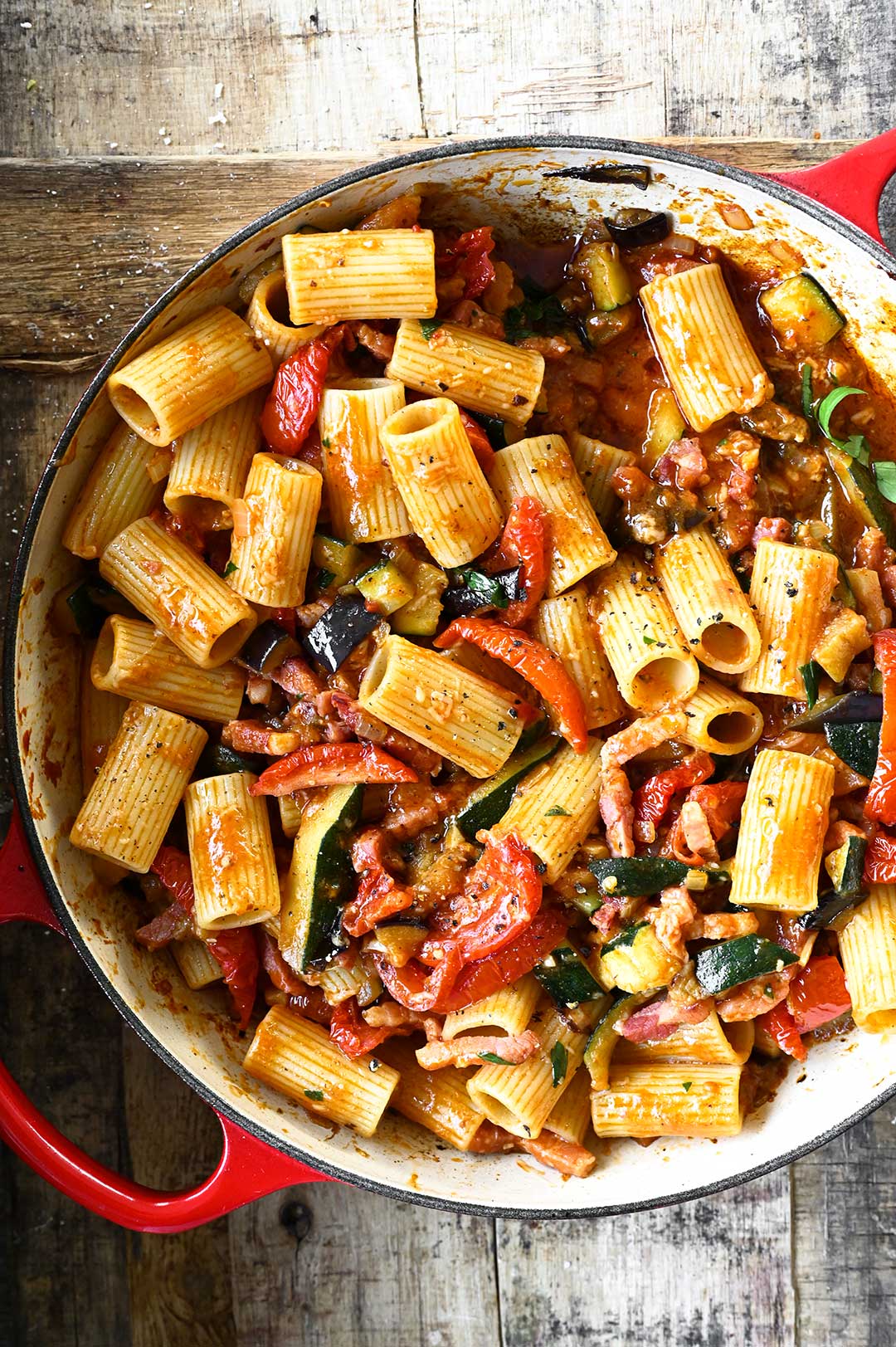 Recipe Notes
I used basil but oregano or parsley would work just as well!
If pasta's not in your cards, just serve this hearty sauce alongside a salad and some bread, or with roasted fish.
For some extra spice, you can add either dried or fresh chili peppers, like Fresno, Chipotle, Jalapeño or Serrano.
The sauce is also great cold or at room temperature on top of a toasted baguette or with crackers.
Omit bacon for a vegetarian version.
Add more veggies, like bell pepper or mushrooms.
Storage: Leftovers can be stored in the fridge for up to 3 days.

More Pasta, Please!
Cooking Video
Yield: serves 4
Eggplant Zucchini Rigatoni with Bacon
Ingredients
11 oz/300 g rigatoni
1 eggplant, cut into bite-sized pieces
1 zucchini, cut into bite-sized pieces
1 tsp each: salt, black pepper, divided
9 oz/250 g salted bacon bits
1 small onion, finely chopped
4 garlic cloves, minced
2 tsp sweet paprika
1 tsp each: chili flakes and dried thyme
5.5 oz/150 g sun-dried tomatoes, drained, oil reserved
2.5 oz/70 g tomato paste
2 oz/60 g grated Parmesan, more for serving
20 basil leaves
Instructions
Get all your prep done before you start cooking. Cut the eggplant and zucchini into bite-sized pieces. Mince the garlic and finely chop the onion.
Cook the pasta in a large pot of generously salted boiling water, until al dente. Drain, reserving ½ cup cooking water.
Heat 3 tbsp oil from the sun-dried tomatoes over medium high in a large non-stick skillet. Add eggplant, season with ½ teaspoon salt and pepper. Add 1-2 tbsp oil, this way the eggplant will become buttery tender. Cook over medium-high heat, until soft and golden, about 5 minutes. Stir occasionally. Remove from skillet.
Heat 2 tbsp oil in the same skillet, add zucchini and season with the remaining salt and pepper. Cook over medium-high heat, until soft and golden, about 3-5 minutes. Stir occasionally. Remove from skillet, leaving as much oil as possible in the pan.
Add bacon, cook until crispy and golden brown, stirring occasionally, for about 3 minutes. Stir in garlic and onion, cook for 2 minutes, until soft and fragrant. Season with chili flakes, sweet paprika and thyme.
Return eggplant and zucchini back to the skillet. Add sun-dried tomatoes and cook for 2 minutes. Stir in tomato paste and add 1/4 cup of the cooking water. Add pasta, basil and Parmesan, stir until combined. Add the remaining cooking water, stir until glossy.
Taste, and adjust salt to your own liking. Remove from heat.
Divide pasta among bowls, serve with grated Parmesan. Enjoy!
Notes
Calories Per Serving: 349 kcal
Nutritional information is only an estimate. The accuracy of the nutritional information for any recipe on this site is not guaranteed.