Hands down my new favorite way of making pesto is to add miso! It's a mouth-watering miso-basil pesto and it adds a lot of flair to this dish. It brings bright and intense flavors. 
It features mighty eggplant, which is cubed and quickly sautéed until tender and caramelized. Salty miso paste is added to kick up the flavor and basil keeps things fresh. Grated parmesan, good olive oil and black pepper should be enough to bring out the best in this recipe. 
Pesto and pasta, however, shine as companions above all other summaries. Don't you agree? But then, add miso and you'll probably have the most umami-rich pasta dish you could have imagined.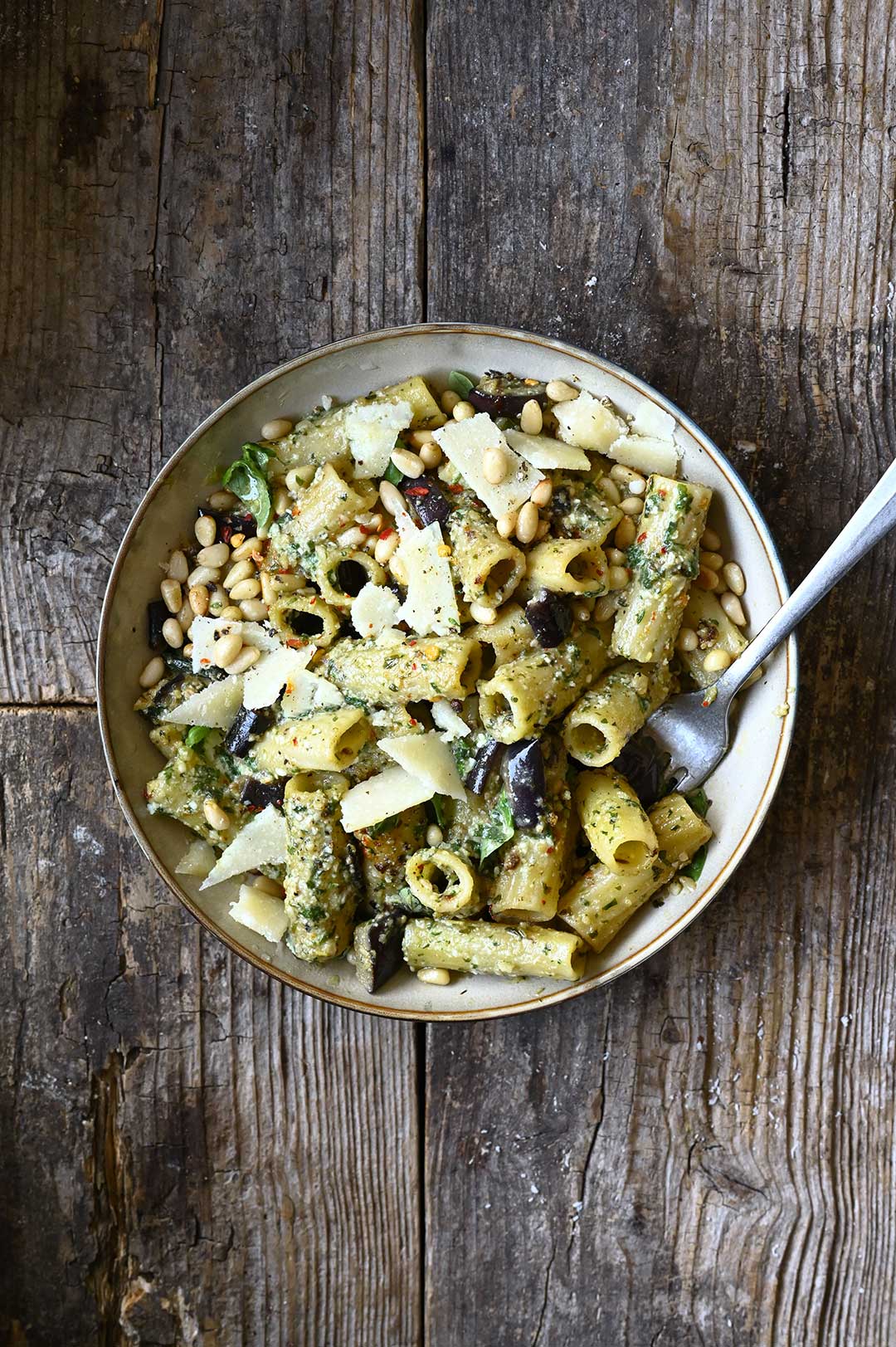 A dish, full of bright, bold notes, from the squeeze of a lemon, toasty pine nuts and subtle toothsome bites of tender eggplant. It's simple, easy and absolutely luscious! This dish makes a perfect bowl of comfort and a whole lot of flavor. Delicious!
Hop on over to Instagram to see how to make this in my highlights!
3 more surprising recipes with miso:
Asian mushroom noodle soup
Roasted pumpkin soup with wild rice and miso mushrooms
Mussels in Garlic Miso Broth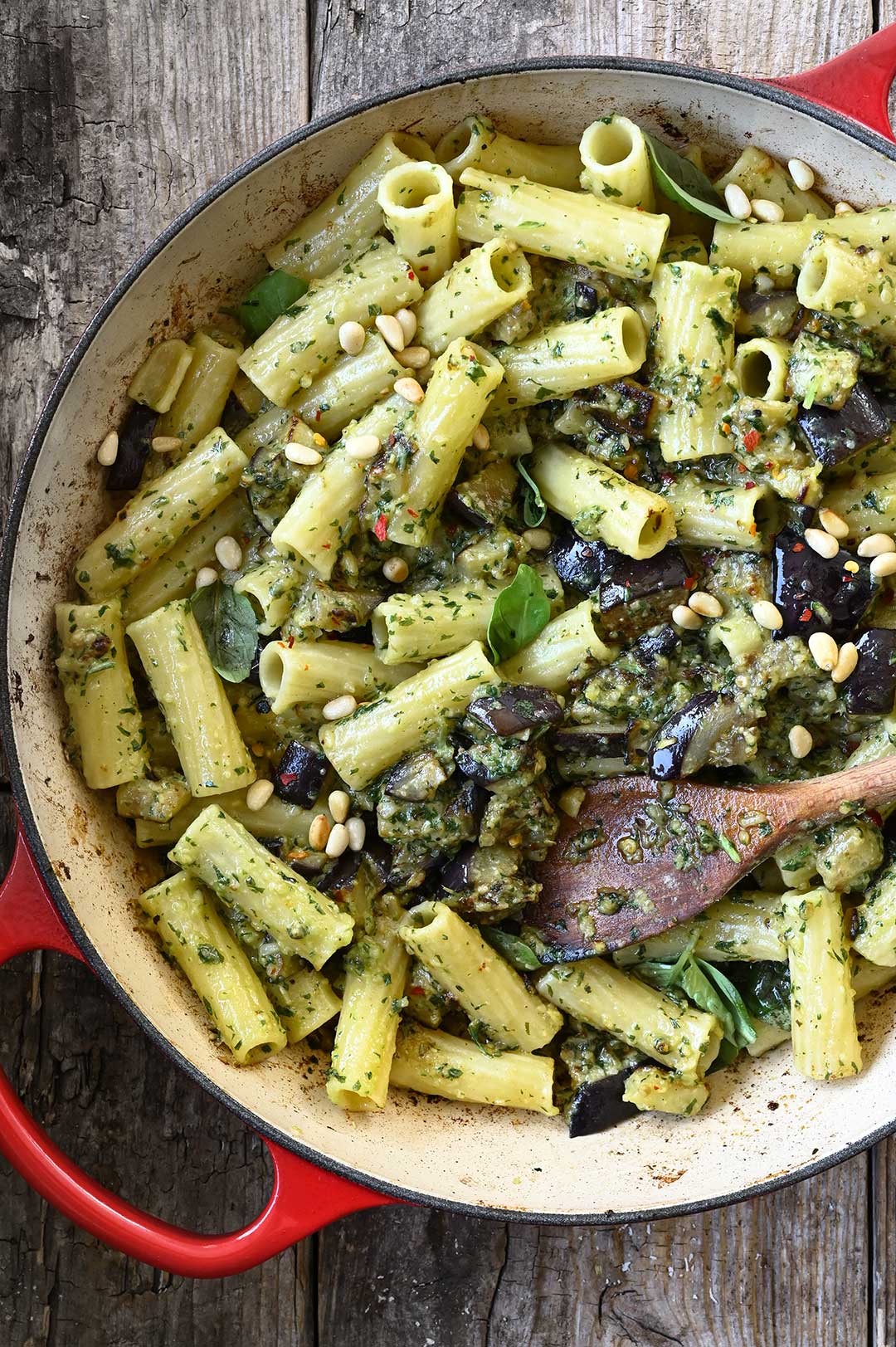 Let's stay connected! Sign up for my NEWSLETTER to receive the latest recipes.
You need
250 g (2 cups) pasta
1 eggplant, cubed
3 tbsp olive oil
3 garlic cloves, minced
salt + black pepper
1 tsp chili flakes
miso pesto
30 g (2 cups) basil leaves
40 g (1/4 cup) toasted pine nuts
2 tbsp miso
2 tbsp lemon juice
80 ml (1/3 cup) olive oil
50 g grated parmesan
black pepper
for serving
4 tbsp toasted pine nuts
basil leaves
grated parmesan
chili flakes
…IF YOU LOVE THESE RECIPES … please consider supporting my work for just the cost of a cup of coffee.

How to
Boil the pasta in salted water until al dente. Drain, reserving 1/4 cup of the cooking water.
Make the pesto. In a food processor, combine the basil leaves, pine nuts, miso, lemon juice and parmesan. Blend until a chunky paste. While the food processor is running, slowly pour in the olive oil through the feed tube, adding more if needed to reach your desired consistency. Season with pepper to taste. Set aside.
In a large skillet, heat the olive oil over medium heat. Add eggplant cubes and sauté for about 5-8 minutes or until tender and slightly browned. Add garlic, cook until fragrant, for about 3 minutes more. Season with salt, pepper and chili flakes.
Stir in the miso pesto, add pasta and a splash of the reserved cooking water. Stir well so everything is well-coated. Serve immediately, topped with grated Parmesan cheese, basil, pine nuts and chili flakes. Enjoy!
Hop on over to Instagram to see how to make this in my highlights!
If you give this recipe a try, leave a comment or mention me on Instagram @anna_s_table and tag me in your picture. I'd love to see what you're making. Happy cooking!