This easy sausage cast iron skillet pizza delivers the crunchiest crust you've ever imagined. Think about a thick crust style pizza with bright tomato sauce, melty mozzarella, creamy ricotta and hearty meat. The key to this pizza is baking it in a cast iron skillet at a high temperature. The pan acts as an extra oven and creates an unbelievably satisfying crispy crust. As soon as the pizza comes out of the oven, top it with fresh basil or chives, slice, eat, and enjoy. It's all the comfort of your favorite pizza, turned up to its highest volume. Every slice is delicious and will leave you craving for more. It's savory, a little spicy and a lot of fun to make.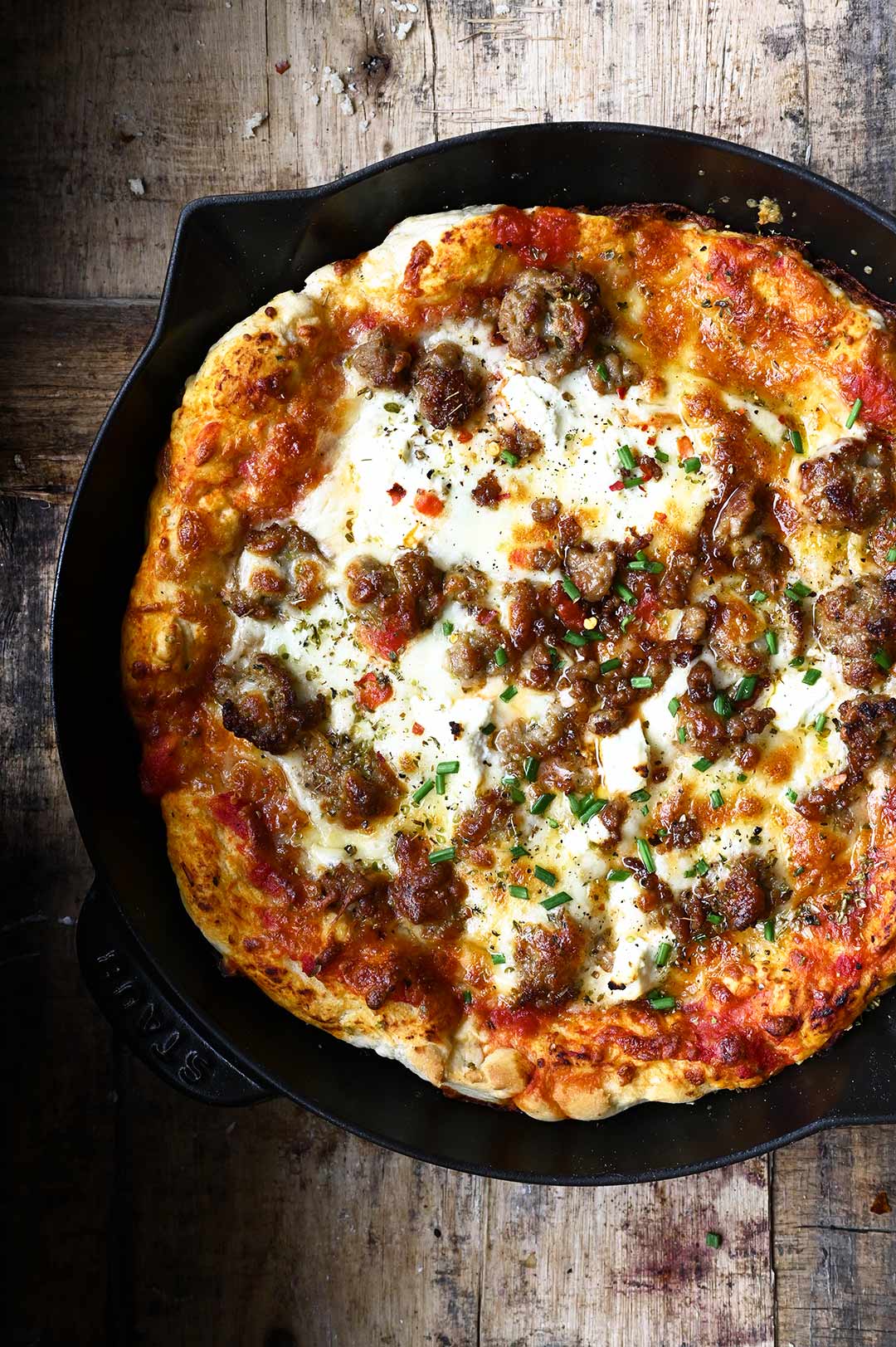 We start by making the dough. Pizza dough is easy enough to make at home and ready in about 1 hour. You can make it in advance, store it in the fridge, and just roll it out when you're back from work. But you can also look for a store-bought dough at your grocery store.
This pizza asks for a simple sauce, we stir crushed tomatoes with garlic powder, olive oil, salt and black pepper, and done. If the canned tomatoes contain too much juices, just strain them first using a fine sieve.
As for the meat, you can use Italian sausage, or if you're like me not able to find it, it's super easy to make yourself. Just use ground pork and season it with Italian-style herbs (I added the amounts in the ingredients section).
We're finishing the pizza with a carpet of two different kinds of cheese, mozzarella and ricotta. You can swap one of these for cheddar or parmesan, as long as you combine two or three varieties of cheese for a delicious result.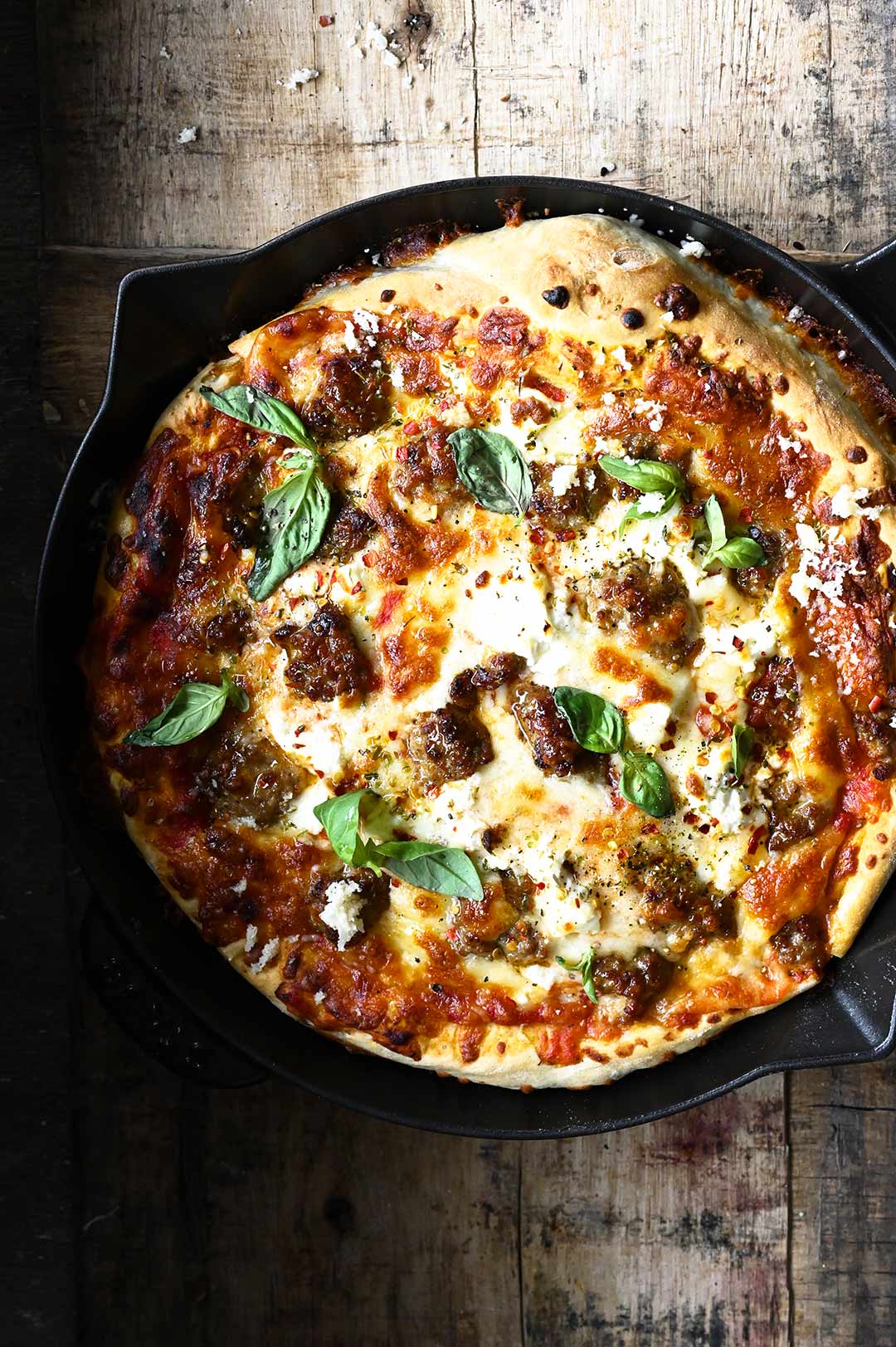 RECIPE NOTES
You can easily make this pizza your own by adding your favorite toppings, homemade pizza is all about experimenting, so don't hesitate to add some extras. Pepperoni or your favorite veggies are great choices. If using vegetables that release liquid, sauté them first to prevent the pizza from getting soggy.
Don't have a cast-iron skillet? You can still make this pizza by using a lightly oiled sheet pan or an oven-proof skillet. It still will be slightly crunchy and delicious.
Let me guide you through the recipe with this step-by-step VIDEO.
Other Delicious Pizza Recipes to Try

You need
pizza dough
you can use store-bought or follow this recipe
460 g (16.2 oz or 3 2/3 cups) bread flour
3 tbsp dry yeast
260 ml (1 cup + 1 tablespoon) warm water
1 tbsp whole milk
2 tbsp olive oil
1 tsp salt
1 tsp honey
tomato sauce
1/2 cup crushed tomatoes
2 tbsp olive oil
1/2 tsp garlic powder
salt + black pepper
toppings
500 g (1 lb 1.6 oz) Italian sausage
OR ground pork seasoned with 1/2 tsp each: dried thyme, dried oregano, garlic powder, sweet paprika, ground fennel seeds, salt, black pepper
250 g (8.8 oz) shredded mozzarella
100 g (3.5 oz) ricotta
dried oregano, for sprinkling
crushed red pepper flakes, for serving
fresh basil leaves or chopped chives, for serving
How to
Let me guide you through the recipe with this step-by-step VIDEO.

Place yeast, water and honey into the bowl of your stand mixer, lightly stir ingredients together and set aside for 5-10 minutes until foamy.
Add flour, milk, olive oil and salt, knead for at least 10 minutes with your stand mixer fitted with a dough hook, on low. The dough is ready when you can stretch it. Lightly grease the same bowl with oil, drop the dough, cover and let stand for 30 minutes to 1 hour, or until doubled in size. Keep it at room temperature.

Preheat the oven to 250°C/480°F.
In the meantime, make the sauce. Combine the ingredients in a small bowl, stir and set aside. If the crushed tomatoes are too juicy. Pour them into a fine strainer that's set over a bowl to drain.

In another large bowl, add the ground pork and combine with the seasoning. Break up in pieces, and roll them lightly into 'imperfect' meatballs (without rolling them into 'firm' meatballs).
Heat 3 tbsp olive oil in a large skillet over medium heat. Add 'meatballs' and cook, gently tossing 3-5 minutes until golden. Remove the skillet from heat.

When the dough is ready. Turn it out onto a floured surface and roughly divide into 2 balls.
Lightly oil the cast-iron skillet ⌀26cm/10inch. Place 1 dough ball into the skillet and press out toward the edges of the skillet. It's okay if the dough bounces back a bit. You can bake the pizzas one by one, or in two skillets at the same time. Or freeze the remaining dough for another use.
Spoon the tomatoes over the dough, leaving a small border. Top with half of the mozzarella, followed by ricotta and the meatballs. Repeat with the remaining mozzarella and sprinkle with oregano and chili flakes.
Transfer the skillet to the oven, lower the heat to 230°C/450°F and bake for about 15-17 minutes, until the bottom of the pizza is crisp and the cheese starts to bubble.
Sprinkle with fresh basil or chives, then cut and serve. Enjoy!

//= __('Print recipe (no photos)', 'servingdumplings' );?> //= __('Print recipe (with photos)', 'servingdumplings' );?>