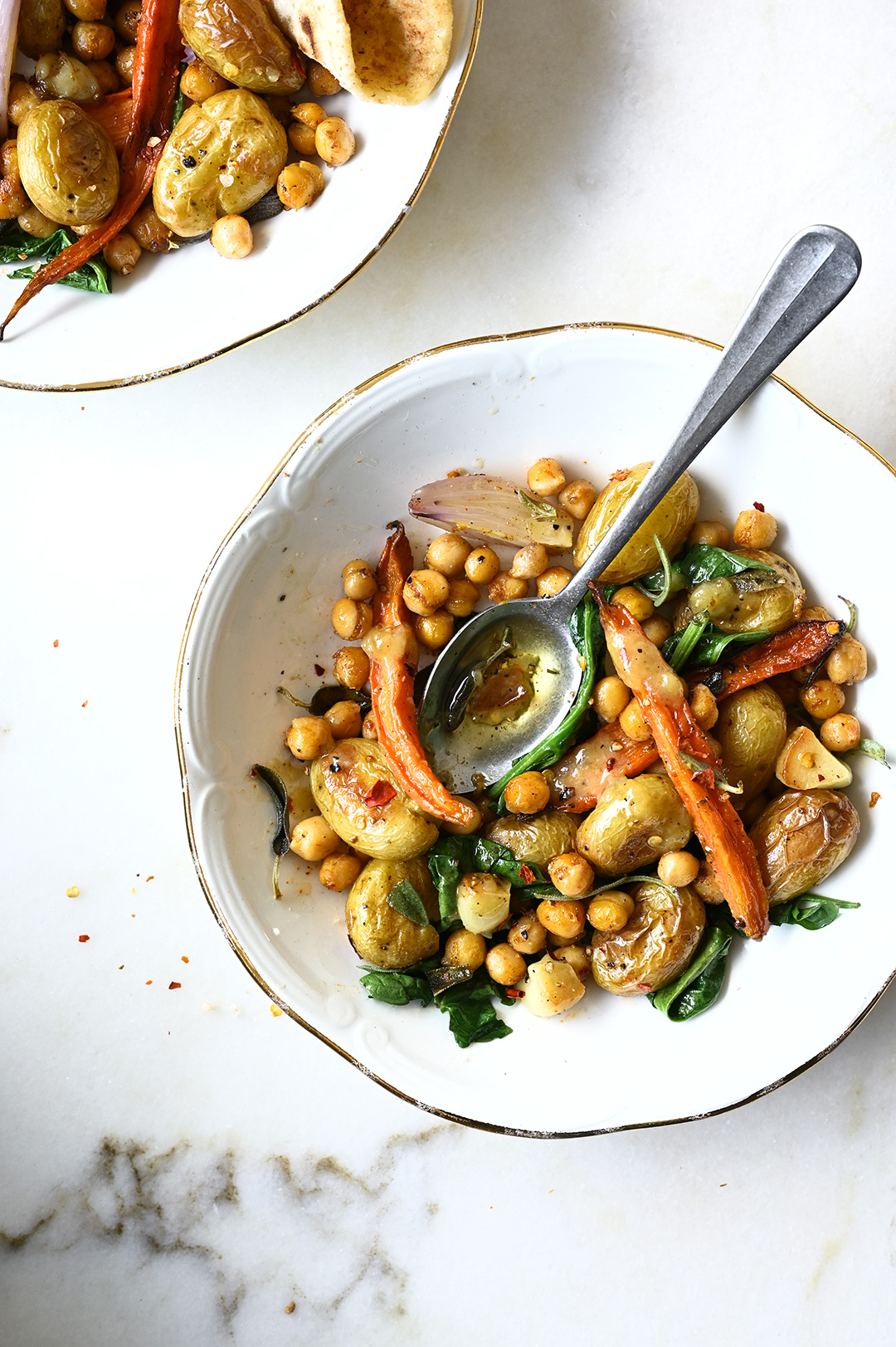 We may have eaten this roasted potato and chickpea salad in seconds. It's that good.
It's a great way to use up the left overs in your fridge because you can make it with anything. This is a recipe with almost all of the ingredients coming from my pantry.
Instead of boiling the potatoes, they're roasted, which makes a huge difference in the overall flavor of this salad. You'll start by roasting the potatoes and carrots, then add some seasoned chickpeas to the sheet pan and continue roasting until the chickpeas are crisp and the veggies are super tender.
I also love to add extra garlic and keep it refrigerated. It's perfect for spreading on toast, adding to hummus or mashing into a salad dressing.
The salad is excellent warm or cold, and almost as good on day two and three as it was fresh. The bright honey mustard dressing with roasted garlic is what makes this otherwise simple salad special. And adding the dressing while the potatoes are still hot lets it soak right in.
The addition of crunchy chickpeas and spinach make this dish feel hearty without taking away from the carb-fest quality, which is key!
Hope that some of you get a chance to make this salad, you can add any other vegetables like eggplant or zucchini. Just start with the potato-chickpea-dressing-base and add in seasonal elements that you have on hand. Serve with homemade naan!
In the meantime, hope that all of you are enjoying some sunshine and warmer days.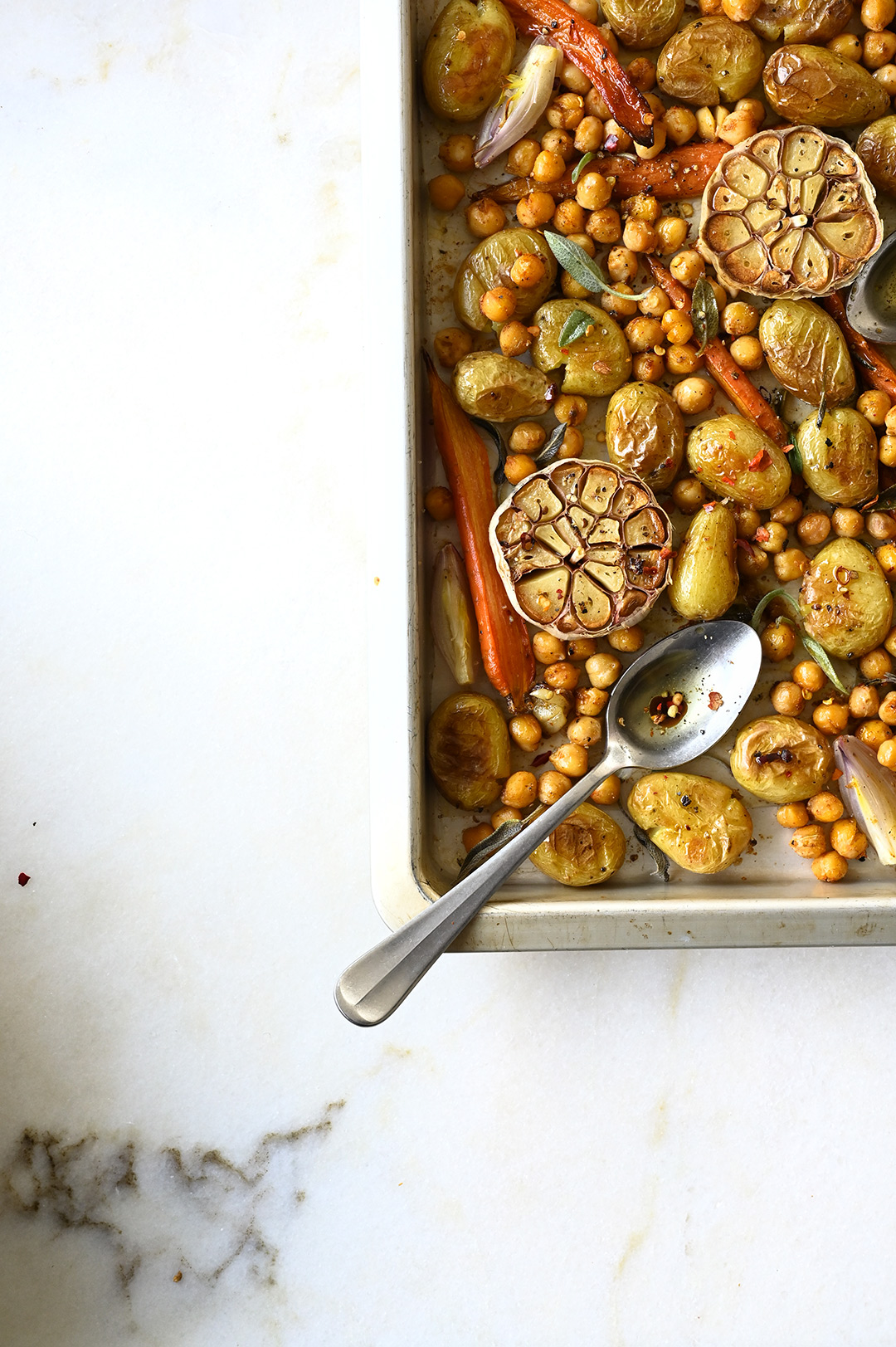 You need
roasted potatoes
150 g baby potatoes
4 carrots, peeled and cut lengthwise
1 whole garlic head, halved
2 shallots, peeled and halved lengthwise
3 tbsp olive oil
1 tbsp lemon juice
sea salt + black pepper
seasoned chickpeas
1 can chickpeas, drained
1 tbsp olive oil
1 tsp sweet paprika
1 tsp cumin
1 tsp koriander
1 tsp freshly grated ginger
sea salt + black pepper
sage leaves
dressing
1/3 cup olive oil
2 tbsp lemon juice
1 tbsp balsamic vinegar
1 tsp mustard
1 tsp honey
2 rosted cloves garlic, mashed
sea salt + black pepper
naan
125 g flour
100 g Greek yogurt
pinch of salt
melted butter, to brush the breads
to finish
50 g spinach
chili flakes, to sprinkle
flatbread, to serve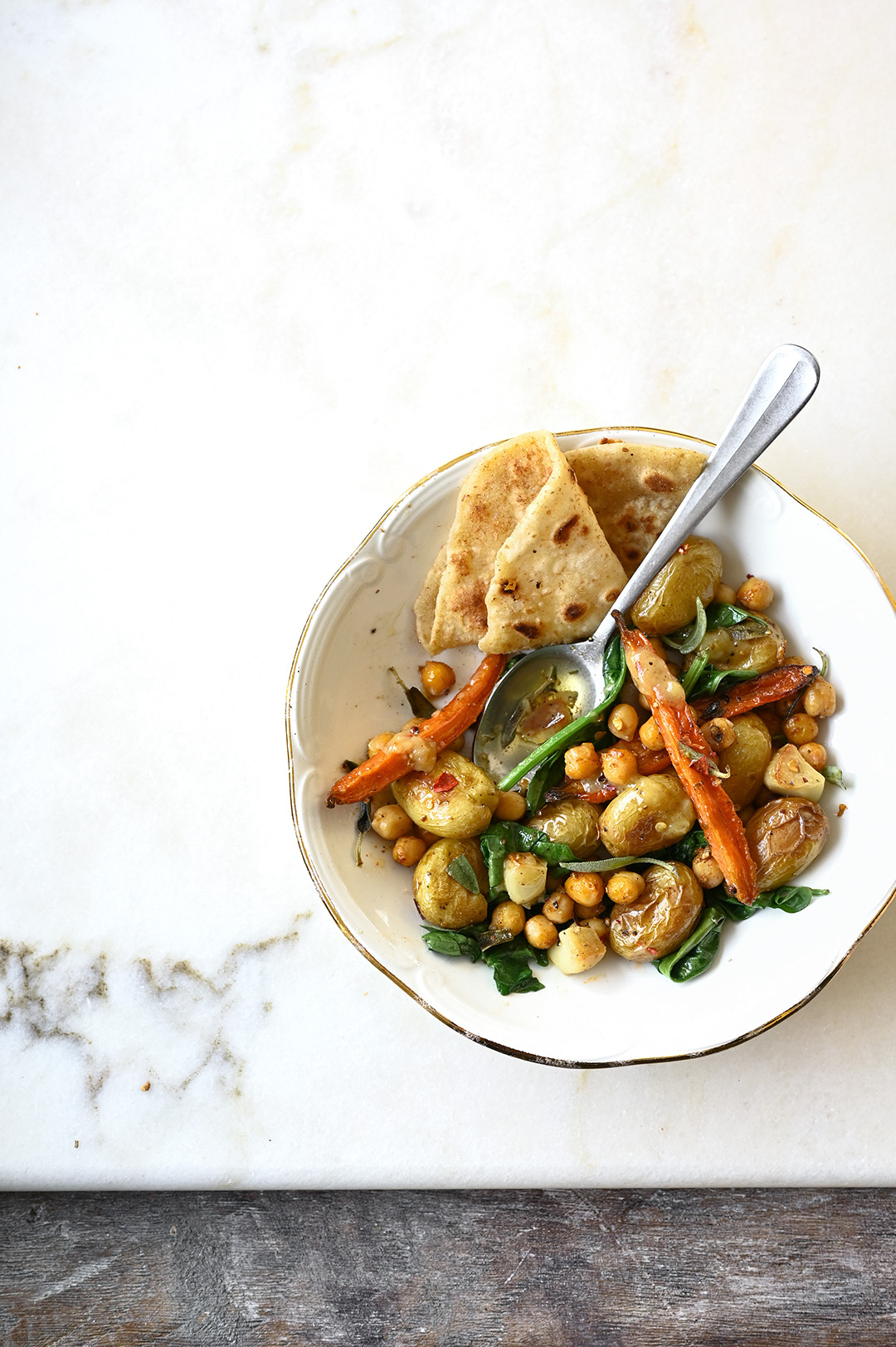 How to
Preheat the oven to 200 degrees C.
On a large rimmed baking sheet, combine the potatoes, carrots, shallots, olive oil and a pinch of salt and pepper. Sprinkle with lemon juice, toss well to evenly coat. Add the garlic head, transfer to the oven and roast for 15-20 minutes, it depends on how big your potatoes are.

Meanwhile, combine the chickpeas with olive oil, ginger, paprika, cumin, koriander, and a pinch of salt and pepper. Toss well to evenly coat. Remove the potatoes from the oven and spoon the chickpeas around the veggies. Sprinkle with sage leaves. Transfer to the oven and roast for 10-15 minutes or until the chickpeas are crispy.

Combine the ingredients for the dressing, add 2 mashed roasted garlic cloves. Keep the rest of the garlic refrigerated to use up in other dishes or dressings.

In a large bowl, combine flour, salt and Greek yogurt. Knead the dough into a ball. On a floured work surface, flatten the dough into a circular shape and divide into 6 even portions. Roll out each portion into a round. Heat a skillet on medium heat. Lightly brush the tops of each naan bread with melted butter, cook for 3 minutes, flip and cook further for 2 minutes.

To assemble the salad, place the hot veggies in a large bowl with the spinach. Pour the dressing over top and stir until the potatoes are fully coated and the spinach is wilted. Sprinkle with chili flakes, serve warm or cold with naan on the side. Enjoy!

//= __('Print recipe (no photos)', 'servingdumplings' );?> //= __('Print recipe (with photos)', 'servingdumplings' );?>