Easy ragu with ricotta. Picture al dente pasta gently tossed with a rich meaty tomato sauce. It's ultra-comforting, especially when paired with creamy ricotta. Finish off with lots of grated Parmesan and serve with a nice mixed salad on the side.
When braised in tomato sauce and white wine, ground pork becomes tender and juicy, while ricotta adds a rich creaminess to this deeply-flavored pasta dish. And best of all, pasta just makes everyone happy, your friends and family are guaranteed to love this dish.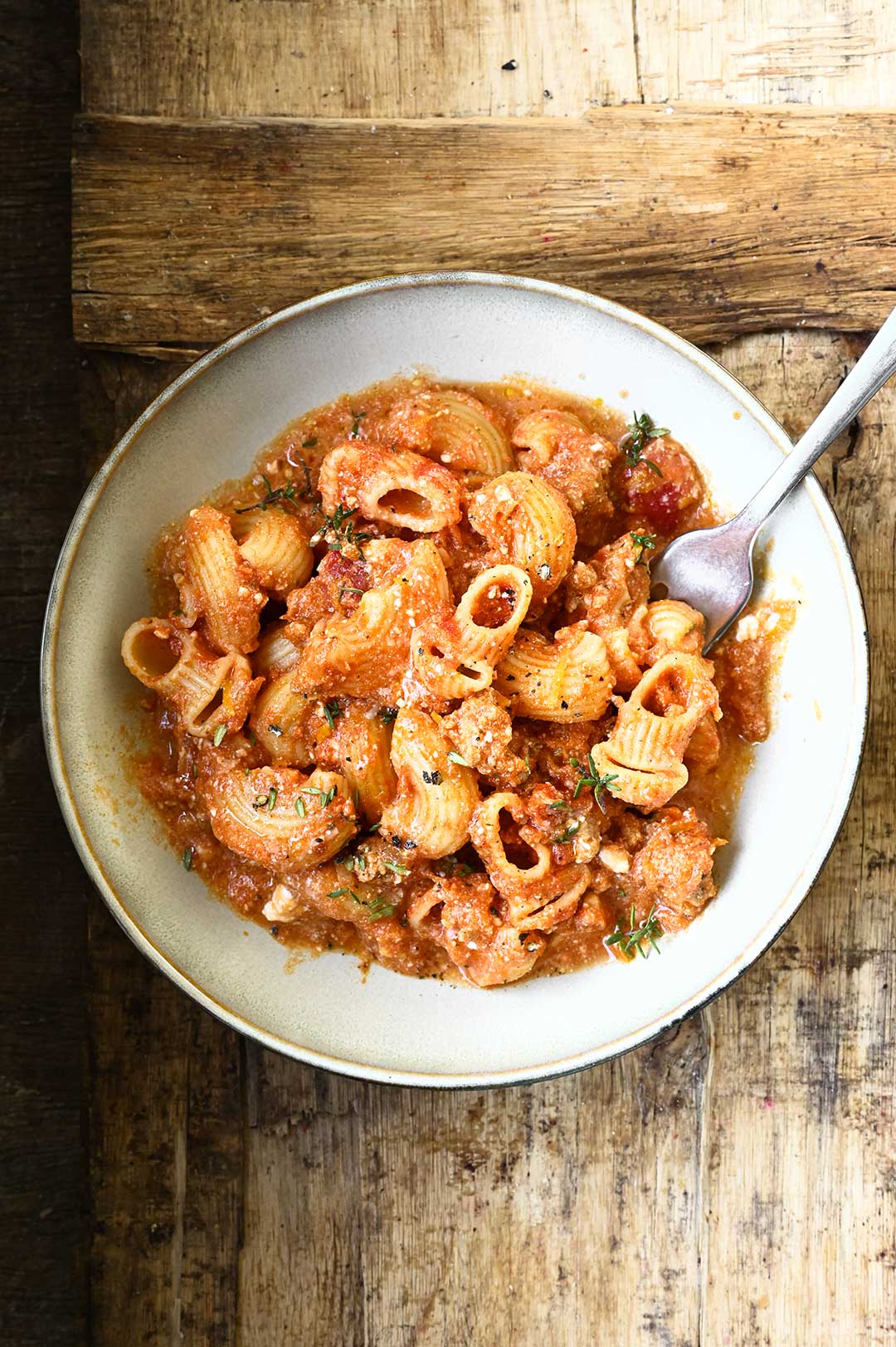 Meat ragu traditionally requires a long simmer, but this easy version owes its slow-cooked flavor to the addition of tomato paste, which yields a complex, hearty sauce. Toss the ragu with pasta and top with fresh thyme. In this recipe we use pork, but you could also prepare it with spicy Italian sausage, beef or chicken.
Let me guide you through the recipe with this step-by-step video.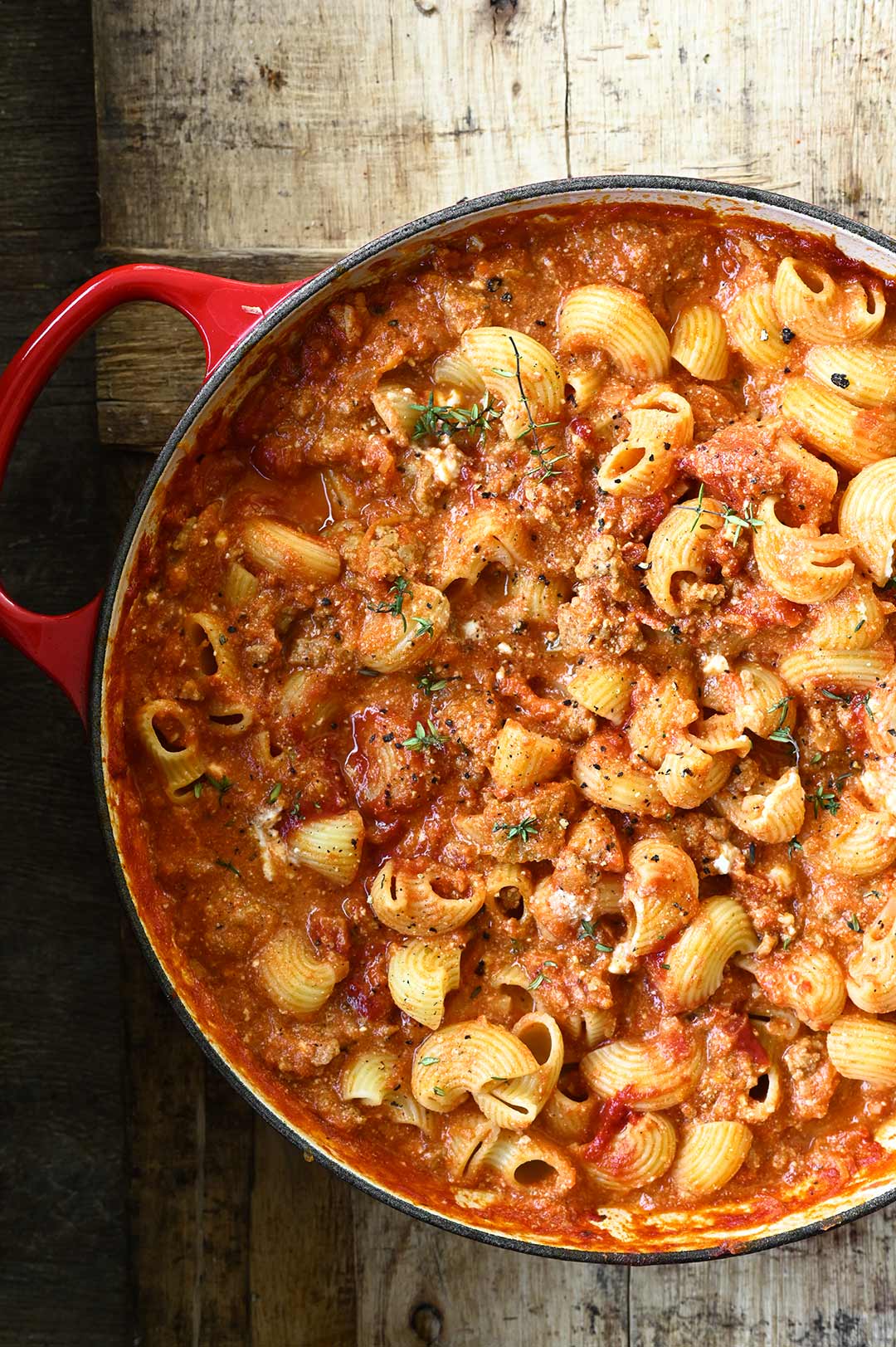 RECIPE NOTES
serve this ragu over pasta, polenta or with thick slices of toasted bread and lots of grated Parmesan
swap pork for beef, chicken or Italian sausage
serve with a crisp lettuce salad
if you want to add more veggies, go for it! Zucchini or eggplant would work great here
use any kind of pasta shape that you have on hand
add some chili flakes for that extra punch
you could also use some low fat cottage cheese instead of ricotta
add more flavors like fresh sage or fennel seeds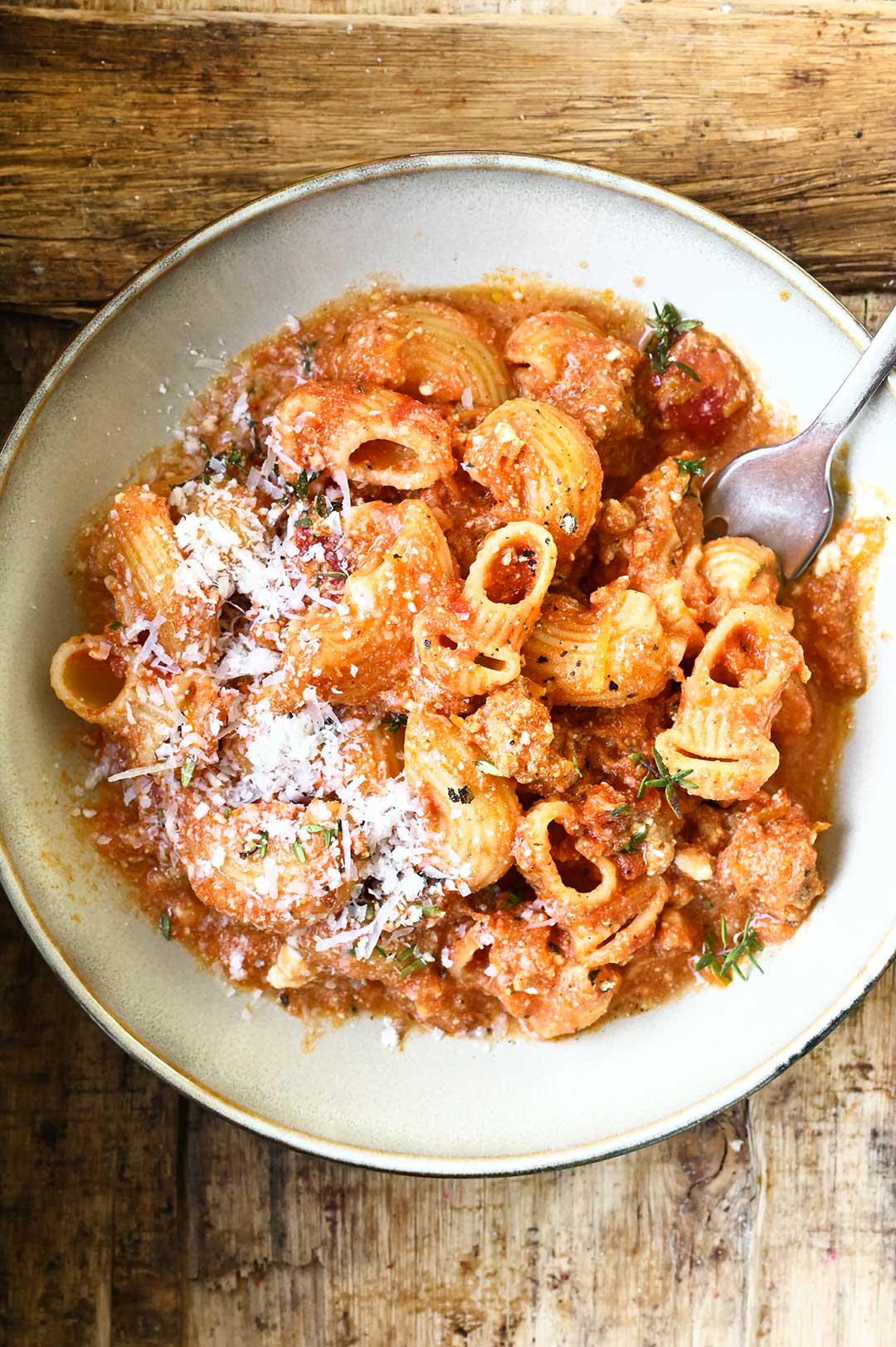 More pasta, please!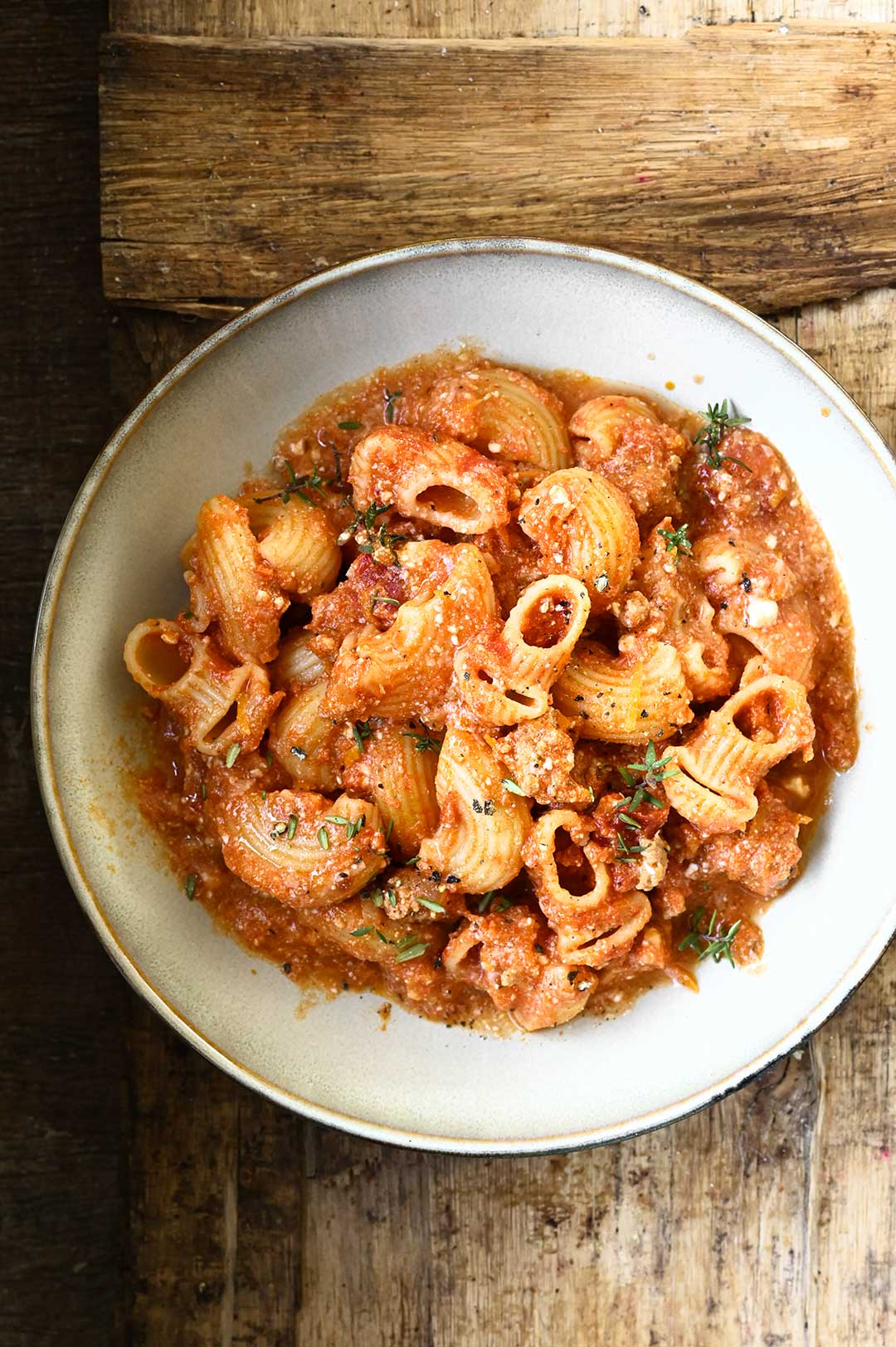 Recipe Video
Yield: serves 4
Easy Ragu with Ricotta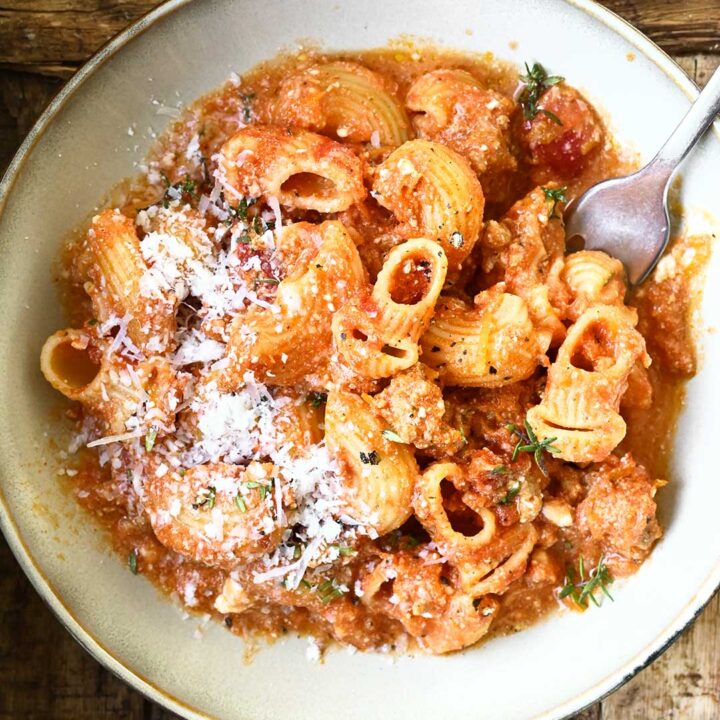 Prep Time 5 minutes

Cook Time 30 minutes

Total Time 35 minutes
Ingredients
200 g/7 oz pasta
500 g/1.1 pounds ground pork
1 small onion, finely chopped
2 garlic cloves, minced
1 celery stalk, finely chopped (optional)
2 small carrots, grated
2 tbsp olive oil
1/2 cup/120 ml whole milk
1/2 cup/120 ml dry white wine, like Pinot Gris
2 cups/500 ml crushed tomatoes
120 g/4 oz whole milk ricotta
3 tbsp tomato paste
55 g/2 oz grated Parmesan, more for serving
1 tsp each: salt, black pepper, sweet paprika, cayenne pepper, dried oregano, dried sage
1/2 tsp crushed red pepper flakes
fresh thyme, for serving (optional)
Instructions
Add oil to a large skillet or Dutch oven set over medium heat. Add onion and garlic, cook until soft and fragrant, about 3 minutes. Add celery and carrots, cook for 5 minutes.
Add ground pork, break it up with a wooden spoon before it starts to brown. Sauté until cooked through and no longer pink, about 5 minutes. Add white wine and cook for 5 minutes more.
Stir in the spices and tomato paste. Add crushed tomatoes and bring to a boil, then regulate the heat to maintain a strong simmer. Cook, stirring occasionally, 10-15 minutes.
Meanwhile, cook the pasta in generously salted water until al dente. Then drain.
When ready, add milk, ricotta and Parmesan to the sauce. Stir until combined. Adjust the seasoning with salt and pepper if needed. Add pasta and gently fold with a wooden spoon to coat in sauce.
Divide ragu among bowls, top with thyme and finish off with lots of grated Parmesan, serve immediately. Enjoy!
Notes
Calories Per Serving: 624 kcal
Nutritional information is only an estimate. The accuracy of the nutritional information for any recipe on this site is not guaranteed.


DOWNLOAD PRINTABLE RECIPE PDF