Pork and mushroom stew recipe. Looking for a hearty yet hassle-free dinner idea? This one-pan meal is both satisfying and easy to make with simple ingredients. It features tender pork in a delicious mushroom sauce, making it the perfect comfort food for chilly evenings. Pair it with mashed potatoes for a complete meal that even picky eaters will love.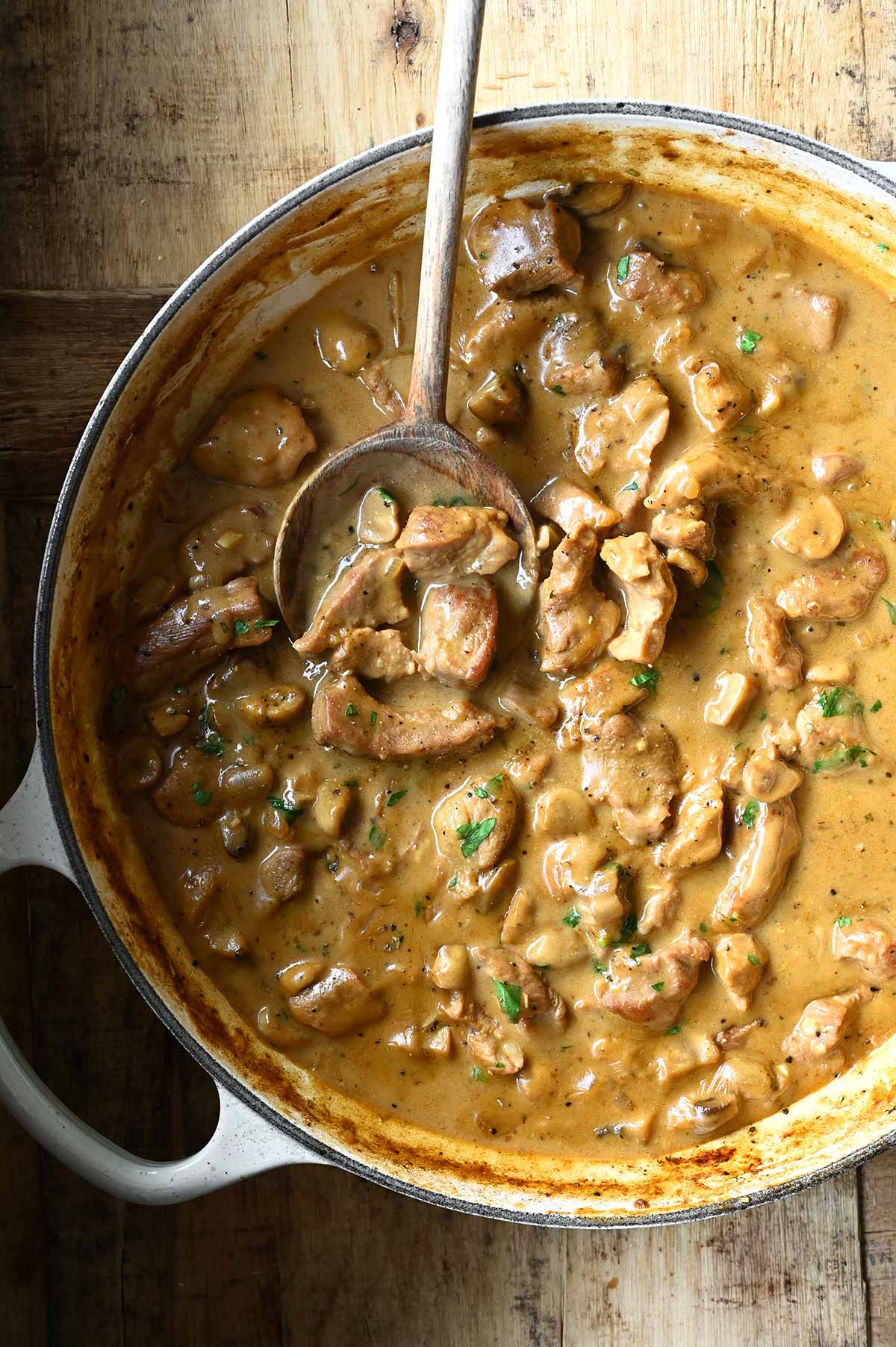 Why You'll Love this Pork and Mushroom Stew
This easy dinner is all about the sauce, and it's absolutely delicious. It's filled with sautéed mushrooms and has a slightly sweet and tangy touch from the balsamic vinegar. A rich and savory stew with tender pork that's incredibly easy to make right on your stovetop. No fuss, just simple cooking.
You can serve it with a big slice of country bread, rice, or mashed potatoes for a truly comforting meal that everyone at your table will adore! And even better, it's a one-pan dinner recipe, so cleanup is a breeze.
This pork with mushrooms stew will leave you feeling completely satisfied. Budget-friendly, restaurant quality dinner from the comfort of your home.
Let me guide you through the recipe with this step-by-step VIDEO or follow along on YouTube.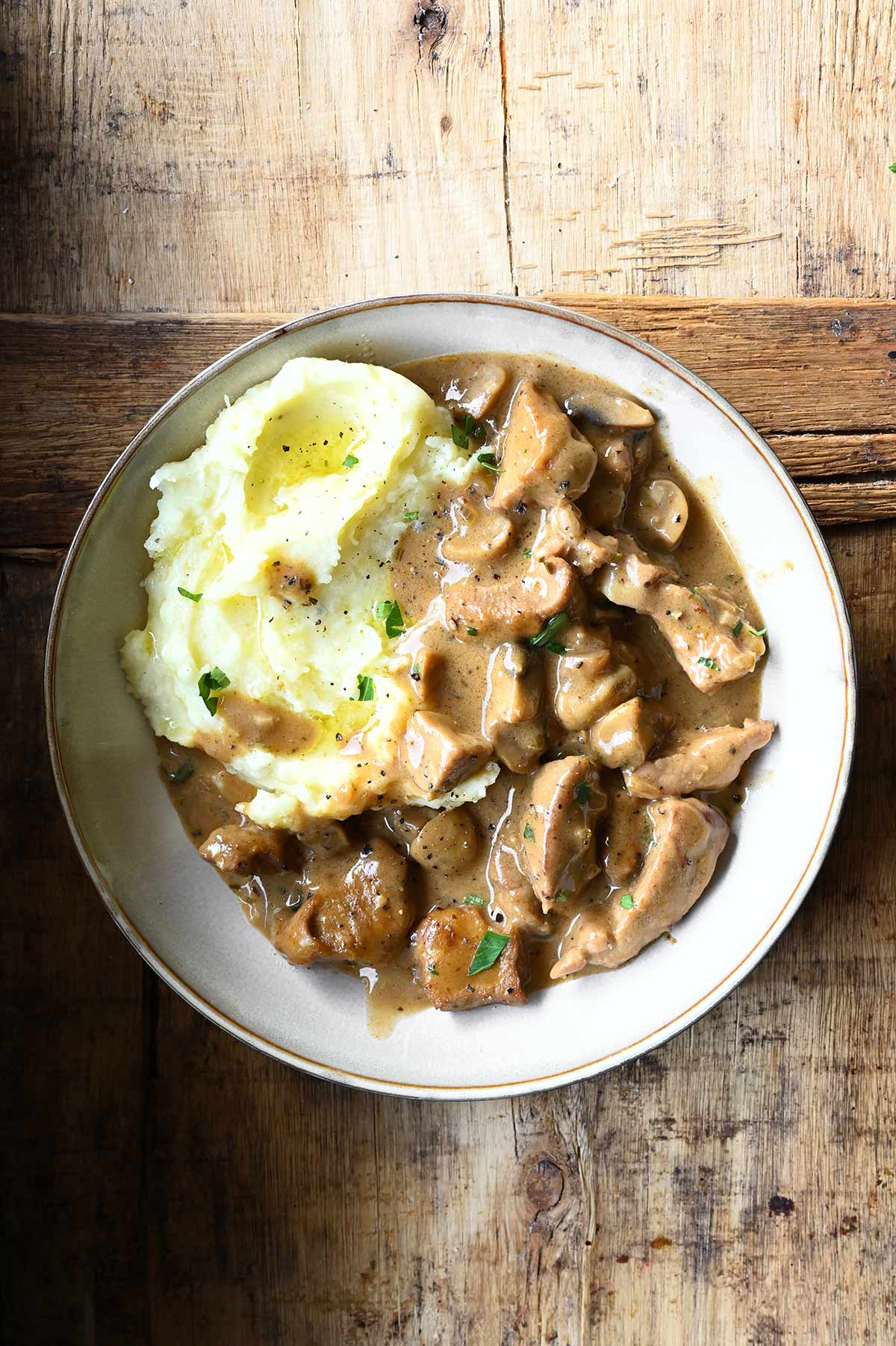 How to Make Mushroom and Pork Stew
This kind of cooking is perfect for stress-free meals, especially during this time of year. It's all about simplicity, just toss the ingredients in the pot, cook, and you're ready! Let's see how it's done!
First, we start by searing the pork chuck in a mix of oil and butter until golden-brown, sealing in all those delicious natural juices. After removing the pork we add chopped cremini mushrooms to the same pan. They soak up all the wonderful flavors and juices while they caramelize. Then, we add a mix of herbs and aromatics like onions and garlic to give everything a burst of flavor. Afterward, we return the pork slices to the pot and pour in broth. We cover it up, let it simmer for about half an hour, and finish it off by stirring in some cream.
The magic really happens during those 30 minutes. The pork turns juicy and tender, and the result is pure comfort food. Your taste buds are in for a real treat with this one!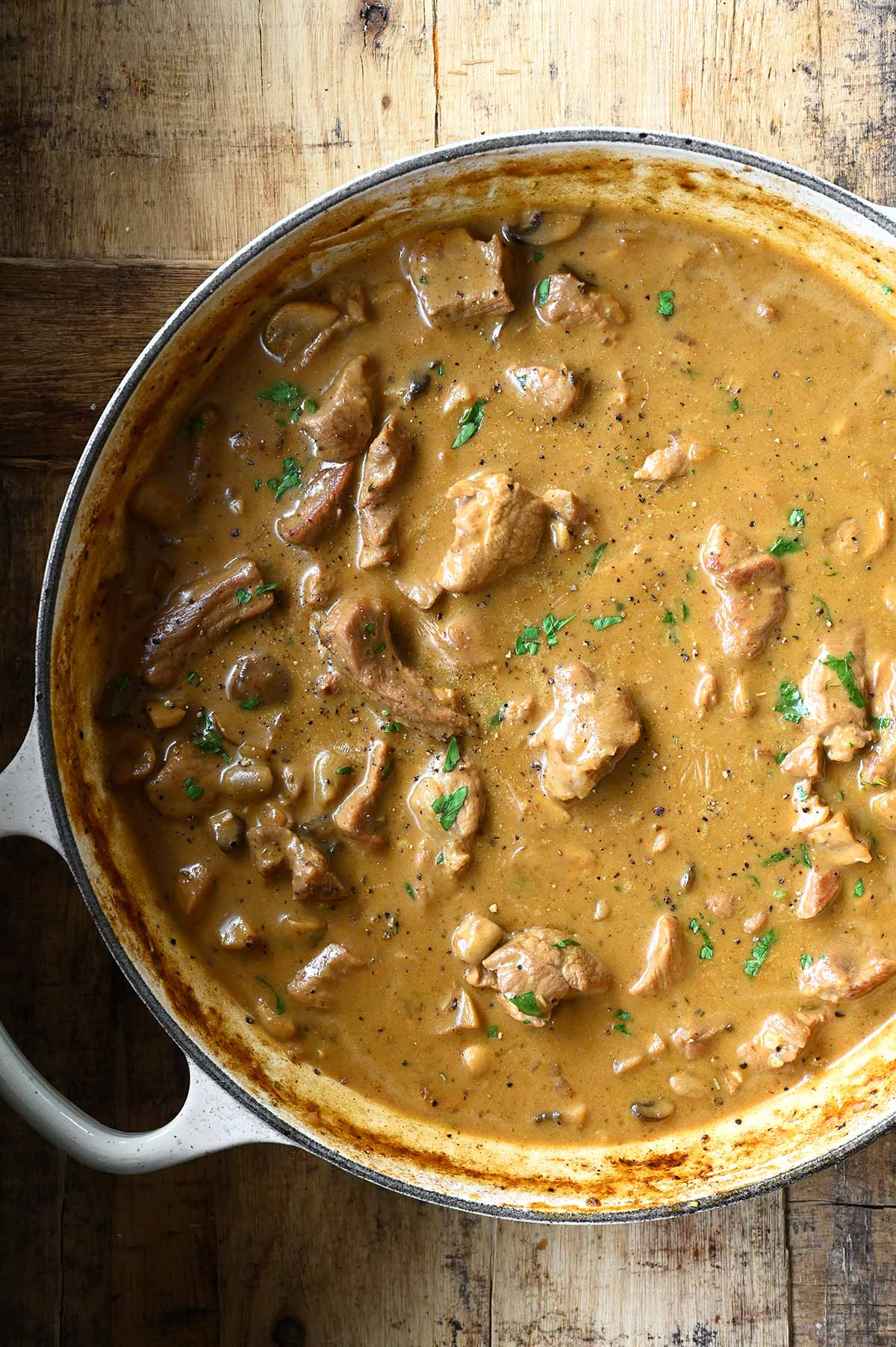 Why this Pork and Mushroom Stew Recipe Works
Quick Cooking: Pork cooks surprisingly fast when cut into bite-sized pieces.
Rustic Charm: Similar to many pork stew recipes, this one has a rustic charm, meaning you don't need to worry about making precise cuts.
Rapid Flavor Fusion: The flavors blend together swiftly, even though it might taste like it simmered for hours because of its rich and deep flavor profile.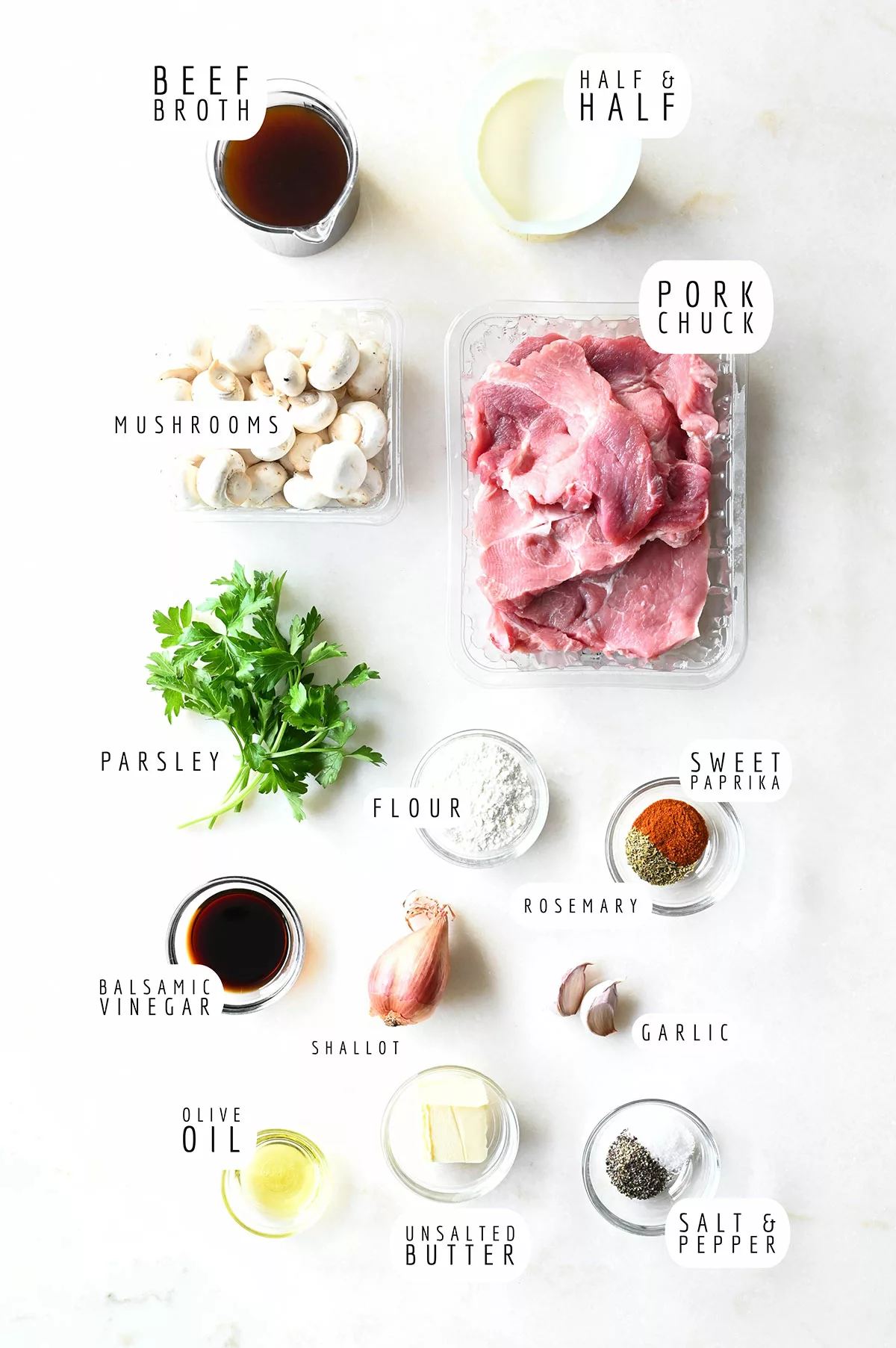 Ingredients and Substitutions
Pork Chuck: Comes from the shoulder area and is often used for roasts or stews. It contains more fat and connective tissue, making it suitable for slow cooking methods to make it tender and flavorful. Pork shoulder or pork butt are other names you might encounter for this cut. If you like to experiment with different cuts, you can also use blade collar or pork tenderloin. Alternatively, you can try chicken breast fillets or turkey for a twist, although the cooking time might change.
Mushrooms: You can use any mushrooms you have on hand. Whether it's cremini, brown, or other varieties, they all work well in this recipe.
Shallot and Garlic: These are essential flavor enhancers. You can swap the shallot for yellow onion.
Balsamic Vinegar: It's used to boost the flavors. If you don't have balsamic vinegar, you can use white wine or sherry as a substitute.
Flour: This is for thickening the sauce. If you're going for a gluten-free option, cornstarch works just as well.
Broth: Beef broth is the go-to in this recipe, adding a rich, robust taste. However, you can switch it out for chicken or vegetable broth if you prefer.
Cream: For a creamy touch, you can opt for heavy cream, half-and-half or 20% fat cream. But keep in mind that low-fat or nonfat milk may leave the sauce a bit thinner. For a dairy-free alternative, go for full-fat unsweetened coconut milk.
Oil and Unsalted Butter: We use both for frying. They not only enhance the flavor but also increase the smoke point, making it easier to cook.
Seasoning: You'll need salt, black pepper, dried rosemary, and sweet paprika to season your dish. No rosemary in your pantry? Use thyme or oregano.
Herbs: Fresh parsley is used to add a burst of freshness to your stew.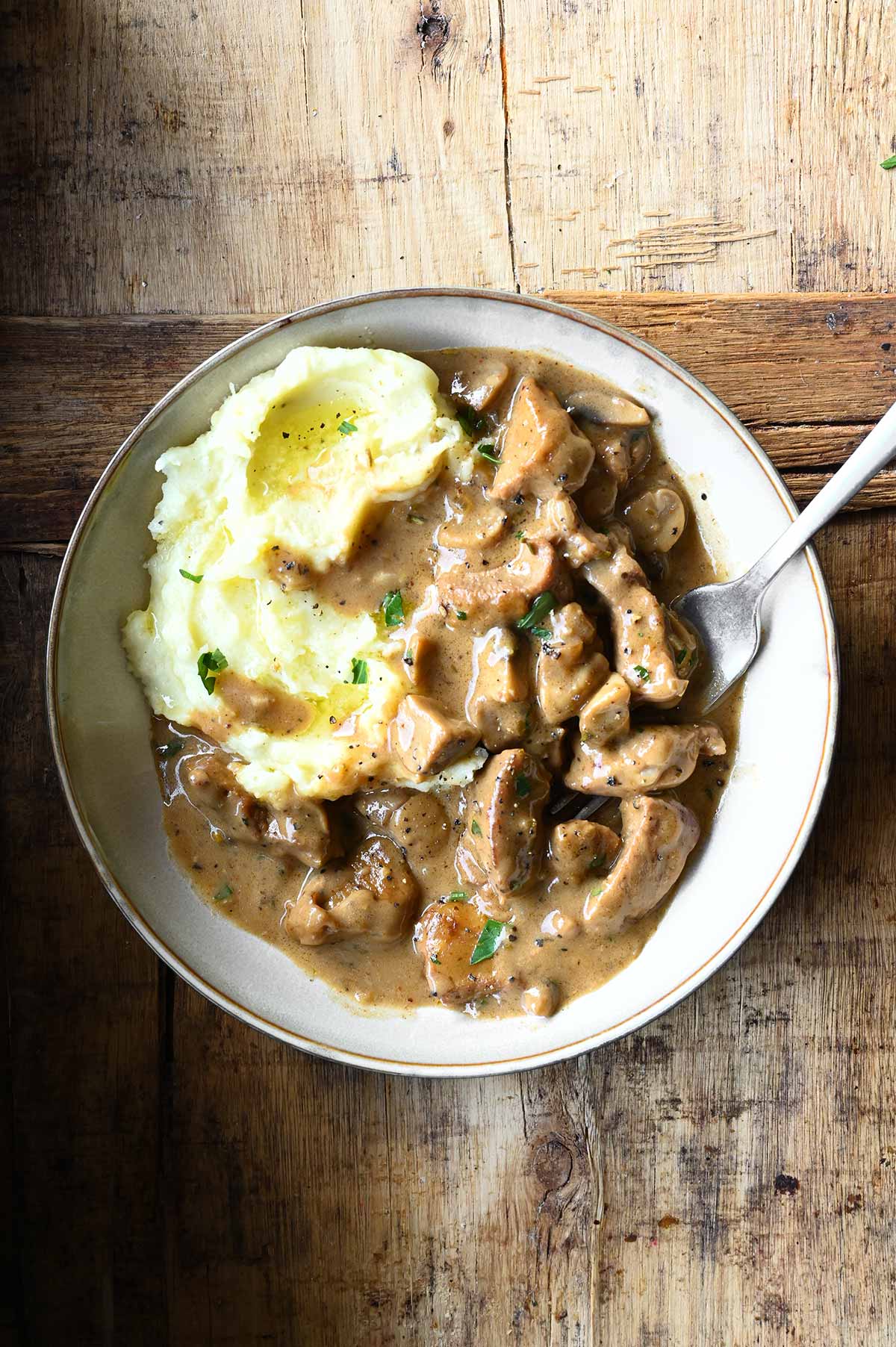 Helpful Tips
Add More Veggies: Feel free to add extra veggies, such as carrots, celery, or green pepper, to enhance the dish's flavor and nutrition.
Choose Your Side: You can serve your stew over mashed potatoes, steamed rice, egg noodles, cauliflower rice , a side of bread or polenta, depending on your preference.
Complement with Greens: Consider pairing your stew with a creamy cucumber salad, coleslaw, or a fresh leafy side salad to complete the dining experience.
Lighten it Up: If you prefer a lighter version of the stew, simply skip the cream.
Meal Prep
Make-Ahead: You can prepare this pork stew recipe up to a day in advance without adding the cream. When you're ready to enjoy it, simply reheat it and stir in the cream.
Freezing: If you'd like to prepare a larger batch for freezing, follow the recipe as written, but do not add the half-and-half. Freeze the stew in airtight containers, and it can be stored for up to 3 months. When you're ready to enjoy it, thaw the stew overnight in the fridge, reheat it over medium heat, and then add the cream.
Storage
Leftovers: Leftover stew can be kept in the fridge for up to 3 days.
Freezing: If you want to freeze it, make sure it cools completely, then transfer the stew to airtight containers. It can be stored in the freezer for up to 3 months.
Try These Next
Cooking Video
Yield: serves 4
Easy Pork and Mushroom Stew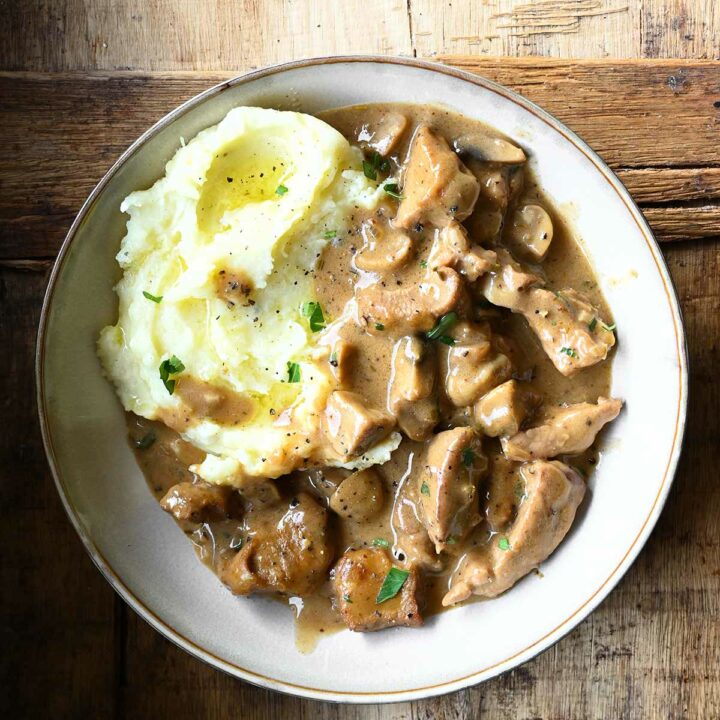 This pork stew recipe is hearty, satisfying and uses simple ingredients. Made with tender pork smothered in a rich mushroom sauce, it's the perfect comfort food for those cold nights! Serve with mashed potatoes for a complete meal that will satisfy even the pickiest eaters.
Total Time
1 hour
5 minutes
Ingredients
2 tbsp olive oil, divided
1 tbsp unsalted butter
1.8 pounds/800 g pork chuck, or pork shoulder, cut into bite-sized pieces
9 ounces/250 g cremini mushrooms, roughly chopped
1 tsp each: salt, black pepper, sweet paprika, dried rosemary
1 tbsp balsamic vinegar
1 shallot, finely chopped
2 garlic cloves, minced
2 tbsp all-purpose flour
1 cup/250 ml low sodium beef broth
½ cup/120 ml half-and-half
1 tbsp chopped parsley, more for serving
Instructions
Get your prep done before you start cooking. Cut the pork chuck into bite-sized pieces. Set aside.
Roughly chop the mushrooms. Mince the garlic, finely chop the shallot and chop the parsley.
Heat 1 tablespoon oil and butter over medium high in a heavy bottomed pot or skillet. Place pork in a single layer and sear, undisturbed for about 2 minutes. Then start to stir and cook until browned but not cooked through, we will finish cooking it later. Transfer into a clean bowl.
Add mushrooms to the skillet and cook until they release moisture. Add the remaining oil and cook until mushrooms start to turn golden brown. Stir in salt, pepper, rosemary, paprika and balsamic vinegar. Add garlic and shallot, cook for 2 minutes.
Return pork and its released juices to the skillet. Add flour and stir until incorporated. Pour in beef broth and bring to a boil. Reduce heat to medium low, cover and simmer for 35 minutes, or until the meat is tender. Stir occasionally.
When ready, add half-and-half and simmer, uncovered, for about 5 minutes. Add a splash of water, if needed. Taste and adjust salt.
Finish off with parsley, serve with mashed potatoes. Enjoy!
Nutrition Information:
Yield:
4
Serving Size:
1
Amount Per Serving:
Calories:

698
Total Fat:

43g
Saturated Fat:

16g
Trans Fat:

0g
Unsaturated Fat:

24g
Cholesterol:

219mg
Sodium:

862mg
Carbohydrates:

11g
Fiber:

1g
Sugar:

4g
Protein:

65g
Nutritional information is only an estimate. The accuracy of the nutritional information for any recipe on this site is not guaranteed.